More than the van, surfing and Jack Kerouac, what Daniel Norris truly loves is baseball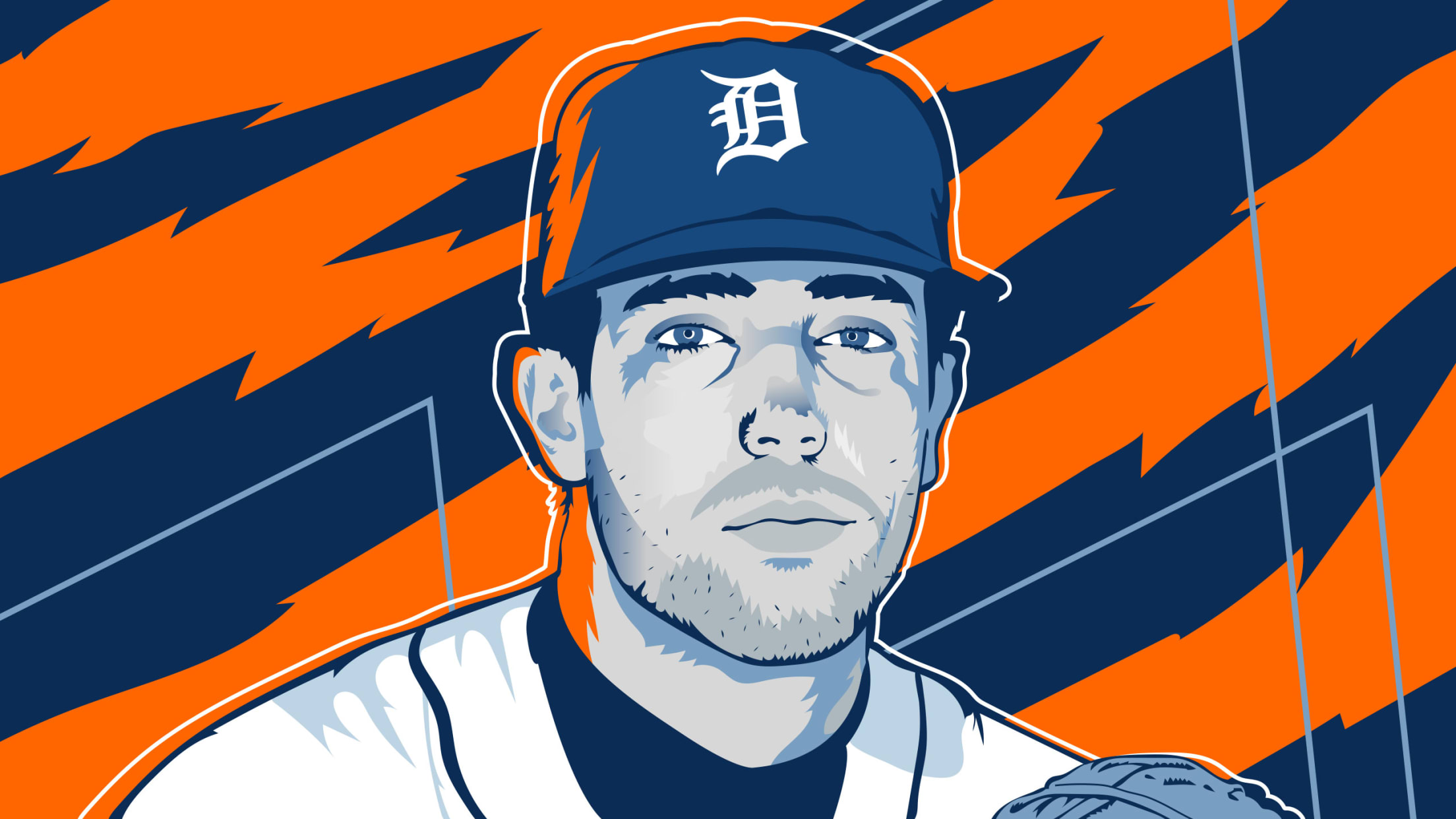 There's a story that Daniel Norris can't wait to tell.
It's not the one about how he spent his first few years as a professional pitcher living out of his van, an old '78 Volkswagen camper that he bought immediately after signing his first contract. It's not the one about his trips to Nicaragua, where he'd spend his nights in hostels and his days hiking through the jungle. It's not even about the finer points of how to shave your beard with an axe.
No, the story Norris wants to share with me as we sit down at Tigers Spring Training in Lakeland, Fla. -- the one that he begins before my first question is even finished -- is a story about work.
The Blue Jays made Norris their second-round pick in the 2011 Draft, and as he established himself as the team's top pitching prospect, word started to get out about the guy with the odd habit of sleeping in Walmart parking lots. Norris wondered whether his organization was concerned -- it's not often you invest seven figures in someone without a fixed address.
He got his answer from then-assistant GM Tony Lacava.
"I'll never forget it, I think somebody asked him about [the van], and he was like, 'You seen that guy work?' That was his answer," Norris recalls. "I don't care if people think I'm weird. I just want people to know how much I love baseball, and that [response] was like, 'He can live how he wants. He works harder than anybody.'"
Norris knows that his life doesn't look like most. And he's fine with that, really; he doesn't mind being baseball's answer to the Dude, fielding questions about why he spent an offseason working at an outdoor equipment store or why he keeps referring to surfing as "his cross-training".
But he also wants to make clear that being different is not the same thing as being unserious. He wants you to know that he believes there is no higher calling in life than the pursuit of one's craft, and that baseball is his. He wants you to know that all of the stories -- the Kerouac on the beach, the offseason roaming -- don't change the fact that he is, first and foremost, a pitcher.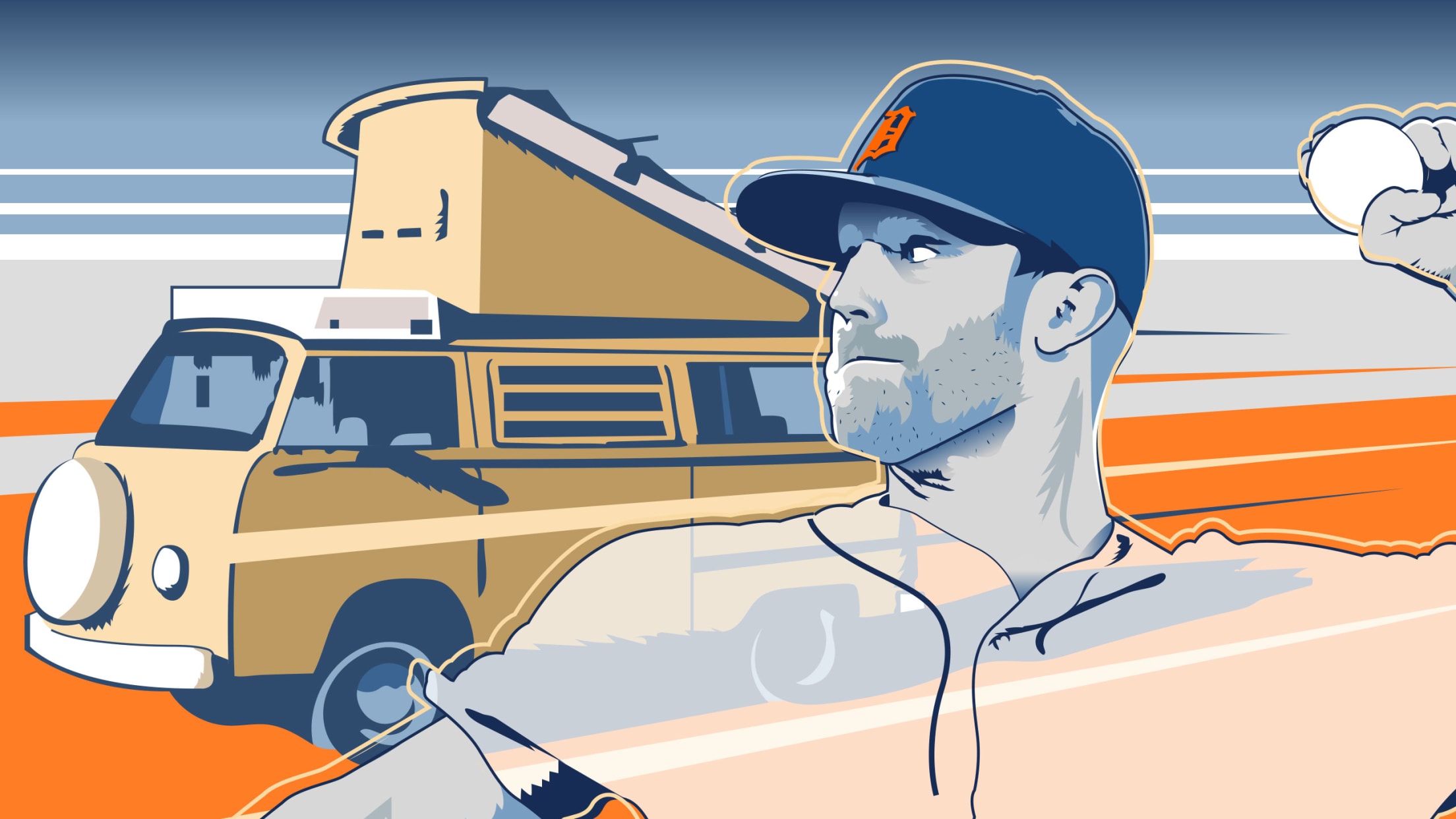 Still, let's not get carried away here: The popular perception of Norris isn't wrong, necessarily. On the day his $2 million signing bonus from Toronto landed in his bank account, he and the rest of his draft class were at the Jays' complex in Florida. They wanted to celebrate with a quick shopping spree, so they fanned out at a local mall, and when they returned, they had so much stuff that they could hardly haul it all out to the parking lot. Well, everyone except Norris.
"I bought a T-shirt," he says with a laugh. "They were like, 'That's all you're going to get? You got more than all of us and you're getting a T-shirt?' And I just said, 'What? I needed a T-shirt.'"
And then there's the aforementioned camper van. He named it Shaggy (yes, like Scooby-Doo) and he speaks of it wistfully, like an old sea captain speaks of his beloved ship. It's still kicking, although the days of driving it down to Florida for camp each spring are behind them. A few years ago, Norris and Ben Moon -- a professional photographer who Norris had struck up a friendship with on Instagram, as one does -- decided to take Shaggy on a cross-country road trip from Tennessee to Oregon.
"I love that life, driving on the highway. Just going about 55 in the right lane and having music or whatever it was, just being with my thoughts," Norris says. "And then I could just pull off and stop whenever I wanted. I would do whatever I wanted."
The image we all have of Norris as a roaming surfer poet isn't unfounded. But it is, in some sense, incomplete, or at least missing some very valuable nuance -- which is a surprising realization to come to in the context of talking about a Jack Johnson record.
Brushfire Fairytales is the first album Norris ever bought, and it's still his favorite. He's not in it simply for the vibes: His recall of specific lyrics is astounding, and it's clear that he sees Johnson as a sort of lodestar, the road map to a life well-lived.
"People think of him as just like a beach-y, 'Oh we'll play him at a coffee shop' kind of thing or whatever," Norris says. "But I think he has a message that needs to be put on the intercom."
Johnson was a surfer before he launched his music career, and he's spent the years since trying to convince everyone to just exhale, to wade through the contradictions and the anxieties of modern life -- "the diegetic world is so unclear" -- and reconnect themselves with the things that matter.
"Not to ever compare myself to him, but I feel like people take him for granted because he's such a laid-back guy," Norris says. "His music is so laid back that people don't really pay attention to it."
Scoff at that if you want, but it becomes considerably harder to do when you hear just how earnestly Norris sells it -- his mellow monotone rising, his lanky, 6-foot-2 frame shifting from slouched to startlingly imposing. He's not the college freshman poring over On the Road or Zen and the Art of Motorcycle Maintenance (though that is a recent favorite of his) as a means of absolving himself of having to try in any way.
On the contrary: He seems to view his life as an exercise in constant self-evaluation, a process that he approaches with almost ascetic discipline. He didn't buy that single T-shirt to show his teammates up or call attention to himself. He did it because to impose those limitations on himself is to ensure that he'll never become someone he doesn't recognize, someone that other people expect him to be.
And that's, really, what this is about. People may gawk, and teammates may ask questions, but all of it -- the van, the traveling, the frugality, the things he reads and writes -- is just his way of moving toward the values he admires: live simply; live generously; stay grounded; connect with others and the world around you.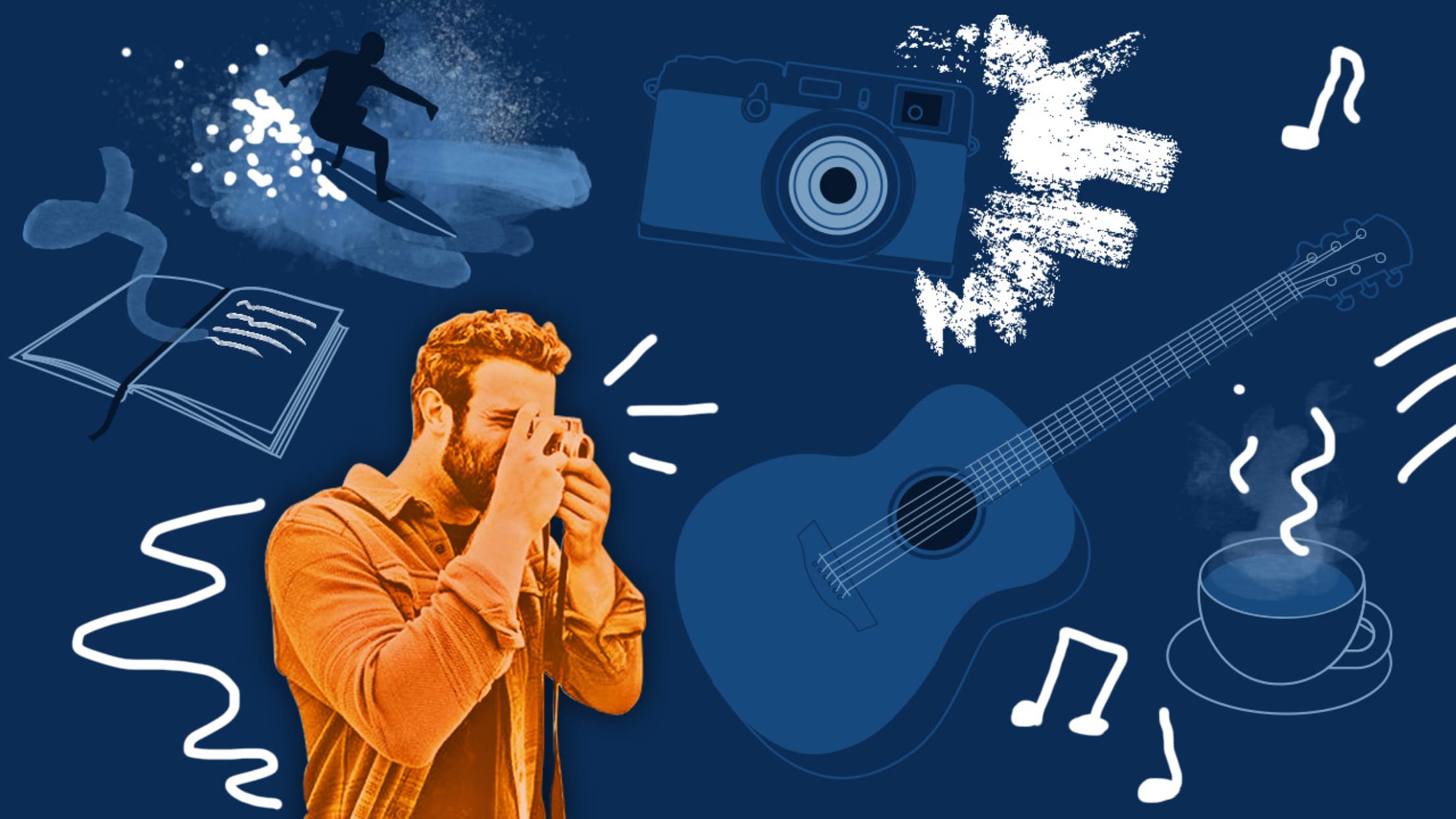 Which would seem to make Norris an odd fit for a professional athlete: the man with "nonconformist" scrawled on the wall of his van subsuming himself under a larger team. Then again, magical left arm aside, Norris has never really looked the part he has played so well.
He grew up in Johnson City, Tenn., a city of around 65,000 nestled up against the Blue Ridge Mountains. For more than three decades, his father, David, owned and operated a bike shop in town. But Norris Bicycles was more than just a place to get your tire fixed: It was an institution, so beloved in the community that when David sold it back in 2015, the new owners couldn't bring themselves to change the name.
"My dad is one of the most mellow people I've ever met, but I've never in my life seen anybody work harder than him," Norris says. "I remember the guys that would work for him would fix a bike and send it to him to check over to send back to the customer, and he'd redo it. Basically, he was doing double work just because he wanted it to be perfect."
David and his wife, Sandra, had never played sports, and neither did Daniel's two older sisters. His parents put him on rec teams seemingly due to a lack of better ideas, and then watched, gobsmacked and a little bemused, as their little boy developed into a three-sport star.
But while he enjoyed football and basketball, baseball was his first and deepest love. And like any self-respecting member of the Norris family, he worked at it.
"I mean, my first word was ball, and it was all over from there," he says. "Especially as a young kid, I was always outside playing, trying to get better at baseball. I think it's a beautiful, beautiful game."
His parents didn't quite know what to make of it. His appetite was seemingly inexhaustible. Daniel spent the summers on travel teams -- playing three, four games a day, and always coming back for more. He'd even cut class (sorry, Sandra) to take extra batting practice. Baseball was a team sport, but whether he was on the mound or at the plate -- I am obligated to mention here that Norris can rake -- the game gave him something he craved: It put him on an island.
"Pitching on that mound, you're alone, and when you're surfing, waiting on a wave or you're out in nature, you're usually alone," Norris says. "You focus on that wave that's rolling in and you're like, 'OK, it's time.' I always wanted to do this. I never had really any dreams for anything else."
That, above all, is what Daniel Norris wants to tell you. He knows that he's lived a life apart from what we associate with the development of star athletes: He wasn't aggressively pushed by his parents ("they were kind of just like, 'OK, go with it!'", he recalls); he spent most weekends in high school camping, often alone.
He knows that, however much he "loves having a schedule, coming back to Spring Training, being around the guys, putting [the] uniform on, competing," he also needs that mental disconnect, whether it's sleeping in a hammock on the beach or just enjoying a cup of coffee in his Tampa apartment.
He knows that we have a difficult time reconciling these things with what we've internalized about sports at the highest level, and so we turn him into a curiosity, something almost frivolous.
But he also knows what baseball means to him. He knows that, out of all the passions in his life, baseball is what he chose.
"I think the misconception is, 'Oh, he plays ball, but he doesn't really care about it. He'd rather, like, travel and surf'. I love all that, but to me, I've never once missed a workout due to travel. I always find a way to get my training in because I love the process of just getting better. I think that early on that was the big thing: People thought that I was laissez-faire about baseball. That's not the case at all."
Beneath it all, Norris is a lot more like every other big leaguer than you'd think, driven to the point of obsession. It's just that he's not driven in a way that demands you listen to how driven he is. Baseball is what he works at, and baseball is what he has to answer to.
Still, he's human, and while he truly is OK with the way he's seen, it does eat at him a little.
"Obviously I read the articles," he says. "I think that more than anything [what bothers me is] if you're having a bad game people, are like, 'Why don't you pay more attention to baseball?' And they don't even know, that's what's crazy."
He's gotten that question a lot more than he'd like recently -- and a lot more than anyone expected when he was tearing up the Minors. Norris breezed through three levels of Toronto's system in 2014, making it all the way to the Majors at just 21 years old. Norris was as solid as pitching prospects come -- so well-regarded, in fact, that he was the centerpiece of the package that sent Cy Young Award winner David Price from Detroit to Toronto at the 2015 Trade Deadline.
Norris viewed the deal as a breath of fresh air. While he'd struggled to crack the rotation on a Toronto team with World Series aspirations, the Tigers gave him the only thing he wanted: the chance to pitch in the big leagues.
But unbeknownst to just about everyone else, he also had something far bigger to worry about: That spring, Norris had been diagnosed with thyroid cancer. He had the option to either shut himself down immediately or wait until after the season to undergo surgery. Norris chose the latter, and while the Tigers were informed of the situation when they acquired him, they were just about the only ones.
"I didn't even tell my parents until towards the end of the year," he says. "I was still going through a lot of tests and it was just kind of annoying. I was like I don't want to put any more stress on them."
"Annoying" might not be the first word that jumps to mind when you think of a cancer diagnosis, but it's one that Norris uses several times, like this whole thing was a day spent waiting at the DMV. He wasn't worried about his health or his future -- doctors had made clear from the start that it wasn't life-threatening. To him, the string of tests and doctor's appointments simply pulled him from focusing on his craft.
"I would pitch and then fly off the next day to get a test done and the entire time I'd be like, 'Oh my gosh, I've got to work out, can we please hurry up?'"
He eventually told his parents, making sure to wait until his older sister, Amanda, gave birth to his nephew so as to not add any extra stress to the family. He made the diagnosis public after the Tigers' season ended, and two weeks later, he announced on Instagram that he was cancer-free.
While the cancer was gone, though, the "annoyances" kept piling up. He produced flashes of his immense promise on the mound, but he could never stay on it for very long, producing a laundry list of injuries that reads like a game of Operation. He began 2016 on the Injured List with a lower back ailment; two weeks after returning, he was shelved with an oblique strain. 2017 was much of the same: hip issues, quad issues. 2018: surgery to relieve groin tightness.
It all began to make Norris feel as though his career was slipping away. Years removed from any consistent success, he was no longer Daniel Norris: Top Prospect. He was Daniel Norris: Remember that pitcher who lived in a van by the river? But he refused to let those thoughts enter his head. He'd never let the outside world define him; why start now?
Whenever the doubts would creep in, Norris did what Daniel Norris has always done, whether he was out in the wild or alone on a surfboard in the middle of the icy ocean: He used his faith in himself, in the work, to restore him.
"There's a quote I like from C.S. Lewis, I think," Norris says. "'One goes down and down until one mysterious moment when they begin to go up and up.' You know, I kind of hang onto that because I'm the first one here in the morning, I'm putting the work in working out every day. I'm doing everything I can to be successful in the field. Never once have I missed one of those boxes to check. Sometimes it doesn't happen, sometimes it does but I think at some point it will click."
Norris struggled early in Spring Training this year, and he began the season in the bullpen as the Tigers' long reliever. Over his last few starts in Lakeland, though, things began to change. His velocity started coming back, and he started feeling like the pitcher he knows he can be. He just needed an opportunity, and it didn't take long for one to come along: In mid-April, fellow lefty Matt Moore was lost for the year to knee surgery, and Norris was the next man up.
He made his first start of the year on April 21, Easter Sunday, spinning five scoreless innings and picking up a win over the White Sox. He's settled into Detroit's rotation in the weeks since, making six more starts and posting a 4.30 ERA. It doesn't mean that he's all the way back, or that all of the detours and the false starts have been atoned for. But it is the first step on the path to hopefully, finally putting it all together -- to showing everyone that this is what he's meant to do, no matter how difficult it is for us to wrap our heads around.
"Every day that's on my mind, every day," he says. "Because here's the thing: I answer to myself. I work very hard and I'm very confident about my body and what I put in it and what I do for it, so the work isn't the problem -- it's just it coming to fruition. I just have to be patient for it. At some point, it's going to pay off."
In the meantime, there's only one thing to do. Before we wrap up, a group of Tigers pitchers stroll by. Closer Shane Greene comes over, and without breaking stride or uttering a word, the two embark on a remarkably elaborate handshake -- a series of claps and snaps that ends in a little two-finger salute. Greene smiles, gives his teammate a pat on the back and continues on into the clubhouse.
But Norris won't be joining him. As I make my way back toward the parking lot, I hear the faint clacking of spikes on the cart path: It's Norris, glove in hand, heading toward a back field for another session. There's no one else around.
Teams in this article:
Players in this article:
Topics in this article: