Todd Frazier can't contain his excitement watching his son Blake hit a dinger off a tee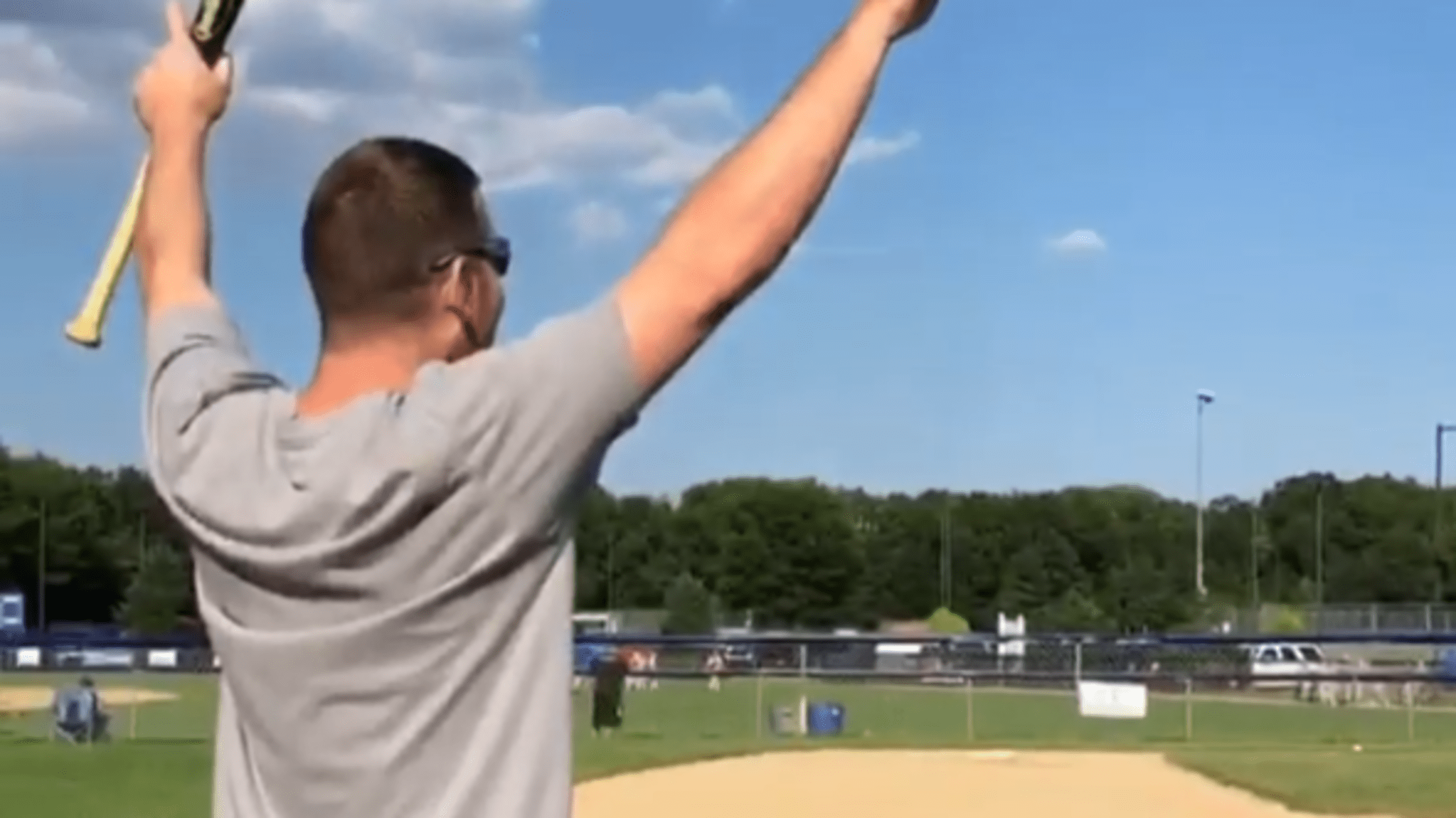 Mets third baseman Todd Frazier is no stranger to the long ball. The eight-year MLB veteran has 185 home runs to his name at the big league level, as well as a Home Run Derby title thanks to his epic performance in his then-home ballpark in Cincinnati back in 2015. So it should be no surprise to learn that his 4-year-old son Blake has already started to perfect his own home run swing:
Like father like son. We're looking forward to the 2038 Home Run Derby, featuring Blake Frazier.
Here are some other highlights from the last week from baseballers on social media...
Billy Hamilton made an unbelievable catch to rob Matt Carpenter of a home run, adding to his already-long highlight reel from this season.
No debate: @BillyHamilton with the CATCH. OF. THE. YEAR.#RedsCountry pic.twitter.com/EAsdWFBcCu

— Cincinnati Reds (@Reds) July 14, 2018
Amir Garrett was absolutely stunned:
Billy Hamilton has that effect on people.#RedsCountry pic.twitter.com/2E9Odg839T

— Cincinnati Reds (@Reds) July 14, 2018
This is me keeping my cool. I almost ran out to center field to hug billy lol https://t.co/o7USnsrYW0

— CountOnAG (@Amir_Garrett) July 14, 2018
Reds prospect Tyler Stephenson was similarly amazed:
I've watched this on replay for the past 10 minutes... 👀😱

— Tyler Stephenson (@Tyler_Step22) July 14, 2018
Phillies catcher Andrew Knapp understands that speed isn't his best asset:
When I'm on the bases... #BeBold pic.twitter.com/n9B04zgD76

— Andrew Knapp (@theknappyboy5) July 14, 2018
All-Star Week kicked off with the SiriusXM All-Star Futures Game, which featured Indians pitching prospect Kieran Lovegrove, who felt oddly old by prospect standards:
Uhhhh nobody informed me that I am going to be the SECOND OLDEST player on the field this weekend, and I feel like I'm not gonna relate to the kids...

What if I don't understand the lingo?!?
Or the music doesn't make sense to me?!

— Kieran Lovegrove (@Lovegrove19) July 14, 2018
Bryce Harpermay have had the storybook ending in the T-Mobile Home Run Derby, but Phillies slugger Rhys Hoskins got the show started early with an impressive 37 dingers over his two rounds. His teammate Scott Kingery enjoyed watching on TV with Hoskins' dog Rookie, but those in attendance also loved the show, including Mike Trout:
Hoskins 👀!!! #wow

— Mike Trout (@MikeTrout) July 17, 2018
Former Orioles Minor League outfielder Conor Bierfeldt had an amusing observation:
In 2015, Rhys Hoskins beat me in a home run derby. Our careers have gone in different directions since.

— Conor Bierfeldt (@conorbierfeldt) July 17, 2018
Hoskins himself chimed in afterwards about his Derby experience:
I'd like to send my condolences to all of the balls that were harmed in the making of that Derby #OHMYGOODNESS

— Rhys Hoskins (@rhyshoskins) July 17, 2018
Freddie Freeman may have been eliminated by Harper in the first round, but his teammate Brandon McCarthy argued the regular Derby format wasn't best for the slugger:
I'd put Freddie down for 15-20 if the pitcher throwing to him was trying to get him out.

— Brandon McCarthy (@BMcCarthy32) July 17, 2018
Cardinals reliever Jordan Hicks suggested a new type of competition that he himself would likely thrive in:
Velo Derby @ the all star game next year👀 @MLB

— Jordan Hicks (@Jhicks007) July 17, 2018
Trevor Williams appeared more than ready for the Pirates' second half to begin:
Heading into the 2nd half on a high note. Here are photos of us blocking out the haters (and harmful UV rays). pic.twitter.com/1zDm8JG6fD

— Trevor Williams (@MeLlamoTrevor) July 18, 2018
Williams' teammate Jameson Taillon, meanwhile, seemed to be enjoying his All-Star break:
Airports bring out the best in people. Can't get enough of the kids that get so fed up getting their parents' attention that they resort to their first name "Mom! Listen! Mom! Mom! CAROLLL!!!"

— Jameson Taillon (@JTaillon19) July 19, 2018
Teams in this article:
Players in this article: