The power outage at Tropicana Field led to some fascinating fan camerawork
The Rays might be one of the most exciting teams on the field in 2019, but some unfortunate problems at Tropicana Field have caused some occasional difficulties in literally watching them play. Back on May 12, the lights went out against the Yankees, and thanks to a nearby substation fire, they were briefly zapped out again at the Rays-Angels game on Thursday.
Now you see the lights ...
Repeat to self:

It's going to be OK
It's going to be OK
It's going to be OK
It's going to be OK
It's going to be OK pic.twitter.com/qOI8O5JlDE

— Josh Tolentino (@JCTSports) June 14, 2019
... and now, you don't.
Although the game was delayed for 36 minutes, the break did allow a flurry of people in the ballpark to take to their phones and snap a photo or video of the strange scenario. Seemingly everyone has the ability to do that these days, so these folks weren't going to miss out on the oddity.
Some people might roll their eyes at that, but I totally get it. I once went to a New Jersey Devils game that was halted by a power failure in several sections of the Prudential Center. It was surreal but delightful to watch zambonis roll around a huge hockey rink in the dark.
As was the case on May 12, the fans' own phone lighting really added to the scene.
Lights out at the Trop. #RaysUp pic.twitter.com/xOnbfHZAqk

— Eduardo A. Encina (@EddieInTheYard) June 14, 2019
Crazy night when the lights go out at the Trop. #Rays #RaysUp #mlb pic.twitter.com/DQoxzhmjcK

— Larry Snyder (@lsnittany) June 14, 2019
Some photos were enhanced by other lights around the dome that added sunset-like hues:
Even for Rays broadcaster Andrew Freed, it was an unusual experience.
Well this was different. pic.twitter.com/OhH4sQuma6

— Andrew Freed (@AndrewFreed33) June 14, 2019
Just another bizarre night at the Trop.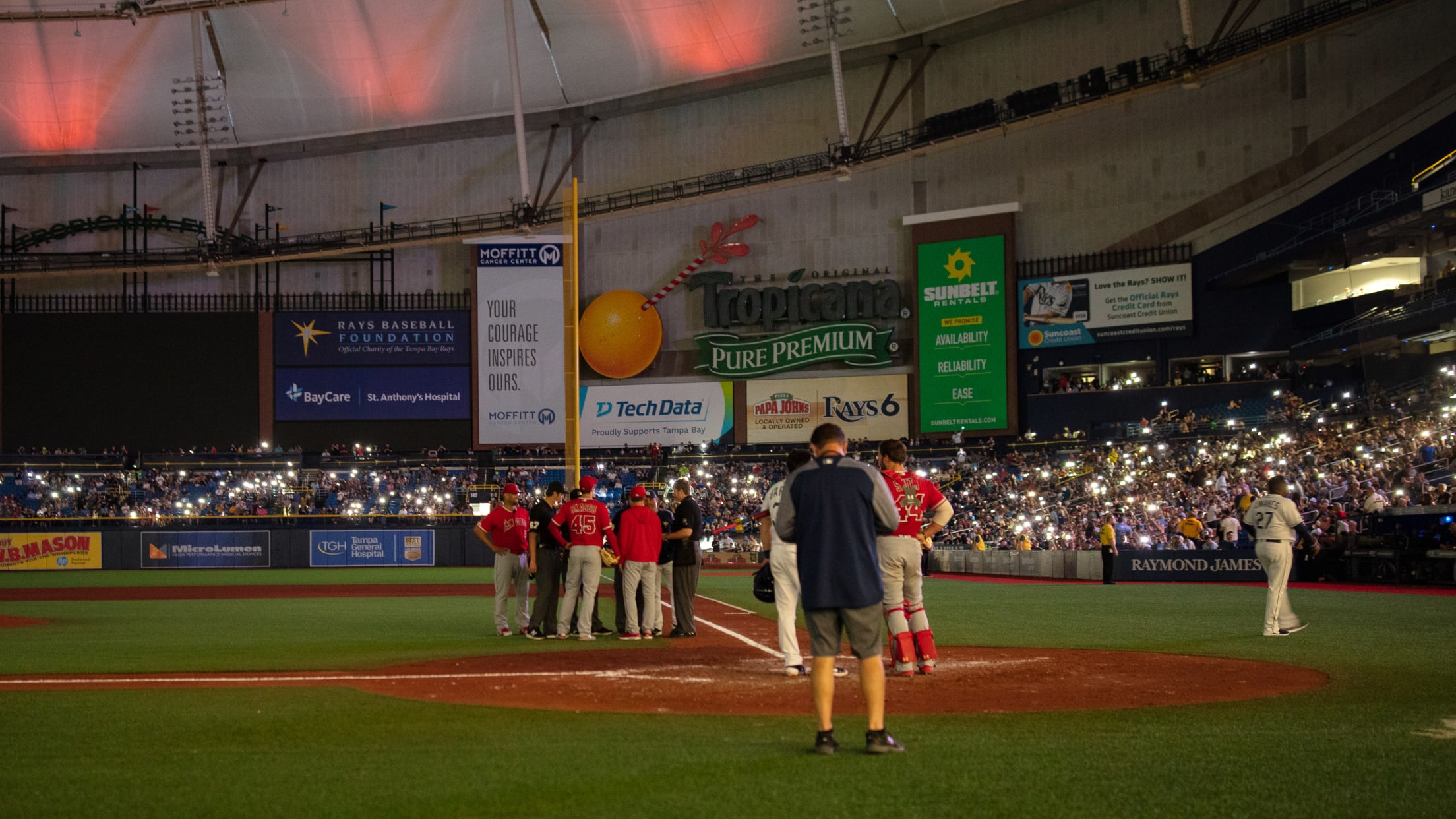 Teams in this article:
Topics in this article: