Watch Ken Griffey Jr., Barry Bonds and Kenny Lofton compete in a 1990's slam dunk contest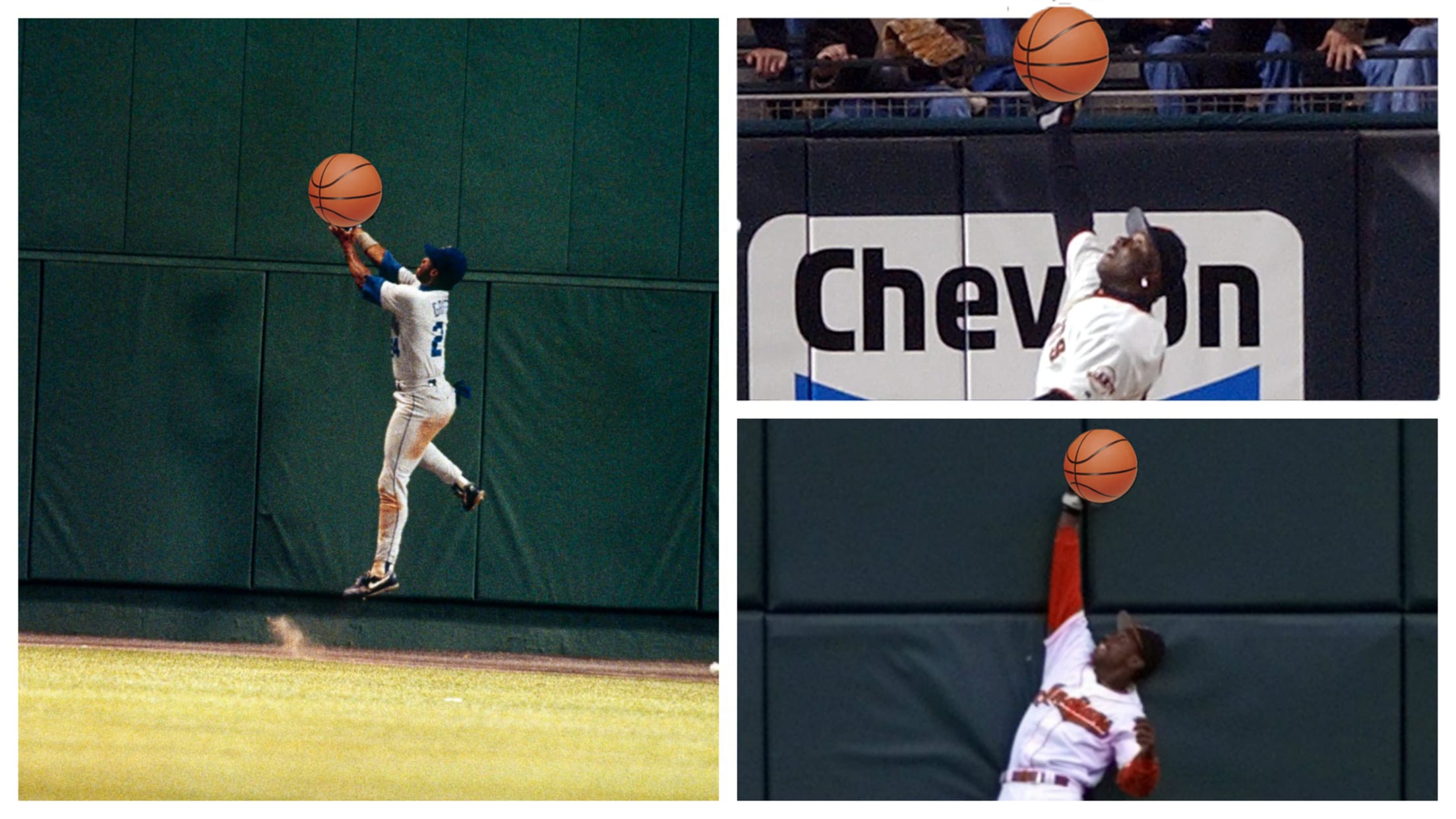 There is a lot of pointless nostalgic navel-gazing for the '90s. Nobody really misses the "Macarena," snap bracelets and those giant baggy suits that made Agent Mulder look like three small children stacked on top of each other.
This is not one of those. Because in the early '90s, there was the outrageously amazing and amazingly outrageous Slam Fest. Rather than a dunk contest featuring basketball players who are, you know, paid to dunk orange orbs, these events featured superstars from other sports like football, track and field, and, of course, baseball.
Ken Griffey Jr. took part from 1991-93, unfortunately getting bounced in the first round every time. He couldn't get past former Orioles starter and LSU basketball player Ben McDonald in '91:
(You can also see 1991's victor Delino DeShields score a 9.8 with a delirious Spud Webb-esque reverse jam in the above video. It makes sense -- he was set to play point guard at Villanova before being drafted 12th overall by the Expos in the 1987 MLB Draft.)
After losing to Raiders wide receiver Tim Brown in '92, Griffey was back in '93. Unfortunately, he squared off against Kenny Lofton. While Griffey had the height advantage on the Cleveland center fielder, Lofton was a college basketball star who played in the Final Four.
Perhaps feeling the pressure, mighty Griffey struck out, failing to land a single dunk.
The '92 Slam Fest featured a number of baseball players with Devon White, Erik Hanson and Deion Sanders -- then of the Hawks and Braves -- showing off their skills. DeShields even returned to protect his crown.
Sanders, in a bucket hat, escaped past the Mariners' Hanson despite the M's hurler pulling off a 360 jam.
Barry Bonds then squared off with Sanders in the quarterfinals. Bonds apparently posed for his photo in a Charlotte Hornets-colored neck brace.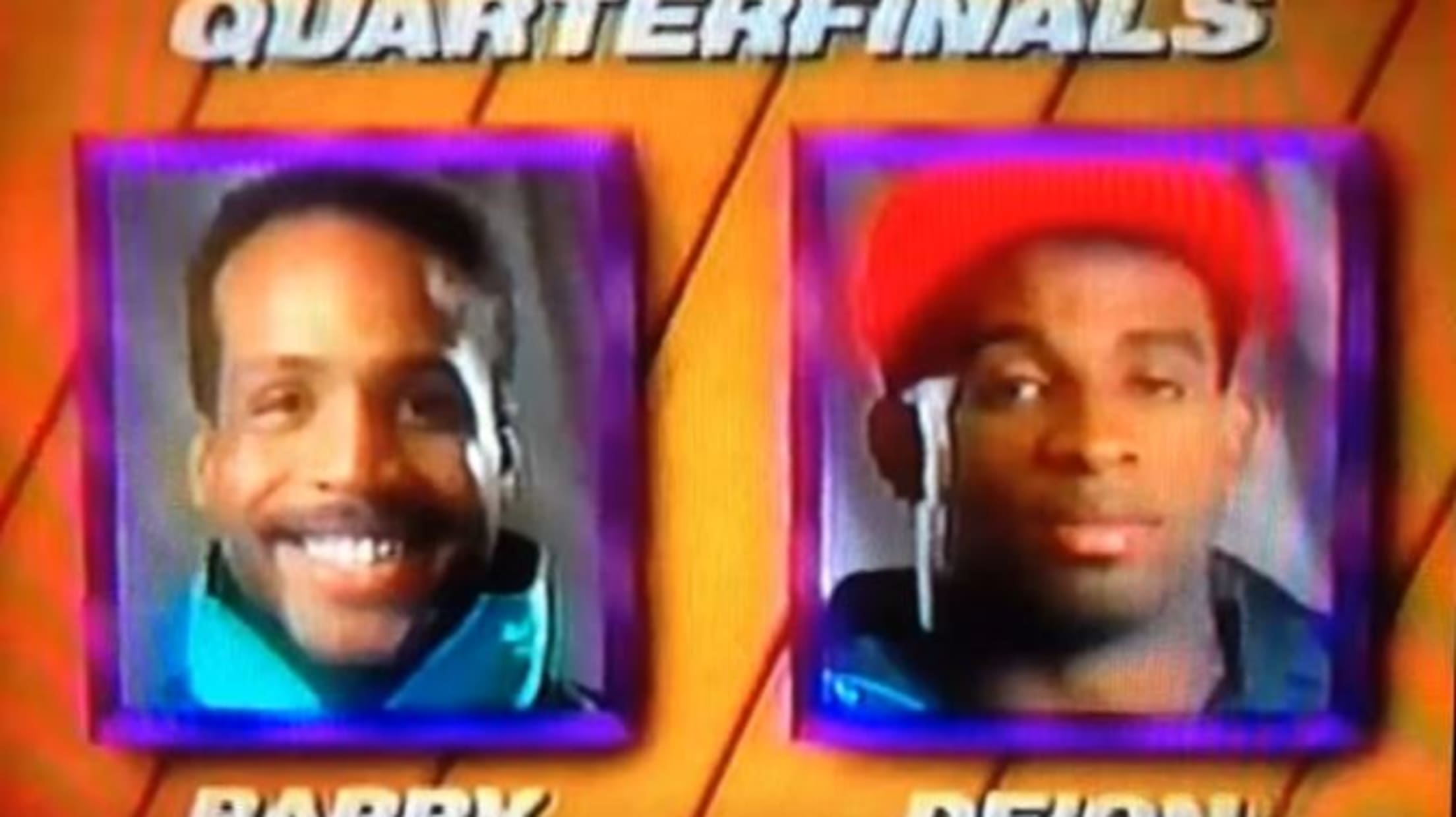 While both participants bricked their first attempts (maybe there is a good reason to have basketball players participating), Bonds then went with a tip-in slam, possibly even injuring his back on the play. Prime Time was next up and, with the broadcasters truly embracing the era with a "Too legit to quit!" chant, missed again.
You can watch the full 1992 event below, with White taking on Michael Irvin, DeShields squaring off against Rob Moore, Griffey and Brown dunking off and Bonds' first round victory against volleyballer Adam Johnson.
Unfortunately, Bonds would lose to Powell in the semis after missing his second attempt when he started his run-up before the half-court line.
Who would be king of MLB dunks today? Perhaps Mike Trout with his home run-robbing abilities? Giancarlo Stanton with his Herculean strength? Former Princeton basketball player and 6-foot-10 pitcher Chris Young? May this glorious event soon return to put this question to bed.
Tyler Glasnow's already been practicing:
Due to my eligibility status I have decided to pursue my dream playing division 4 basketball in Mozambique 🇲🇿 pic.twitter.com/1kLyvsV8nH

— Tyler Glasnow (@TGlasnow) November 30, 2016
(h/t r/baseball)