Vlad Guerrero Jr. posted a photo to Instagram geotagged at JFK and the internet went wild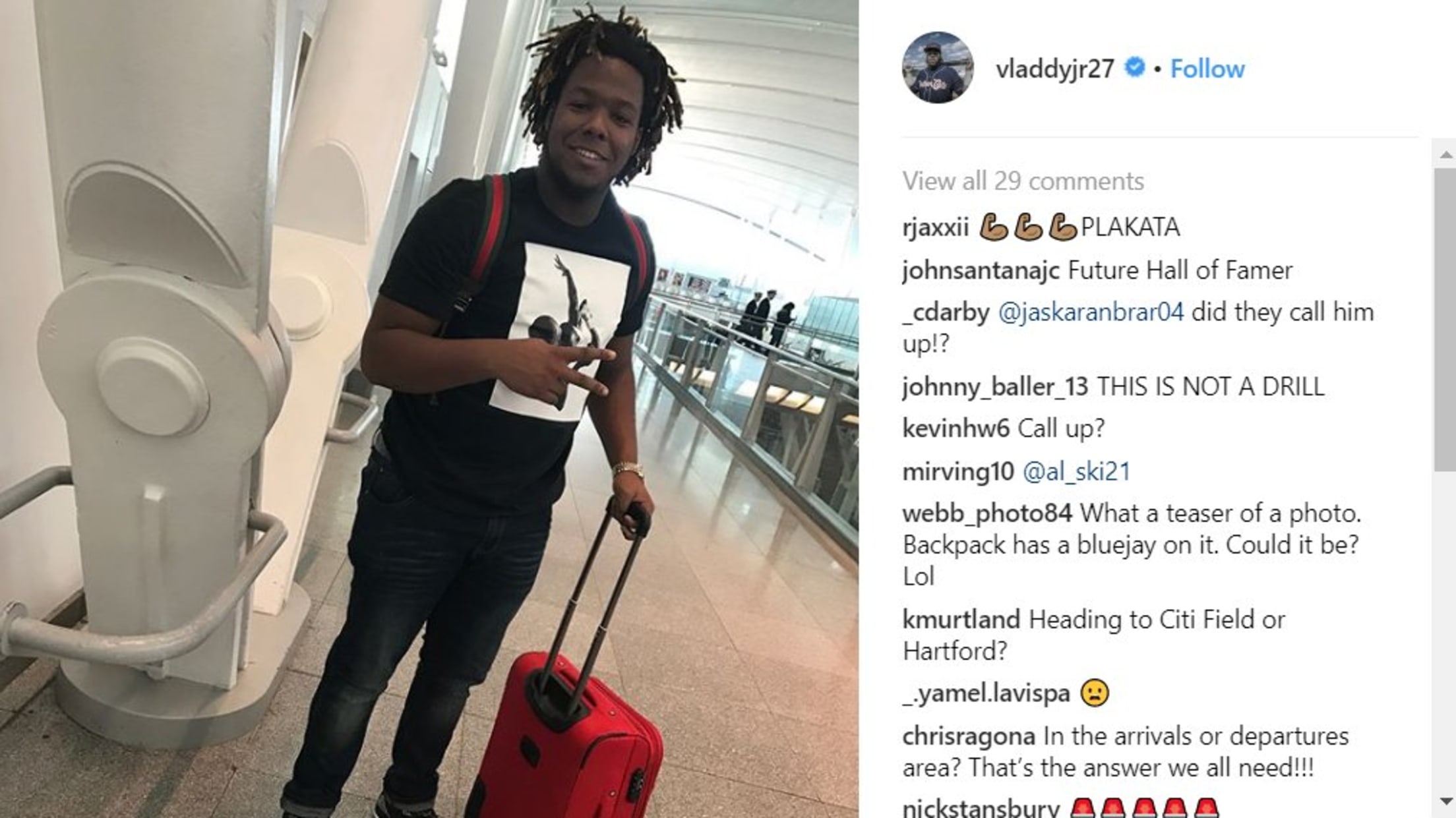 There's no question that Vladimir Guerrero Jr. can mash baseballs. Just this year, he's already hit the greatest walk-off in Spring Training history, he crushed an opposite-field dinger off a batting tee and he's hit some balls that may still be traveling as I write this sentence.
The question is: When are the Blue Jays going to call up baseball's No. 2 overall prospect?
Well, with Toronto in town to take on the Mets this week, Guerrero posted an Instagram picture geotagged to JFK Airport:

The internet went wild, imagining Vlad Guerrero's large adult son taking his talents straight from Double-A to the Major Leagues. Many Jonah Hill excited GIFs were posted.
But then, Guerrero Jr. deleted the geotag on the post, and some Twitter investigative reporters noticed that the picture may have been from December. Was it actually a mistake? Did he not mean to post the photo at all? Was he just reminiscing about his last time at JFK?
Ok, after literally scrolling it seems Vlad posted the same picture on Insta today that he did in December. pic.twitter.com/FjdDHWrGU6

— Faizal Khamisa (@SNFaizalKhamisa) May 14, 2018

The entire picture was eventually taken down and, at this point, we don't know whether Guerrero was trolling us or the whole thing was an accident. Only Vlad knows for sure.

His current team, the New Hampshire Fisher Cats, had some fun with the situation before their game against Hartford.
The squad tonight for game one in Hartford!

We have a new 3-hole hitter... 😎

Coverage starts in 15 minutes here: https://t.co/I7cqwyAQuA#BlueJays pic.twitter.com/vV5cRvXB6G

— New Hampshire Fisher Cats (@FisherCats) May 14, 2018
And then, of course, Carmen Vladiego went deep in his first at-bat:
He's here, and he's homered!

Vlad Jr. goes oppo 🌮 in his first AB to give the 'Cats 1-0 lead in the first. Sixth homer of the year!#BlueJays pic.twitter.com/IbtqKGmCfJ

— New Hampshire Fisher Cats (@FisherCats) May 14, 2018



Either way, please bring him to MLB soon, Blue Jays.