Even in defeat, Vladimir Guerrero Jr. and the Blue Jays' young stars are a must-see baseball phenomenon
The Blue Jays have assembled a crop of young talent that is sure to give the rest of the American League fits for years, and it was on display in Sunday's 1-0 loss to the Yankees at Rogers Centre.
Yes, Toronto lost the game after a brilliant starting performance from Yankees right-hander Masahiro Tanaka. But even in defeat, Toronto's young phenoms stood up to the powerhouse "Evil Empire" Yankees like a kid tugging on your pant leg at the store, begging and pleading for that box of sugary cereal you swore you'd never buy again.
Flamethrowing Yankees closer Aroldis Chapman, for all intents and purposes one of the most intimidating pitchers baseball has ever seen due to his 100+ mph fastballs and devastating offspeed pitches, was tasked with locking down the win in the bottom of the ninth.
The Blue Jays' last stand, despite falling short in the end, was exciting nonetheless -- mostly thanks to Vladimir Guerrero Jr., who faced Chapman with a runner on first base and nobody out. As a teaser, here's what Hall of Fame and baseball legend Reggie Jackson said a few hours after the Guerrero-vs-Chapman showdown:
Aroldis and Vlad Jr. A great open to the next few years. Vlad Jr impressive with his tenacious ab, Age and experience wins this time. But be careful next time.This guy is a fast learner. Destined to be great. Thanks for the show Aroldis and Vlad. That's why I love the game!

— Reggie Jackson (@mroctober) August 11, 2019
And a showdown is what it was. It took Chapman 13 pitches to retire Guerrero, who fouled off seven, spoiling straight-up heat from the lefty as well as snappy sliders, before grounding into a double play on a 100-mph fastball.
How feisty was Guerrero in this at-bat? He began it by swinging through a fastball and going down in the count, 0-2, before staging a dramatic comeback to drive the count full and crush a foul ball that bounced off the facade of the 500-level seats in the upper deck.
All Toronto fans in the stands looked like this guy, eyes and phones glued to the action: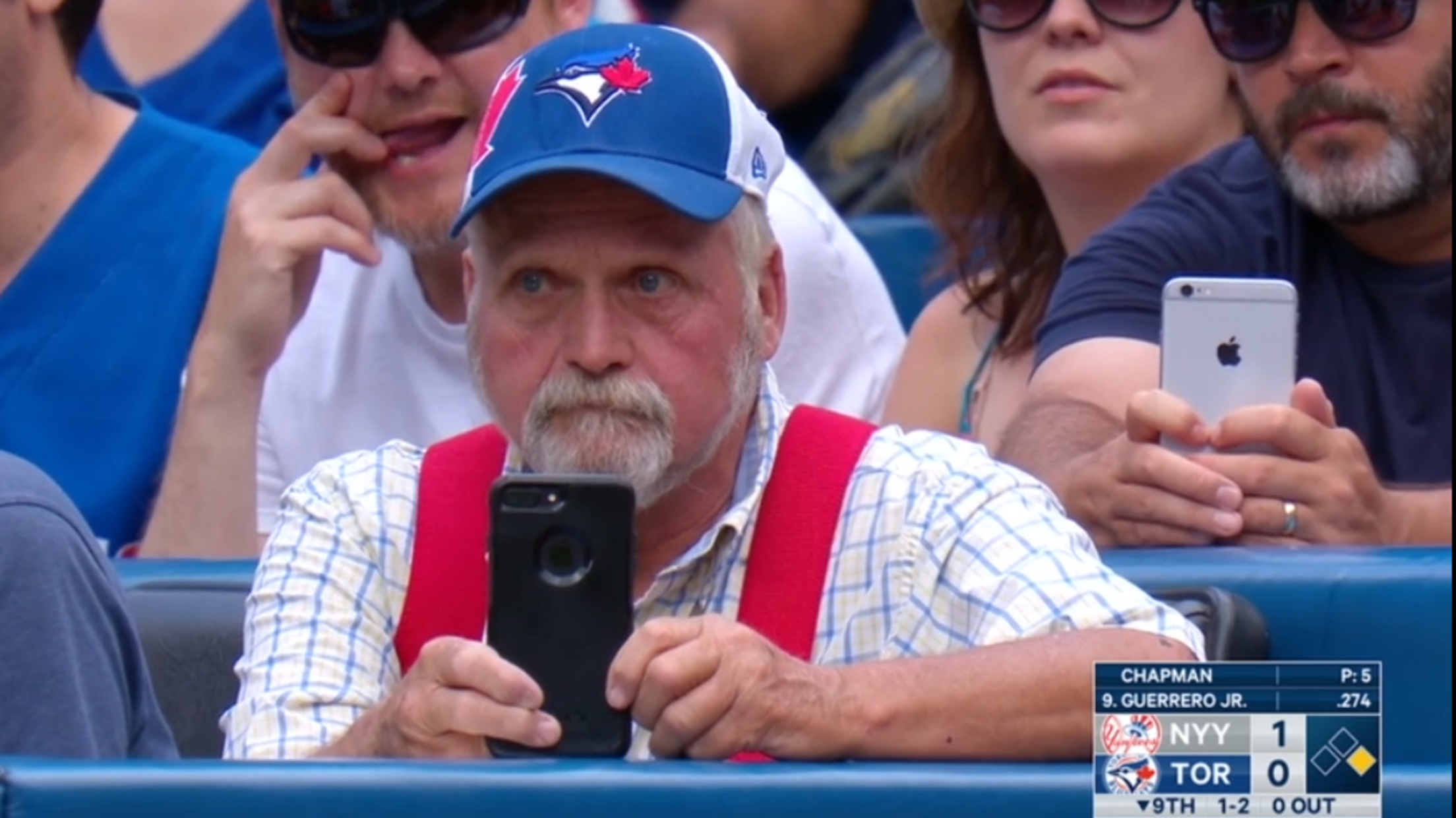 After Guerrero's marathon battle, he received a rousing ovation from Blue Jays fans and his teammates as he trudged back to the dugout. They didn't care that the team was now down to its last out. They appreciated the battle, the spirit, the never-say-die attitude that's made Guerrero such an awe-inspiring player since he came up in April.
Fellow rookie phenom/all-around "dirtbag" Bo Bichette strode to the plate and slapped a single to left-center, as he wasn't overwhelmed by Chapman's usually oppressive presence on the mound.
The kids came to play, and even though they came up short, this sequence put the Yankees, and everybody else who wasn't already aware of it, on alert.
They're here, and they won't back down.
Teams in this article:
Players in this article:
Topics in this article: