Goat yoga bobbleheads and more weirdness from the Hartford Yard Goats' promotional schedule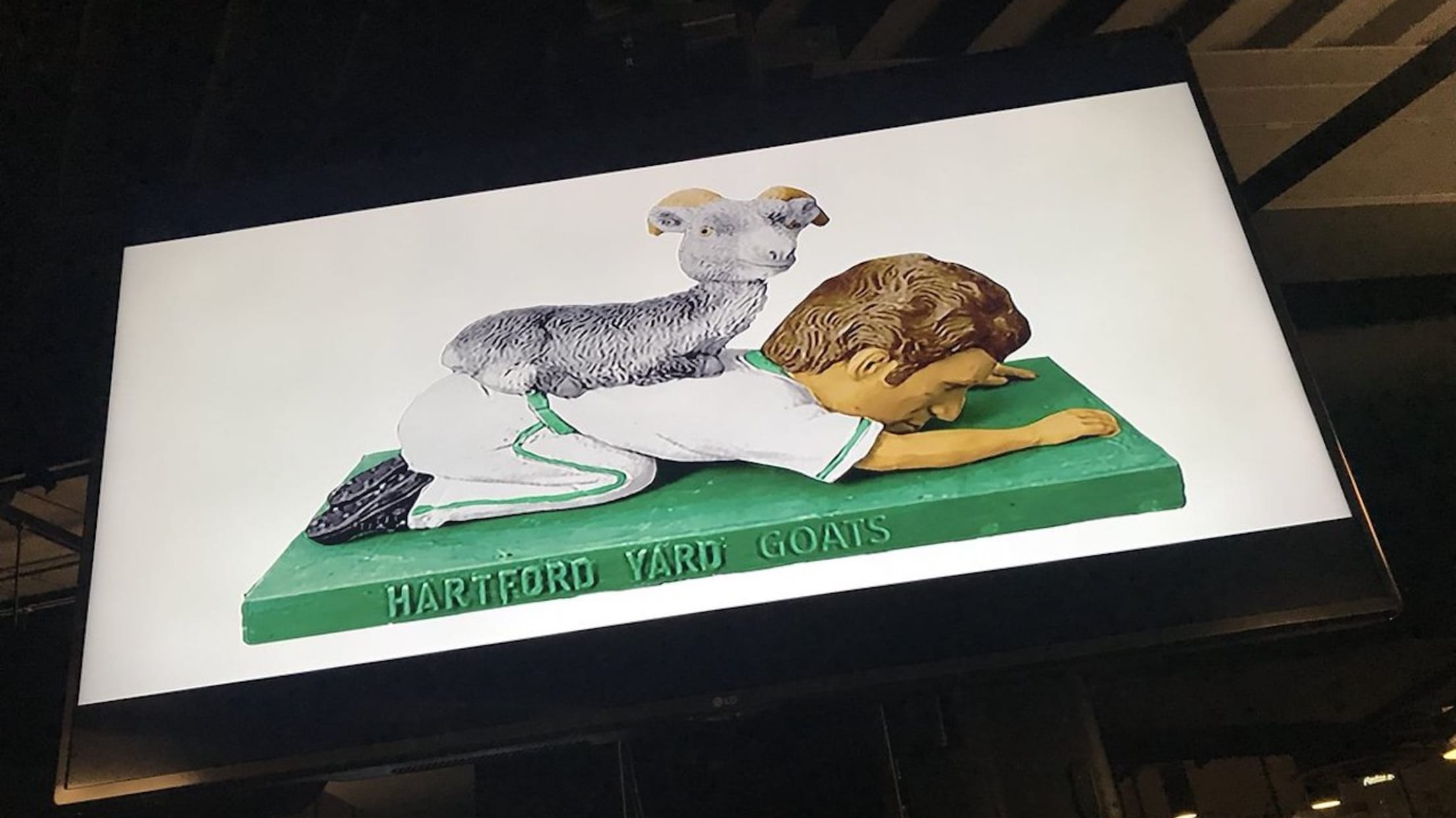 From the day they were announced back in 2015, the Hartford Yard Goats have been a bit different -- they're named the Yard Goats, for crying out loud, and their mascots walk around in neon plaid. This year, though, the Rockies' Double-A affiliate has taken that weirdness to a whole new level. Just look at what's on their 2018 promotional calendar, which the team released on Wednesday night.
June 13: Goat yoga bobbleheads
For those who are blissfully unaware: Yes, goat yoga is a real thing. The trend began on the West Coast back in 2016, and it involves, you guessed it, carrying out a yoga class while a couple of goats run around the room. Here, allow Marcus Stroman to demonstrate:
To be the GOAT, you have to train with goats. Just crushed some Goat Yoga. Not kidding. Lol 🐐 @J_Bottz pic.twitter.com/Exi4TJ2s4I

— Marcus Stroman (@MStrooo6) February 4, 2018
The bobblehead itself really captures the goatiness of the whole thing:
Yard Goats announce a goat yoga bobblehead giveaway for 2018! pic.twitter.com/LYDSd3jIuc

— Hartford Yard Goats (@GoYardGoats) February 8, 2018
June 14: The Cowboy Monkey Rodeo
That is a very strange collection of words to string together, but we promise that it's exactly what it sounds like: Monkeys ride around atop adorable dogs while shepherding sheep. Here they are at a Harrisburg Senators game last year:
How this hasn't become mandatory at every baseball game at every level is beyond us.
June 28: What If Night
Hartford first debuted this idea last year, when they took the field as the Hartford Praying Mantis -- the state insect of Connecticut and one of 10 finalists chosen when the Yard Goats held their naming contest in 2015. The promotion is back again this season, and this time, the team decided to adopt an even better runner-up: the Whirlybirds.
The Yard Goats will play one game as the Hartford Whirlybirds this season. The runner-up to Yard Goats in 2015. pic.twitter.com/8sQWhmrwzN

— Hartford Yard Goats (@GoYardGoats) February 8, 2018
For those wondering, "Whirlybirds" is an homage to Connecticut's helicopter manufacturing industry, which includes the Northeast Helicopter School.
Aug. 12: Steamed Cheeseburgers Night
For the uninitiated, steamed burgers are a Connecticut delicacy in which the meat is cooked via steaming rather than on the grill. (They're not to be confused with steamed hams, which are another thing entirely.)
Always ones to embrace both weirdness and their state's cultural history, the Yard Goats will become the Steamed Cheeseburgers for their Aug. 12 game against the Bowie Baysox. And hey, the burger actually looks pretty fierce:
Yard Goats will play one game as the Hartford Steamed Cheeseburgers this season. In homage to the steamed cheeseburger which was invented in Connecticut. pic.twitter.com/qXxjj85M0l

— Hartford Yard Goats (@GoYardGoats) February 8, 2018
There's also a new mascot
Don't worry, Chompers and Chew Chew aren't going anywhere. Instead, they'll be joined/possibly reined in a bit by the Goofy Goat Herder -- who is apparently a man in suspenders riding a fake goat:
Introducing the Goofy Goat Herder. Coming to a Dunkin' Donuts Park near you in 2018. pic.twitter.com/2uYqi4gNYv

— Hartford Yard Goats (@GoYardGoats) February 7, 2018
We're not sure either, but we're very intrigued.