Despite seeing him at arguably his worst, there's a reason the Brewers signed Yasmani Grandal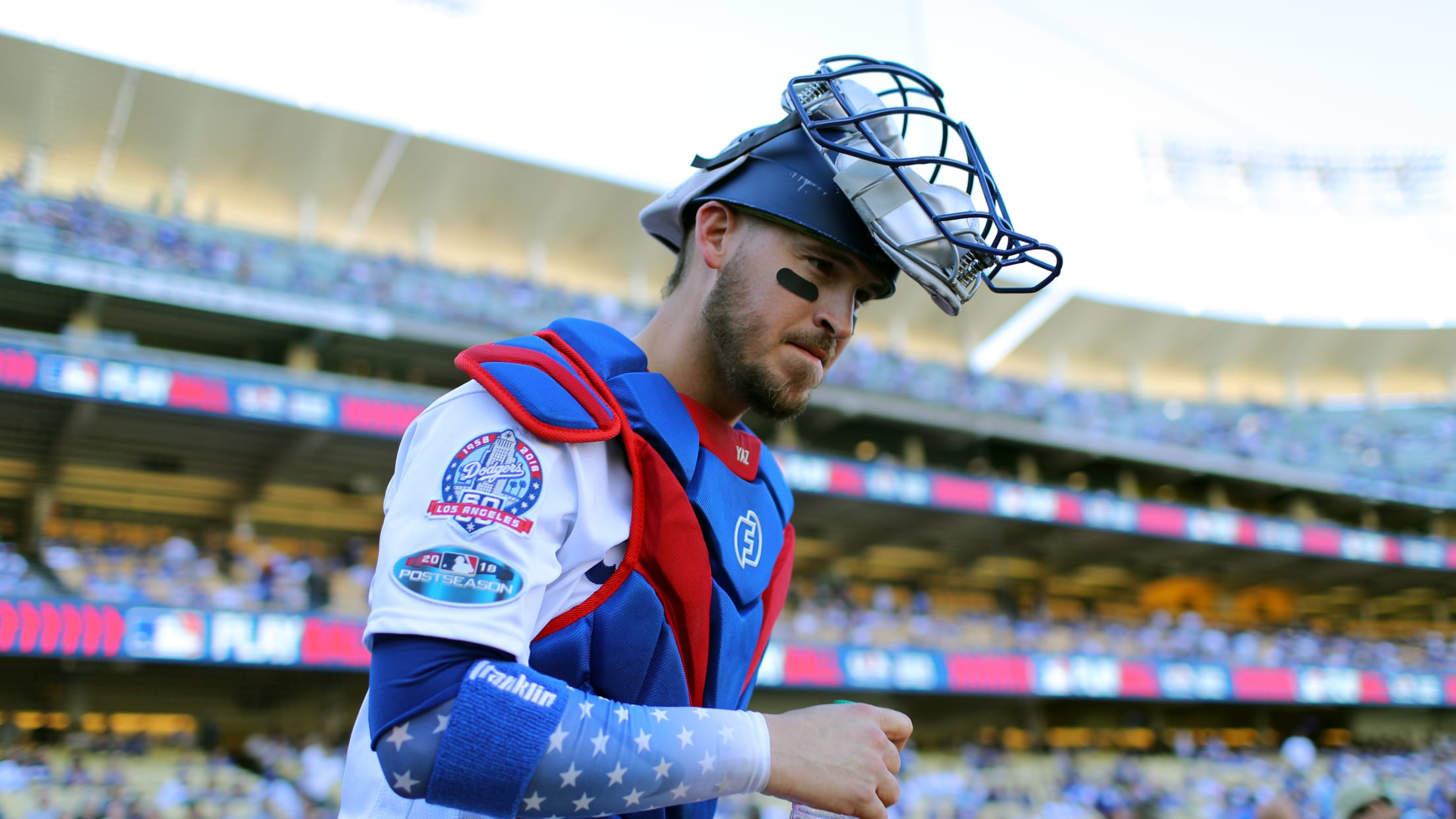 LOS ANGELES, CA - OCTOBER 15: Yasmani Grandal #9 of the Los Angeles Dodgers is seen before Game 3 of the NLCS against the Milwaukee Brewers at Dodger Stadium on Monday, October 15, 2018 in Los Angeles, California. (Photo by Alex Trautwig/MLB Photos via Getty Images) *** Local Caption *** Yasmani Grandal (Alex Trautwig/Getty Images)
If you watched the Dodgers play the Brewers in the NLCS last fall, you may have walked away thinking, "Yasmani Grandal isn't very good at this baseball thing. Perhaps he should take up bowling or a trade." So, you may be scratching your head as to why Milwaukee is reportedly signing him to a one-year, $18.25 million contract. After all, if you showed up to a job interview and promptly slipped, fell and dented the CEO's car with your head, chances are you wouldn't get the job.
In all honesty, Grandal's NLCS was essentially the baseball version of that nightmare scenario. He was 2-for-11 at the plate with six strikeouts in the series, one of which came with the bases loaded in the ninth inning of a one-run game. That's not a great look in front of your future bosses.
The catcher also made a number of glaring errors in the biggest moments. In Game 1 of the NLCS, he committed two errors and was charged with a passed ball ... in a single inning. Many Brewers fans are surely wondering how Manny Piña, postseason hero Erik Kratz and a bag of flour wouldn't be a better option behind the plate.
But, we all have bad days at the office. And baseball, moreso than any other sport, requires us to look at a broader spectrum of evidence than a few bad days in October. After all, there are 162 games every season, and once you start there, Grandal -- ranked as the 12th-best free agent this offseason -- really shines.
Last year, Grandal hit 24 home runs. Only one other catcher, Salvador Perez, hit more. The Brewers' four catchers -- Pina, Kratz, Jett Bandy and Jacob Nottingham -- combined to hit 16. It's not a one-year mirage, either: Over the last three seasons, Grandal has hit 73 homers -- second only to, again, Perez.
If you like dingers, especially from a position that rarely features them, then Grandal is your Huckleberry.
But that's not Grandal's only skill. A strong game-caller and pitch-framer has led him to being ranked as the best defensive catcher in the game according to Baseball Prospectus' metrics.
Take that in for a second: One of the best power-hitting catchers in baseball is arguably an even better defender than Jeff Mathis, whose defense is so strong that he signed a two-year contract with the Rangers despite a career .198 batting average. And fine, maybe Grandal's defense isn't quite that good. That's possible! The numbers could be wrong, but they would have to be wrong by a whole lot to take Grandal from being the best in the game to one of the worst. If you want to use FanGraphs WAR, Grandal was the second-best catcher in the game behind only J.T. Realmuto. Clearly, it doesn't matter quite how you are looking at Grandal -- he's good.
Over the last two years, the Brewers have shown a willingness to acquire talent to help them compete. This time last year, they added Christian Yelich and Lorenzo Cain, moves that catapulted them to the top of the NL Central.
They may not be done, either:
Looks like the Brewers aren't done. Marwin Gonzalez, Jed Lowrie, Wilmer Flores, Josh Harrison are among the FAs who have played second and third base. Mike Moustakas said he was open to trying 2B last year after the Brewers traded for him, but it never happened. https://t.co/EZIbugrSP3

— Adam McCalvy (@AdamMcCalvy) January 10, 2019