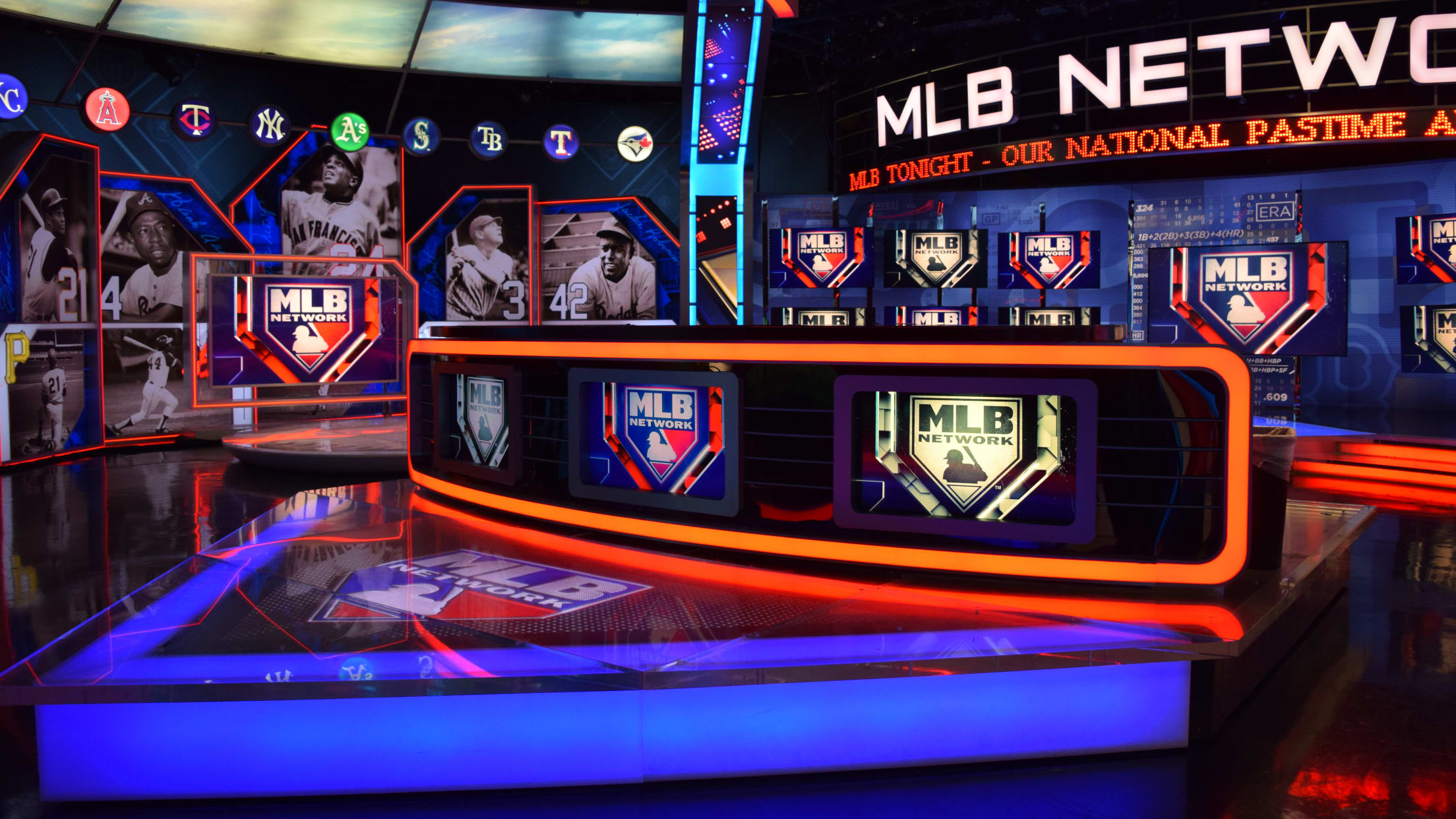 About MLB Network
MLB Network is the ultimate television destination for baseball fans, featuring the multiple Emmy Award-winning "MLB Tonight," live regular-season games and Spanish-language Postseason game telecasts, original programming, highlights, and insights and analysis from the best in the business.
Programming
MLB Network launched on Jan. 1, 2009, at 6 p.m. EST with the debut episode of "Hot Stove," followed by the original broadcast of Don Larsen's perfect game in the 1956 World Series.
MLB Network's coverage includes weekly live regular-season games, Spanish-language Postseason game telecasts, more than 150 Spring Training games and other special-event game telecasts.
"MLB Tonight" airs year-round, including seven days per week during the regular season with live look-ins at games in progress, news, interviews, highlights and analysis.
Distribution
MLB Network is broadly distributed across cable, telco and satellite systems on expanded digital basic cable or the equivalent. MLB Network is available on major systems, including Altice USA (Optimum), AT&T U-verse, Charter Communications (Spectrum), Comcast, Cox Communications, DIRECTV, DIRECTV Stream, DISH, fuboTV, Sling TV, Verizon Fios and many others.
---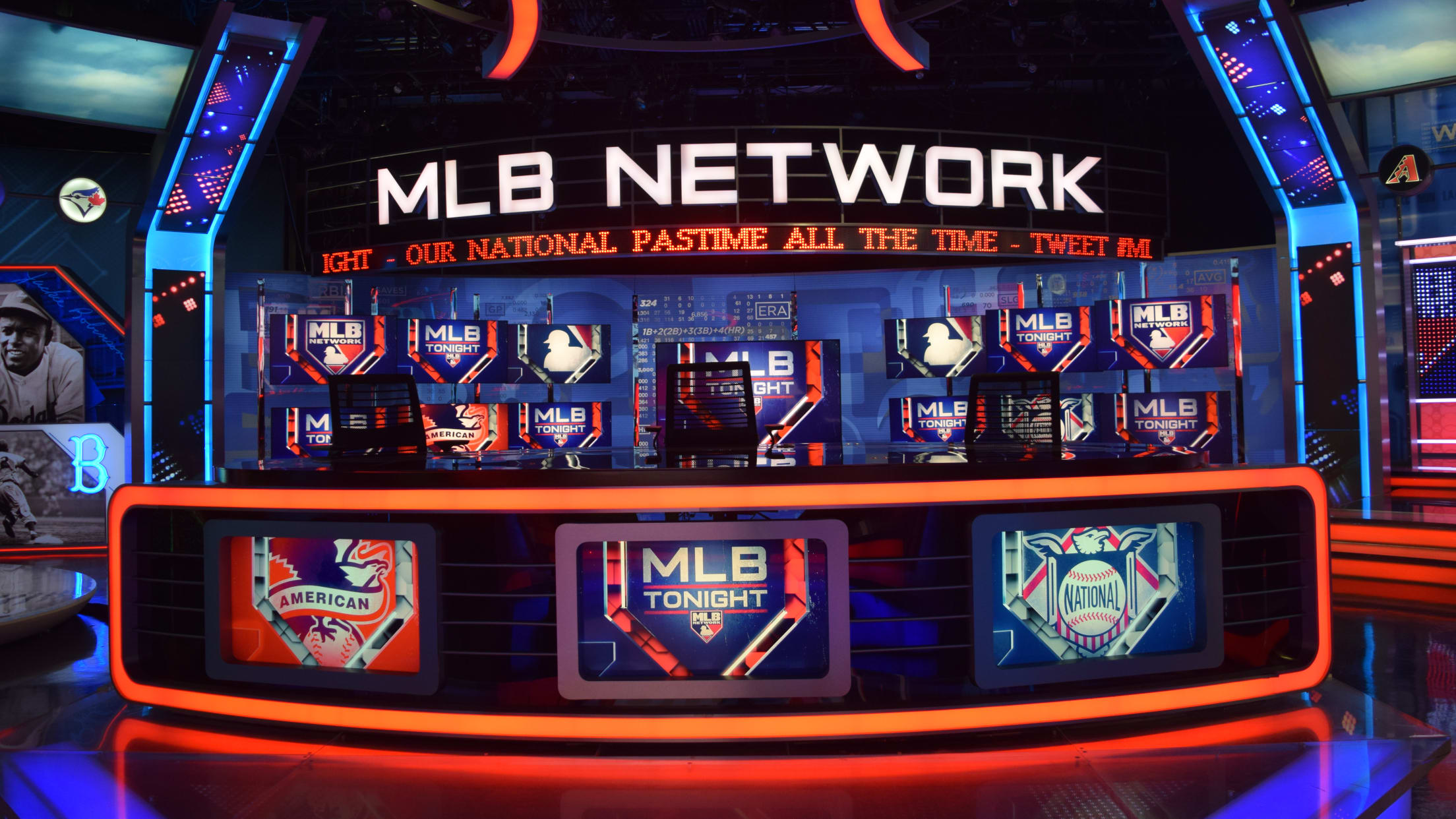 Studio 3
Named to honor Babe Ruth, Studio 3 is the primary home of MLB Network's signature live nightly studio show, "MLB Tonight," along with "The Rundown" and MLB Network special-event programming. Measuring 5,600 square feet, Studio 3 features 62 video displays, including a 30-by-7-foot rear projection screen and 108-inch and 103-inch monitors.
The studio features a desk that can rotate to various stations and includes six distinct broadcast areas, including a social media hub, stat center and interview area. The ceiling is ringed by backlit logos of all 30 MLB teams, and the entire studio features lighting that can be altered to give it the feel of day or night.
---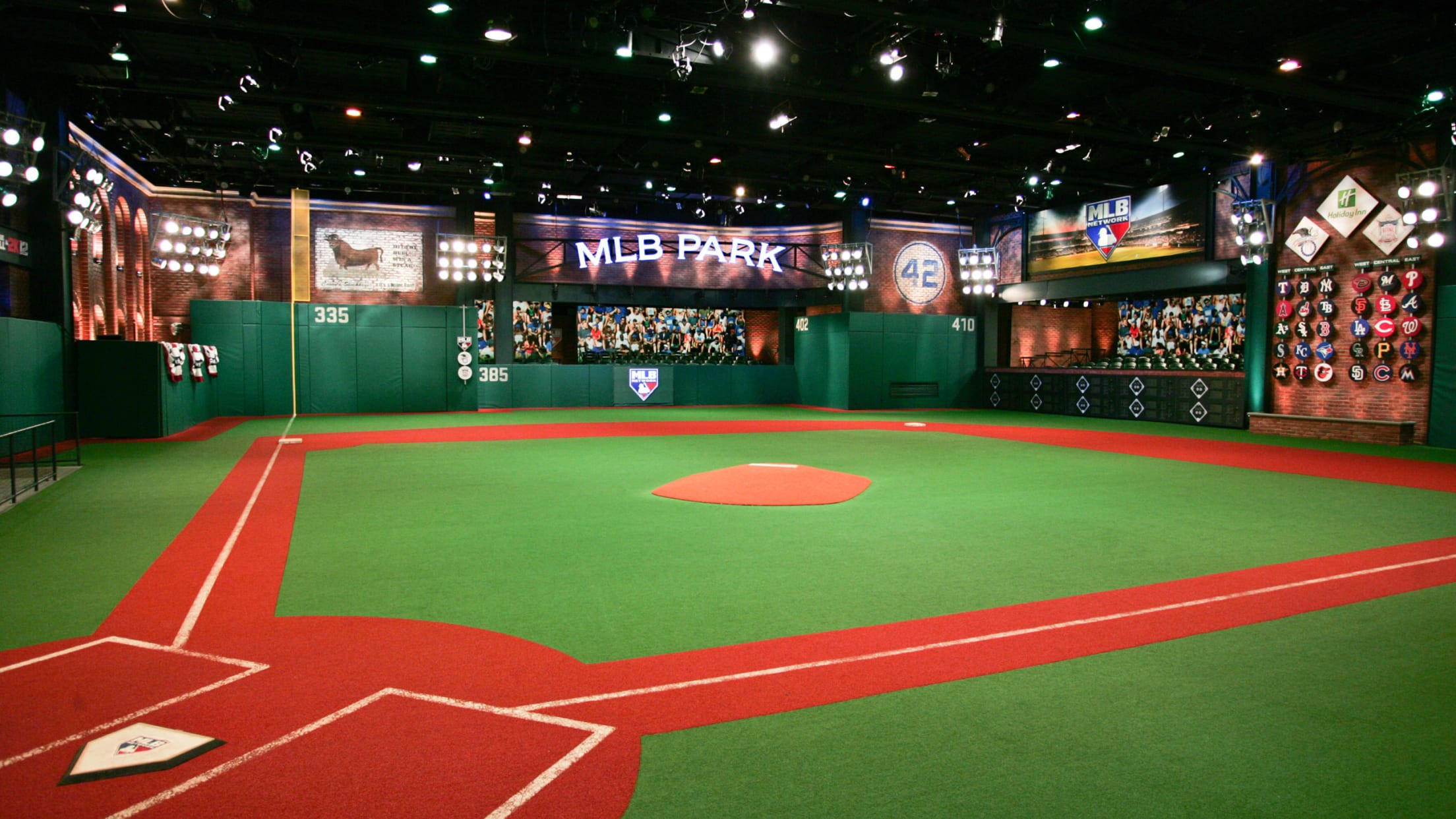 Studio 42
Named to honor Jackie Robinson, Studio 42 measures 9,600 square feet and is home of the interview series "Studio 42 with Bob Costas," as well as "Intentional Talk" and "Diamond Demo" segments. Since 2009, Studio 42 has hosted the MLB First-Year Player Draft.
Studio 42 is designed to be a replica baseball field, featuring a third-scale infield made of field turf and a pitcher's mound 30 feet from home plate that can be moved back for more realistic demonstrations. The studio also features a replica outfield wall with padding, brick designs and an out-of-town scoreboard, which is updated in real-time and modeled after the scoreboard at Citizens Bank Park in Philadelphia.
---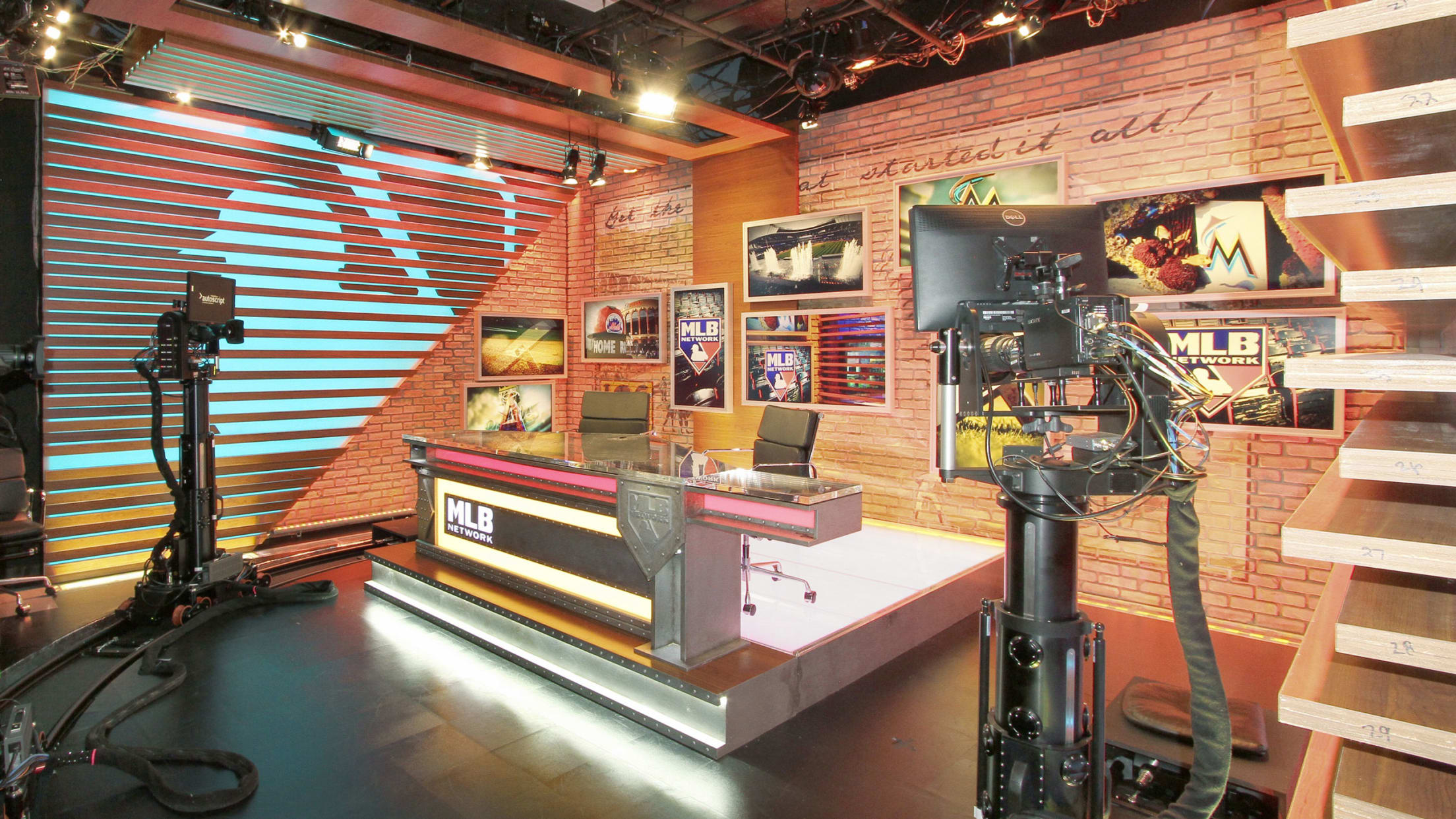 Studio K
Named after the letter baseball fans use to indicate a strikeout, Studio K is the home of MLB Network's offseason live morning show, "Hot Stove."
The studio uses three robotic cameras with the ability to dolly, elevate, pan left and right, tilt up and down, zoom and focus all through an operator in the control room.
The studio also features green lighting technology, including having all 70 lighting fixtures operated from two standard household circuits.
---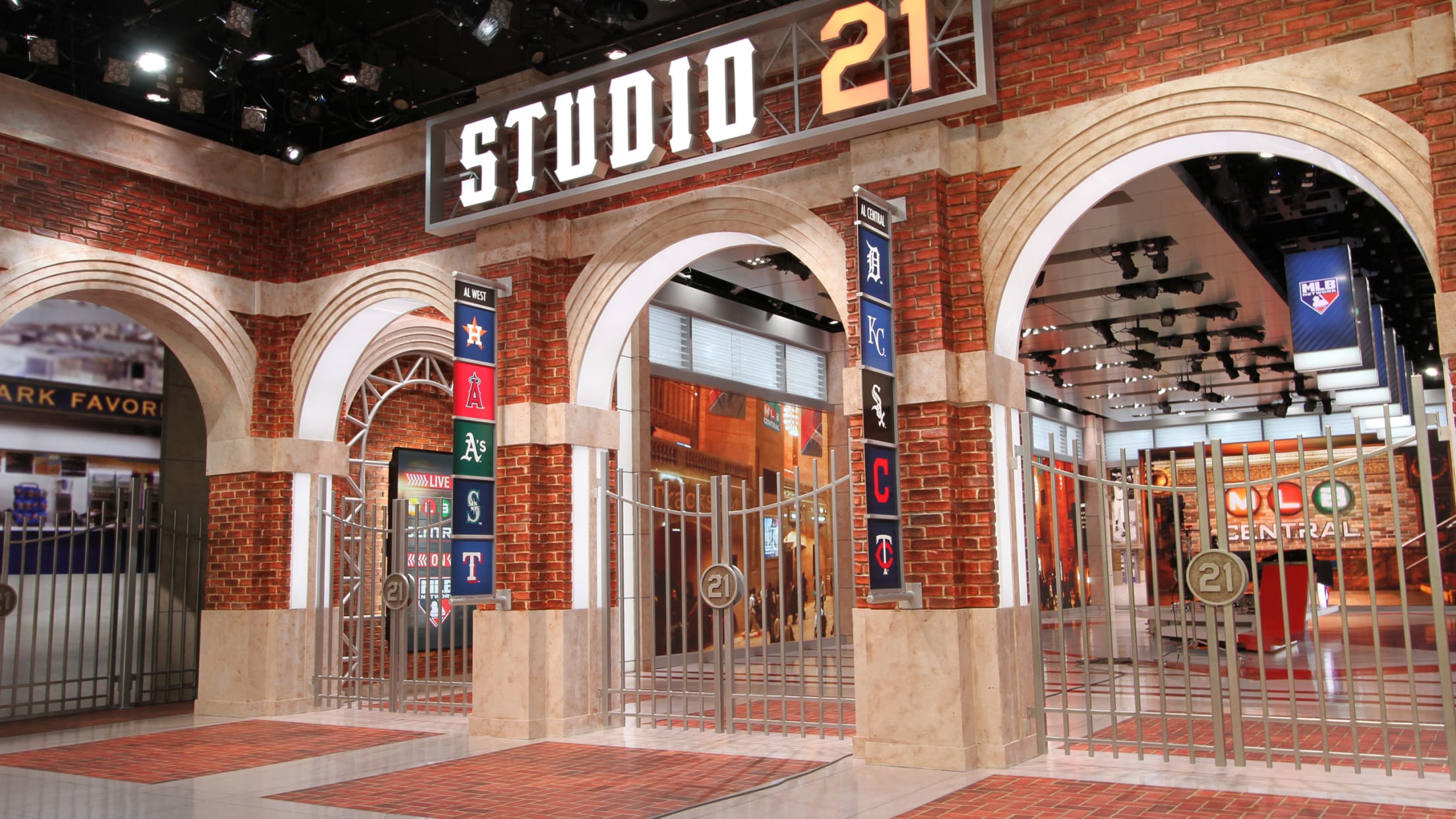 Studio 21
Named in honor of Hall of Famer and humanitarian Roberto Clemente, Studio 21 is home to three daily shows, including "MLB Central," "MLB Now" and "Quick Pitch." The space innovates the way MLB Network studio programming is presented, using at least five multi-camera studio positions and cutting-edge technology adaptable to any show, story or club, from hanging video displays to augmented reality graphic components.
Studio 21 combines elements of a traditional ballpark with the latest in modern TV technology. The walls of the studio resemble the exterior of a ballpark, including a 1,800-square-foot courtyard, six-foot tall entrance gates and a brick pattern on the floor.
Given its namesake, the studio design pays tribute to Clemente with a seven-foot bronze medallion bearing Clemente's uniform No. 21 and a 15-foot wide "Studio 21" sign in the Pittsburgh Pirates' signature block lettering at the entrance. The walls of the studio are lined with nearly 1,400 square feet in high-resolution LED displays and, in the studio's premiere feature, 14 back-to-back 55-inch monitors are suspended from the ceiling to be rotated, raised and lowered in synchronized timing as well as according to specific show content and direction.

---
Select Wardrobe Provided By:
---