Yankees' all-time retired numbers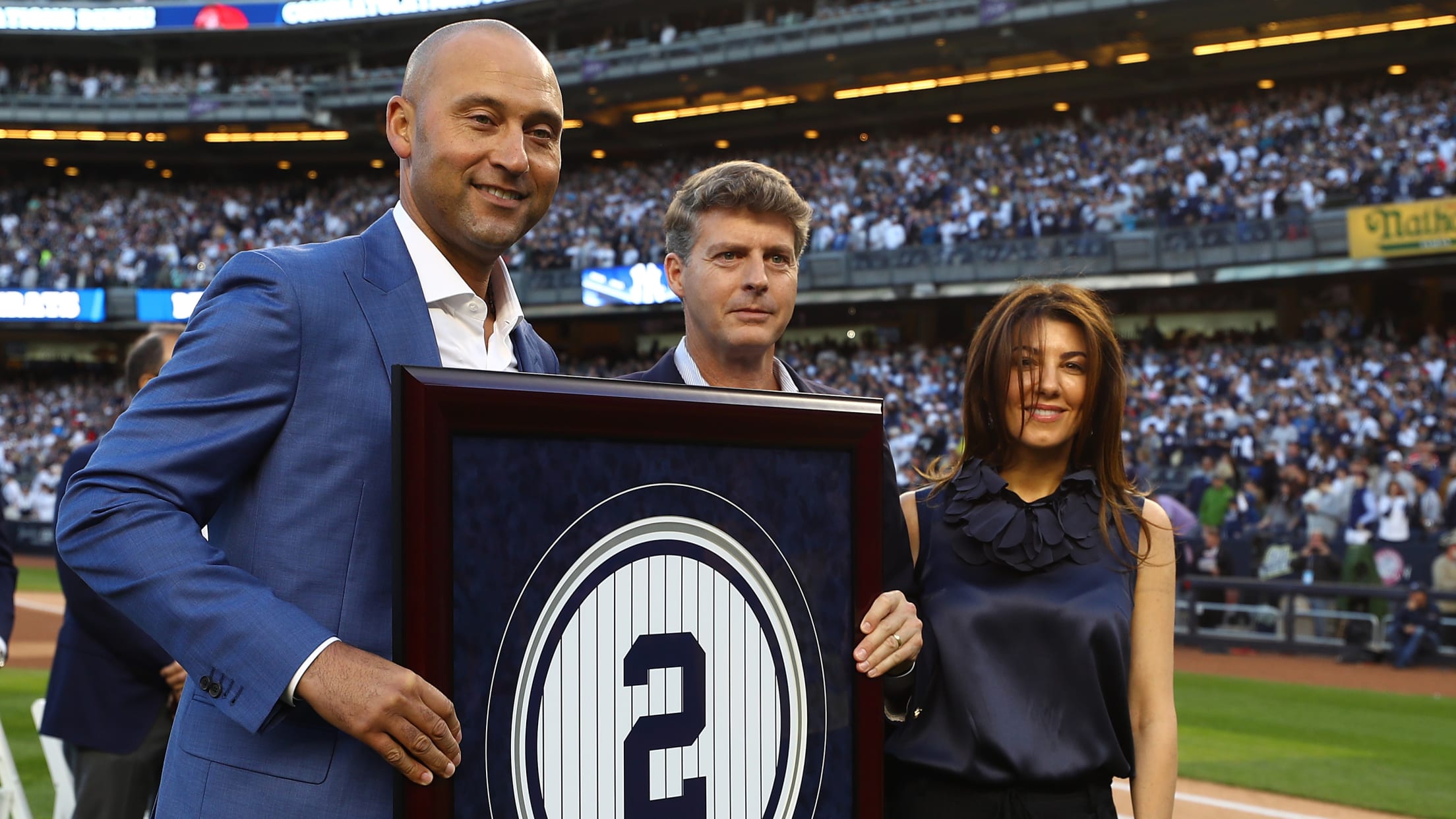 No Major League franchise boasts a richer and more storied history than the Yankees. Appropriately, the 21 numbers that have been removed from circulation to honor 22 of their finest players and managers stand as the most in Major League Baseball. Lou Gehrig's No. 4 was the first retired number
No Major League franchise boasts a richer and more storied history than the Yankees. Appropriately, the 21 numbers that have been removed from circulation to honor 22 of their finest players and managers stand as the most in Major League Baseball.
Lou Gehrig's No. 4 was the first retired number in Major League history, shelved on Jan. 6, 1940, via an announcement from team president Ed Barrow. Some 77 years later, Derek Jeter's No. 2 became the last of the Bombers' single digits to disappear from use.
Displayed in Monument Park at Yankee Stadium, the retired numbers represent a "who's who?" of sports history, belonging to the greatest of the great. Hall of Famers mingle with fan favorites across different eras, all of whom helped the Yankees' brand become synonymous with success.
Billy Martin, 2B/Manager, No. 1
Number retired: Aug. 10, 1986
Martin had as much "Yankees pride" as any player or manager to wear pinstripes, and he implanted his fierce desire to win in his teams. He played an integral part in four World Series in the 1950s as a player and added another ring managing the Yanks in '77. Martin had five stints managing the club.
Derek Jeter, SS, No. 2
Number retired: May 14, 2017
The face of baseball for a generation of fans, Jeter played a franchise-record 20 seasons with the Yankees from 1995-2014, retiring with a personal career winning percentage of .593 (1,628-1,117-2) and five World Series rings. A 14-time All-Star, Jeter retired with the sixth-most hits in history (3,465) and played in 16 postseasons.
Babe Ruth, RF, No. 3
Number retired: June 13, 1948
Many consider Ruth the most colorful figure in the game's history. Sold to the Yankees in 1920, his 54 home runs that year were more than any other American League team. En route to 714 career homers, Ruth won 12 home run titles, including slugging 60 in 1927. Part of the inaugural Hall of Fame class of 1936, the Bambino added 15 homers in World Series play, leading the Yanks to seven Series appearances and four titles.
Lou Gehrig, 1B, No. 4
Number retired: Jan. 6, 1940
Gehrig was a uniquely durable, power-hitting first baseman who played in 2,130 consecutive games from 1925-39. In a career shortened by terminal illness, Gehrig compiled a .340 batting average with 493 home runs, two AL MVP Awards and the 1934 Triple Crown. Gehrig was honored at Yankee Stadium on July 4, 1939, when he made his memorable "Luckiest Man" speech, and was elected to the Hall of Fame in 1939.
Joe DiMaggio, CF, No. 5
Number retired: April 18, 1952
"The Yankee Clipper" is considered by many experts as the best all-around player in history. The California native was a sensational hitter for both average and power, and a splendid, graceful ball-hawking center fielder with a powerful and accurate arm. A two-time batting champion and three-time AL MVP Award winner, DiMaggio compiled a .325 lifetime batting average from 1936-51 and powered the Yankees to nine World Series titles despite losing three years (1943-45) to military service. Many rate his 56-game hitting streak in 1941 as the top baseball feat of all time. DiMaggio was elected to the Hall of Fame in 1955.
Joe Torre, Manager, No. 6
Number retired: Aug. 23, 2014
A calming influence in the clubhouse who had a stoic outward expression in the dugout, Torre piloted the Yankees to six World Series appearances and four championships during his tenure from 1996-2007. The 2014 Hall of Famer led the club to the playoffs in all 12 of his seasons at the helm, going 1,173-767-2 (.605) in the regular season and 76-47 (.618) in the postseason, including a 21-11 mark in the World Series.
Mickey Mantle, CF, No. 7
Number retired: June 8, 1969
"The Mick" was the most feared hitter on some of the most successful teams in history. In 14 seasons between 1951-64, he led the Yanks to 12 Fall Classics and seven championships. In 1956, Mantle had one of the greatest offensive seasons ever, winning the Triple Crown by hitting .353 with 52 homers and 130 RBIs. A three-time AL MVP Award winner, he was elected to the Hall of Fame in 1974.
Yogi Berra, C/Manager, No. 8
Number retired: July 22, 1972
Beloved by generations of fans, Berra was part of the foundation of the Yankees' dominance from the end of World War II through the early 1960s. A three-time AL MVP Award winner who won an all-time record 10 World Series rings, Berra was selected to play in the All-Star Game in 15 successive seasons from 1948-62 and played on 14 pennant winners. He led the Yanks to the 1964 pennant as manager and was elected to the Hall of Fame in 1972.
Bill Dickey, C, No. 8
Number retired: July 22, 1972
Regarded as one of the greatest catchers of all time, Dickey was a durable and tireless worker, catching more than 100 games in an AL-record 13 consecutive seasons (1929-41). Dickey also excelled as a hitter, batting over .300 in 10 of his first 11 full seasons and hitting 202 homers during his career. He handled Yankees pitching staffs on eight World Series teams, winning seven championships. He was elected to the Hall of Fame in 1954.
Roger Maris, RF, No. 9
Number retired: July 21, 1984
In one of the most dramatic assaults on a baseball record, Maris surpassed Ruth's single-season record of 60 home runs on the final day of the 1961 season. Maris' 61 homers that season stood as a Major League record until 1998. A two-time AL MVP Award winner (1960-61), Maris is considered one of the best defensive right fielders in Yankees history.
Phil Rizzuto, SS, No. 10
Number retired: Aug. 4, 1985
Playing 13 years for the Yankees, the "Scooter" went to nine World Series, winning seven. Diminutive yet tough, he was a skilled bunter and baserunner with a .273 career average. Rizzuto earned the 1950 AL MVP Award. He also spent 40 years as a Yanks broadcaster (1957-96), tossing around his signature phrase, "Holy cow!" Rizzuto was elected to the Hall of Fame in 1994.
Thurman Munson, C, No. 15
Number retired: Aug. 3, 1979
Munson was the undisputed leader of the Yankees teams that won three consecutive AL pennants from 1976-78 and two World Series championships. A tremendous defensive catcher, Munson won three straight Gold Glove Awards (1973-75) and the 1976 AL MVP Award. In each season from 1975-77, Munson drove in 100 or more runs and hit better than .300. There is no more tragic date in Yanks history than Aug. 2, 1979, when Munson died in a plane crash at age 32.
Whitey Ford, LHP, No. 16
Number retired: Aug. 3, 1974
"The Chairman of the Board" was the ace of the great Yankees teams of the 1950s and early '60s. With a lifetime record of 236-106, Ford paced the AL in victories three times and in ERA and shutouts twice. The 1961 Cy Young Award winner still holds several World Series records, including 10 wins, 33 consecutive scoreless innings and 94 strikeouts. He was elected to the Hall of Fame in 1974.
Jorge Posada, C, No. 20
Number retired: Aug. 22, 2015
One of the best-hitting catchers of his era, Posada spent each of his 17 seasons with the Yankees from 1995-2011, batting .273 with 379 doubles, 275 homers, 1,065 RBIs, a .374 OBP and an .848 OPS in 1,829 games. A player on four World Series-winning squads, Posada was a five-time All-Star and a five-time Silver Slugger recipient.
Don Mattingly, 1B, No. 23
Number retired: Aug. 31, 1997
Respected for his talent, professionalism and humility, "Donnie Baseball" was the premier first baseman of the mid-1980s before back problems robbed him of much of his power at age 29. Nevertheless, he remained the most loved Yankee of his era and a defensive star, tallying nine Gold Gloves in his 14 years in pinstripes (1982-95). The "Hit Man" won the 1984 AL batting title (.343) and the 1985 AL MVP Award.
Elston Howard, C, No. 32
Number retired: July 21, 1984
The first African-American player in Yankees history, the versatile Howard contributed to nine AL pennant-winning teams in his first 10 seasons with the club. The 1963 AL MVP Award winner and a two-time Gold Glove Award winner, Howard was elected to the All-Star Game in nine consecutive seasons (1957-65). A clubhouse leader as a player from 1955-67 and as a Yanks coach from 1969-79, his dignified manner and competitive spirit set a powerful example.
Casey Stengel, Manager, No. 37
Number retired: Aug. 8, 1970
In a distinguished 54-year professional career, "The Old Perfessor" became one of the game's greatest managers. His feat of guiding the Yankees to 10 pennants and seven titles in a 12-year span from 1949-60 ranks as one of the top managerial accomplishments of all time. Stengel was an authentic baseball ambassador, making the game fun for millions of Americans. He was elected to the Hall of Fame in 1966.
Mariano Rivera, RHP, No. 42
Number retired: April 15, 1997 by MLB; Yankees recognized Rivera on Sept. 22, 2013
The all-time leader with 652 career saves, Rivera compiled an impressive 2.21 career ERA over a 19-year career from . "The Sandman's" postseason dominance was legendary, setting Major League records with 42 postseason saves, a 0.70 ERA (min. 30 innings) and 96 appearances. He won five World Series championships and appeared in two other Fall Classics.
Reggie Jackson, RF, No. 44
Number retired: Aug. 14, 1993
"Mr. October" blasted 563 career home runs, including 144 as a Yankee from 1977-81. In Game 6 of the 1977 World Series, Jackson hit three homers -- all on the first pitch -- as the Yankees secured their first championship since 1962. He was an All-Star in each of his five seasons in pinstripes and had his best year with the club in 1980, finishing second in the AL MVP Award voting. Jackson was elected to the Hall of Fame in 1993.
Andy Pettitte, LHP, No. 46
Number retired: Aug. 23, 2015
Reliable and consistent, Pettitte pitched 15 seasons with the club, going 219-127 with a 3.94 ERA while setting a franchise mark with 2,020 strikeouts. A three-time AL All-Star, Pettitte is the only pitcher drafted by the Yankees to win 200 games. As a Yankee, Pettitte went 18-10 with a 3.76 ERA in 40 postseason starts, winning five World Series titles. He famously started and won all three series-clinching games in the 2009 postseason.
Ron Guidry, LHP, No. 49
Number retired: Aug. 23, 2003
"Louisiana Lightning" was a four-time All-Star and three-time 20-plus-game winner whose 1978 season was one of the most dominant ever. That year, he went 25-3 with a 1.74 ERA, winning the AL Cy Young Award in unanimous fashion. He also set single-season franchise records with nine shutouts, 248 total strikeouts and 18 strikeouts in a single game (June 17 vs. California). From 1986 through his retirement in 1989, Guidry served as a co-captain with Willie Randolph.
Bernie Williams, CF, No. 51
Number retired: May 24, 2015
Williams played his entire 16-year career with the Yankees (1991-2006), batting .297 with 449 doubles, 278 home runs and 1,257 RBIs in 2,076 games. A five-time AL All-Star, four-time Gold Glove winner and one-time Silver Slugger Award recipient, Williams won the 1998 AL batting title with a .339 average. A four-time World Series champion, he is the Yanks' all-time postseason leader in homers (22) and RBIs (80) and was the MVP of the 1996 ALCS.
Note: On April 15, 1997, the Yankees joined every MLB team in retiring No. 42 in honor of Jackie Robinson.