Inbox: What are the chances of retaining Cole?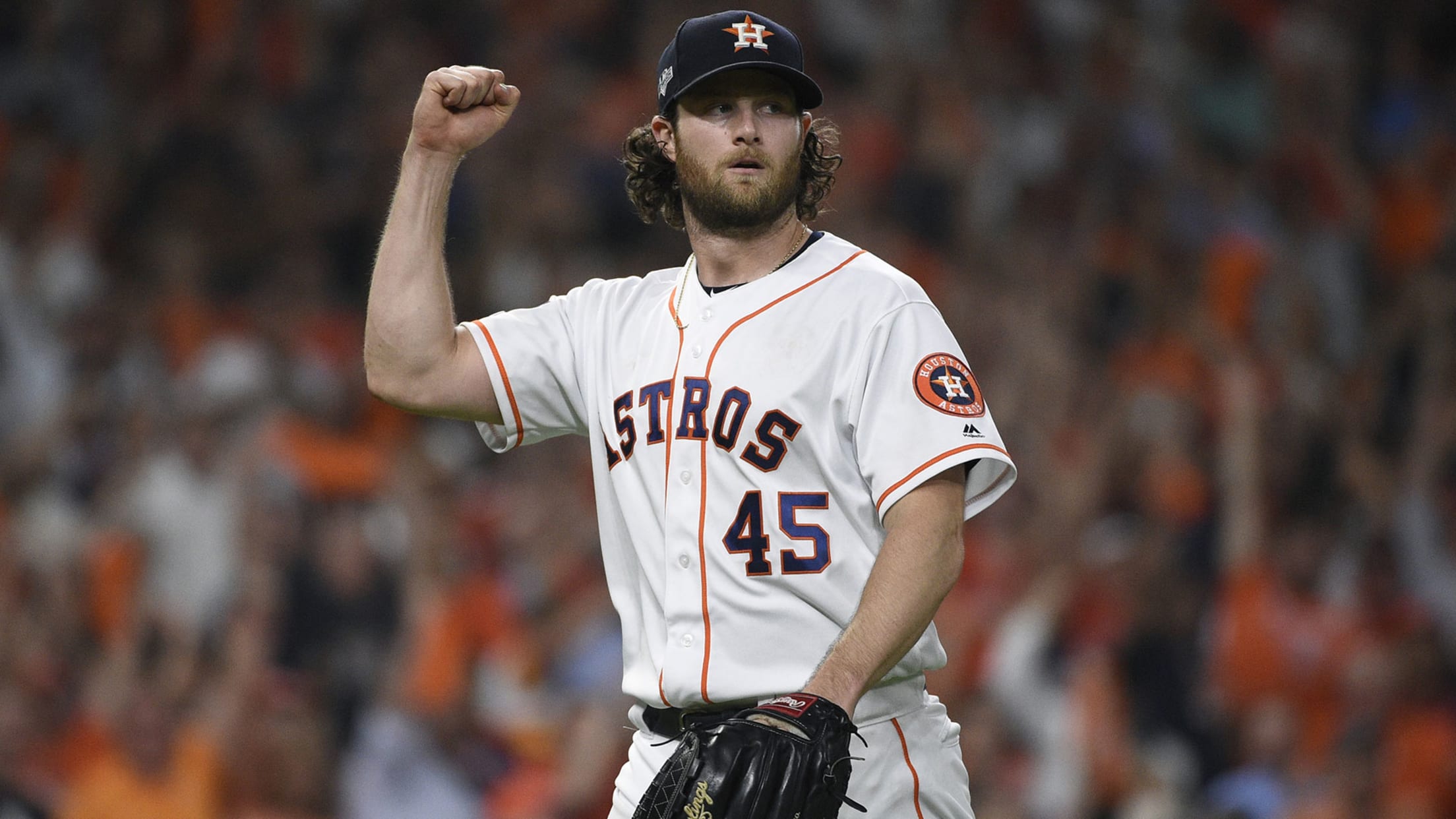 HOUSTON -- It has been a little more than a week since the Astros lost to the Nationals in Game 7 of the World Series, but the baseball world churns forward. Free agency is underway (though quietly), and next week, the General Managers Meetings will take place in Scottsdale, Ariz.
HOUSTON -- It has been a little more than a week since the Astros lost to the Nationals in Game 7 of the World Series, but the baseball world churns forward.
Free agency is underway (though quietly), and next week, the General Managers Meetings will take place in Scottsdale, Ariz. That means the Winter Meetings aren't too far away, and the Astros could start making some roster moves at any point. So let's open up the Inbox and see what's on your mind:
Is the team hopeful they will sign Gerrit Cole? Is this realistic?

— Kyle Zapata (@kyletzapata) November 8, 2019
A. Based on what owner Jim Crane told reporters on Monday, the Astros are going to make a run at re-signing Cole. The truth is, that's going to be very difficult. Cole is the top free agent on the market and has established himself as the best pitcher in the game following a terrific 2019 season. He's likely going to get the richest contract to a pitcher in baseball history, and the Astros just might not be able to afford letting their payroll go that high.
As it stands, Houston's payroll will already be pushing the luxury tax threshold next year ($208 million), with lucrative extensions to Justin Verlander, Alex Bregman and José Altuve set to kick in, as well as the addition of Zack Greinke, who got a six-year, $206.5 million deal from Arizona after the 2015 season. Crane said the club could burst past the threshold, but how high would it realistically want to go?
The Astros might have to clear some payroll room, which will be challenging, but Crane said the length of the contract might be the biggest hurdle. The Astros probably don't want to sign Cole beyond five years. He's probably going to be asking for a longer deal than that from the get-go. The Cole sweepstakes could take us through the summer.
Everyone believes Urquidy and McCullers are automatic 3-4 starters. Given neither has thrown more than 130 IP at any time in their careers, how does that look realistically?
Will at SP be acquired/signed in the coming months?
What is the status of RF, Reddick or Tucker?

— Robncypress57 (@robncypress57) November 8, 2019
A: At this point, you should pencil in José Urquidy and Lance McCullers Jr. behind Verlander and Greinke in the Astros' rotation next year. McCullers has recovered from Tommy John surgery he underwent a year ago and will be looking for his first healthy season in 2020. Urquidy showed so much promise that he started Game 4 of the World Series and was terrific. He could have a bright future.
Your point is valid, though. Neither has come anywhere close to 200 innings, but that doesn't mean they can't. Both will have to assume bigger workloads going forward. McCullers' workload will depend on how well he bounces back from Tommy John surgery. Urquidy's workload will be pushed next year, as well, but the Astros will be smart about their innings.
As far as Josh Reddick and Kyle Tucker in right field, it remains to be seen. Tucker showed enough in the regular season (.269, four homers, 11 RBIs in September) to perhaps warrant getting a shot full-time next year. Reddick slipped after a hot start offensively and will enter the last year of his four-year, $52 million deal. I could see the Astros moving him to open a spot for Tucker, but it will be tricky to find a match with a team willing to pay him $13 million next year after back-to-back seasons in which he posted a sub-.730 OPS.
What is the status of Myles Straw, and what is anticipated for his role & development next year?

— Aaron - Houston Moogle (@MoogleSpace) November 8, 2019
A: That will depend on whether the Astros bring back Jake Marisnick, who's arbitration-eligible for the final time next year before hitting free agency in 2021. If the Astros non-tender Marisnick, Straw could be a cheaper version of a fourth outfielder who plays plus defense and has streak-of-lightning speed. Straw helped his cause, too, by appearing in 26 games at shortstop. He could be a valuable tool off the bench, and he probably still has some development remaining with his bat. Rosters will expand to 26 next year, which will help Straw stick in the big leagues.
This is also my question. Altuve bumps to $29M next year, Bregman's bump isn't until 2023 (if that isn't redone). JV and Grienke are off the books in 2021. Do you think we tie Springer up this off season? Or try next off season once he is a FA?

— Brett Wallis (@mbwallis) November 8, 2019
A: Yes, Altuve's extension he signed prior to the 2018 season kicks in next year. Bregman's extension will pay him $13 million next year and then, as you said, $28.5 million in 2023. And you're right -- after 2021, Verlander and Greinke are off the books, if they don't get extensions (remember, Verlander wants to pitch until he's 45). Springer is entering his final year before free agency, and the club will probably try to extend him, but see the answer to the first question above. The Astros have reached the point where they can't extend everybody. We knew this was coming, and that's the price you pay when you have a young nucleus that comes up together and hits free agency around the same time. That's where having a strong farm system comes into play, but the Astros' has been weakened in recent years with the trades to acquire Brian McCann, Verlander, Cole and Greinke, among others.
To answer your question, I think if they extend Springer, it will come before the season starts.
What's the likelihood that we end up re-signing Chirinos and Maldonado? In the end they're relatively cheap cost-wise compared to Grandal or another big name backstop, and I've really grown to like both of them.

— Matt Dillon (@Texas_Hog_Killa) November 8, 2019
A: Robinson Chirinos did a solid job in his first year in Houston and became Verlander's personal catcher, so I think there's a good shot the Astros will try to bring him back. I think that if the Astros could bring back both Chirinos and Maldonado, both would be on board, but that might not be realistic. Garrett Stubbs might get his chance to be a full-time backup. Yasmani Grandal would be a big fish for the Astros, but they would probably be better off spending that money elsewhere.
• Here is the best free agent at every position
Leading bench coach candidates if Espada gets SFG or PIT jobs?

— Brian Hertz (@hookemhertz) November 8, 2019
A: Joe Espada is a finalist for the Giants' managerial job and appears to be ready to get a shot to be a manager. That would be three managers in AJ Hinch's managerial tree -- Alex Cora in Boston, Espada, and I'm also counting Carlos Beltrán, who ended his career with the Astros in 2017 and was a big part of what they did on the bench and in the clubhouse. If Espada leaves, look for Hinch to promote from within. First-base coach Don Kelly would be the most likely candidate to fill Espada's role.