Injuries & Roster Moves: Castro nears return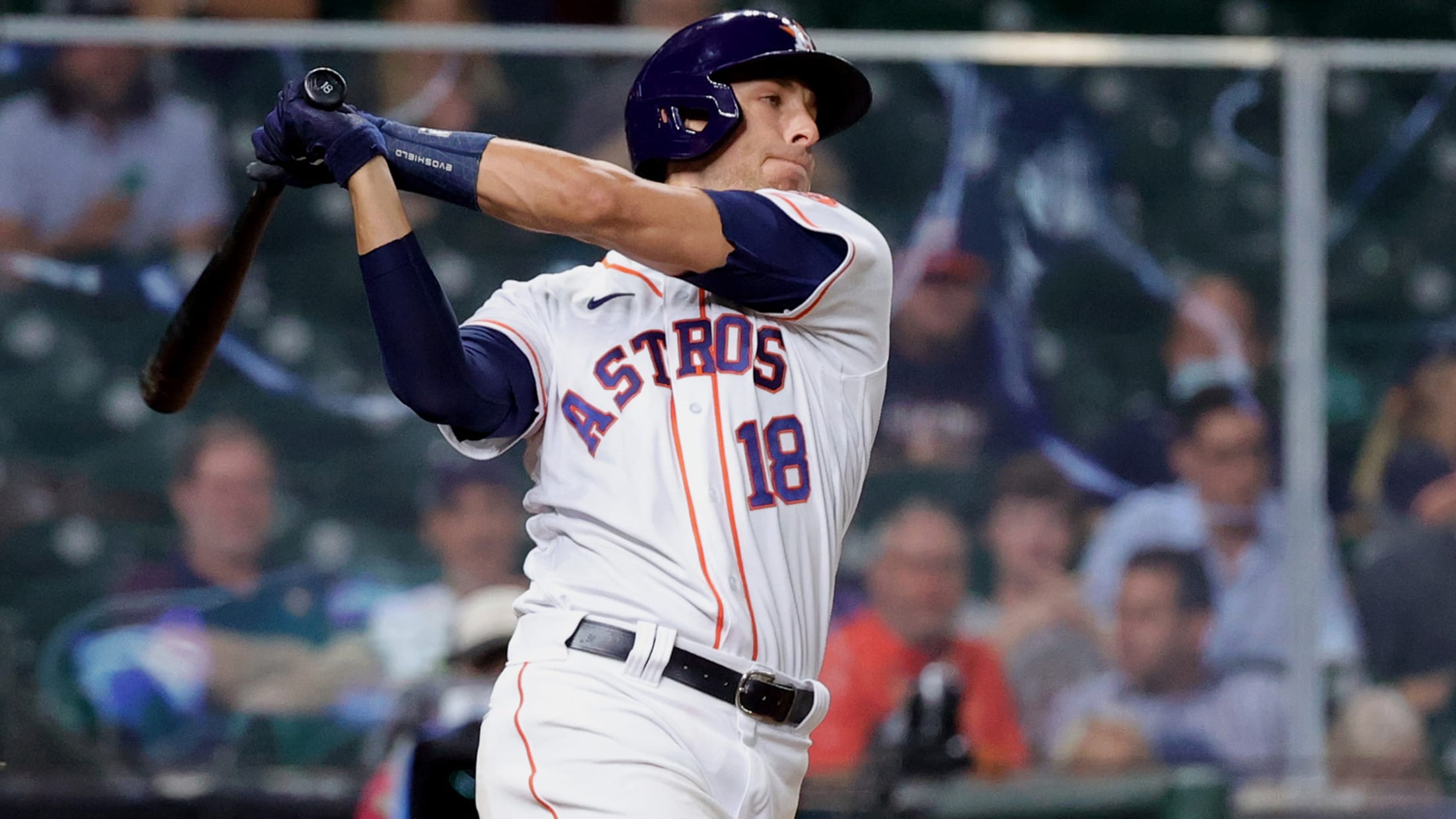 Keep track of the Astros' recent transactions and injury updates throughout the season.
Aledmys Díaz lands on IL with fractured hand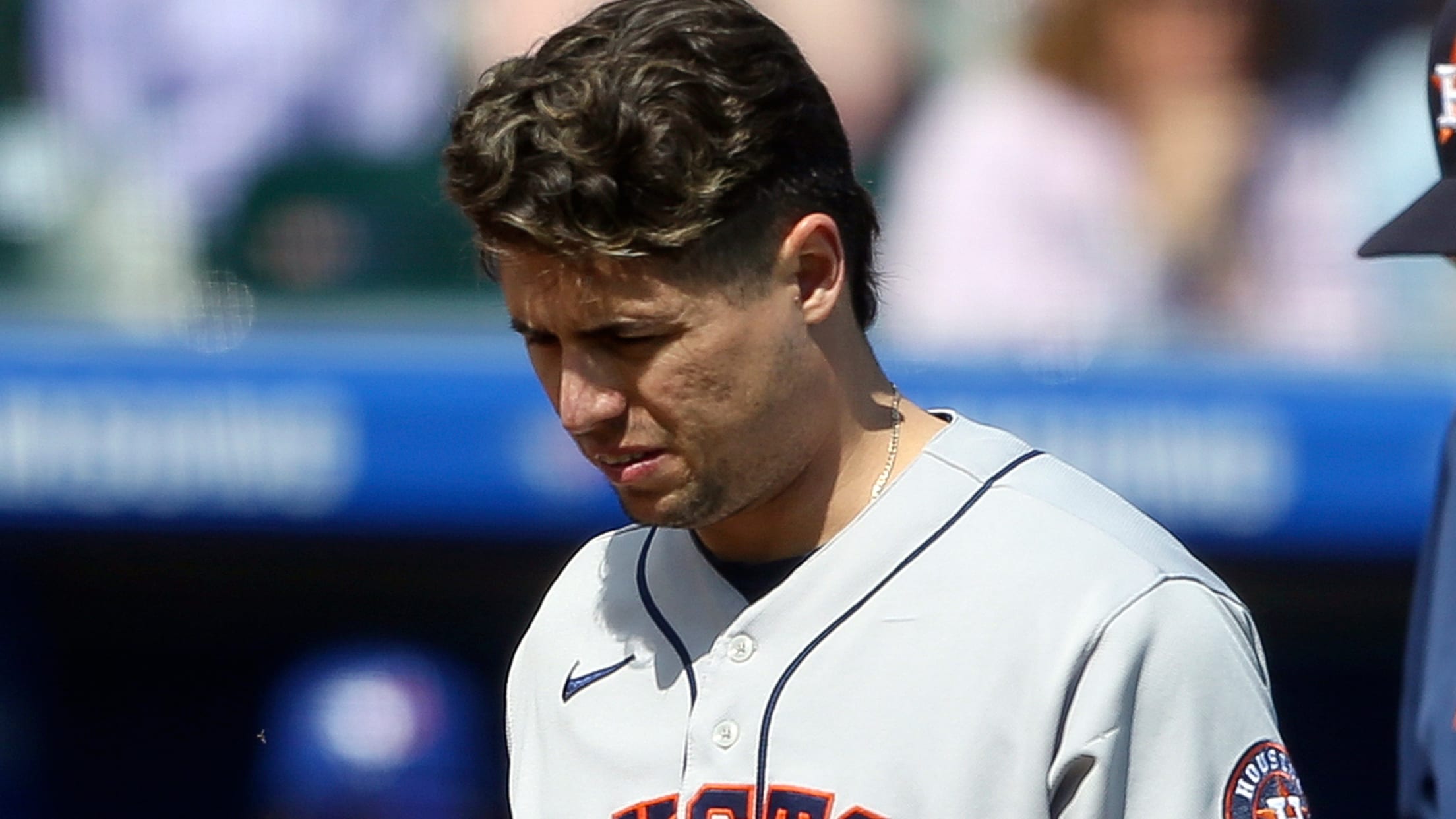 BUFFALO, N.Y. -- The Astros will be without utility player Aledmys Díaz for approximately six to eight weeks after he sustained a fractured left hand in Saturday's loss to the Blue Jays, manager Dusty Baker said on Sunday. Díaz was struck on the left hand in the second inning on
Emanuel (left elbow surgery) out for season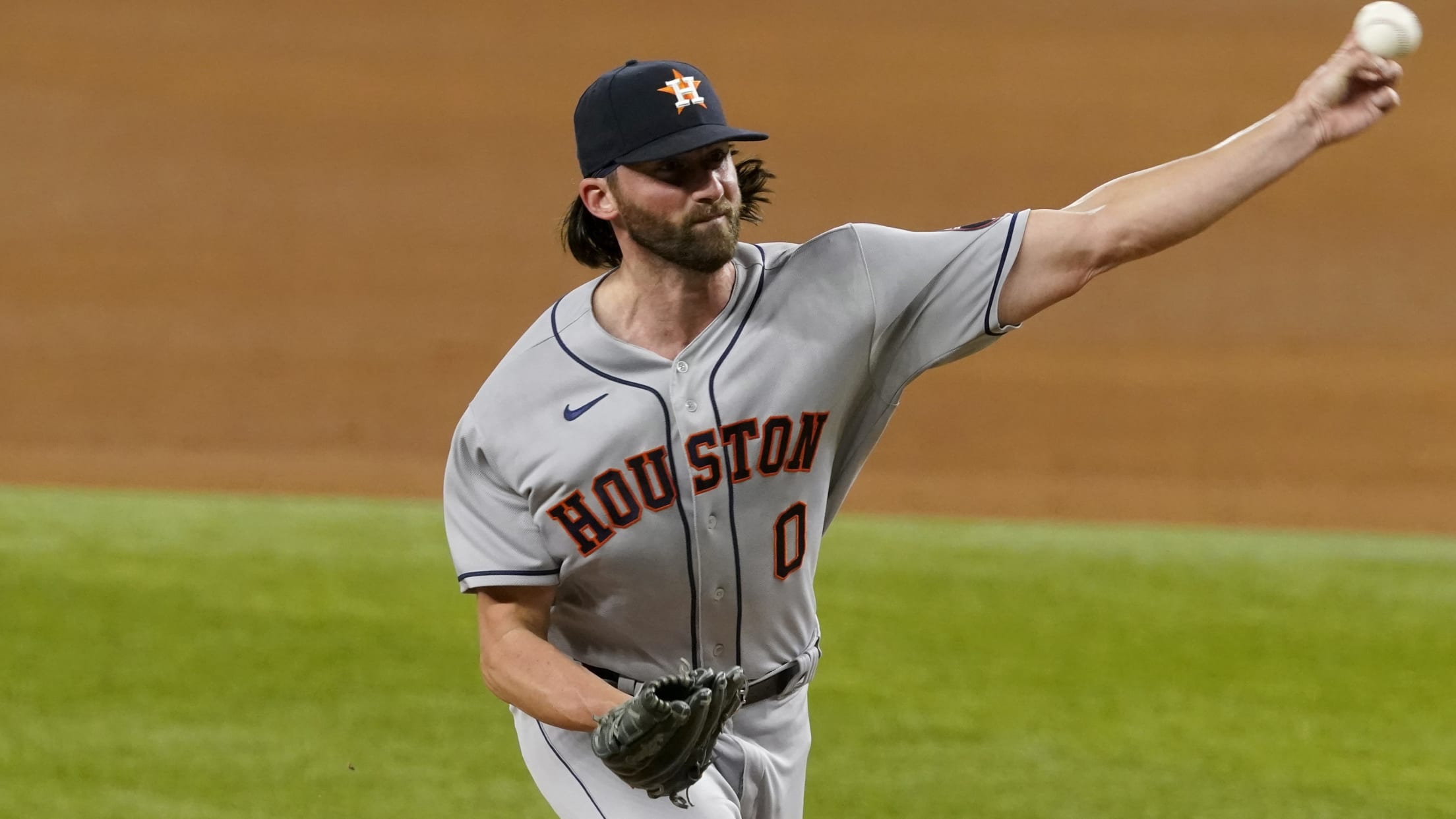 HOUSTON -- Astros left-handed pitcher Kent Emanuel, who threw 8 2/3 innings in relief in his Major League debut on April 24 against the Angels, revealed Thursday he will undergo surgery to fix the ulnar collateral ligament in his left elbow, ending his season. Emanuel, who turns 29 on Friday,
Brantley (hamstring) lands on 10-day IL
Odorizzi eyes 'fresh start' ahead of Saturday's return outing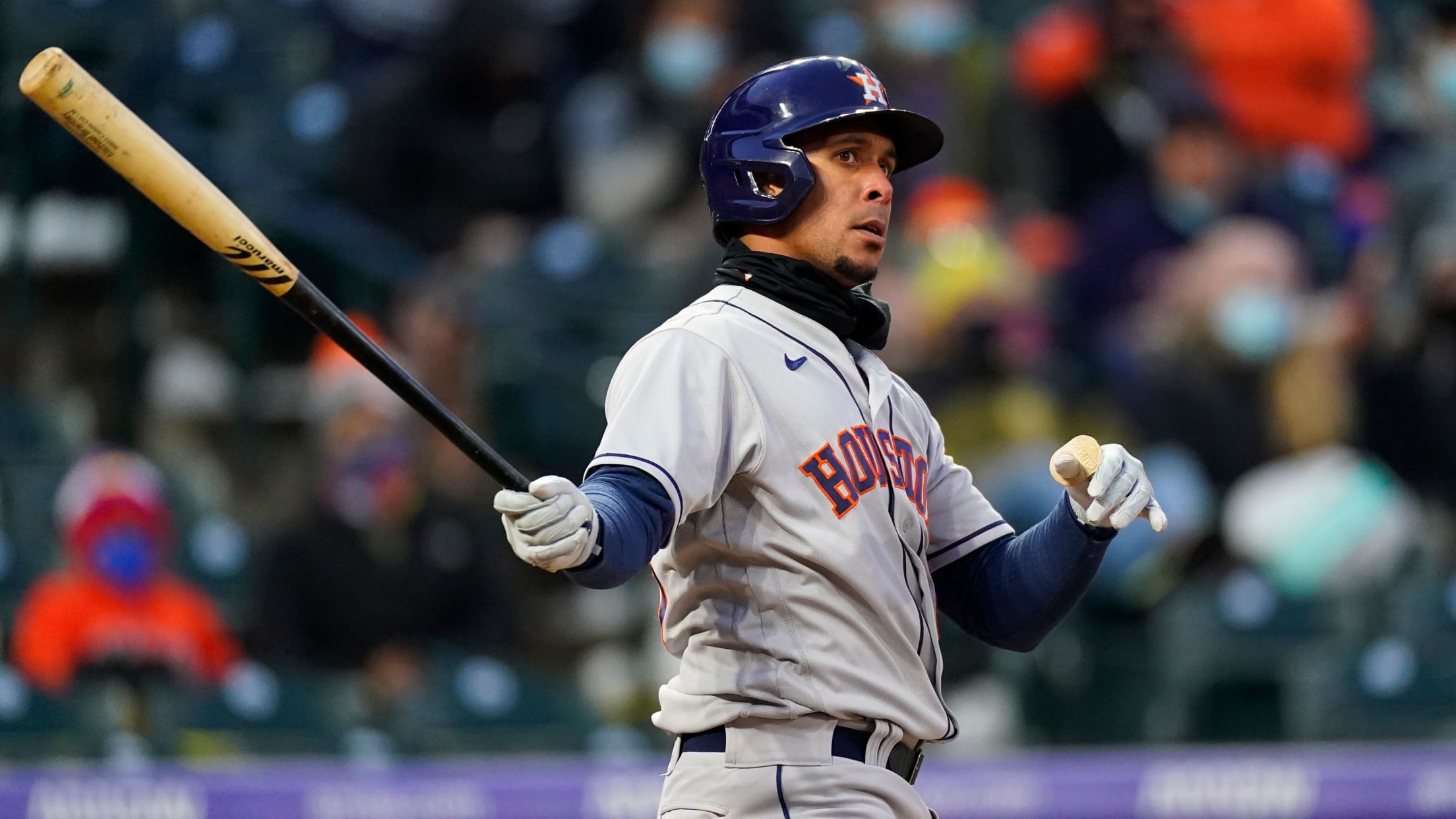 HOUSTON -- The Astros placed outfielder Michael Brantley on the 10-day injured list Friday with tightness in his right hamstring. Brantley has been out of action since going 1-for-5 at designated hitter Sunday against the Rangers in Arlington. Astros manager Dusty Baker said Tuesday that Brantley had leg soreness from
McCullers to IL; Valdez, Odorizzi returning
Javier moved to bullpen as Astros look to bolster struggling unit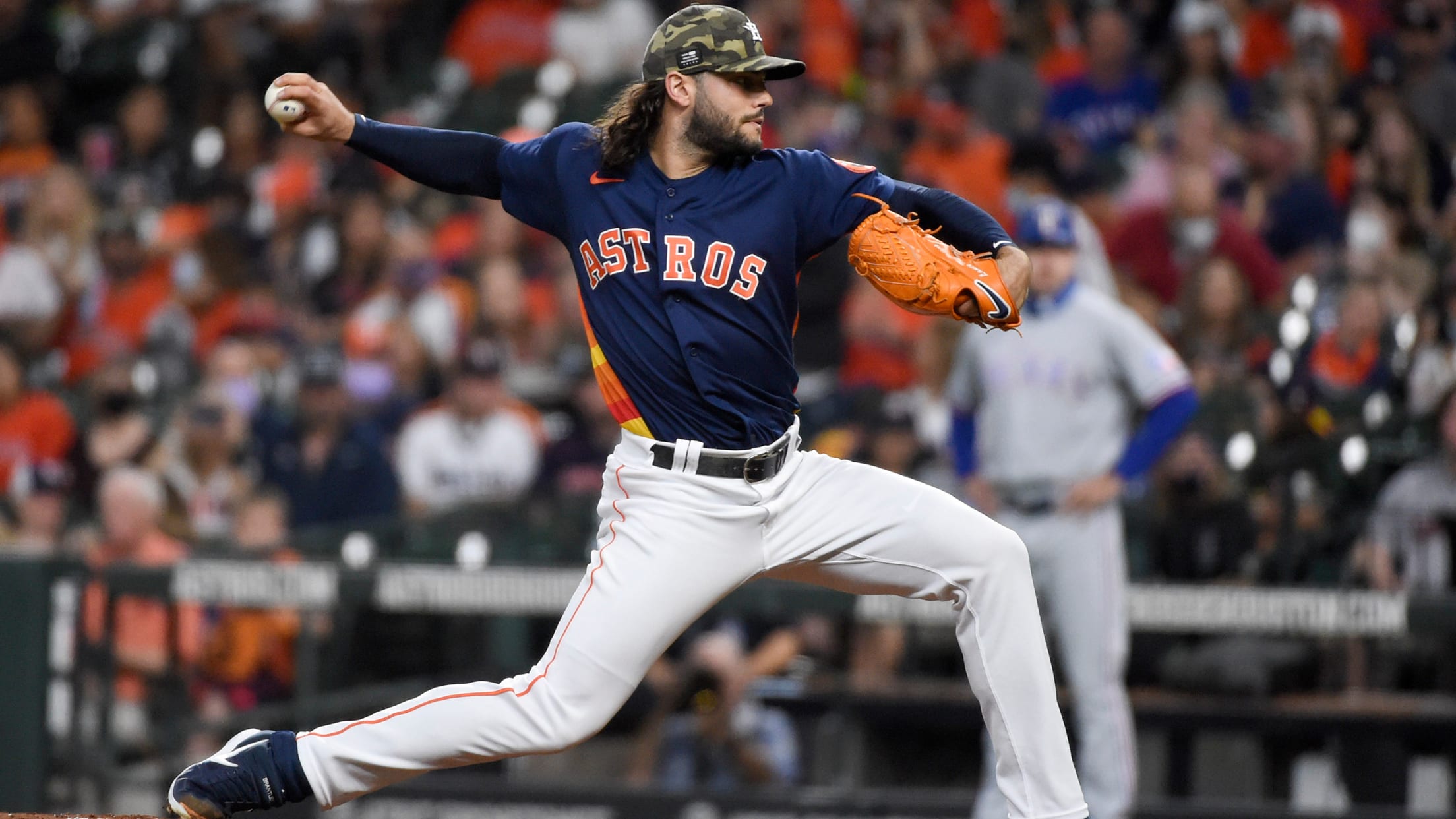 HOUSTON -- The Astros are hopeful right-hander Lance McCullers Jr. will miss only one start after he was placed on the 10-day injured list on Wednesday with right shoulder soreness. The move is retroactive to Saturday, meaning McCullers will be eligible to come off the IL on June 2. "We're
Smith on 800 appearances: 'I'm thankful'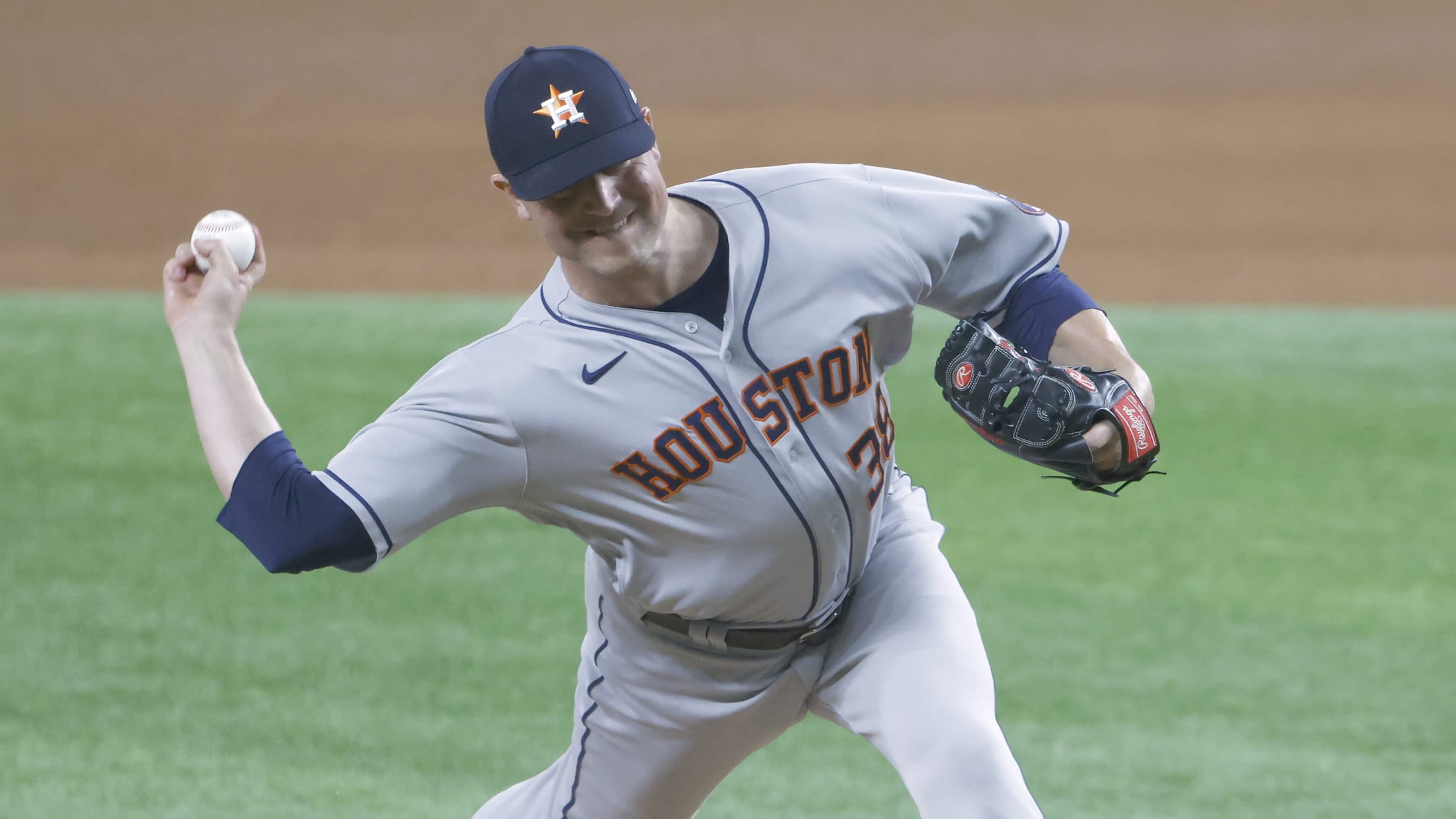 ARLINGTON – When veteran reliever Joe Smith recorded two quick outs to end the sixth inning Friday night against the Rangers, it was a landmark moment of his career. Smith registered his 800th career appearance, which tied him with Francisco Cordero for 50th place all time. "It's neat," Smith said.
Notes: Valdez set for rehab; Yuli's turnaround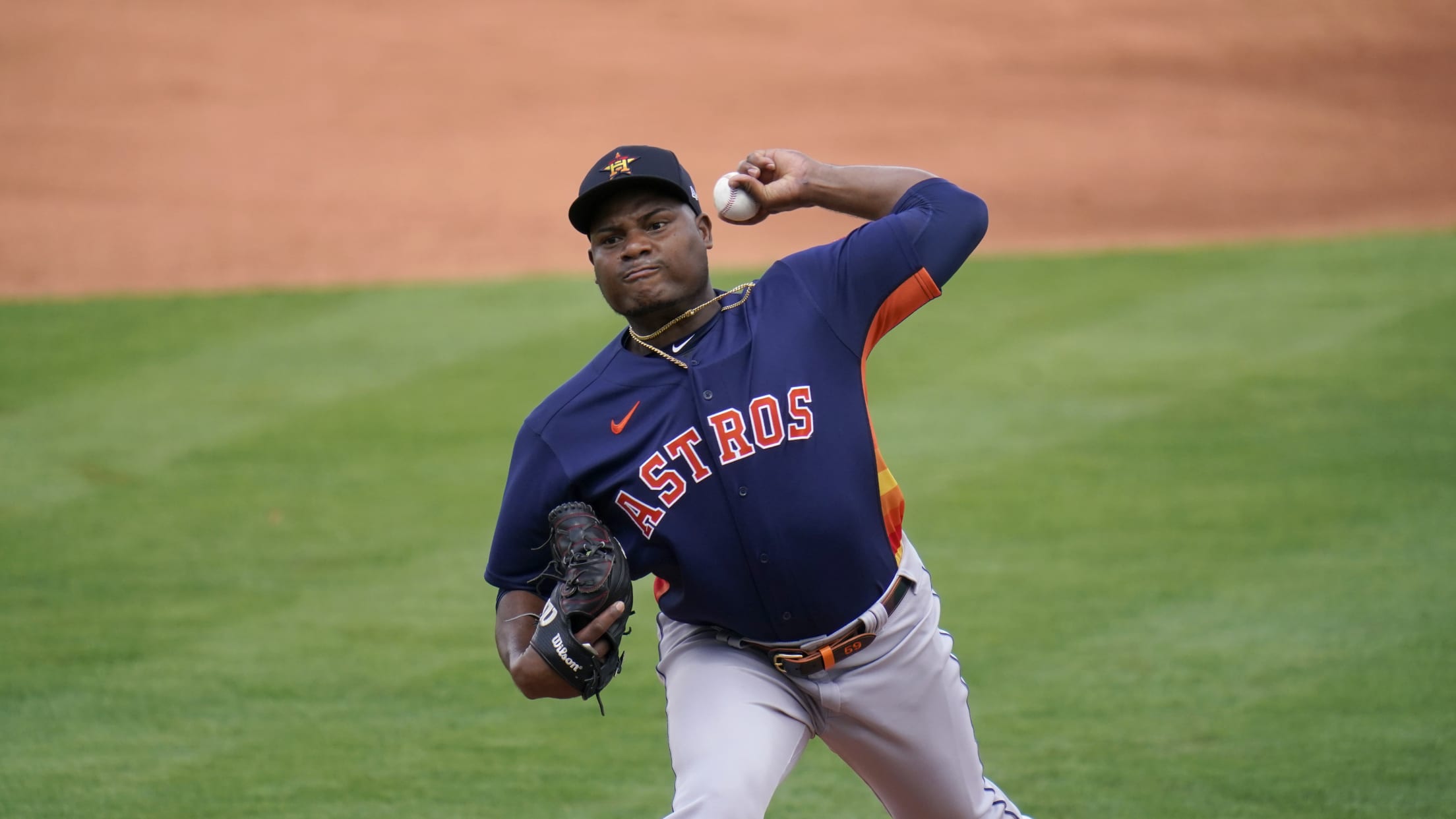 HOUSTON -- Speaking with reporters for the first time since he was diagnosed with a broken left ring finger two months ago, Astros left-hander Framber Valdez said Friday he was told shortly after the March 2 injury there was a chance he could miss the entire season and it's a
Notes: Yuli held out with illness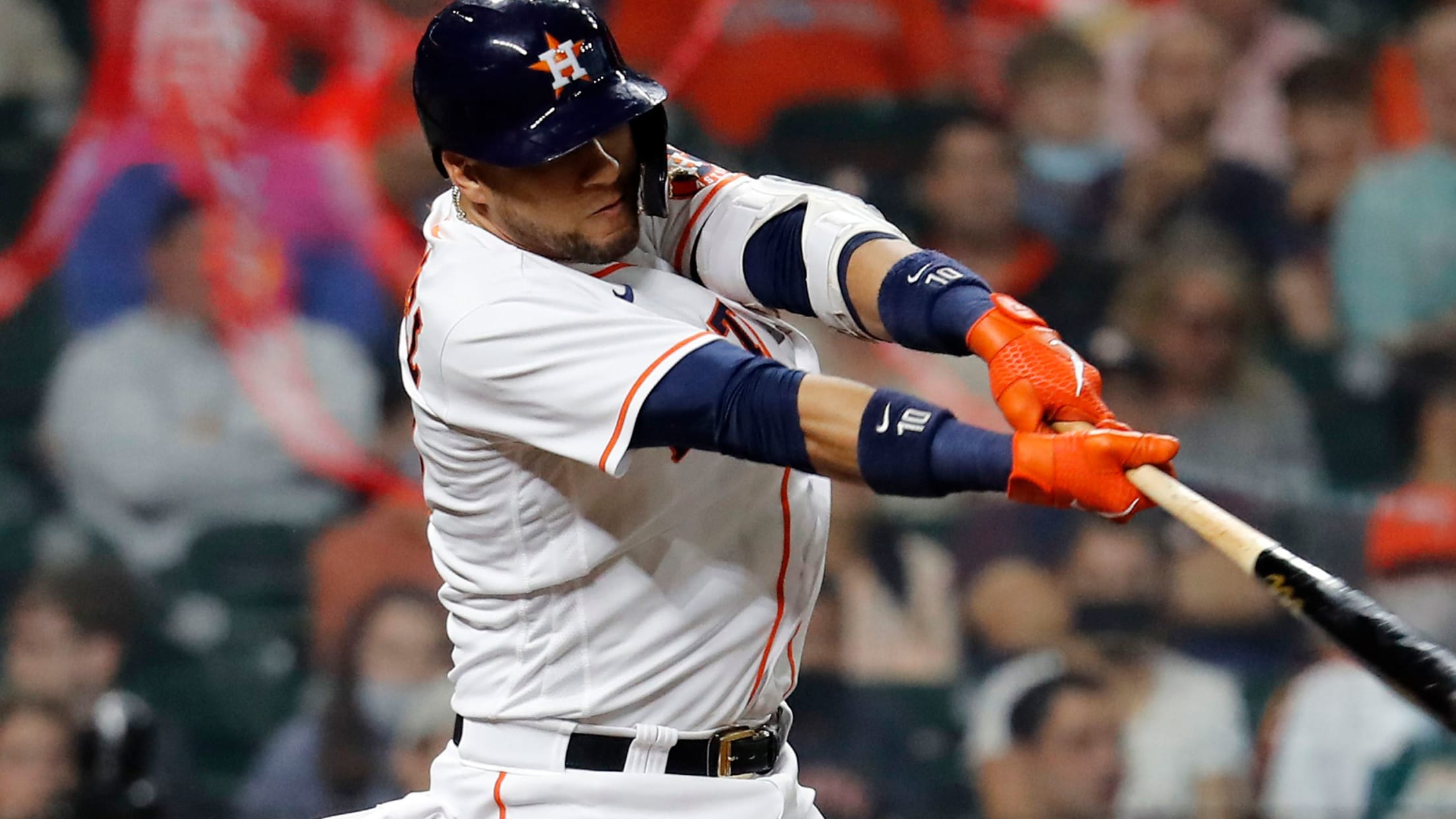 HOUSTON -- Astros first baseman Yuli Gurriel was held out of the starting lineup for Thursday's series opener against the Rangers after becoming ill during Wednesday's 9-1 win over the Angels, in which Gurriel hit a two-run home run in the first inning. Astros manager Dusty Baker said Gurriel was
Urquidy exits in 4th with shoulder discomfort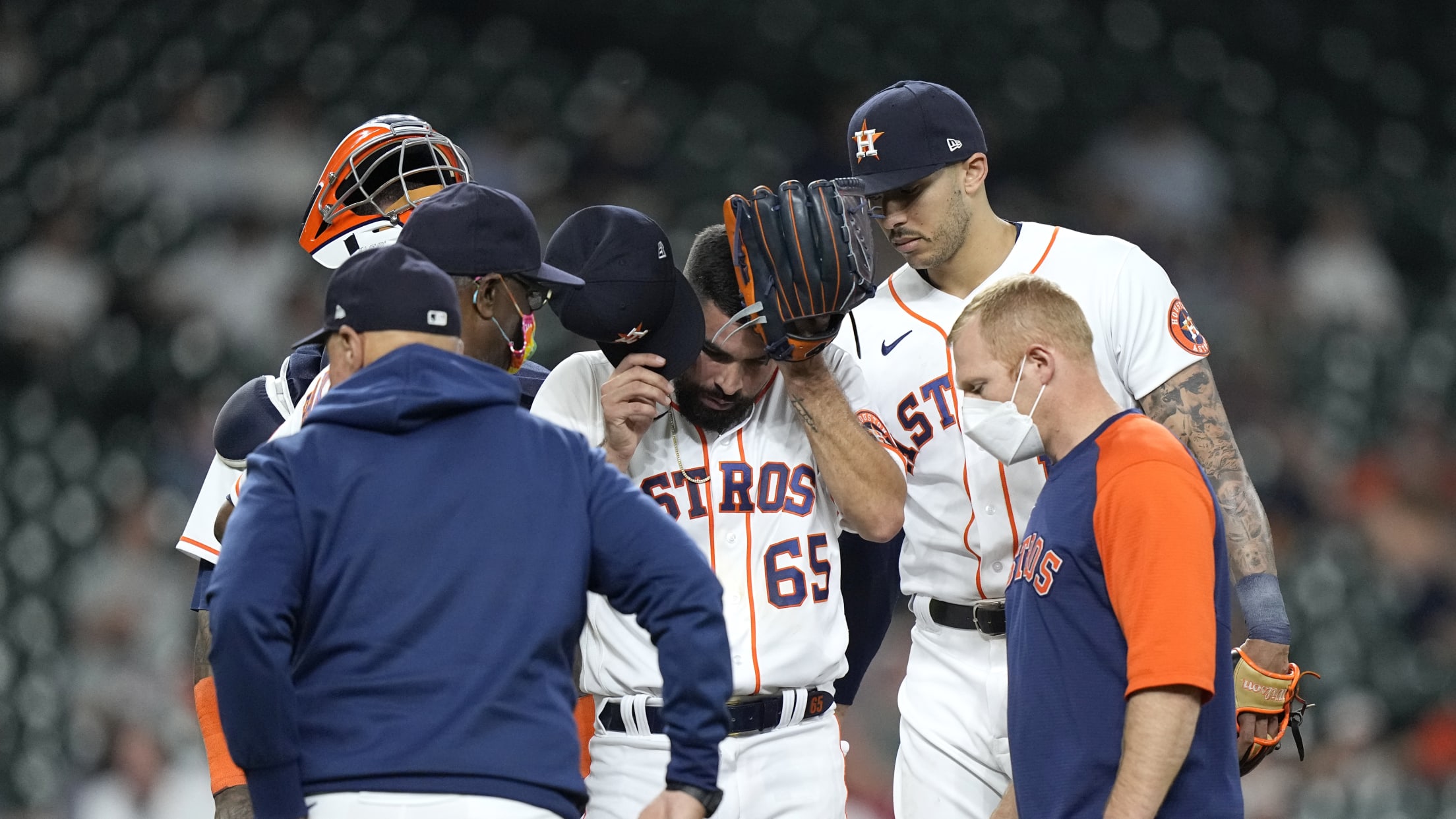 HOUSTON -- Astros starting pitcher José Urquidy was removed from Wednesday's 9-1 win over the Angels at Minute Maid Park after 3 2/3 scoreless innings with right posterior shoulder discomfort. He's considered day to day. Urquidy had been cruising, retiring 12 of the first 14 batters he faced with four
Notes: Valdez update; Springer returns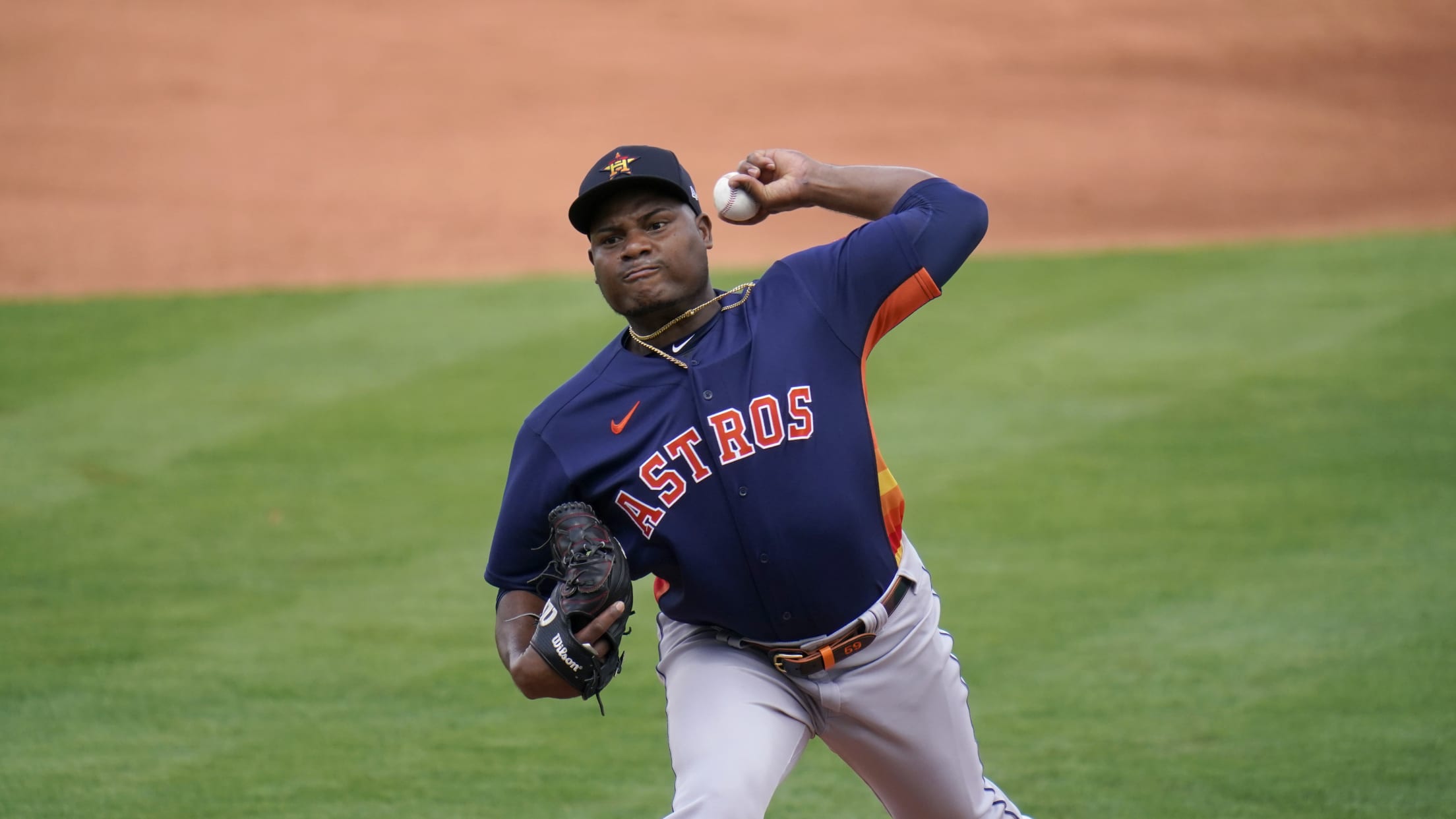 HOUSTON -- Astros left-hander Framber Valdez, who fractured his left ring finger in his first start in Spring Training on March 2, took a big step toward his recovery when he threw live batting practice on Friday in West Palm Beach, Fla., facing hitters for the first time in more
Verlander 'hitting all checkmarks' in TJ rehab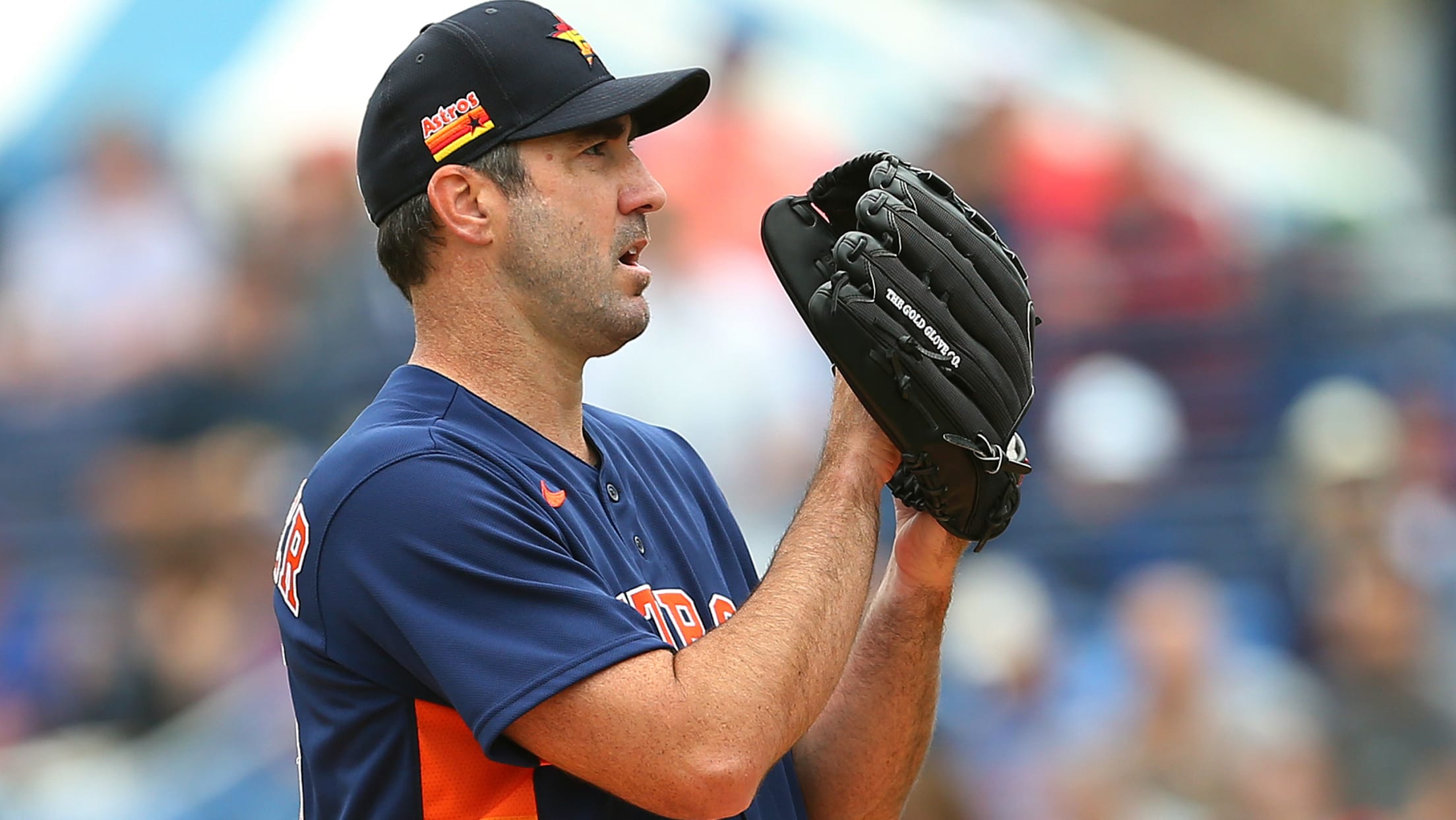 HOUSTON -- Speaking with reporters for the first time in nearly 10 months, pitcher Justin Verlander said his recovery from Tommy John surgery performed on his right elbow last fall is progressing smoothly, and he didn't completely rule out a return to the mound for the Astros this year. Verlander,
Maldonado avoids serious injury on collision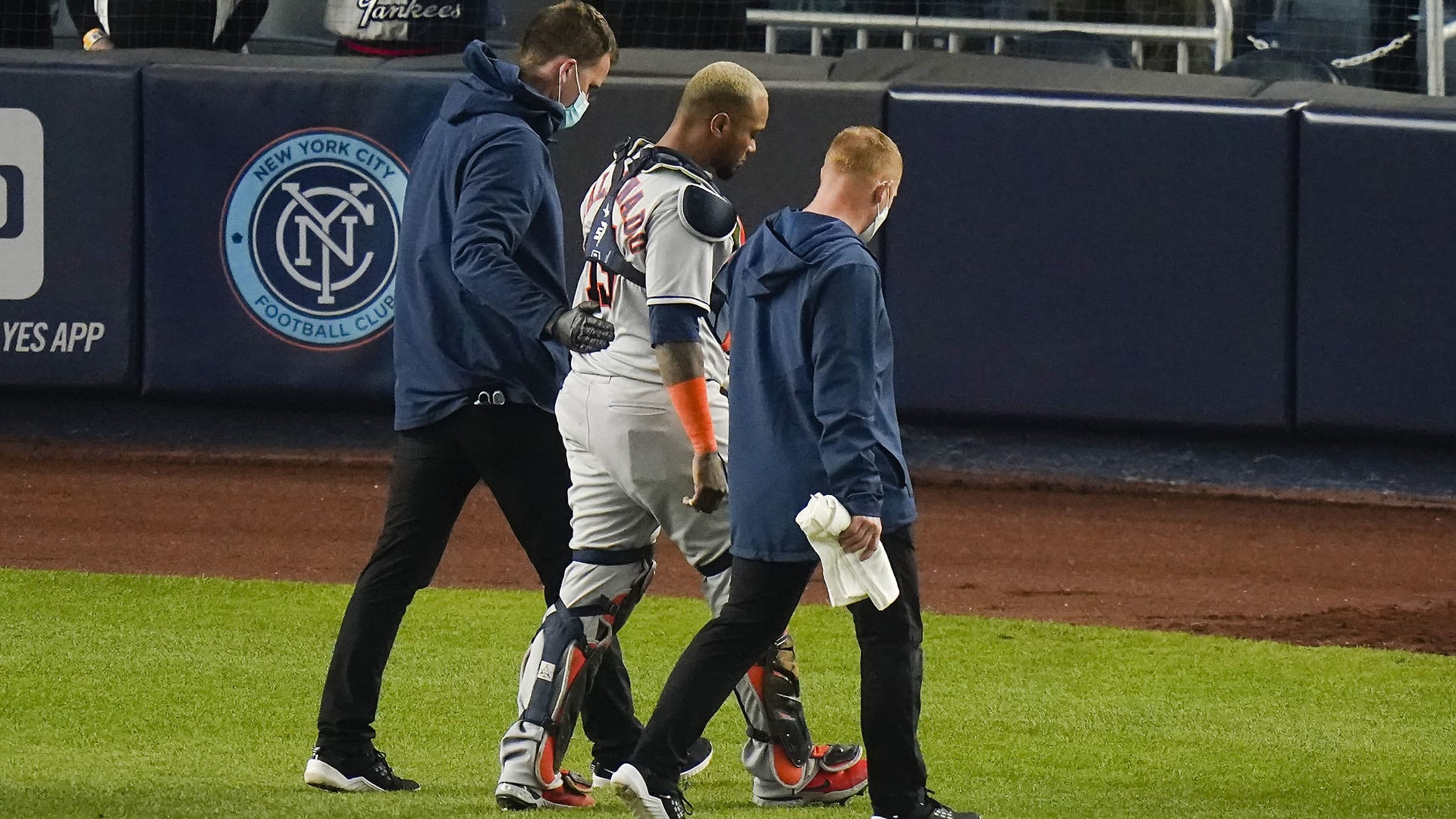 Last week, Astros pitcher Lance McCullers Jr. called veteran catcher Martín Maldonado one of the "hearts and souls" of this team. That's why the Astros were relieved to find out late Tuesday that Maldonado escaped serious injury after a collision at the plate with Rougned Odor in the sixth inning
Notes: Yordan placed on IL; finale SP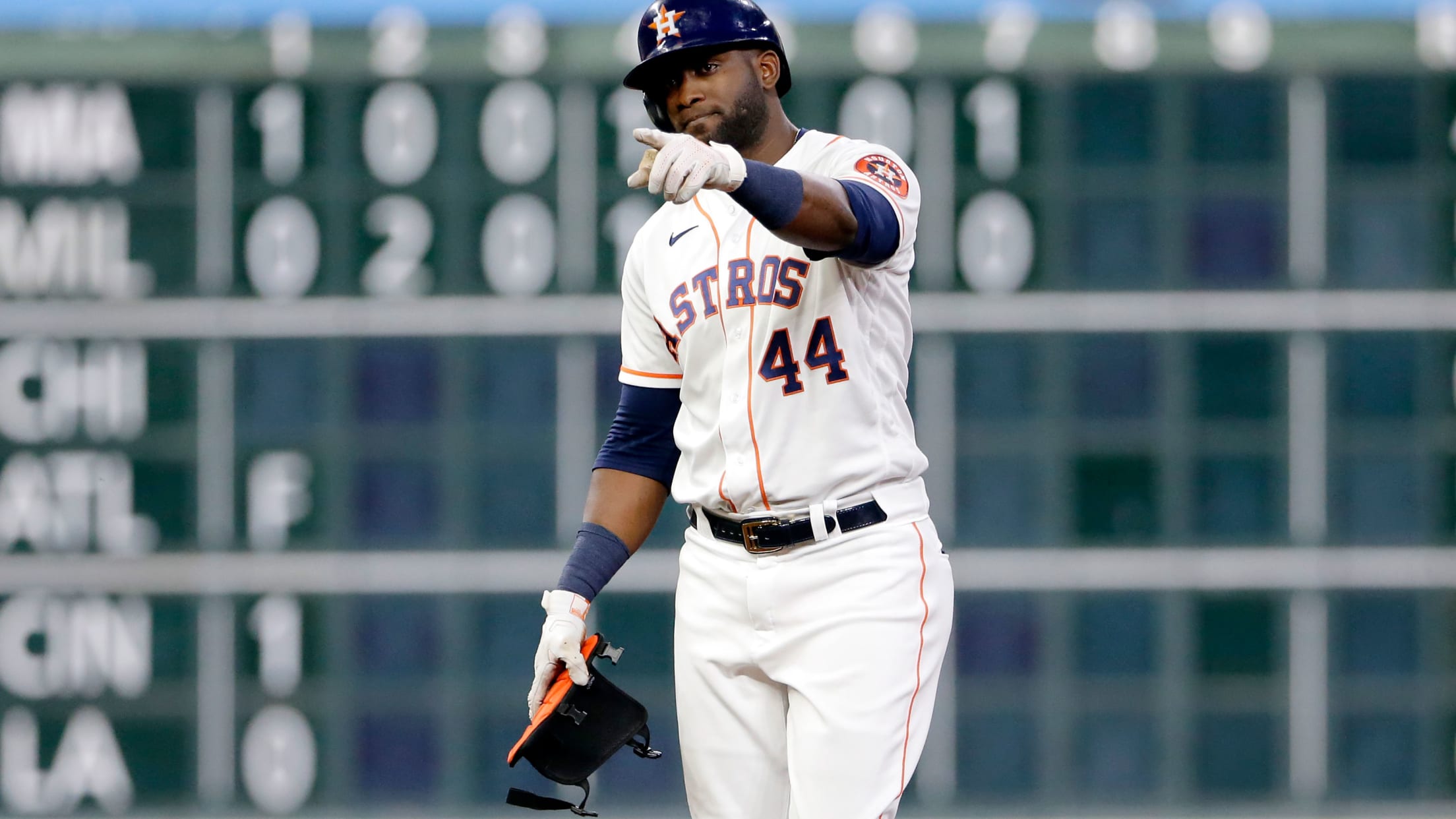 HOUSTON -- For the second time this month, Astros designated hitter Yordan Alvarez has been placed on the IL for "health and safety reasons," manager Dusty Baker said Wednesday. "We don't know if it's the same situation or not," Baker said. "We're waiting to see. … It could be nothing.
'Best-case scenario' injury news for Odorizzi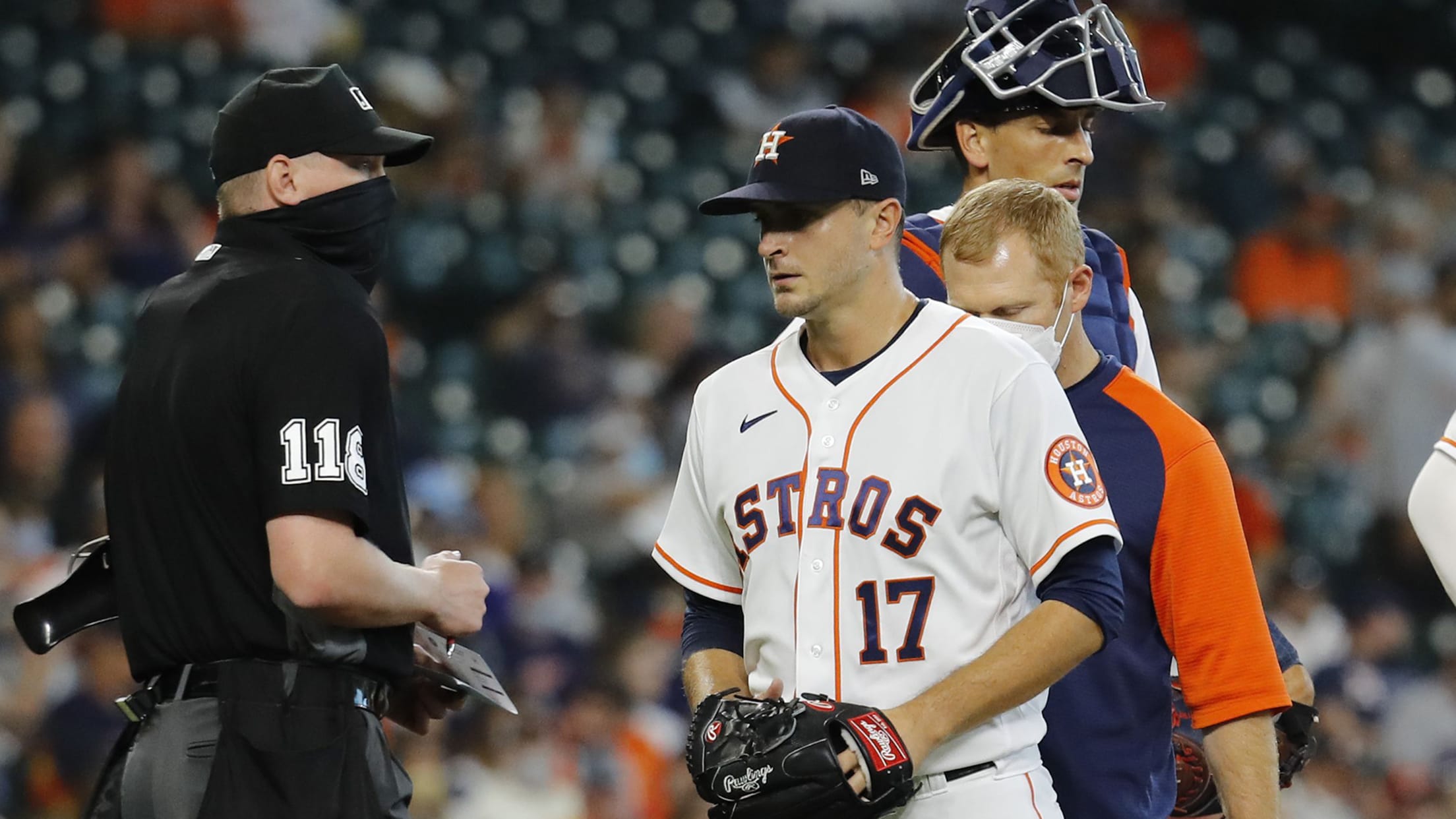 HOUSTON -- Calling it the "best-case scenario," Astros pitcher Jake Odorizzi could miss only two turns through the rotation after he was diagnosed with a right pronator muscle strain. The Astros placed him on the 10-day injured list prior to Monday's game against the Mariners. Odorizzi left Saturday's game against
Odorizzi (right forearm) exits in first inning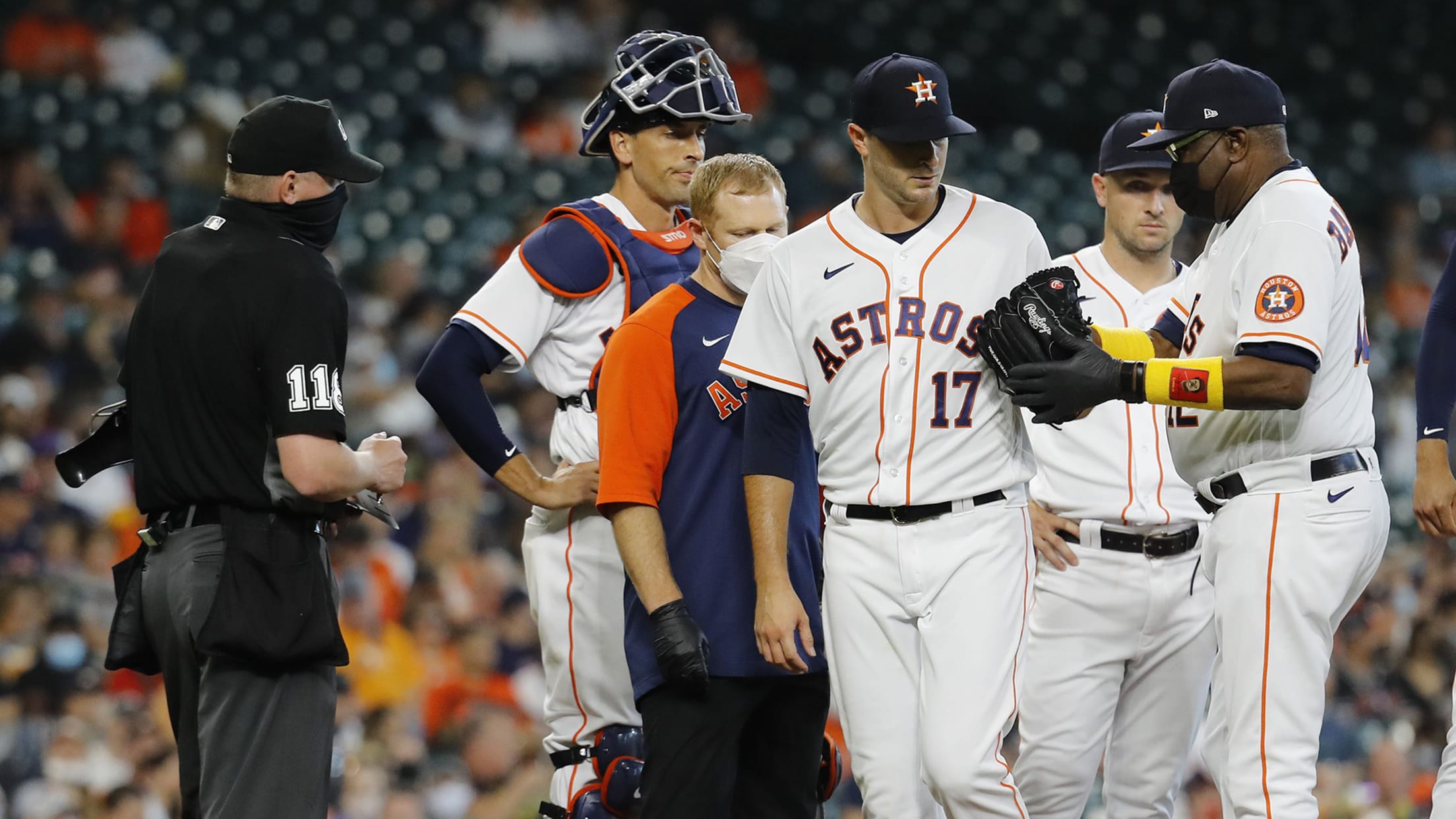 HOUSTON – Astros starting pitcher Jake Odorizzi was lifted from Saturday's game against the Angels after only five pitches with tightness in his right forearm. Odorizzi got David Fletcher to fly out to right field to start the game before catcher Jason Castro called out manager Dusty Baker and a
Bregman, Alvarez among 4 back from IL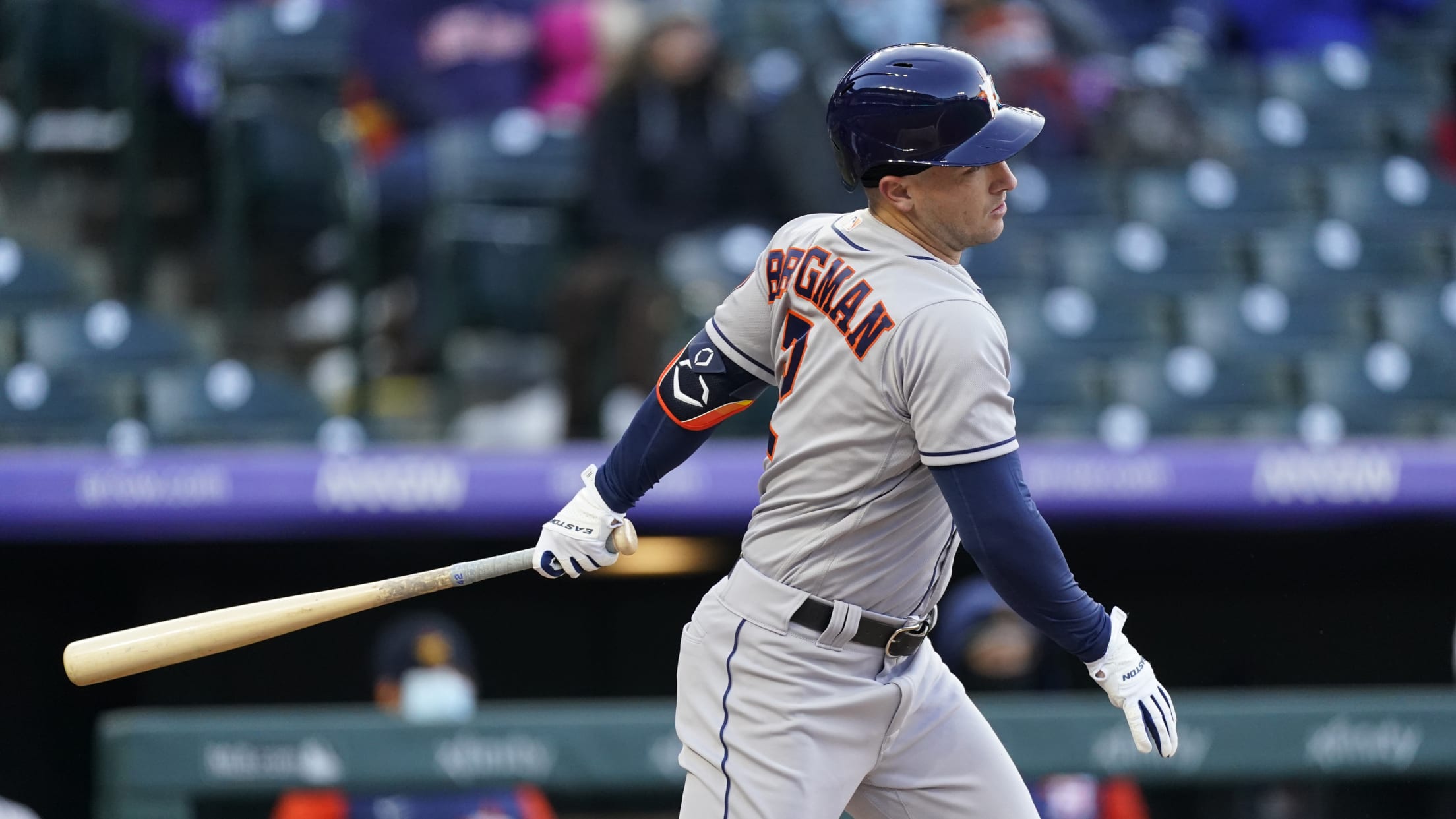 Third baseman Alex Bregman, designated hitter Yordan Alvarez, catcher Martín Maldonado and infielder Robel García have been activated off the injured list, Astros manager Dusty Baker announced Tuesday. Bregman and Maldonado started on Tuesday night against the Rockies, while Alvarez and García were available off the bench. With no DH
Bregman to return, Altuve still out (source)
Alvarez, Maldonado, Garcia also expected to return Tuesday vs. Rockies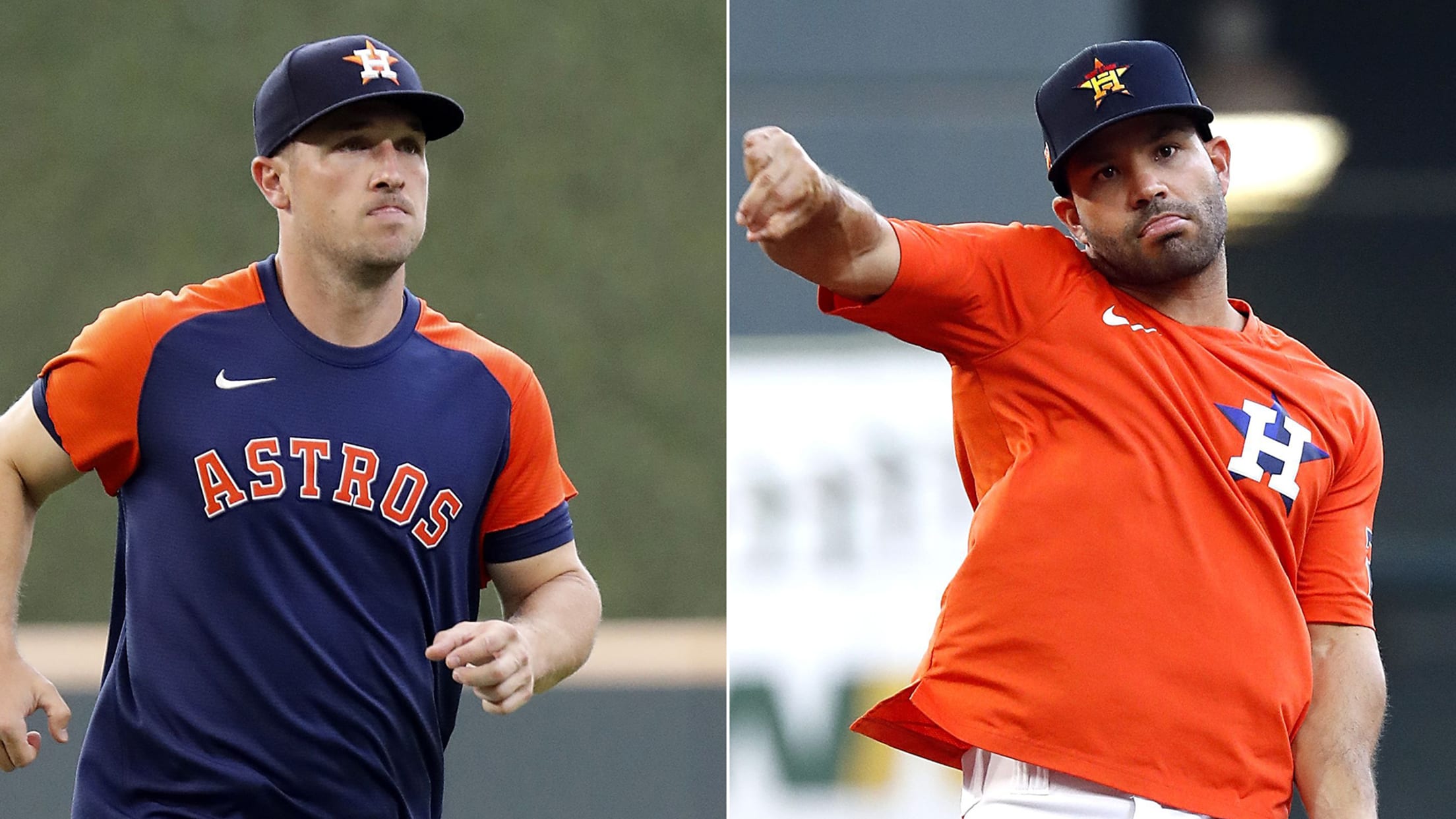 HOUSTON -- Astros third baseman Alex Bregman, designated hitter Yordan Alvarez, catcher Martín Maldonado and infielder Robel Garcia are scheduled to fly to Colorado on Monday and be activated in time for Tuesday's game against the Rockies, a source told MLB.com. Bregman, Alvarez, Maldonado and Garcia will have to clear
Taylor exits with severely sprained ankle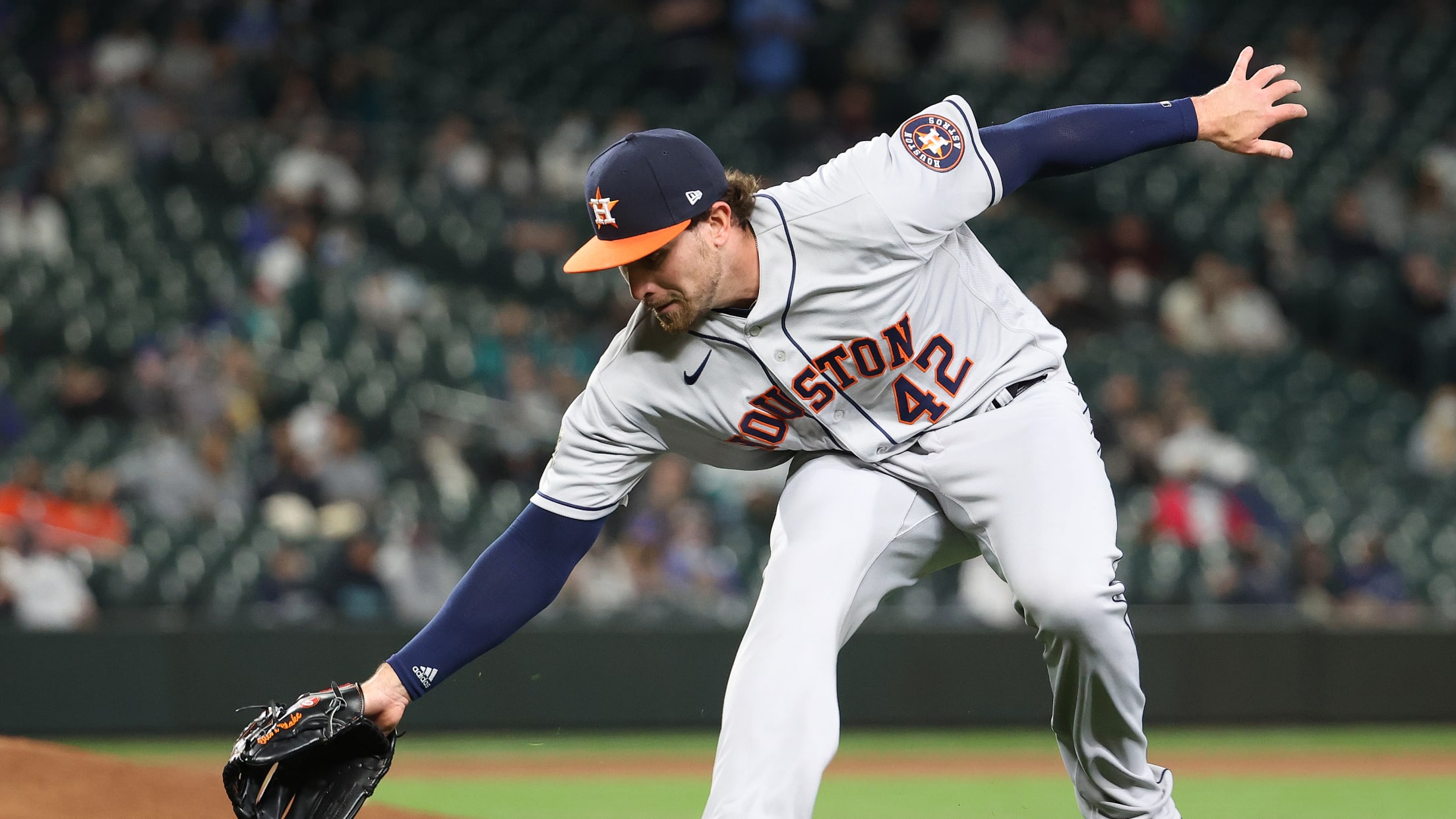 Astros left-handed reliever Blake Taylor was carted off the field in the eighth inning on Friday at T-Mobile Park, after he rolled his ankle attempting to field a Taylor Trammell slow roller toward first base. Taylor suffered a "severely sprained ankle," according to manager Dusty Baker, and is likely headed
Altuve, Bregman among 5 headed to IL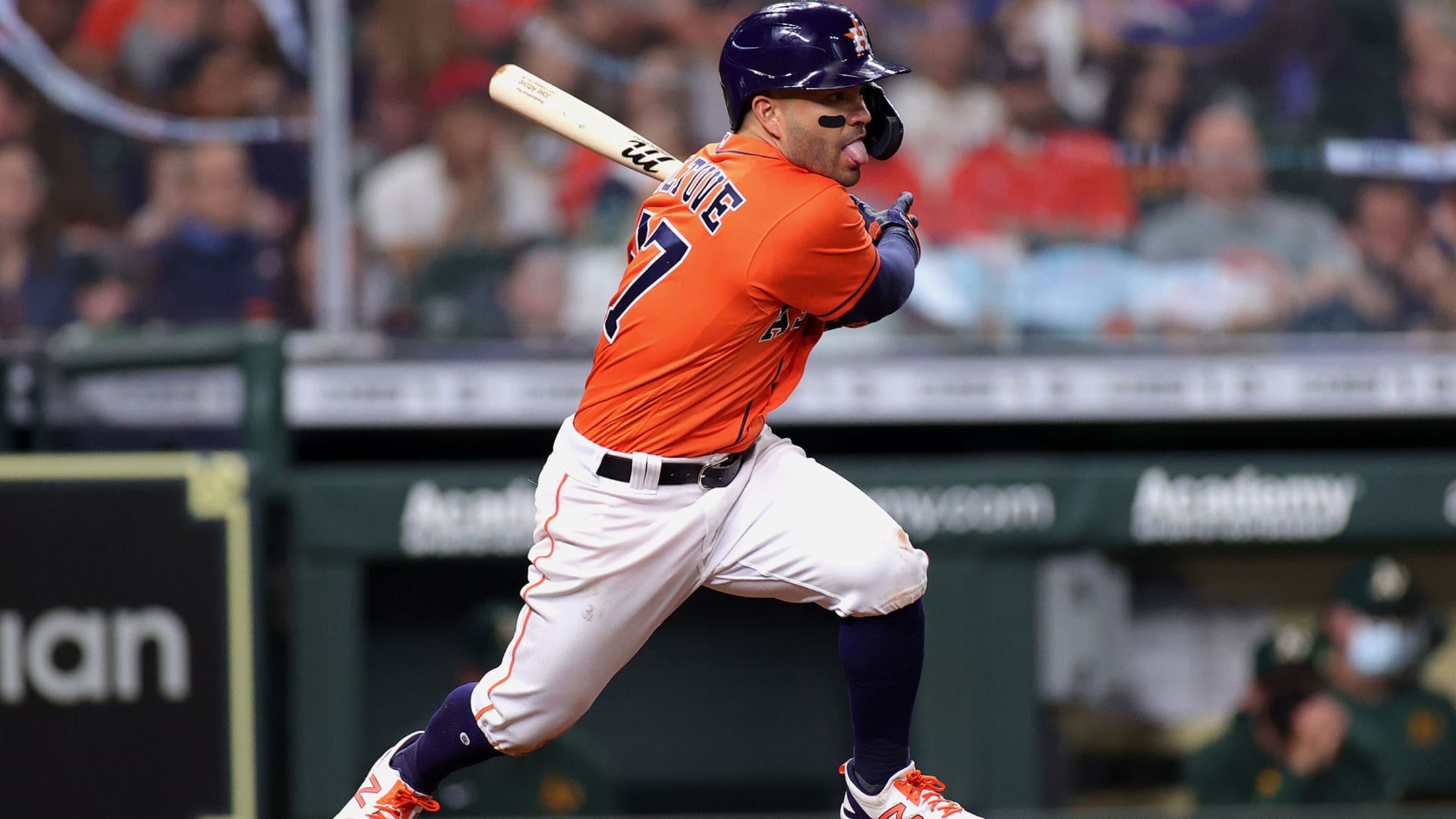 HOUSTON -- The Astros were without second baseman Jose Altuve, third baseman Alex Bregman, designated hitter Yordan Alvarez, catcher Martín Maldonado and utility infielder Robel García for Wednesday's game against the Tigers after they were placed on the injured list. Astros general manager James Click said the five players were
Notes: Bregman rests; Odorizzi ready
HOUSTON -- Astros third baseman Alex Bregman was out of the lineup Saturday against the A's because his legs were "a little sore," according to manager Dusty Baker. That would give Bregman two consecutive days off, considering the Astros are scheduled to be off on Sunday. "We've got to take
Paredes placed on IL; Straw wants 50 steals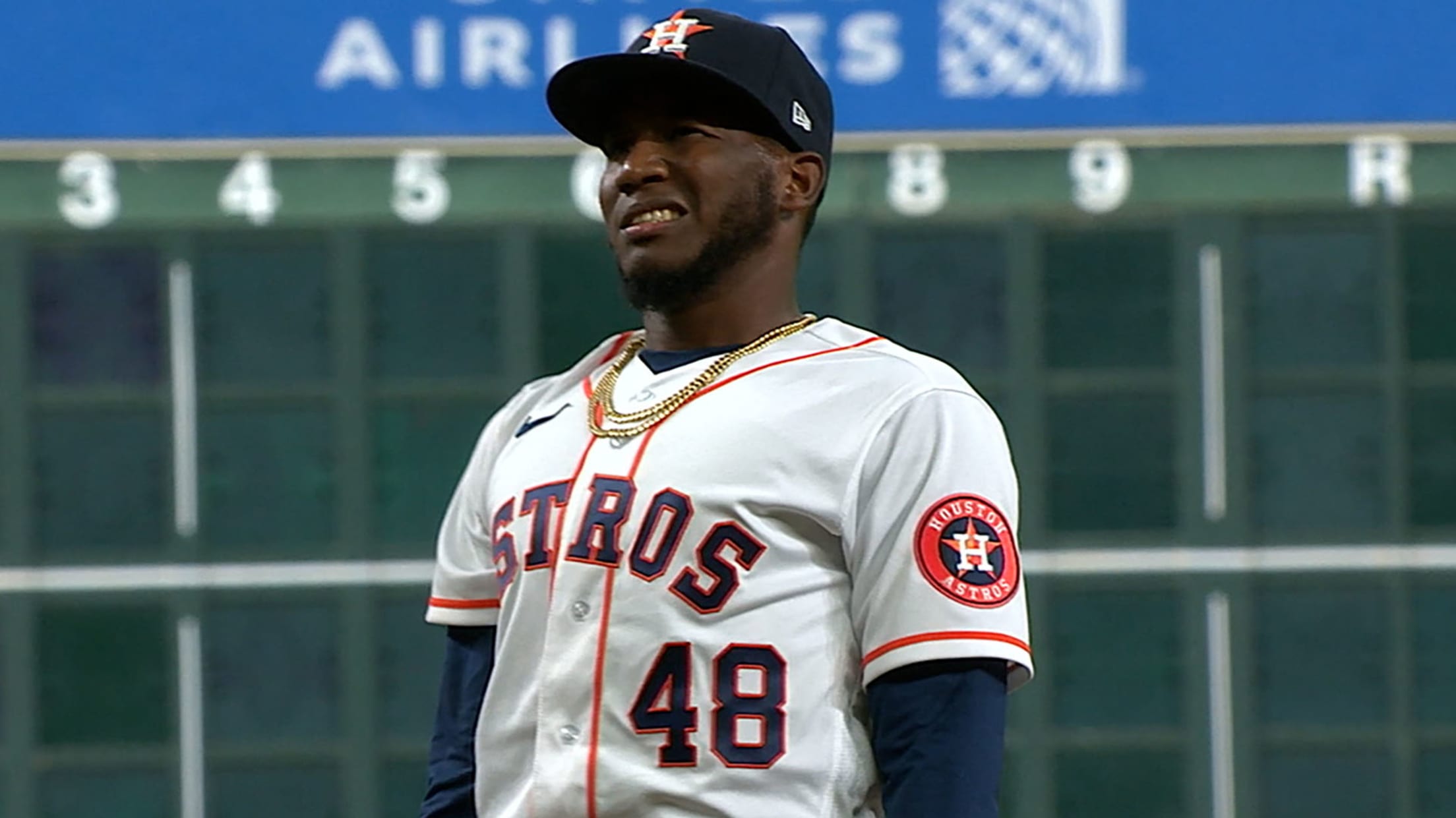 HOUSTON -- Astros relief pitcher Enoli Paredes, who left Thursday's game in the eighth inning with an injury, is headed to the 10-day injured list with right side soreness. Houston recalled right-hander Nivaldo Rodriguez from its alternative training site in a corresponding move. Paredes underwent an MRI on Friday to
Notes: Brantley update; Castro gets start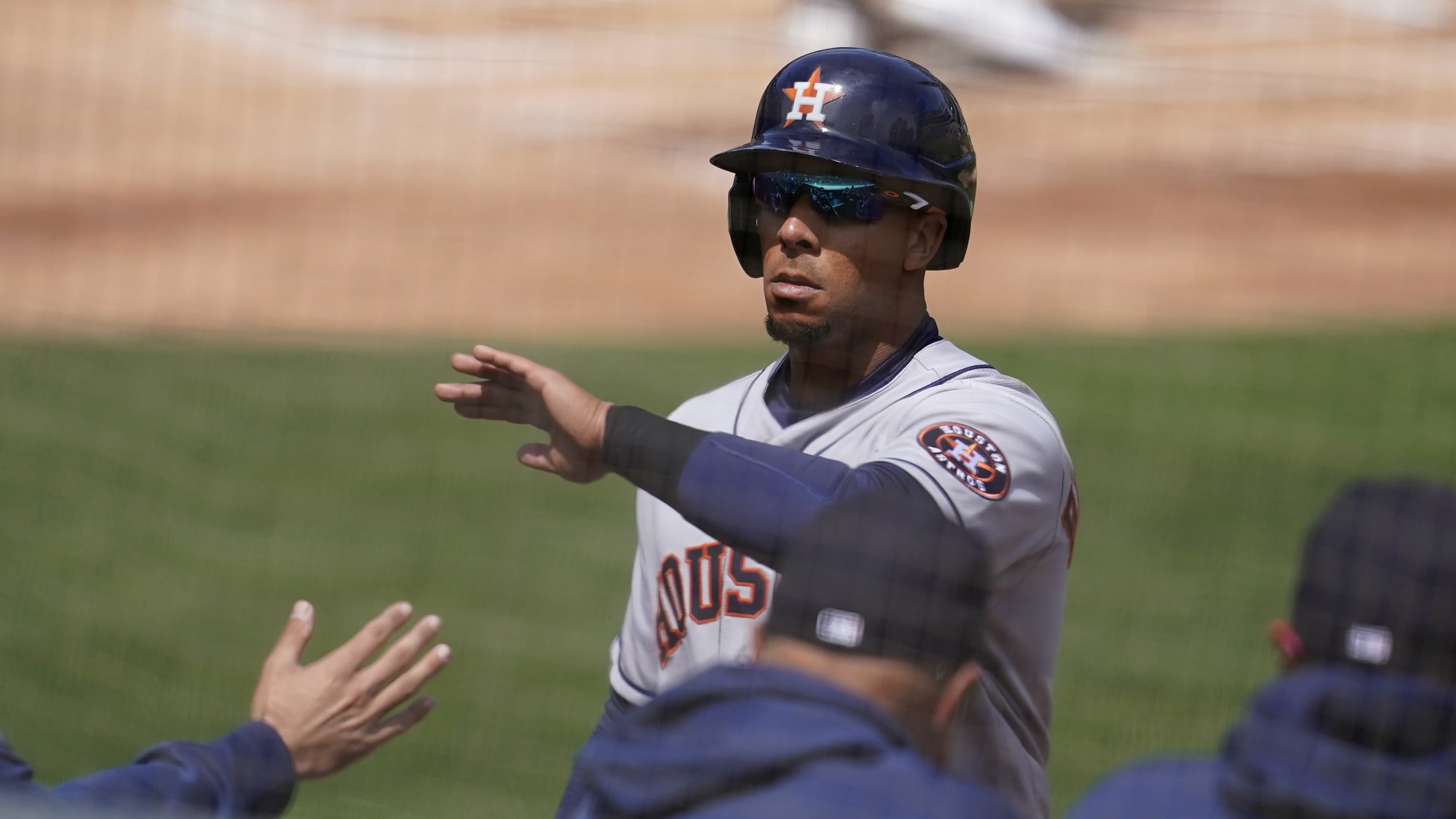 Astros manager Dusty Baker said Sunday morning he hopes starting left fielder Michael Brantley will be able to return to the lineup Tuesday against the Angels. The Astros got a scare in the second inning of Saturday's win over the A's when Brantley was struck on the right wrist by
Brantley day to day with right wrist injury
Hit by pitch 'looked ugly,' but X-rays negative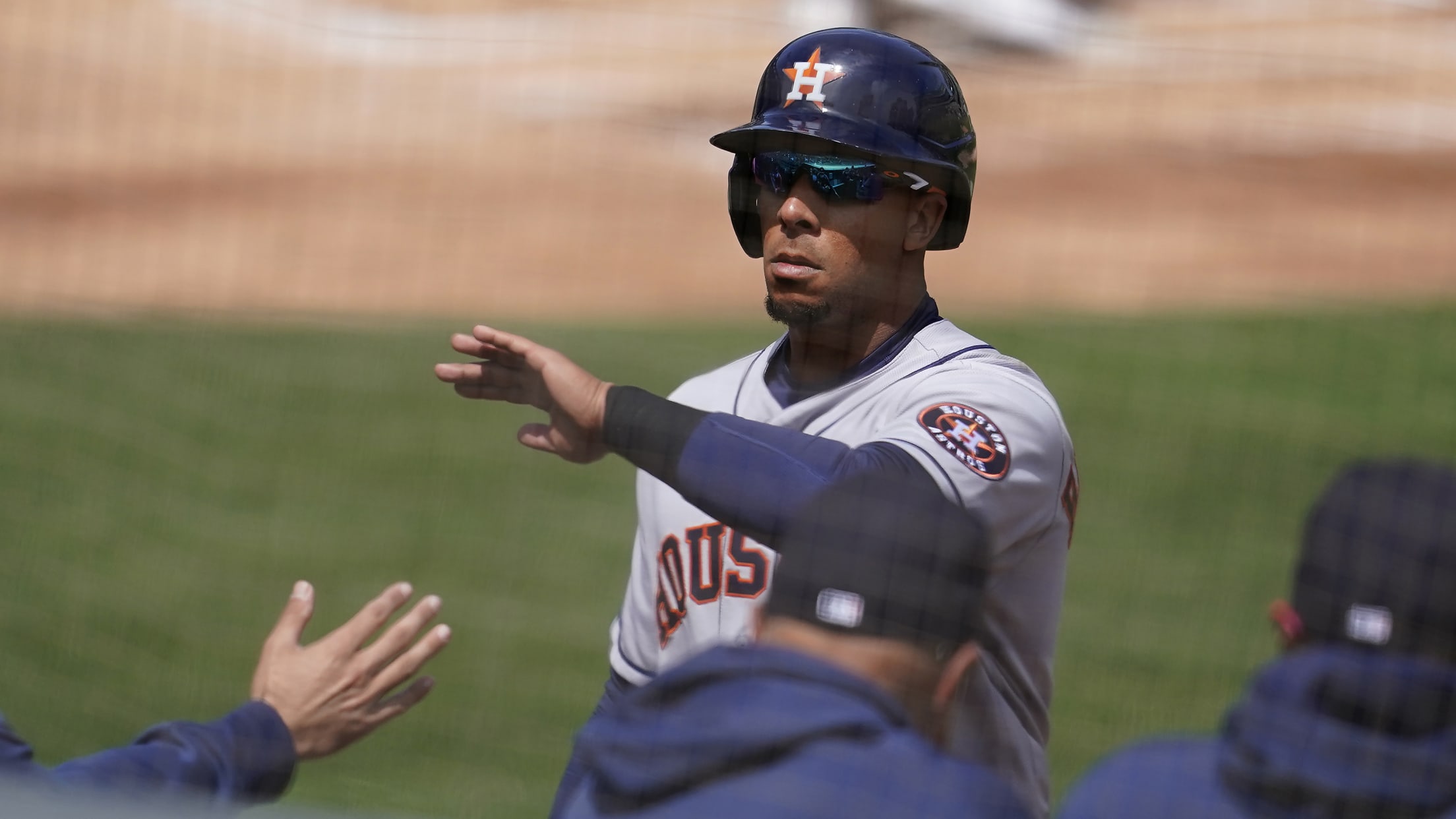 Michael Brantley was removed in the second inning of the Astros' 9-1 win over the A's on Saturday, the result of being hit on the right wrist during his first and only plate appearance of the game. X-rays taken on the wrist came back negative, and Brantley's status is day
Scrubb exits game with shoulder soreness
WEST PALM BEACH, Fla. -- Astros reliever Andre Scrubb was removed from Friday night's 10-9 loss to the Nationals at The Ballpark of the Palm Beaches with right shoulder soreness, the club said. Houston manager Dusty Baker said Scrubb was being checked out by doctors and hoped to have further
Notes: Valdez healing; Báez a 'bit behind'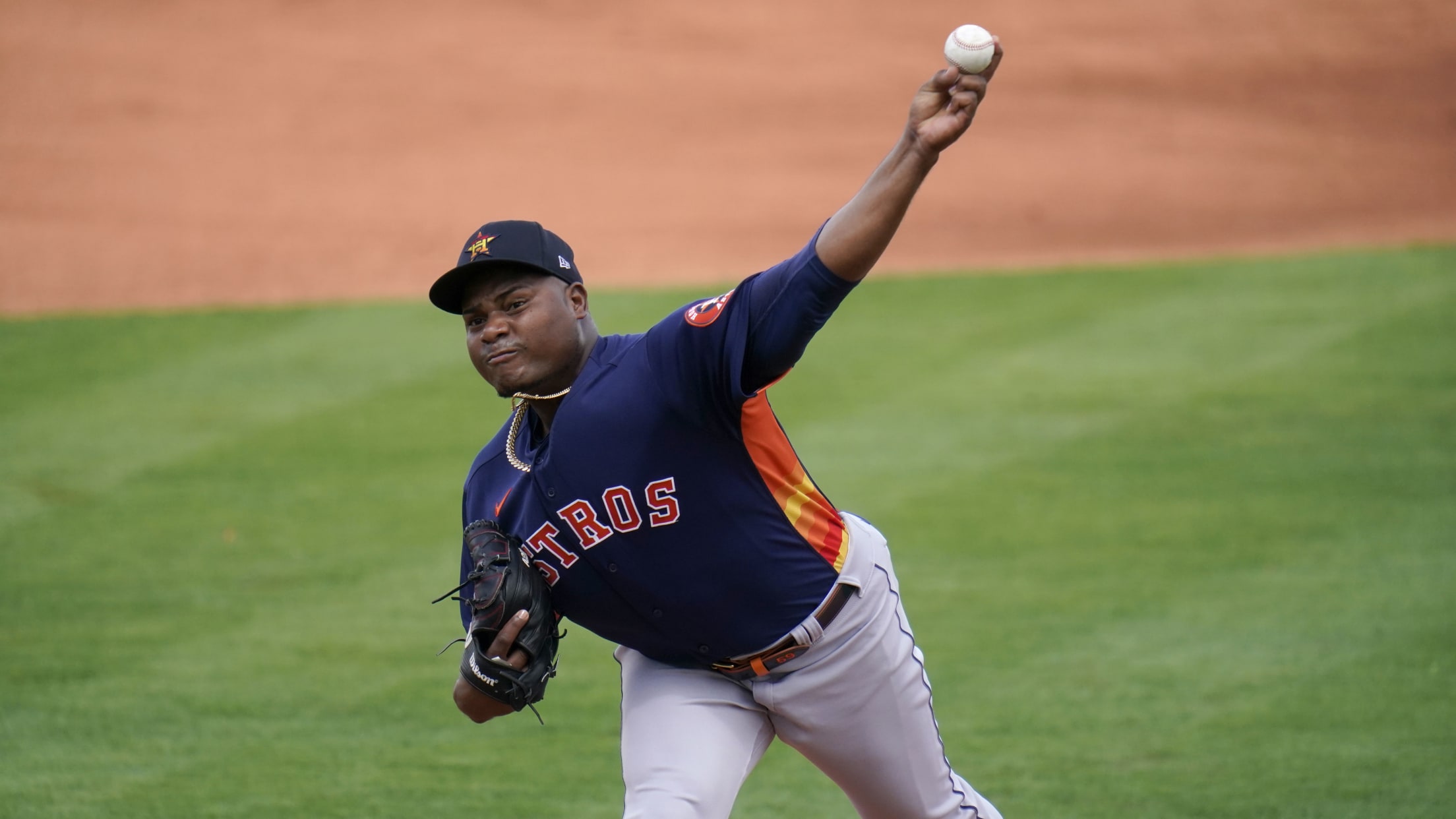 WEST PALM BEACH, Fla. -- Astros manager Dusty Baker said left-handed pitcher Framber Valdez has returned to Florida and will spend a mandatory period in quarantine before rejoining the club for workouts. Baker said that Valdez is in good spirits after he received word on Wednesday that he won't need