Astros Ribbon Board Messages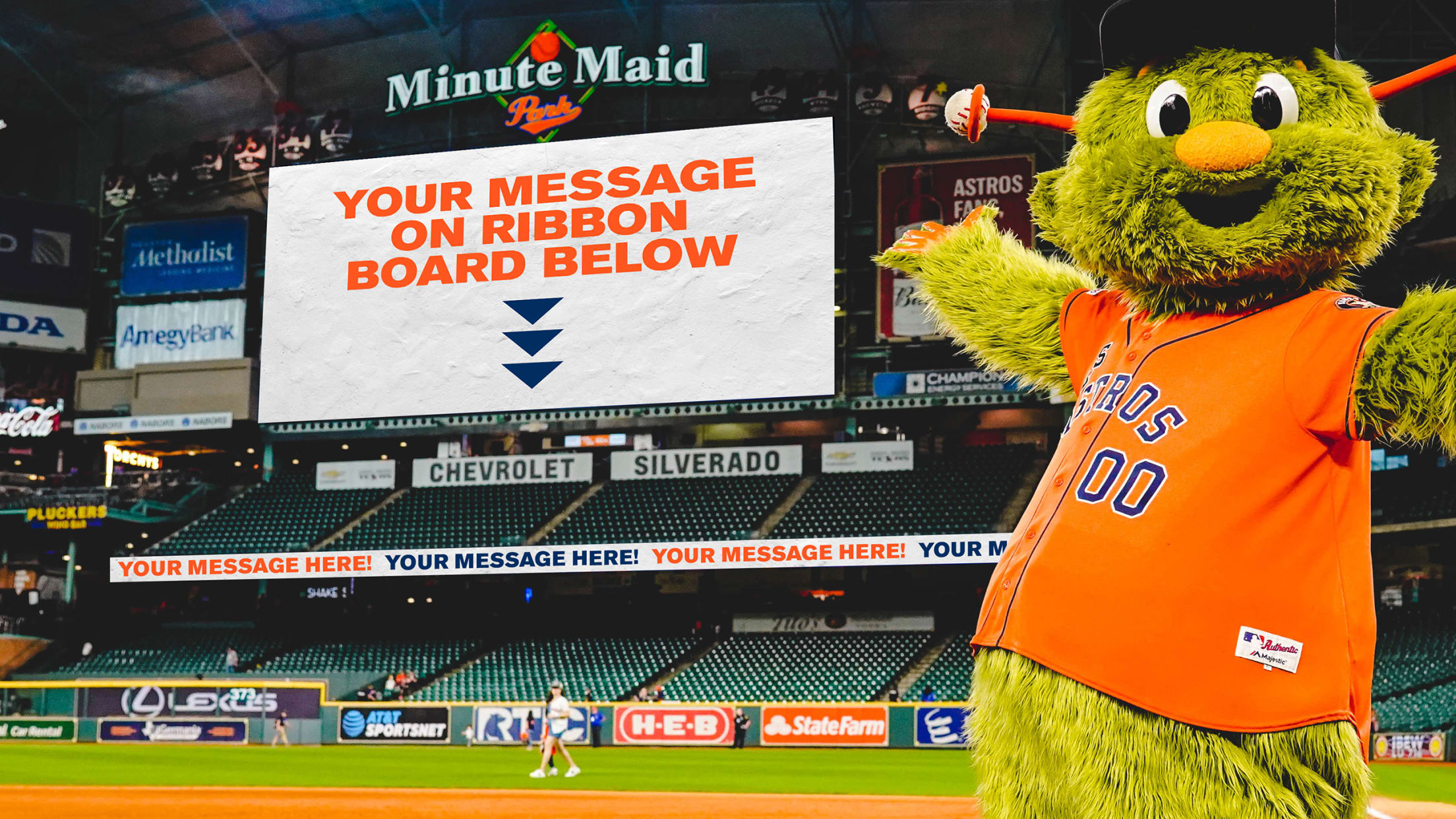 Minute Maid Park Ribbon Board Messages
Commemorate a special birthday or personal congratulatory event by displaying a message on the LED ribbon board on the right field Mezzanine* at Minute Maid Park during the end of the sixth inning at an Astros home game! Ribbon Board messages are displayed for 5 seconds and can now be purchased online for a cost of $100.00. Messages are not displayed on the main scoreboard, see above for where your message will run.

Payment must be made prior to announcement. Your credit card will be charged upon approval of the message.
Ordering Information
The number of messages available each game is limited, so order your scoreboard message today!
Message Length
Messages can be up to 90 characters or less including spaces and punctuation.
Message Content
The Astros reserve the right to approve and edit any message as necessary. Messages that are obscene, offensive or include foul language will not be accepted. Also you may not include the name of any MLB player or any marriage proposals. The message cannot be used for commercial purposes.

If you have any question, please e-mail [email protected].
Message Display
Messages will appear during the end of the sixth inning.
Please Note: The following sections do not have a clear view of Ribbon Board Messages:
132 - 156
232 - 236
250 - 255
331 - 334
431 - 434
Suites 45 - 55
Sports Authority Suite (397)
Budweiser Brew House
The Impact Networking Party Deck
Ordering Deadlines
Message requests must be submitted no later than 48 business hours prior to the First Pitch game time. Please note, business hours are Monday – Friday 9am – 5pm.
Available Dates
If you do not see the game listed, you have missed the deadline to order online. Orders will be processed in the order in which they are received, and will be taken on a first-come, first-served basis. You will receive e-mail confirmation shortly after the close of the submission period to confirm your order.
*If an order gets cancelled prior to First Pitch of the game it was scheduled for, a technical error occurs, or the message was not played for any reason, the customer will receive a full refund.