Here's every 2019 Players' Weekend nickname, categorized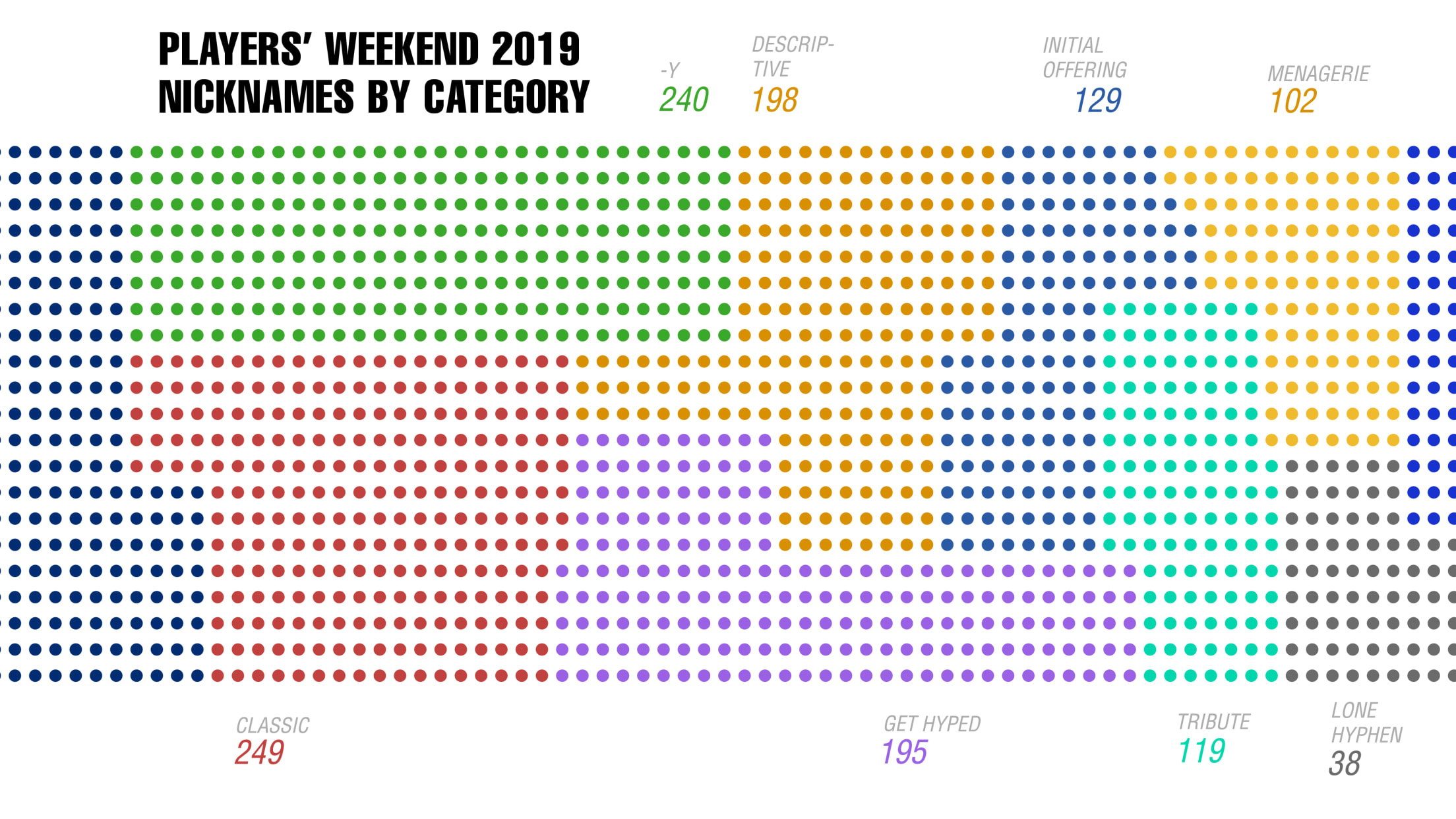 (Jenny Goldstick)
Players' Weekend is now in its third year, which means it's time to look at the guy playing shortstop and think, "wait, who is DJ BC RAW?" (Answer: It's Brandon Crawford, and that's his nickname because he's the clubhouse DJ.)
For a whole glorious weekend, you'll see hundreds of player nicknames. Now, you can visualize them all at once, according to the categories we've created. This year, we even had to add a new one – Emojis. In 2018, Brad Boxberger made history with the first-ever emoji jersey. This year, 26 players followed in his footsteps.
Click on the chart below to see more. Here's a quick breakdown of what the other categories mean.
Classic is simple – it includes anyone who went with just his last name. Classic Lite picks up first names only, shortened last names, even middle names. "Gardner," meaning Brett, is Classic. "Tauch," (that's Mike Tauchman) is Classic Lite.
Big Something means the nickname has the word "big" in it, like Rhys Hoskins's "Big Fella." -Y points out a traditional sports nickname construction, like Paul Goldschmidt's "Goldy." You understand Initial Offering – it's just initials, as in JaCoby Jones's "J.J." The Lone Hyphen collects nicknames like "A-Breg."
Descriptive is both physical (Cameron Maybin's "Slim") and conceptual (Nicholas Castellanos's "Artist," which seems somehow spiritually descriptive.)
The Menagerie covers animal-based nicknames – "Polar Bear," for example, -- and Food covers, well, food. All "Cookies" included. The Tribute category is for players using the opportunity to say something like Pirates third base coach Joey Cora, whose jersey will read "I LOVE MY SISTERS."
Get Hyped covers nicknames meant to pump you up, like Nelson Cruz's "Boomstick." Nick Ahmed's "Slick Nick" is an example of Rhyme Time. You get it.
Puns encompasses pretty much all plays on words – it includes "Baby Dahl" for David Dahl and Yasmani Grandal's "Yazmanian Devil." Solid Joke should really have been reserved for Joey Votto only, a first baseman whose jersey will read "WHO," but other players have good senses of humor, too.
There are some nicknames so singular that they deserve categorizations beyond Other, but look, there was only so much room on the chart. But let's all take a moment to applaud Jonathan Erlichman, the Rays' analytics coach, whose nickname is "Results Matter."
You can even see how categories have changed since last year: