Let's rank the 10 best baseball bromances of the 21st century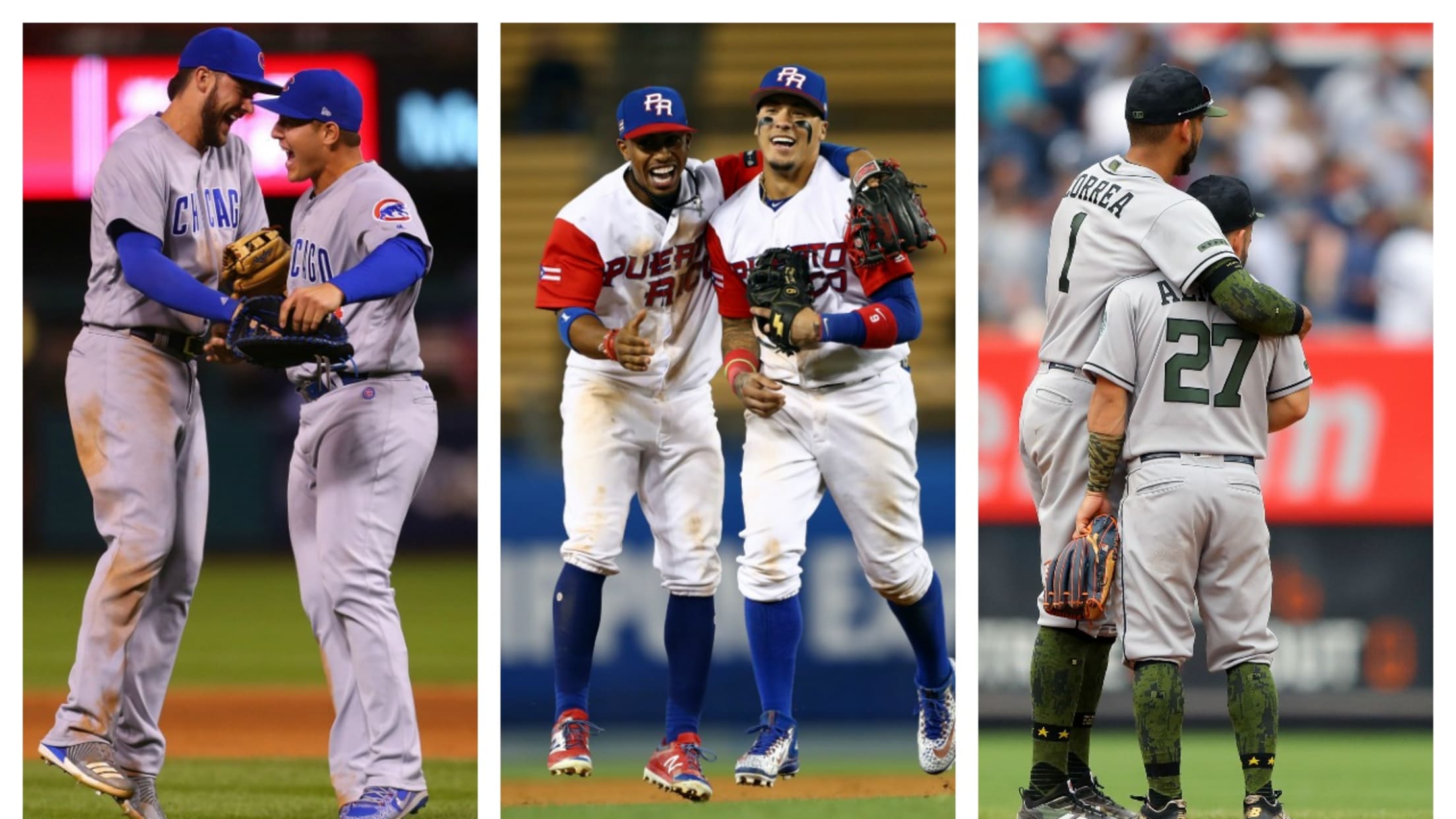 There's nothing quite like being a big leaguer. You spend March through September (maybe even October) eating, working and hanging with the same few dozen guys, all while trying to manage the pressure-cooker of being a professional athlete. It's a unique dynamic, and it's no wonder that it's produced some of the culture's most profound and moving bromances over the years. We've unveiled our 10 favorites below -- if you disagree with our list, let us know @Cut4.
10. Clayton Kershaw and A.J. Ellis
The two broke in with the Dodgers together back in 2008, and by 2012, Ellis had become Kershaw's de facto personal catcher -- serving as the lefty's batterymate nearly twice as often (118) as the next closest player (Yasmani Grandal, with 62). They seemingly did everything together, from batting practice to bizarre talk show segments.
Much to Kershaw's dismay, Ellis was traded to the Phillies back in 2016. Would that distance come between these two? No, no it would not.
During batting practice, Clayton Kershaw hit a fly ball headed for the right-field bleachers. A.J. Ellis caught it on the warning track.

"Over?" Kershaw asked.

Ellis threw the baseball into the stands.

"We have a budget," Kershaw yelled.

— J.P. Hoornstra (@jphoornstra) September 22, 2018
9. Curtis Granderson and Lucas Duda
Smack in the middle of the 2015 season, an Instagram account popped up with a rather peculiar handle: WeFollowLucasDuda.
The questions were endless. Who had taken this photo? What did they want? Why did Duda look so crestfallen about his socks?
Soon enough, we had answers. It turned out that the account was Granderson's idea, and the goal was simple: to chronicle the life of the stoic, soft-spoken Duda, everywhere he went. The next few years brought us everything from Legos to champagne to cowboys, and eventually, they'd surpassed 100,000 followers.
Things were put on hold when Duda was traded to the Rays during the 2017 season, but if MLB has taught us anything, it's that true bromances can never die:
8. Aaron Judge and Ronald Torreyes
On paper, they don't have much in common: Judge is a 6-foot-7 outfielder with 79 homers over the last two years, while Torreyes is a 5-foot-8 infielder with four homers in his entire career.
Of course, that just made their unlikely friendship all the more endearing. Here they are wearing each other's uniforms:
😆Super fun photo shoot today with Aaron Judge and Ronald Torreyes. Story to come! 🇺🇸🇻🇪❤️⚾️ pic.twitter.com/nMkTHn8zdd

— Yankees Magazine (@YanksMagazine) May 2, 2017
Here they are attempting to give each other a high-five:
Just how much do they mean to each other? After homering in Baltimore back in June, Judge high-fived everybody in the dugout ... and then saved one more for Torreyes, who'd been sent down to Triple-A the week prior. (No word yet on if Judge has anything planned now that Toe has been signed by the Twins.)
7. Freddie Freeman and Chipper Jones
When Freeman broke in with the Braves in 2010, he was the wide-eyed, eager to please rookie to Chipper's demanding franchise icon. In 2012, after two years of bringing Jones energy drinks and poker chips, they started hanging out. Then, two years later, it happened -- the event that has bonded them together for life, a tale of snow, courage and Twitter.
Going on 5 and a half hours in this traffic! Atlanta traffic is the worst but then you add snow...woah!!

— Freddie Freeman (@FreddieFreeman5) January 28, 2014
Thank goodness for @RealCJ10 ! Saved me on a 4 wheeler! pic.twitter.com/ljXDEULJC9

— Freddie Freeman (@FreddieFreeman5) January 29, 2014
They made it home safe and sound! #thankful @RealCJ10 @FreddieFreeman5 pic.twitter.com/KBO59VL1HU

— Taylor Jones (@lilgeorgiapeach) January 29, 2014
It's not every friendship that gets commemorated with its very own bobblehead:
Chipper: 🎶 "I can be your hero, Freddie."🎶 (probably)

Chipper rescues Freddie bobblehead, May 28th! pic.twitter.com/Q60O3Sl4Ft

— Atlanta Braves (@Braves) April 29, 2016
6. Francisco Lindor and Javier Báez
These two go back forever: They played together as kids growing up in Puerto Rico, they faced each other as top high school prospects in Florida and they represented their native PR in the World Baseball Classic. So of course the bright lights of the World Series wouldn't stop them from messing with each other:
Even ground balls are battles for bragging rights:
5. Hyun-Jin Ryu and Juan Uribe
Neither Ryu nor Uribe spoke much English when they met as Dodgers teammates in 2013. We could tell you about the language barrier that they overcame, or their many antics in the dugout, or their lovely portmanteau: Ryuribe. But instead of all that, we'll let you simply enjoy the following photo essay: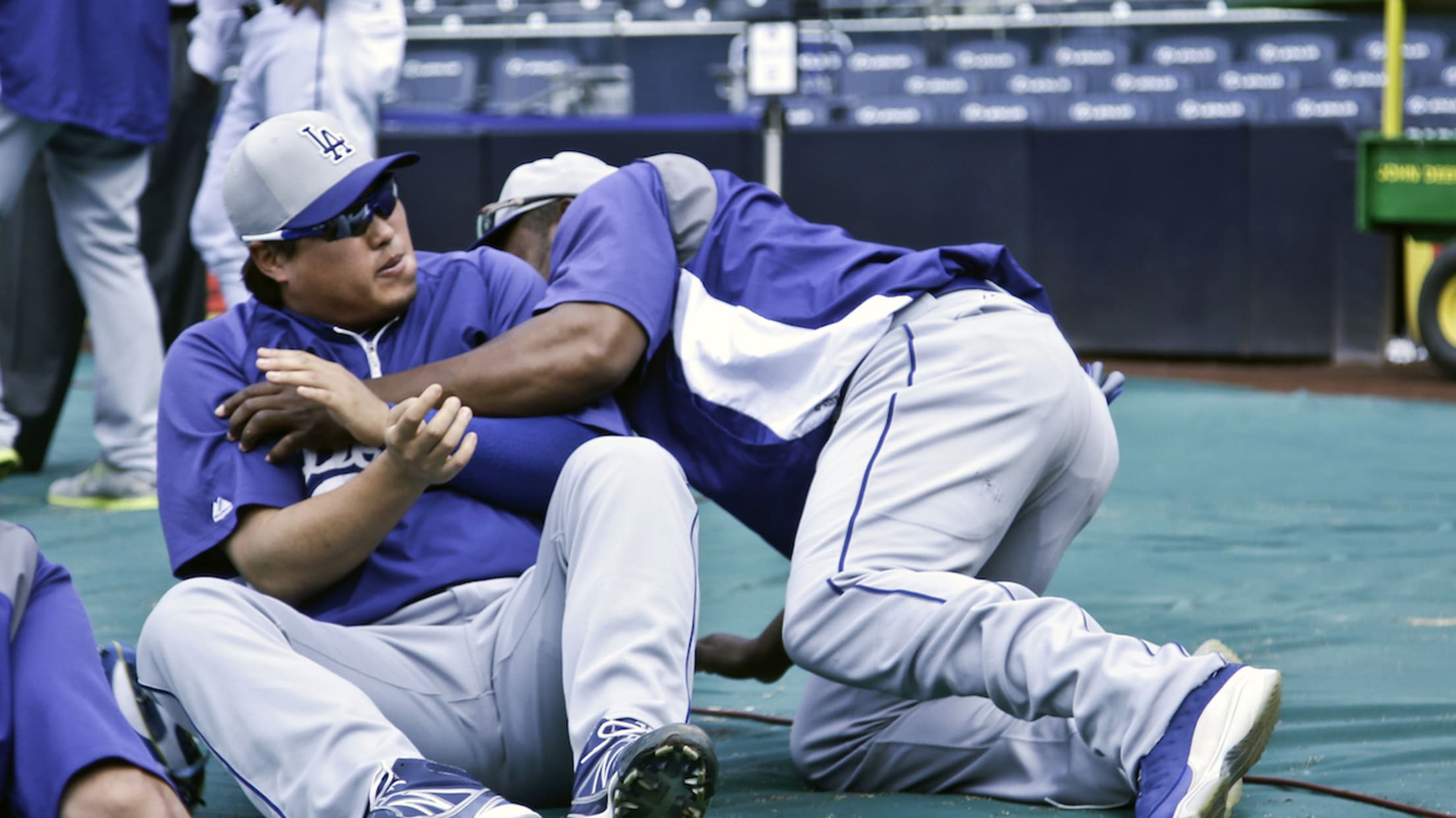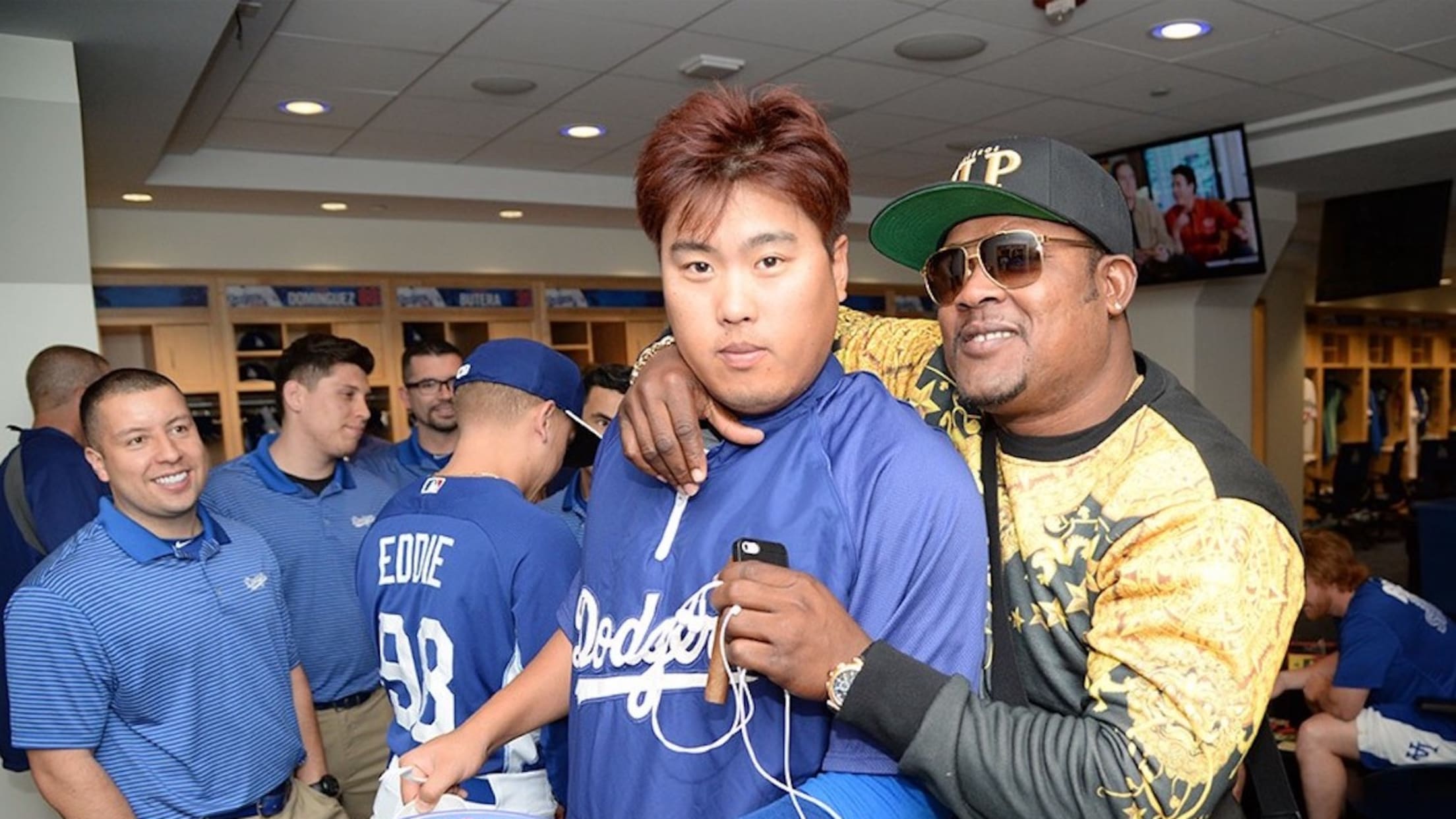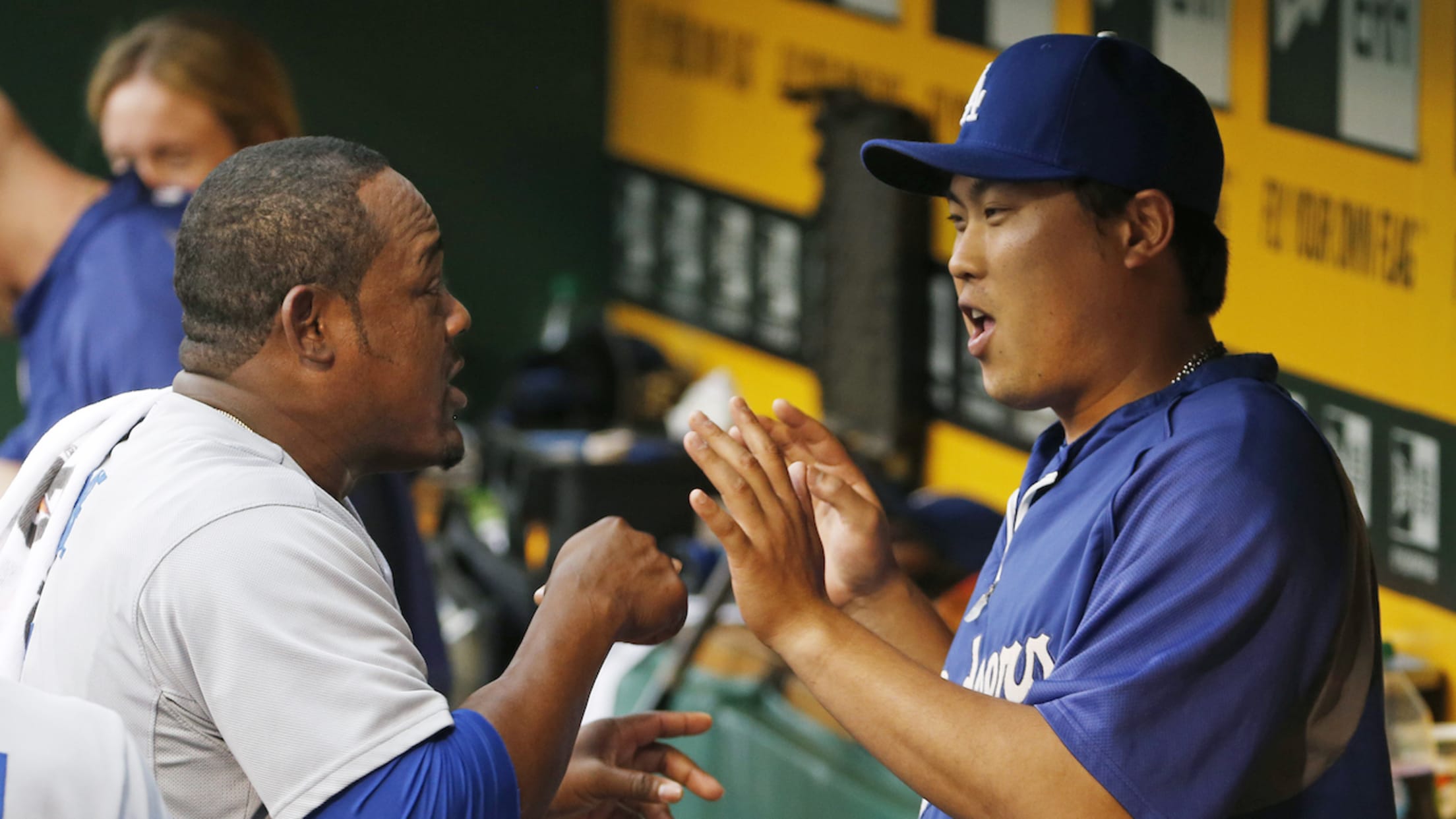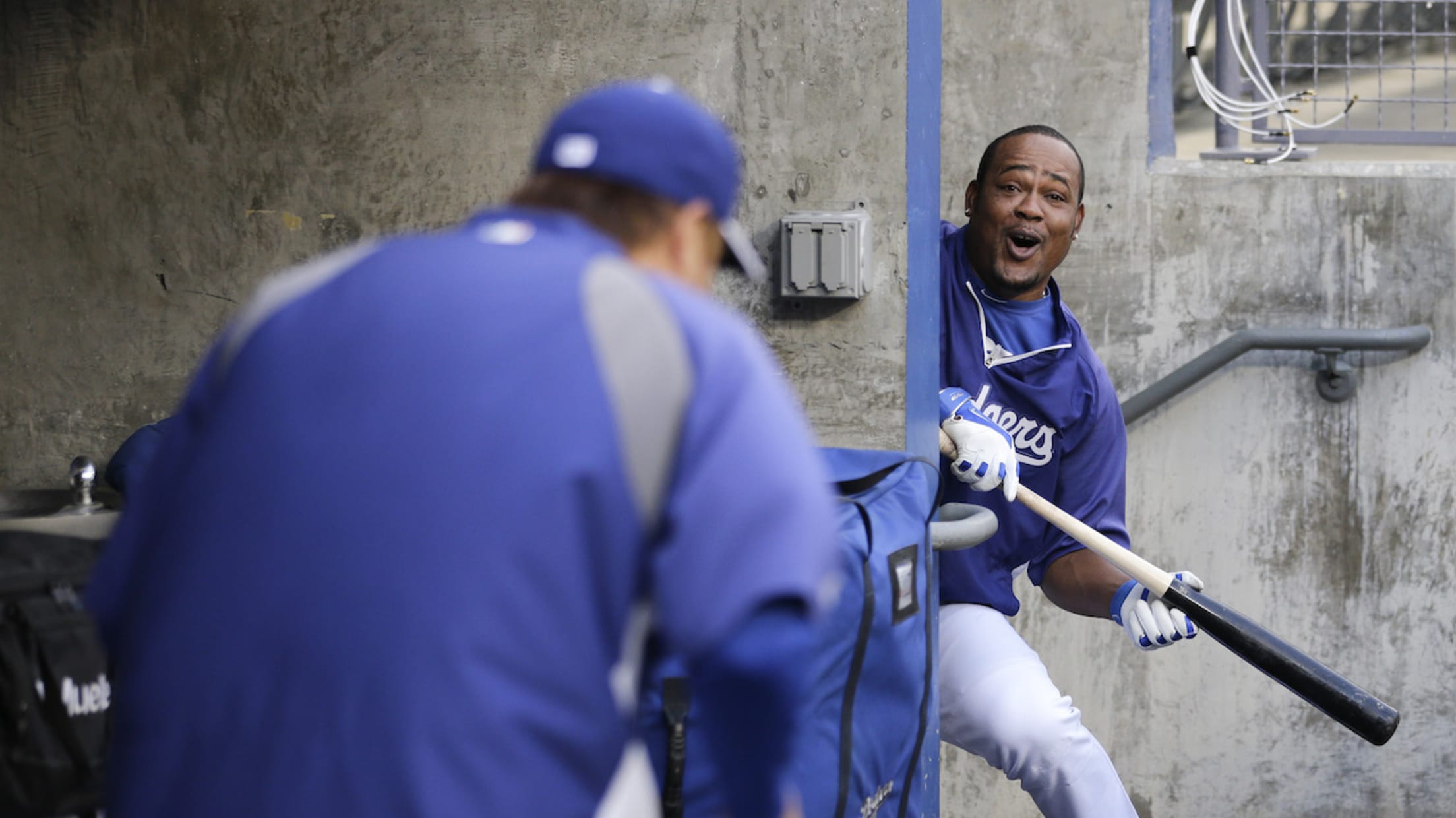 4. Lorenzo Cain and Salvador Perez
We could tell you all about how close Cain and Perez became over seven years with the Royals. We could tell you about their questionable fashion choices and LoCain's taste in cereal. But if you'd really like to know just how deep this bond goes, all you have to do is watch the following video, capturing the moment the two reunited for Spring Training 2016 after an offseason apart:
3. Bryzzo
Perhaps the most famous friendship in all of baseball, Rizzo and Bryant have been launching dingers (and small businesses) together since the latter made his Major League debut back in 2015. They dance, they sing, they hug, and through it all, they remain best buds -- even if they're both married now.
Our bryzzo family is officially growing!! Congrats to @emilyvakos & @ARizzo44 pic.twitter.com/SojfE4XMTO

— Jessica Bryant (@Jess__bryant) June 3, 2017
2. Adrián Beltré and Elvis Andrus
Beltre seemingly launched a bromance with every single player he came across -- we could write at least 4,000 words on he and Félix Hernández trolling each other -- but in the end, it's his relationship with his longtime infieldmate that we'll remember. Mostly because they spent much of that time relentlessly trolling each other:
Seriously, it's basically all they did:
We can only hope they turn this into a buddy cop series after Andrus retires.
1. Carlos Correa and José Altuve
We thought long and hard about this. Just about every bromance above has a compelling argument for the top spot. In the end, though, we couldn't give the crown to anybody but the Astros' middle infield duo -- not because of the (admittedly awesome) handshake or the rock-solid work relationship, but because it's quite possible that no athlete has ever looked at another athlete the way Altuve and Correa look at each other: