These are the most amazing and impressive baseball workouts we've ever seen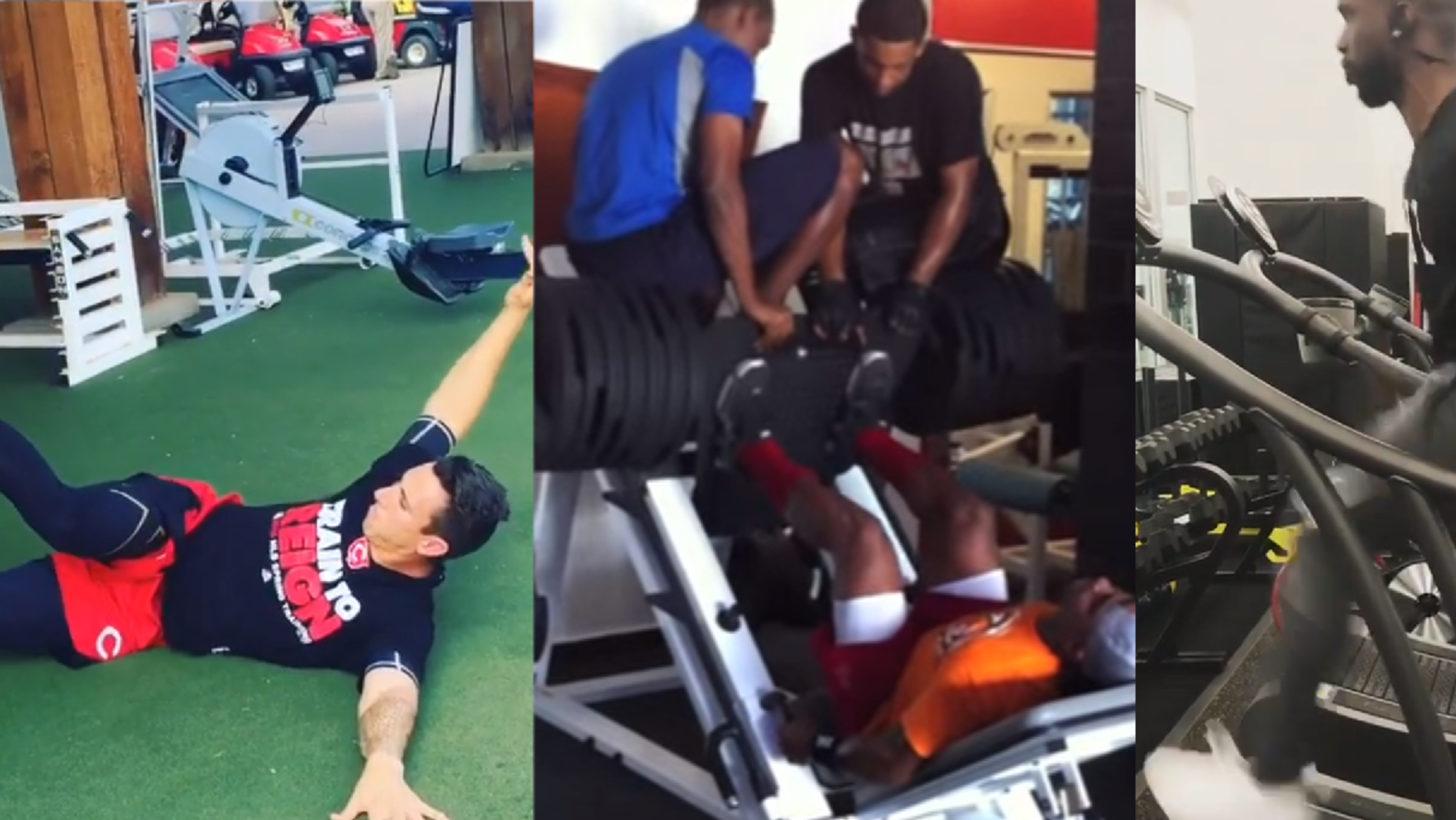 When asked about his offseason plans, Hall of Fame second baseman Rogers Hornsby once famously responded with, "People ask me what I do in winter when there's no baseball. I'll tell you what I do. I stare out the window and wait for spring."
Sure, the image of a baseball-sick lover patiently waiting for the return of his beloved sport is romantic, but nowadays Hornsby's offseason regimen would be downright unacceptable. In today's age of baseball, if you aren't spending your winter getting after it in the gym and posting those videos on your Instagram for the rest of the baseball world to see, you're falling behind.
Here's a list of the most impressive, distinctive and amazing workout feats we've seen from baseball players over the last few years.
Andrew McCutchen
The workout genre of "Running Stupidly Fast on A Souped-Up Treadmill" has really taken off in recent years. But while some players like Tommy Phamhave tried, no one has topped Cutch's insane 26-mph treadmill sprint from last offseason.
I love the idea of Cutch doing this at the local neighborhood gym with someone next to him going for a light jog.
Jonathan Lucroy
People always wonder, "How are catchers able to stay in a squat for all that time without getting tired?" Well, this is how.
Workouts are fun this time of year! #NoOffSeason pic.twitter.com/0K6A1dSVOg

— Jonathan Lucroy (@JLucroy20) January 19, 2018
A way to do this workout on your own is to go stand on a subway car and not hold onto any of the poles.
Michael Lorenzen
Lorenzen is the most athletic person in baseball right now. His lifting workouts are impressive, but he's more than just a big baseball dude who can throw around some weight. Check this madness out.
The Reds pitcher's body control, balance and dexterity make him look more like an Olympic gymnast than a dinger-knocking reliever.
Luke Voit
The Yankees' first baseman's explosion onto the scene in 2018 was the stuff of legend. So was this absurd video of his one-handed barbell bench press routine.
We shouldn't be surprised by Luke Voit hitting 2 dingers in a game.

Homeboy bench-presses 135 lbs. With ONE arm. https://t.co/CcnacoTT9F pic.twitter.com/Q1RVrwv7L8

— Cut4 (@Cut4) September 20, 2018
Yoenis Céspedes
There are big leaguers who can jump 45 inches, leg press 1,300 pounds, hack squat 510 pounds and bench press 350 pounds, but very few can do all of those things. Cespedes can.
Tyler O'Neill
In his rookie season for the Cardinals, O'Neill solidified himself both as a talented big league outfielder and as a shredded slice of muscularity. Here's an old video of him squatting 585 pounds.
Large blonde Texas pitchers
The weighted sled push/pull is right up there in the simple but entertaining "Moving A Bunch Of Heavy Stuff Around" workout category. This also seems to be the preferred routine for a pair of light-haired flamethrowers from Texas who look more like superheros than baseball players: Mets pitcher Noah Syndergaard and White Sox pitcher Michael Kopech.
José Berríos
25 day's 👀 spring training 🚙🏃🏽‍♂️ #NoHayDescanso #NoOffSeason 🌴😎🇵🇷 pic.twitter.com/qp731p72mm

— Jose O. Berrios (@JOLaMaKina) January 12, 2018
Brett Lawrie
Who could forget the Great Box Jump Wars of the 2015-2016 offseason? After Bryce Harperposted a video of his 55-inch leap, then-Rays/now-D-backs outfielder Steven Souza Jr. topped that with a 58-inch jump of his own.
Lawrie proceeded to shut both of those dudes down with this comically impressive 64-inch hop.
Giancarlo Stanton
If you follow Dwayne "The Rock" Johnson on Instagram, you know that his entire feed is an eye-popping smorgasbord of videos. Stanton, baseball's version of The Rock, shared his own insane clip of himself destroying what looks to be some sort of upright rowing machine.