Bob Uecker was very surprised to find the Brewers dressed up as him for their flight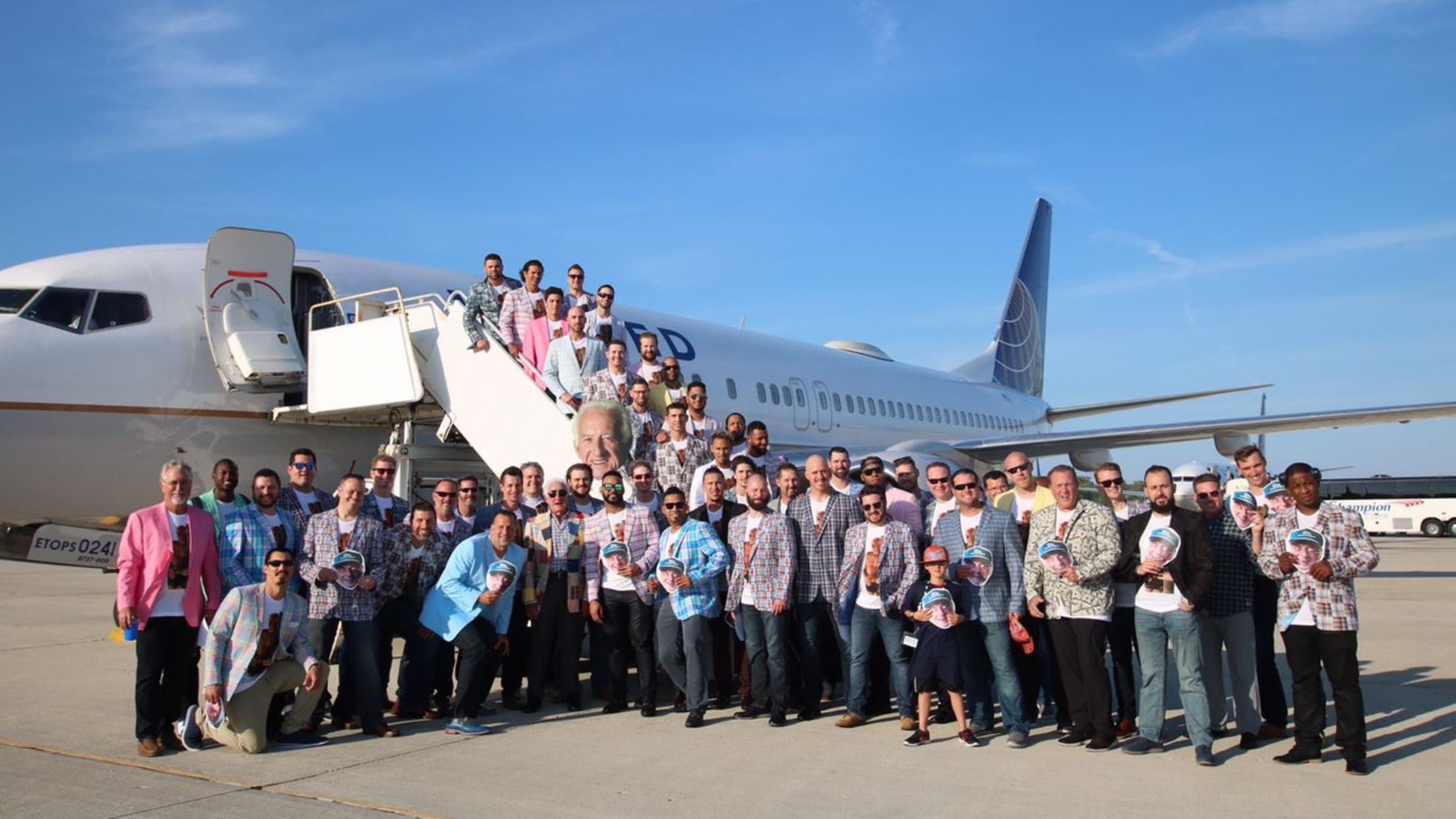 Bob Uecker was one of the first passengers aboard the Brewers' charter flight Sunday for a rare road trip, and he had an inkling something was up when he noticed one of the flight attendants wearing a shirt with his name on it.
Uecker knew something was up when first-base coach Ed Sedar climbed aboard wearing a loud sport coat over his T-shirt bearing an infamous image of Uecker in a Speedo, the one that had been splashed across the pages of Sports Illustrated a decade ago.
Get up, get up, get outta here... GONE....to Pittsburgh! #UeckerTrip pic.twitter.com/mx0A3aHFRa

— Milwaukee Brewers (@Brewers) June 17, 2018
It dawned on Uecker that he was the subject of one of the team's dress-up flights. The entire traveling party was decked out in those T-shirts and sport coats in the style of Uecker's hundreds of appearances on The Tonight Show, and in beer ads, and as fictional broadcaster Harry Doyle in the Major League movies.
"It was a flight for life," Uecker cracked.
It was manager Craig Counsell's idea.
"I'd had this idea for a while, and we'd just never done it," said Counsell, who considered the surprise the best part. "One hundred percent the best part. He doesn't go with us that often on the road anymore, but we knew he was coming on the trip. He had no idea."
As a couple of you noticed, good work by Counsell and Sedar on their t-shirts for the Bob Uecker dress-up flight.

Brewers photo on left, and Al Tielemans' absolute classic from the May 19, 2008 issue of Sports Illustrated on right. Ueck refers to it as "my swimsuit issue." pic.twitter.com/eh86MlNdbz

— Adam McCalvy (@AdamMcCalvy) June 18, 2018
Credit director of team travel Dan Larrea for the T-shirts, "a brilliant add to the event," Counsell said. Larrea conspired with Uecker's wife, Judy, to deliver Johnny Carson's favorite sport coat for Uecker to wear.
Here's another look at the one Counsell wore: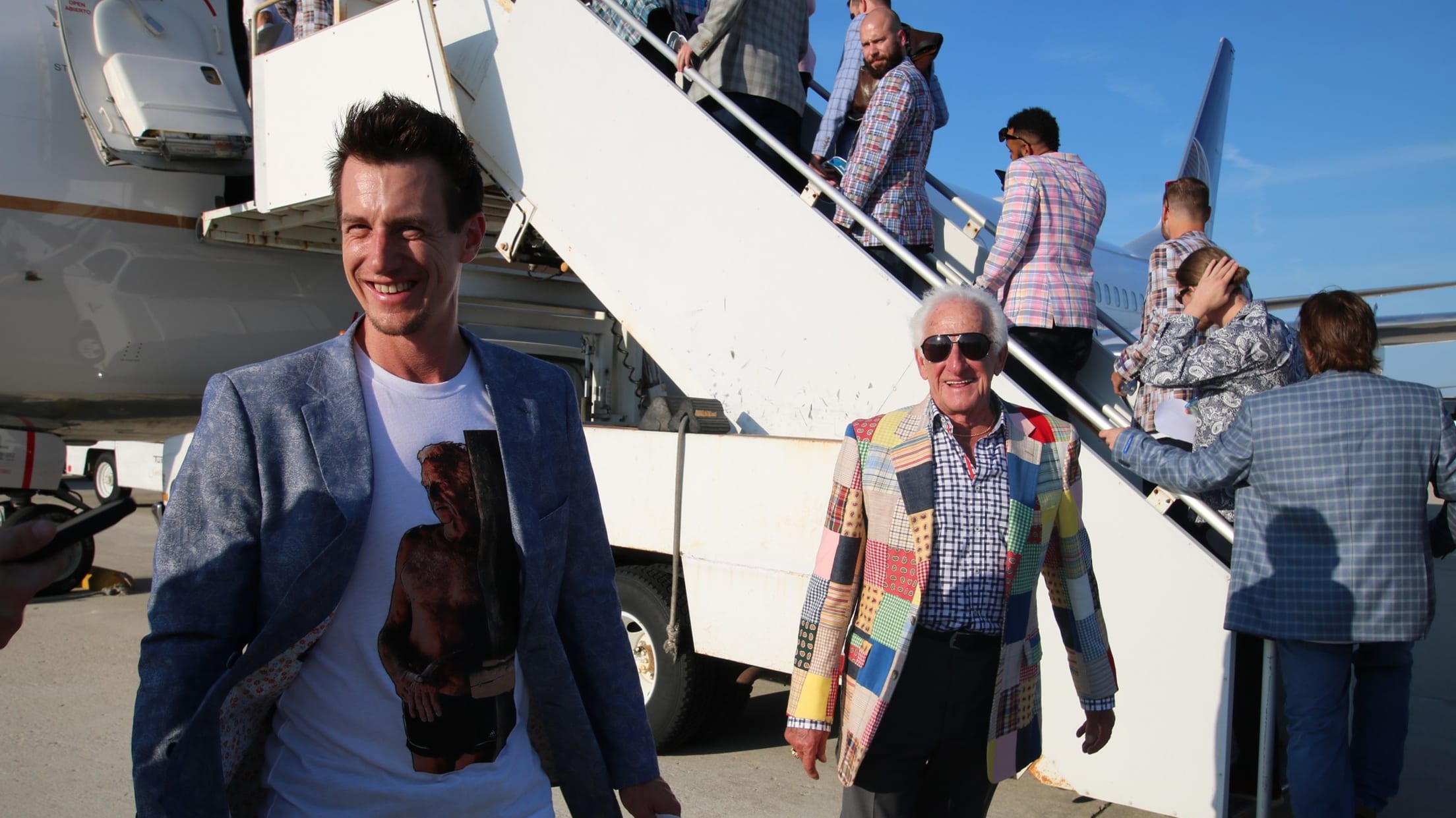 It was a custom number. Uecker had the patch coats made by a tailor in New York, and he still has a closet full of them at home.
"The one that I wore last night, when I wore it on The Tonight Show, Johnny says, 'Jeez, that's some kind of sport coat,'" Uecker said. "I said, 'Well, these are all state flags of places I played in my career in baseball.' That was the original coat."
He appreciated the Brewers paying tribute.
"Oh, it was funnier than hell. It was great," he said. "I don't know if anybody else has ever done that for a broadcaster."
Here's the kicker: Uecker said Brewers owner Mark Attanasio called Monday asking for one of those custom T-shirts.