Bryce Harper lost a breakup about as badly as you can lose a breakup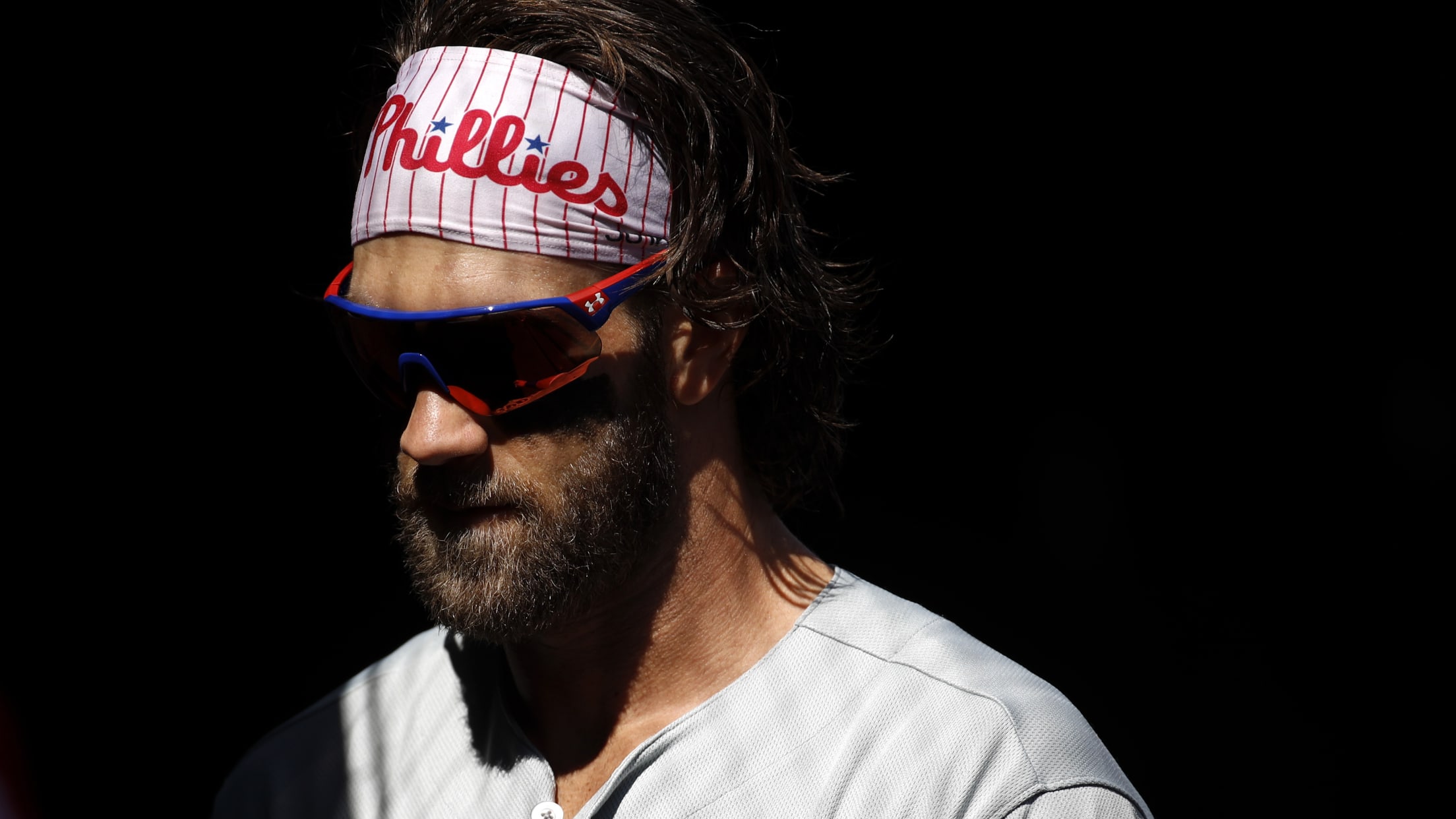 After nearly a decade together, Bryce Harper and the Washington Nationals had a conscious uncoupling last winter, with Bryce packing up his things and moving to the rival Phillies. The two wished each other well, put on their "really, I'm happy and ready to focus on myself" faces, and even had adorable little foibles like when Bryce said he was trying to win a championship with D.C. on the day he was unveiled before the Philly faithful.
That's the natural course in the early stages of a break-up. Then, after a few months apart, the old jealousies creep in. You want to look your best self. You want to prove that you're just as good, even better, on your own. And, at first, Harper came out ahead.
In the first game of the season, Harper showed off just how happy he was with his new club and his new clothes and his new fans who made the trip down from Philadelphia. He bowed before his audience and punctuated a game-sealing home run with the kind of bat flip that could change the course of oceans on the other side of the continent.
Bat flipping season is the best time of year. #LetTheKidsPlay pic.twitter.com/05LQ9WVauw

— MLB (@MLB) April 3, 2019
This is, 100 percent, the equivalent of running into your ex and saying, "Oh yeah, things are fine. I just got a promotion. And a new car. And yeah, I am also in the best shape of my life, thank you for noticing."
The Phillies were on top of the standings and these Nationals, who didn't know how to pick up pieces, were struggling.
But, like any good romantic comedy, they turned things around. 20-year-old superstar-in-the-making in Juan Soto took on the mantle of Nationals Outfield Wunderkind and made fans wonder why they were even sad that Harper left -- all while dancing and laughing and having a grand old time.
Which leads us to Tuesday, when the Phillies were in Washington for a double-header. One loss for Philly and their season was over. Two wins for the Nationals, along with a little help from a few other games, and they had their ticket to the NL Wild Card Game. Of course it was all going to go down this way. You couldn't have scripted it any better.
In the first game, the Phillies lost, 3-1, ending even the smallest pieces of postseason hope. Harper batted in the eighth and, needing two runs, he even bunted to try and get on base. This wasn't quite the former lover showing up on your front stoop with a bouquet in the rain, but it was pretty close.
Sure enough, the Nationals' broadcast made sure to keep their cameras on Harper after the final out:
MASN with a lot of shots of Bryce Harper in the dugout as the Phillies get eliminated from the playoffs by the Nats. They know what's up.

— James O'Hara (@nextyeardc) September 24, 2019
Nationals GM Mike Rizzo, while admitting that it was all baseball and Harper knew that, couldn't help but say, "It was wonderful to eliminate him here in our park." That's the voice of someone who has finally moved on and knows that they no longer have to moon over a bunch of old photos.
And then, in the nightcap, Harper -- who still cracked a massive home run along the way because he's still Bryce Harper, after all -- had to watch as the Nationals won again and, after a nervous jumbotron watchparty, got to celebrate their spot in the postseason. That's an honor that Harper's Phillies didn't get. That's an October that Harper won't be a part of, and he got to watch it all from the visitor's dugout of his old home.
That's peak romantic comedy. And that's something Harper will have to live with all winter. But that's not a bad thing, because that makes 2020 his revenge story.
Teams in this article:
Players in this article:
Topics in this article: