The textbook on how to perfectly celebrate a gigantic postseason home run has now been written
OH. MY. GOD.
The Astros beat the Yankees on Sunday night, 3-2, in Game 2 of the ALCS -- but the way Houston went about tying this series at a game apiece? Well, dear friends, this was it.
This was REALLY it. The most dramatic stakes, the most tense October baseball, two dominant teams battling head-to-head for hours, all of it ending on a solo homer from Astros shortstop Carlos Correa in the 11th inning to send everybody home. And his was a master class in post-homer celebration, too.
SERIES TIED. #ALCS pic.twitter.com/b1MDAvWI5D

— MLB (@MLB) October 14, 2019
*Blinks eyes a few times*
Oh, oops, I was just watching that on repeat for the past 10 minutes. Sorry.
But I mean, come on: This is art. Frame it and put it in a museum.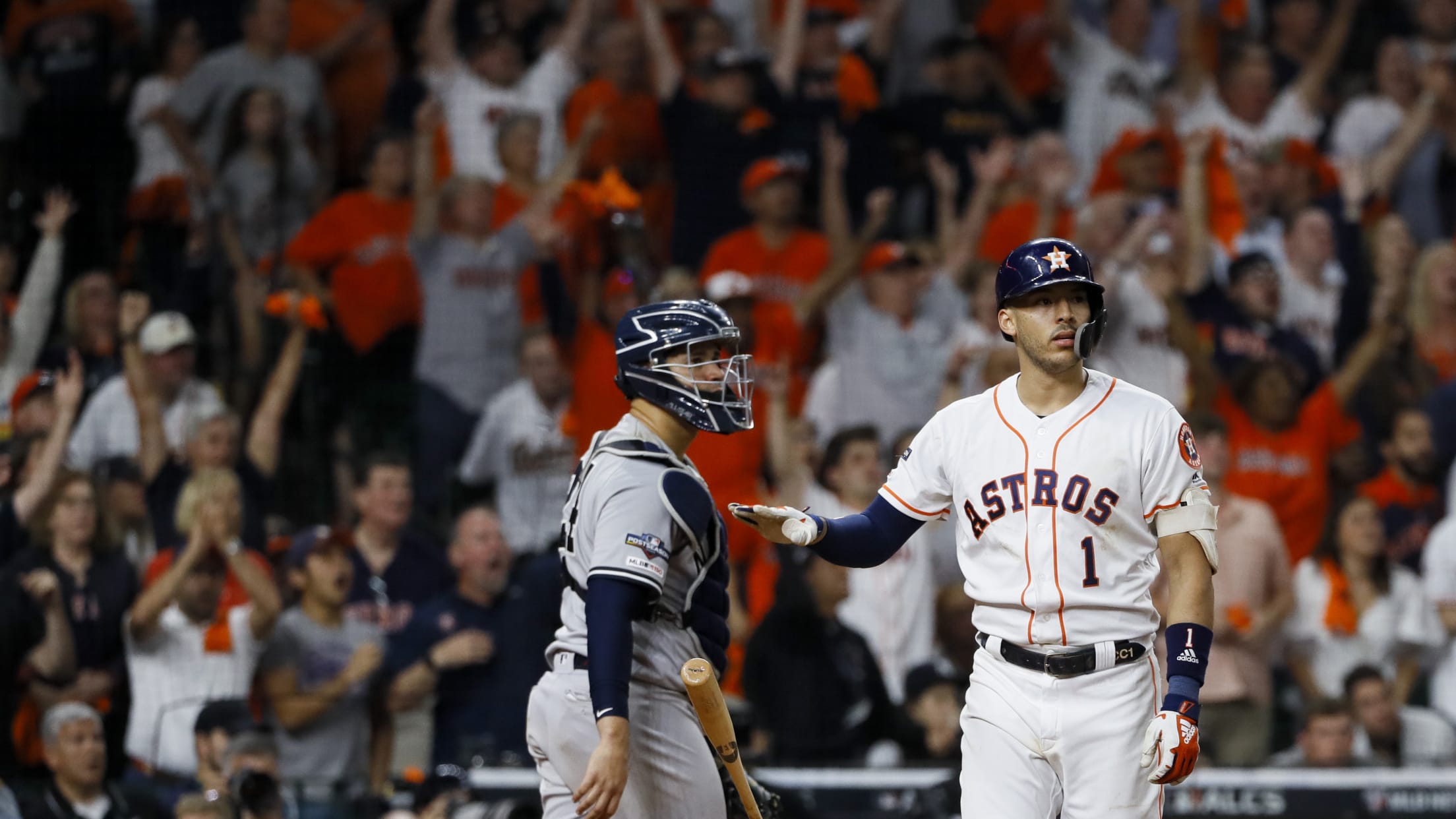 The second the ball hit his bat, Correa knew. The fans behind him in the stands knew. Everybody knew.
Embracing his coronation as the king of the world at the moment, Correa didn't chuck his bat skyward. He didn't excitedly fling it toward the dugout.
No, Carlos Correa opted for something even better. He casually held out his right arm and let the bat fall down to the ground. It was a bat DROP, more than anything else, and it was absolutely incredible.
CARLOS CORREA PLAYS LOUD! #ALCS #WePlayLoud pic.twitter.com/7Ukzor4eH2

— MLB (@MLB) October 14, 2019
The newly crowned ruler of the universe then held his hand to his ear, eager to receive congratulatory messages from the masses. His teammates, fans, his constituents, me, you, your neighbor, the family down the street, all living things on planet Earth and beyond, everybody.
YEAH WE CAN HEAR YOU CARLOS 👂👂👂 pic.twitter.com/X3D6ITnXhl

— Cespedes Family BBQ (@CespedesBBQ) October 14, 2019
Straight-up chills, man.
As Correa rounded the bases -- with the Astros having tied the ALCS at a game apiece after a marathon of an evening when Houston REALLY wanted to win to avoid being in a very difficult spot in the series -- he let the world know who's on top.
He is. He's on top.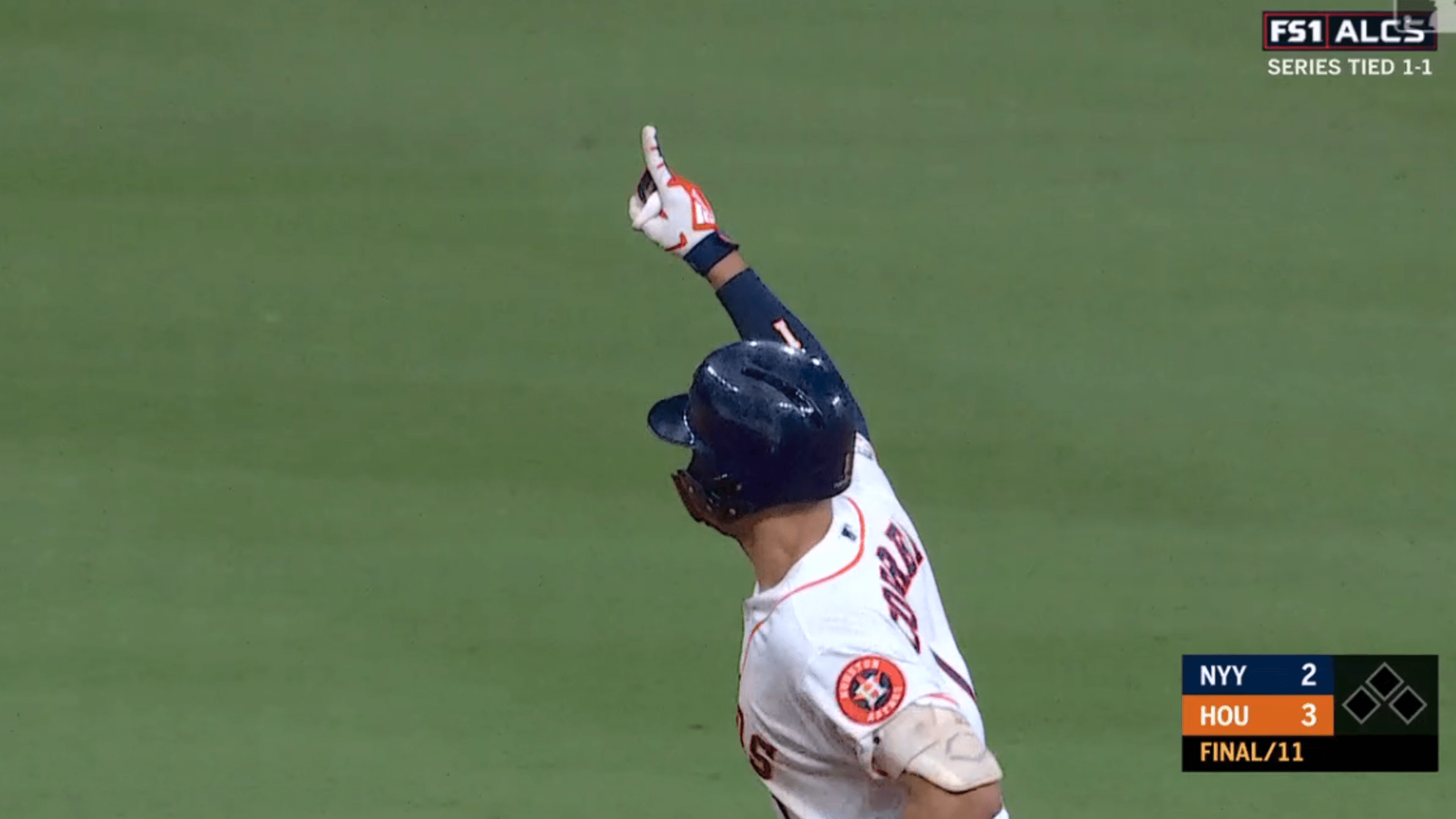 Coincidentally, this was the second No. 1 gesture thrust into the air by Correa on the night -- as his heads-up play on defense in the sixth inning quashed a Yankees rally and kept the game tied at 2-2, where it stayed for five more innings.
No, no, no! A Houston tradition. #ALCS pic.twitter.com/36zUMH3Yqf

— MLB GIFS (@MLBGIFs) October 14, 2019
After Correa rounded the third-base bag and approached his teammates at home plate, he stopped, leapt into the air and shot his helmet as if it were a basketball. It landed in the outstretched arms of his excited teammates at home plate -- a perfect swish of a shot, because that's the only thing it could have been:
This is it. This is the pinnacle of home run celebrations, given the gravity of the moment, the importance of the game for both teams and the ramifications it may have on the rest of this ALCS -- which is shaping up to be an all-time classic, two games in.
Now if you'll excuse me, I'm going to go watch this a few more times and run through a wall.
🗣 PLAY IT BACK! pic.twitter.com/CLNn5de9sY

— Cut4 (@Cut4) October 14, 2019
Adrian Garro joined MLB.com in 2016. Throughout his travels, both Bartolo Colon and Vin Scully have placed their hands on his shoulders. Not at the same time, though. That'd be amazing.
Teams in this article:
Players in this article:
Topics in this article: