Chad Pinder sealed an A's win with a sprinting, over-the-shoulder, barehanded catch on a short fly ball
The A's beat the Rays on Thursday, 7-3, in their afternoon series finale in Oakland -- and shortstop Chad Pinder locked down the win with an acrobatic salvaging of what could have been a much more costly sequence.
Oakland's lead had shrunk from 7-0 to 7-3 in the ninth, with closer Blake Treinen on the mound and two runners on for the Rays. Pinder, playing shortstop in the absence of Marcus Semien (who's out on paternity leave), was put into action on a popup off the bat of Johnny Field.
His back to the infield, Pinder ranged out into short left-center. The ball knicked off his glove, squirting over toward the grass -- but Pinder deftly stuck out his bare hand, securing both the catch, the victory and the impressed reactions of thousands watching:
Now, it's important to remember that the sun at the Oakland Coliseum during day games can wreak major havoc on popups. We've seen it time and time again, so major kudos goes to Pinder, here, for not only being able to save that play, but do so having ranged far out from his perch at shortstop.
And that post-catch pose, too: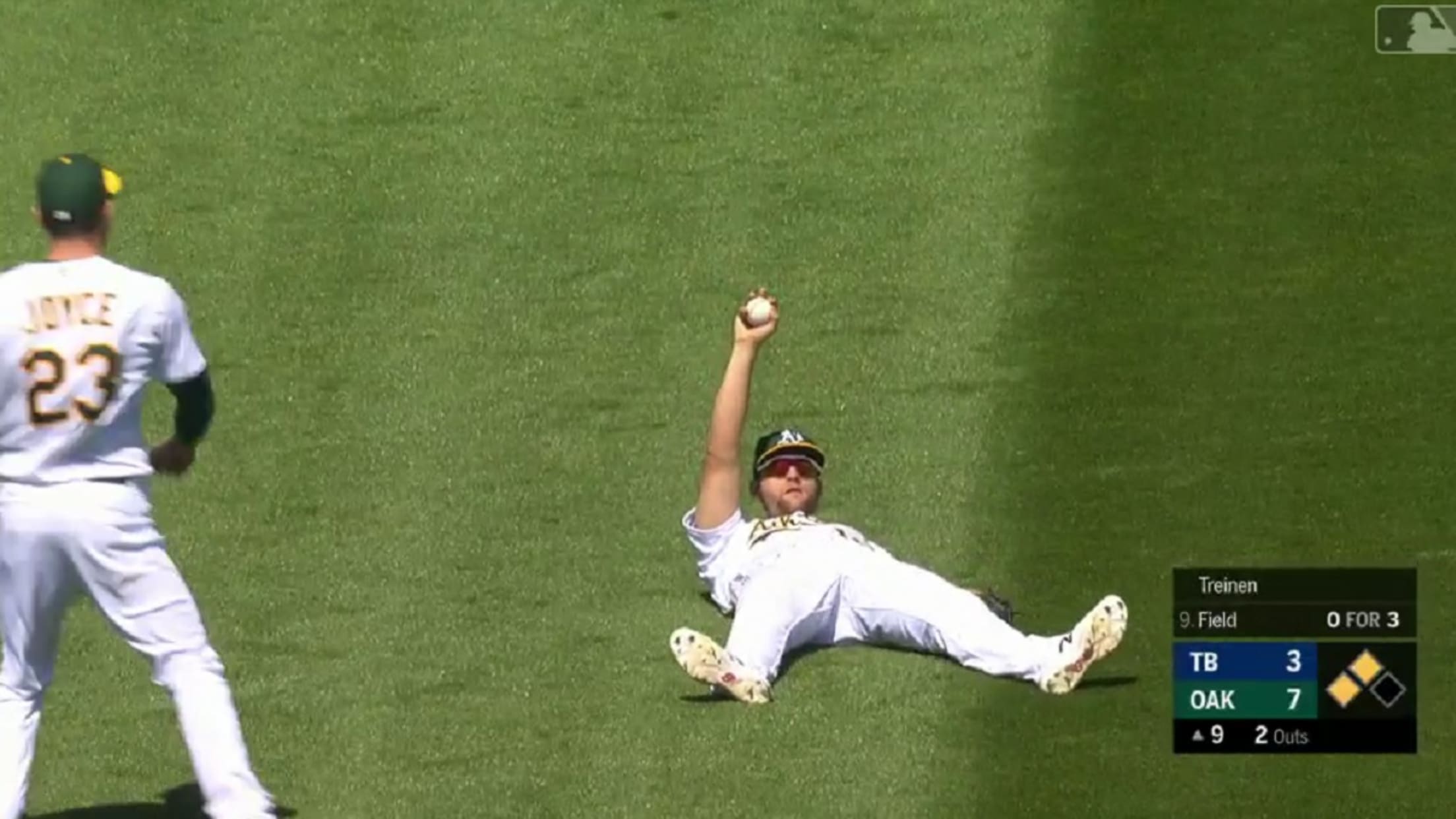 "Just put it in no-man's land," Pinder said to MLB.com's Eric He after the game. "I should've made the catch the first time with my glove. Just ricocheted off and just saw it and tried to grab it, hang on to it."
Manager Bob Melvin:
"The cherry on top was the play he made to end the game. I told him he can use his glove too, [he] doesn't have to be that dramatic, but it was a nice play."
Pinder earns an A (or A's?) for effort on this one.
Teams in this article:
Players in this article: