The month of September now belongs to Christian Yelich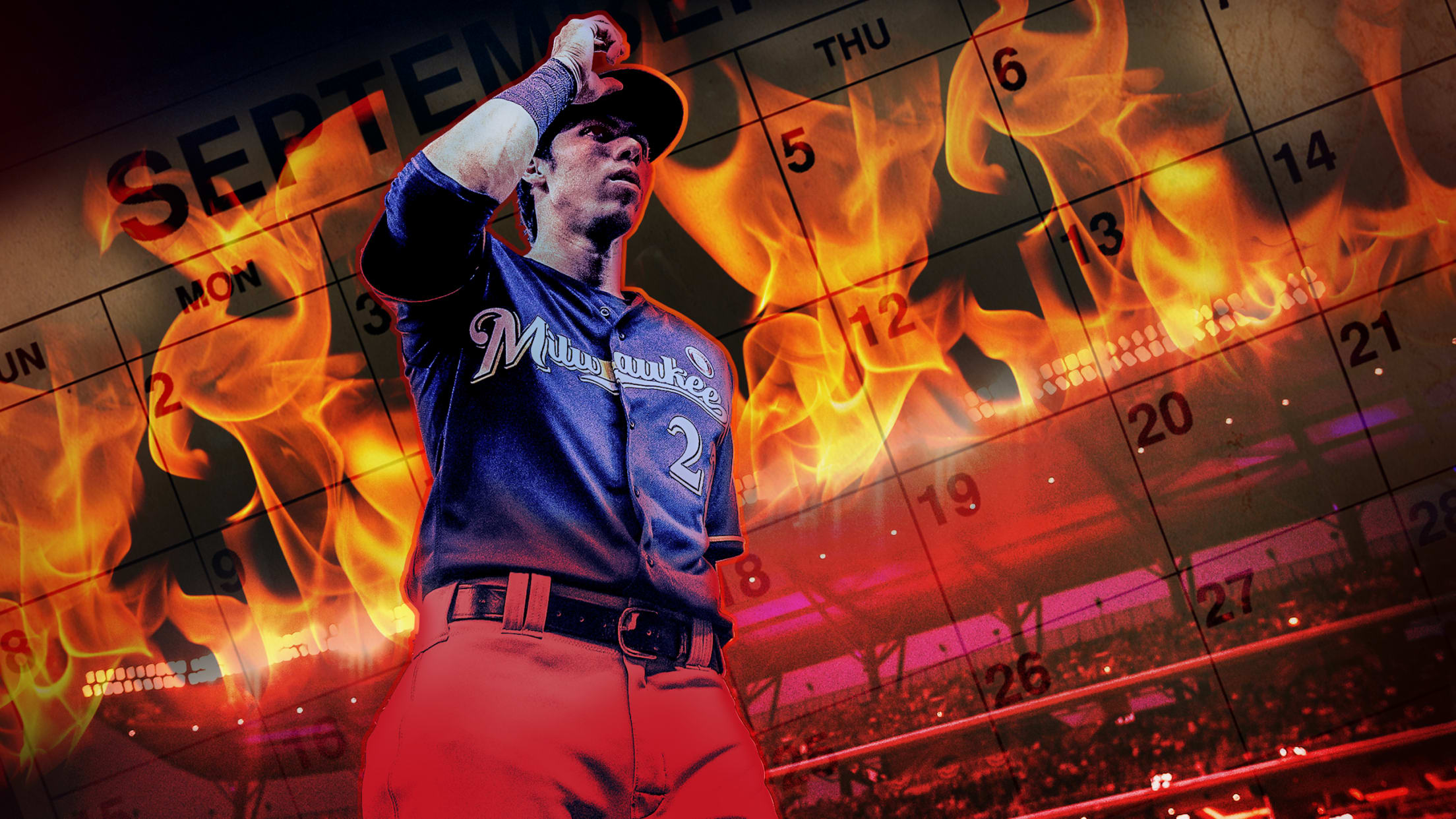 (Art via Tom Forget / MLB.com)
Can somebody own a month? Like buy it and keep it as theirs forever?
According to Google, you can't (although you can apparently buy this bacon-flavored floss).
But it doesn't matter what the internet says. It doesn't matter what I say or you say. It doesn't matter what's exactly legal under our free market economy -- Christian Yelich owns the month of September. He didn't even bother asking around to see if he could have it. He took it.
The takeover began last year, when the Brewers superstar went on a freakish offensive surge: Over 28 games, he had 10 home runs, 33 RBIs and hit .350/.500/.807 -- vaulting him to the NL MVP award and sending his team to the postseason in October. He crushed five home runs in six days as the month came to a close. Every ninth at-bat, he was launching a dinger.
It was the epitome of an MVP -- taking an entire team and putting it on your shoulders during the most crucial time of the season. Yelich was already an elite player who had somehow found an even higher gear and turned into a baseball-playing monster.
And guys, guess what, it is September again.
I don't care if you're getting married this month, your great grandma Dorys is turning 105, your cute little baby is being born and you're for some reason naming them September -- this is not their month. This is Christian Yelich's. He will not relinquish it.
After another fantastic season, Yelich has been even more fantastic during the first nine days of the ninth month of the year. In seven games, he has three home runs, eight RBIs, four steals and a .360/.515/.800 slash line. He's catapulting himself to the forefront of the NL MVP race and into the history books.
And he's doing it during crucial games against the Chicago Cubs. The Brewers won two out of three against their NL Central rivals this weekend, moving two games in back of them for a Wild Card spot. Mr. September, of course, was leading the charge.
The onslaught will only continue as the Brewers take on the last-place Marlins this week, Yelich's former team and one he loves to destroy.
So go ahead and cross out September on your calendars. Just write Christian's Month. You can even paste on one of these photos to make it official. These 30 days belong to him and nobody else.
Matt Monagan is a writer for MLB.com. In his spare time, he travels and searches Twitter for Wily Mo Peña news.
Teams in this article:
Players in this article:
Topics in this article: