A Dodgers rookie hit his first two homers and was totally ignored by his teammates twice as a reward
It can be tough to be a rookie in the Major Leagues. Finding playing time can be a challenge all in itself, but when you do find your way into a game or two, something is lurking, waiting for you in the dugout should you muscle up and hit your first home run.
Silence. Absolute, total silence, for a few awkward seconds as your new teammates welcome you to the Majors by completely ignoring you. It's a tradition the game's had for decades, and it's almost always hilarious to see -- especially if the rookie in question plays up the moment.
Dodgers rookie Edwin Rios had the game of his young career in Wednesday's 9-1 win over the Marlins in Miami. He clubbed his first homer in the fourth inning, and returned to the dugout to the expected silence, before everybody began piling on the congratulations.
But then, after he hit another homer in the sixth inning, his return to the dugout was met once again with silence. The Dodgers doubled down on silent treatments, and it was definitely amusing to see them shower high-fives on Matt Beaty -- who scored on Rios' homer -- but not Rios himself:
First 2 career home runs ✅

2 dugout silent treatments ✅ pic.twitter.com/E32HMAtvr2

— Cut4 (@Cut4) August 15, 2019
That's an above-average effort from Justin Turner, Rich Hill, Russell Martin and the other seasoned veterans on the Dodgers roster who I have to suspect were behind this double-dose of dugout silent treatment. This shot during Rios' second home run trot would support that idea: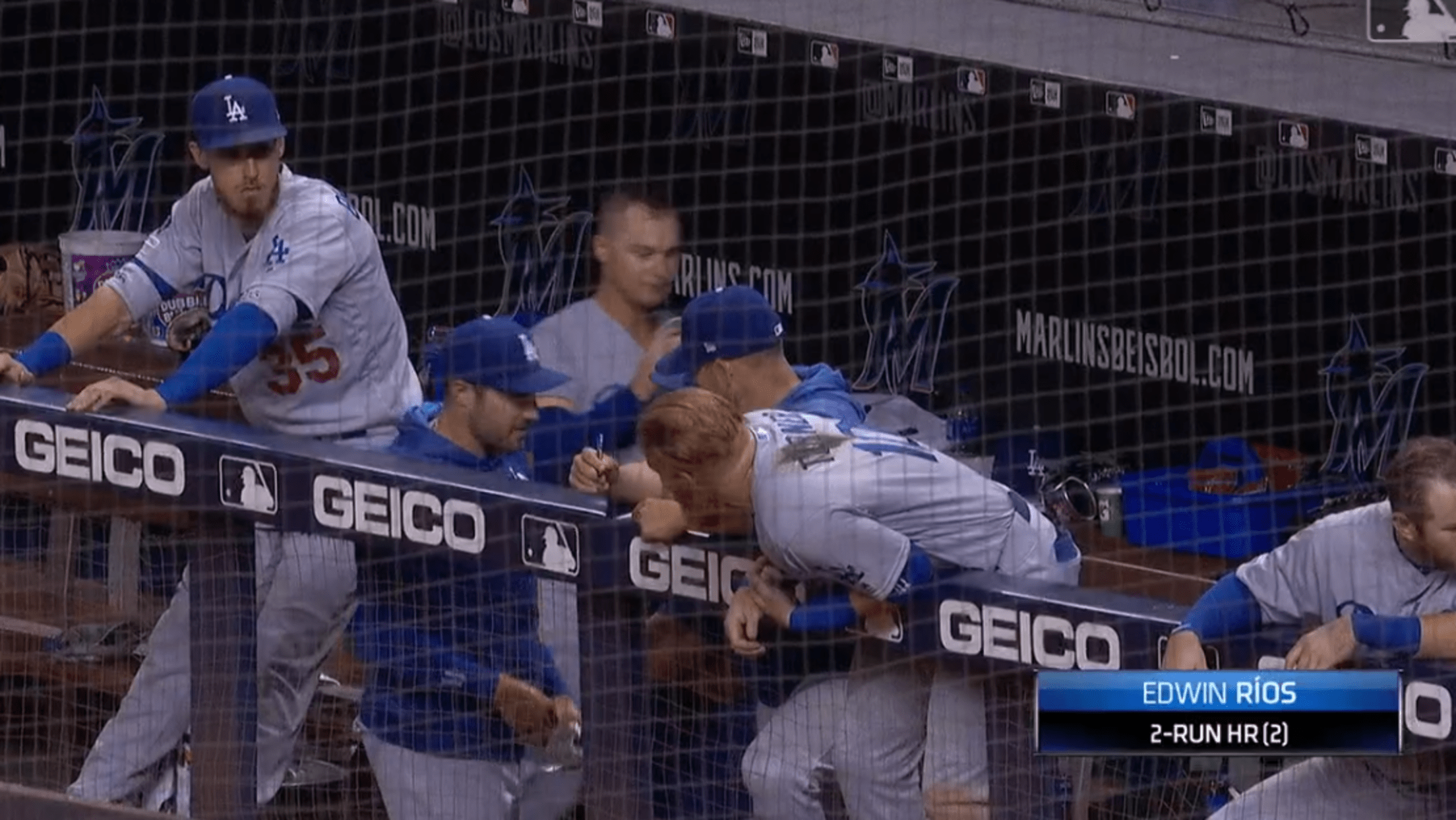 Here's what I assume is going down at this precise moment.
Turner: "Guys, shhh. Let's do it again. We're ignoring him," a statement met with approval from everybody else, who spreads the word down the dugout ledge like a group of kids playing "Telephone" during recess.
The end result? Everyone played the part well and Rios received a double-dose of rookie memories he'll never forget. Everybody wins.
Adrian Garro joined MLB.com in 2016. Throughout his travels, both Bartolo Colon and Vin Scully have placed their hands on his shoulders. Not at the same time, though. That'd be amazing.
Teams in this article:
Players in this article:
Topics in this article: