Here is the exact day all of the top free agents will sign this winter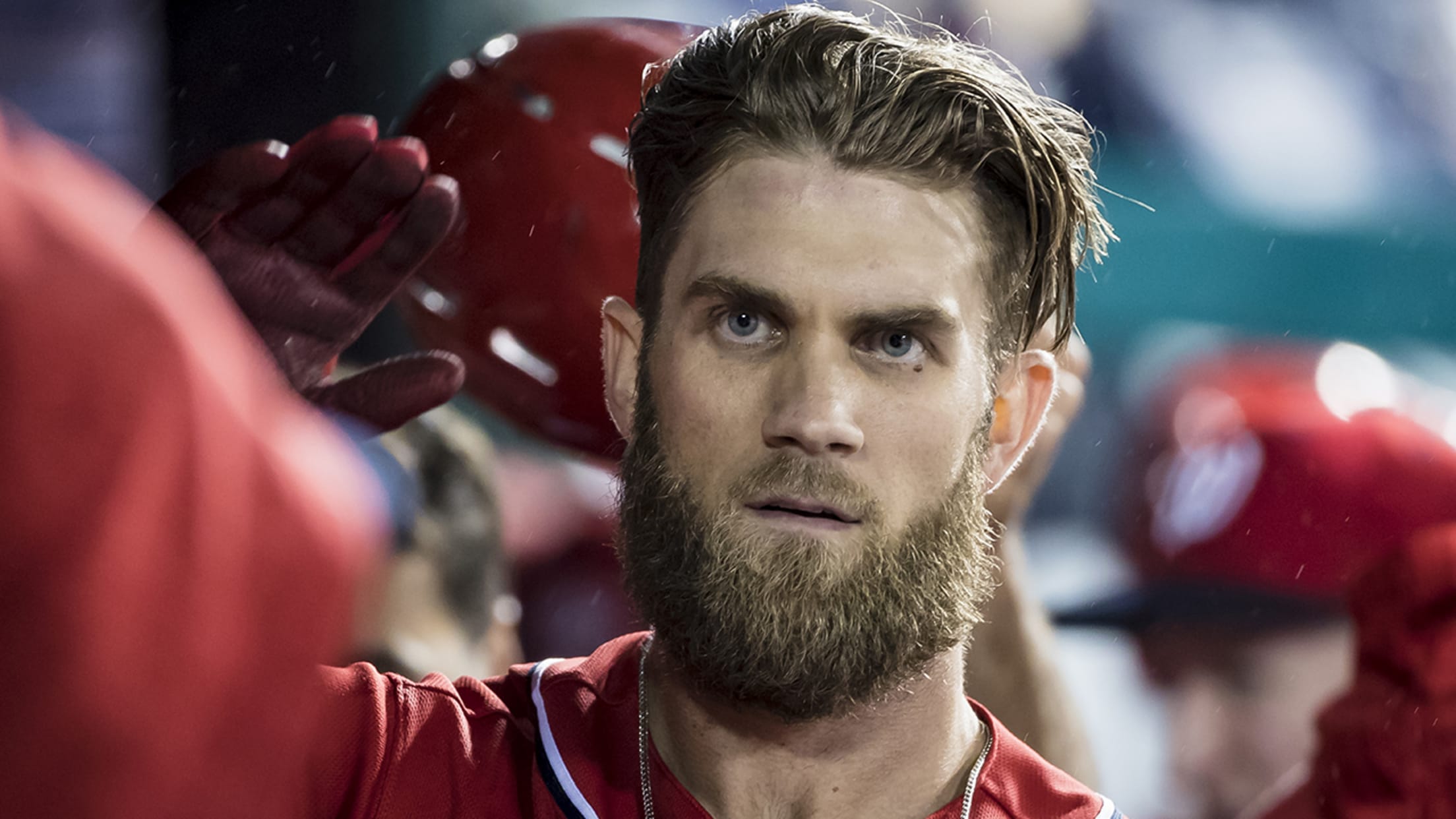 WASHINGTON, DC - SEPTEMBER 08: Bryce Harper #34 of the Washington Nationals hits a two-run home run against the Chicago Cubs during the seventh inning of game two of a doubleheader at Nationals Park on September 8, 2018 in Washington, DC. (Photo by Scott Taetsch/Getty Images) (Scott Taetsch/Getty Images)
When do free agents sign? Is November always this quiet, or has there traditionally been more early Hot Stove action than we've realized? Is signing in December cooler than signing in January? Over the past decade, which month has been the most popular month during which to ink a new deal?
To give us a sense for the ebbs and flows of the average Hot Stove calendar, let's look back at the Top 50 Free Agents for each of the last 10 offseasons. Of the 500 players listed, 469 of them signed free-agent contracts during the offseason and 31 of them did not for a variety of reasons -- the most common of which were retirement, accepting a qualifying offer or not signing a contract until during the regular season.
When exactly did those 469 free agents sign during the offseason? Let's take a look:
Now that we have a good sense for the how the Hot Stove usually plays out for free agents, we can start to envision how this offseason may play out. With that information in mind, here is exactly when the remaining top free agents according to MLB.com will definitely sign this winter.
Other people may be able to tell you where the players are going to sign, but I'm here to tell you when they will sign so we can all plan our offseasons accordingly. You're welcome (click to enlarge):
Mike Moustakas
The third baseman won't have to wait all the way until Spring Training to sign like he did a year ago. Moose will find a new home on Dec. 6.
Wilson Ramos
The last time a Wilson made this big of an impact was the release of the movie Cast Away on Dec. 7, 2000. Eighteen years later, Ramos will further establish this day as a day of Wilsons. He will sign on Dec. 7.
Craig Kimbrel
A closer has signed during the Winter Meetings three out of the last four years. Kimbrel will make it four of five, signing during the Meetings on Dec. 11.
Bryce Harper
The super-duper star free agents traditionally wait until later to ink their new deals, but with this year's Winter Meetings taking place in Harper's hometown of Las Vegas, there is too much potential for an epic reveal to pass up. The Meetings begin at the Mandalay Bay Hotel on Sunday, but we won't hear about Harper's new team until Wednesday, Dec. 12.
Manny Machado
Machado caught some heat towards the end of the 2018 season with his comments about how hustling is "not [his] cup of tea." In an effort to reverse this tea-driven narrative, Machado will ink his new deal on Dec. 16, the anniversary of the Boston Tea Party. And he will surely celebrate with $300 million worth of tea.
Charlie Morton
At age 35, Morton won't be commanding the long-term deals that some younger free-agent pitchers may seek. But he can still provide excellent value and could be one of the steals of the offseason. He'll sign on Dec. 18.
Nathan Eovaldi
If we learned anything from Eovaldi's legendary October, it's that he is ready to pitch for as long and as much as his team asks of him. The electric right-hander will sign on Dec. 21.
Jeurys Familia
One fanbase will be getting an improved bullpen for Christmas when the hard-throwing right-hander signs on Dec. 25.
Yusei Kikuchi
With the exception of Shohei Ohtani who signed with the Angels in December under unusual circumstances, the last four big-name Japanese players to come over from NPB have all signed in January: Hisashi Iwakuma on Jan. 5, 2012, Yu Darvish on Jan. 18, 2012, Masahiro Tanaka on Jan. 22, 2014, and Kenta Maeda on Jan. 7, 2016. However, the new posting process for Japanese players requires teams to reach an agreement with the player within 30 days of being posted. With Kikuchi having already been posted, we can assume he is more likely to sign this December. The 27-year-old lefty will surely commit to an MLB team on Dec. 27.
Patrick Corbin
The Sandy Koufax of the 2018 D-backs, Corbin will honor the legendary left-hander by signing on the Hall of Famer's birthday, Dec. 30.
Adam Ottavino
The sneaky best reliever on the market will sneakily sign when we all least expect it: Dec. 31, just as we're all preparing to ring in the new year.
Dallas Keuchel
With a birthday on New Year's Day, Keuchel is already used to celebrating multiple occasions on a single day. Why not add to the party and start his 2019 by signing a hefty free-agent contract? Signing on the dotted line at midnight on Jan. 1, Keuchel will be ready to party: "3...2...1...Happy New Year/Birthday/New Contract!!!"
A.J. Pollock
Pollock won't want to be the first free agent D-back to make Arizona fans sad, so he'll sign the week after his buddy Corbin on Jan. 2.
David Robertson
A contender would love to have Robertson pitching in the seventh, which means he'll obviously sign on Jan. 7.
Andrew Miller
A contender would love to have Miller pitching in the eighth, which means he'll obviously sign on Jan. 8.
Zach Britton
A contender would love to have Britton pitching in the ninth, which means he'll obviously sign on Jan. 9.
Daniel Murphy
The last time Murphy was a free agent, he signed on the same day (Jan. 6, 2016) as a three-time All-Star AL Central outfielder (Alex Gordon). Look for him to do the same this Hot Stove season on Jan. 10.
Michael Brantley
See: Murphy, Daniel. Brantley will definitely, without a doubt, sign on Jan. 10.
Nelson Cruz
This is Round 3 on the open market for Cruz. Five Hot Stoves ago, he committed to the Orioles on Feb. 24, 2014, as one of the last top free agents to sign. A year later, he signed relatively early, agreeing to terms with the Mariners on Dec. 4, 2015. Look for a January signing this time around for the Boomstick -- Jan. 14, to be exact.
Marwin Gonzalez
With reportedly almost every team being interested in the 30-year-old super-utility player, Gonzalez is going to need time to sort through a lot of offers. He'll sign on Jan. 23.
Yasmani Grandal
Grandal is going to want to give his potential suitors as much time as possible to forget about his disappointing October performance, so he certainly won't sign his new contract until Feb. 8, the last week before pitchers and catchers report.
J.A. Happ
Happ will most certainly sign on Feb. 12, the birthday of another American icon who honed his craft in the state of Illinois, President Abraham Lincoln.