A lifetime of pain has prepared me to watch Vlad Guerrero Jr. crush my favorite team in his debut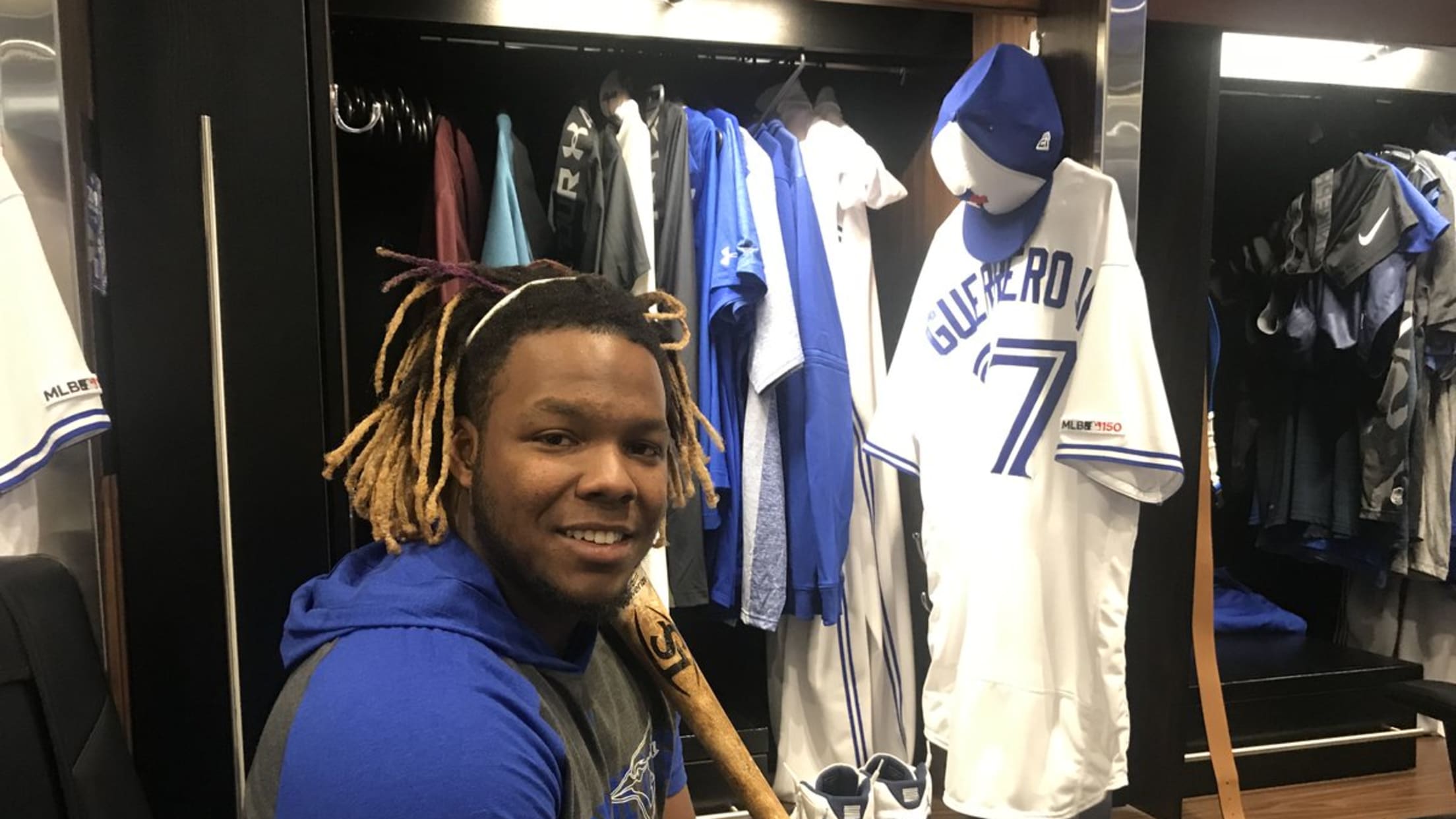 I remember where I was when the Mariners' highly touted new Japanese star threw a frozen rope from deep right field to nail a bewildered Terrence Long at third base. From the right-field bleachers, 16-year-old me watched the play unfold as Ichiro Suzuki, whom I hadn't seen much of before, did something I also hadn't seen before.
As I watched more baseball and my interest in the game increased, I began to expect big stars on other teams to make their mark at the expense of the A's. Whether it was Ichiro that fateful evening in April 2001 or Shohei Ohtani last April, dazzling at the plate and on the mound in his first series with the Angels, it's always seemed like these big, anticipated debuts came against the team I grew up watching, the "island of misfit toys" with a "laid-back" clubhouse vibe that resonated with me deeply in my teenage years.
You may have heard that Vladimir Guerrero Jr., son of Hall of Famer Vlad Guerrero (who also terrorized the A's for years, I must add), will make his debut against Oakland Friday at Rogers Centre. Because of course he'll start his hotly anticipated career against the A's. That's absolutely who it had to be against. The A's dodged this situation last weekend against the Blue Jays in Oakland, only to have to face the reality soon after anyway.
Sure, there are some initial pangs of jealousy as another team's uber-prospect shows up and wrecks shop against mine. Why can't he be on my team? I've watched Mike Trout face the A's pitching staff for nearly a decade, now, mind you, and it definitely stings that they didn't end up selecting him in the 2009 Draft.
I don't know what it's like to have everybody freaking out over a player on the team I follow the most -- folks are still shocked when they see an amazing Matt Chapman play, and he's been doing it for three seasons. The only time I've had that experience in sports fandom is with the Golden State Warriors, who went from perennial underdogs to a "league-breaking" super team in a few years, thanks in large part to a skinny kid from North Carolina named Stephen Curry, who captured the NBA by storm. Beyond that, I've always been on the outside looking in, so to speak.
But, even as tough as rooting for the team on the wrong end of these impressive first showings has been over the years, and all the attention showered at other teams' players all the time, it's actually been a blessing, and for a simple reason:
I've remembered every one of those debuts.
Had Ichiro thrown out some confused member of the Royals in 2001, there's no chance I'd have such a vivid picture of it in my mind. No, his victim was Long, a key member of the A's "Moneyball" era of early 2000s success and postseason appearances (but zero postseason series wins, which is another rant for another time). He was there for the bulk of it, but Ichiro threw him out like he didn't matter.
A young shortstop named Nomar Garciaparra blasted a homer in his second career game in Oakland in 1996.
Ken Griffey Jr. ripped a double in his first at-bat in 1989, which obviously happened in Oakland too:
Indians ace Corey Kluber was once a promising prospect himself, and he picked up his first career strikeout against Brandon Allen and the A's in 2011:
As a kid, seeing other teams' players excelling while mine did that slow walk off the field after a pitching change (or on the wrong end of a game-changing moment)? That's just the worst. And I didn't think things would ever get better.
The reality is it's just a blip on a much larger map, a quick stop at a gas station on a cross-country sojourn. Vladito could -- and likely will, I can feel it in my bones -- step up this weekend and obliterate a fastball 450+ feet deep into the Rogers Centre air, tens of thousands of screaming fans embracing the moment and going nuts, while the A's pitcher who served it up stands there dejectedly, rethinking that fastball placement.
And it might even cost the A's a game. It's happened before, and it'll happen again. Same as it ever was. If it does, I know I'll remember it forever.
And that's mostly fine with me. It's not like it'll be the first time.
Teams in this article:
Players in this article:
Topics in this article: