Hey, LeBron James, Taco Tuesday can happen on Thursdays if Cody Bellinger and the Dodgers want it to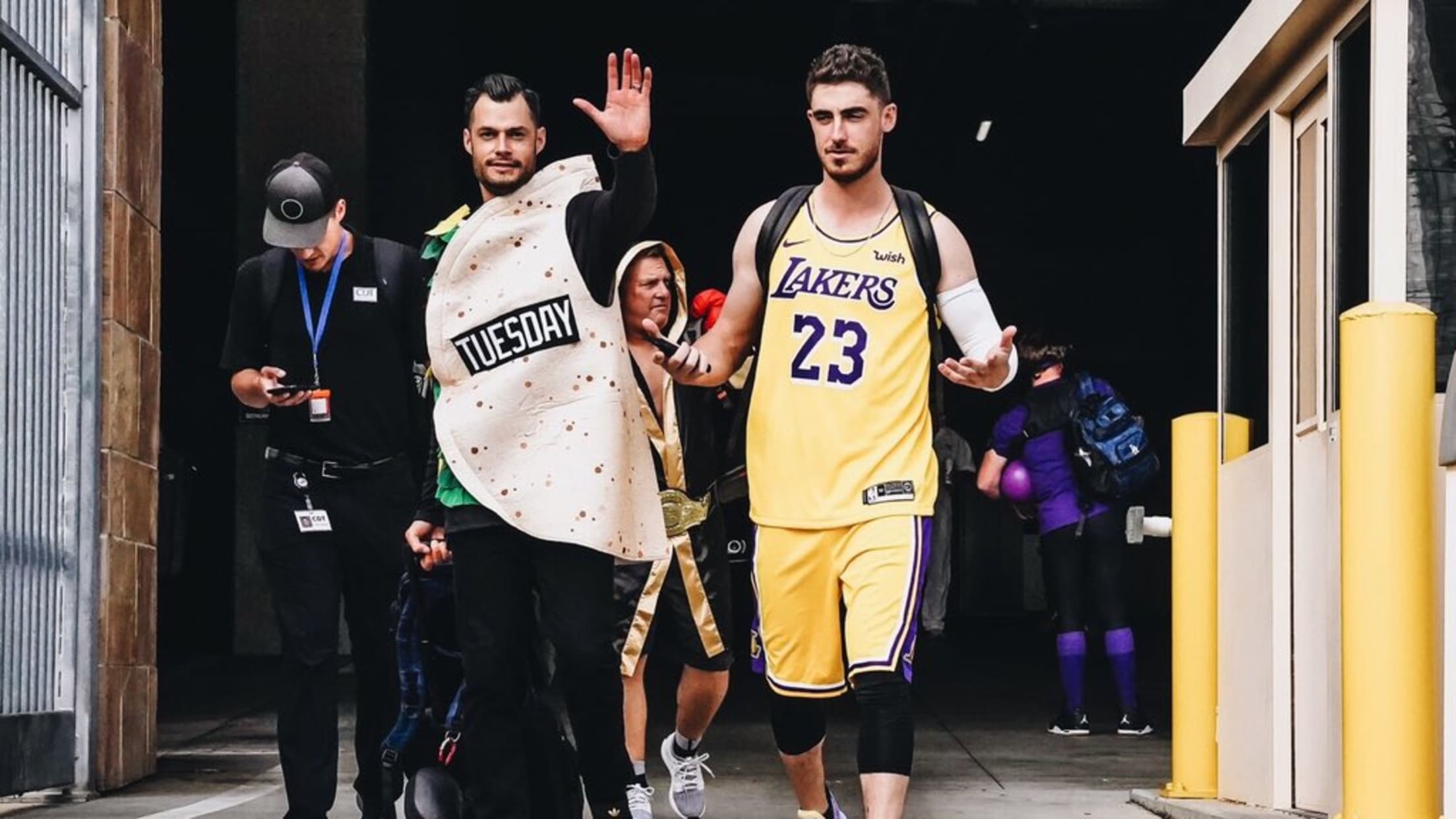 Taco Tuesday is a concept generally associated with Tuesdays. Because who doesn't want a designated day to indulge in some delicious tacos filled with spicy meats, crisp veggies and zesty cheese? It's a feast for kings. But as much as we think of it in rigid terms, we don't *actually* have to only eat tacos on Tuesdays. It's an aesthetic more than a hard rule, after all. And who could eat tacos only once a week?
On Thursday, the Dodgers wore a bunch of ridiculous costumes on their final road trip of the regular season to San Francisco. This was a team-wide mandate, where everybody on the team charter had to wear a costume. Cody Bellinger strapped on a slick LeBron James Lakers jersey, shorts and sneakers combo, while reliever Joe Kelly was a gigantic taco with the word "TUESDAY" slapped on the side of it, because ... well, you get it, I'm sure.
They made for a dynamic duo, and the rest of the team looked fantastic as well:
Back in Los Angeles, the NBA superstar/living legend/pop culture mogul noticed this shout-out from his fellow crosstown star, Bellinger, and re-posted their shenanigans on his Instagram story -- but, admittedly, James had to question the whole "Taco Tuesday on a Thursday" thing:
LeBron James appreciated Cody Bellinger & Joe Kelly's tandem LBJ/Taco Tuesday costumes on the Dodgers' road trip today. (via James' IG) pic.twitter.com/cPn1GioFtf

— Adrian Garro (@adriangarro) September 27, 2019
I get LeBron's confusion, stemming from our collective adherence to social norms that might make us think tacos are ONLY for Tuesdays.
But that's a lie.
Again, it's just an aesthetic. Every day can be "Taco Tuesday" if you'd like it to be. Do what you want, eat what you want. It's your life, after all.
Make it delicious. And stylish, if you wish.
Today's look from Joe Kelly 🌮 and @Cody_Bellinger 👑 pic.twitter.com/8jFS9eaheR

— Los Angeles Lakers (@Lakers) September 27, 2019
Teams in this article:
Players in this article:
Topics in this article: