These two dudes drove 21 hours straight to see Bryce Harper's first Spring Training game with the Phillies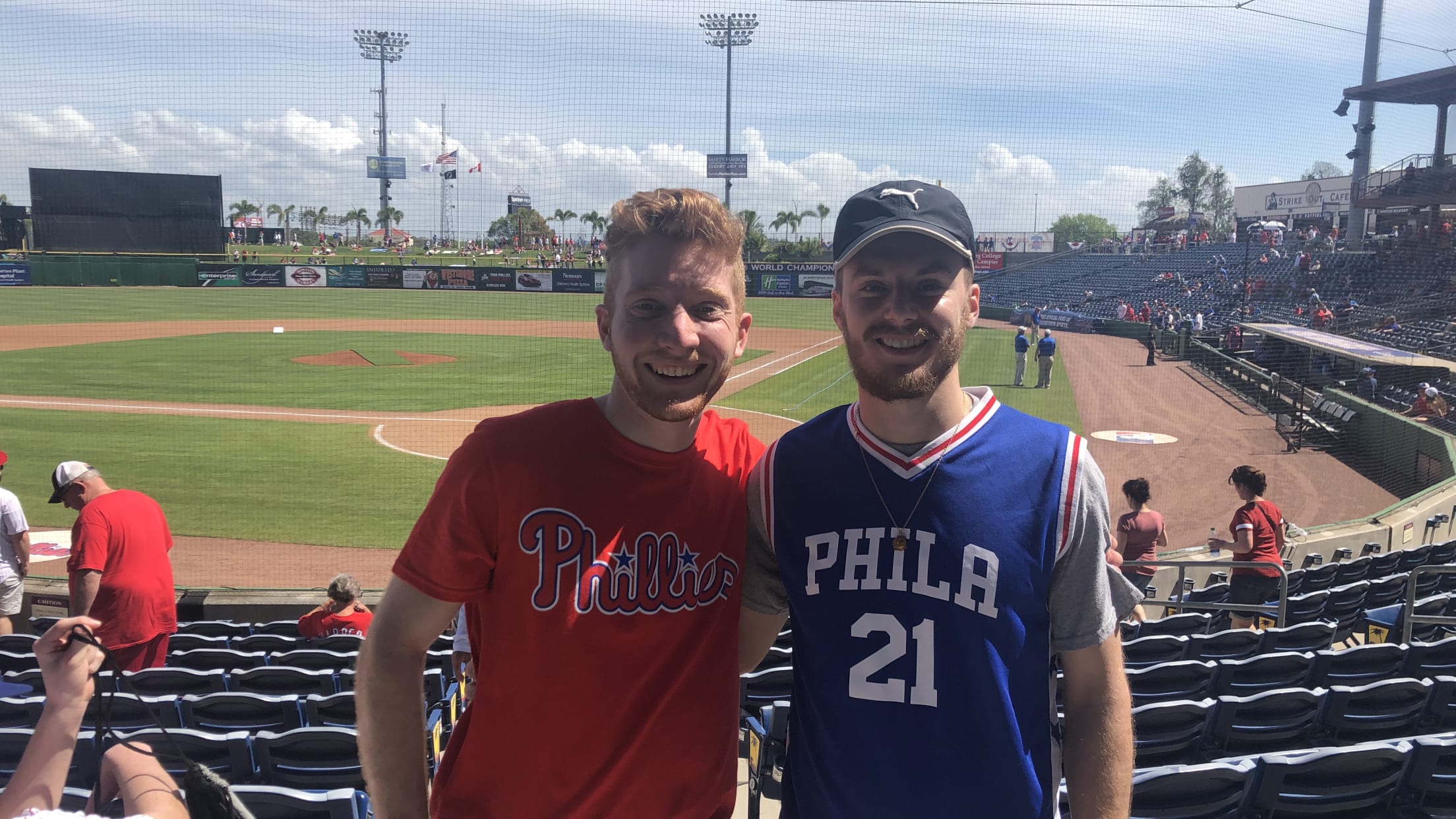 A few weeks ago, I wrote an article about some of the craziest things people have ever done for baseball. There were some crazy tattoos, a story about living inside a baseball stadium for a summer and even someone who brought their dad's ashes to a World Series game. Wild stuff.
That list definitely needs an update now because two insane Phillies fans, Tom Moshier and Andrew Sweeney, just did something absolutely preposterous for baseball. Determined to witness Bryce Harper's Phillies debut in person, the daring duo traveled a whopping 21 hours from Binghamton, N.Y., to the Phillies' Spring Training stadium in Florida. They left home around 5 a.m. ET Friday morning and arrived at the Spectrum Field parking lot in Clearwater around 2 a.m. Saturday morning.
Sweeney documented the entire thing on his Twitter account if you want an hour-by-hour breakdown of their quest. These dedicated gents even slept in their car in the stadium parking lot.
1,259 miles later, we have arrived at the parking lot outside the stadium. The sign said "foul ball zone - park at your own risk", but we think we're safe for the night. Hopefully we aren't woken up at 6 AM by an angry security guard kicking us out. #38HoursOnTheRoad pic.twitter.com/hbRWypgoI3

— Coach Andrew Sweeney (@Sweezy_F_Baby) March 9, 2019
Without a shower nearby, these intrepid explorers opted for a more natural bathing situation: The Atlantic Ocean.
Woke up in the morning and felt a little gross without showering, so we decided to freshen up in nature's bathtub. Might smell a little fishy, but honestly that's still an improvement. Boutta go fuel up at @WaffleHouse before heading over for batting practice! #38HoursOnTheRoad pic.twitter.com/iujhl6LWN8

— Coach Andrew Sweeney (@Sweezy_F_Baby) March 9, 2019
Moshier and Sweeney will begin their trek home at 4 a.m. on Sunday morning in order to be at work Monday morning. That's a whole lot of time behind the wheel, but certainly worth it when they're telling their children at Harper's Hall of Fame induction that they were at his first Phillies game. Kudos to these dudes, got to respect the hustle.
I had a chance to talk to them. Watch the video below for more:
Teams in this article:
Players in this article:
Topics in this article: