Evil Eyes, Iron Frogs and more of the wildest looks for this year's Copa de la Diversión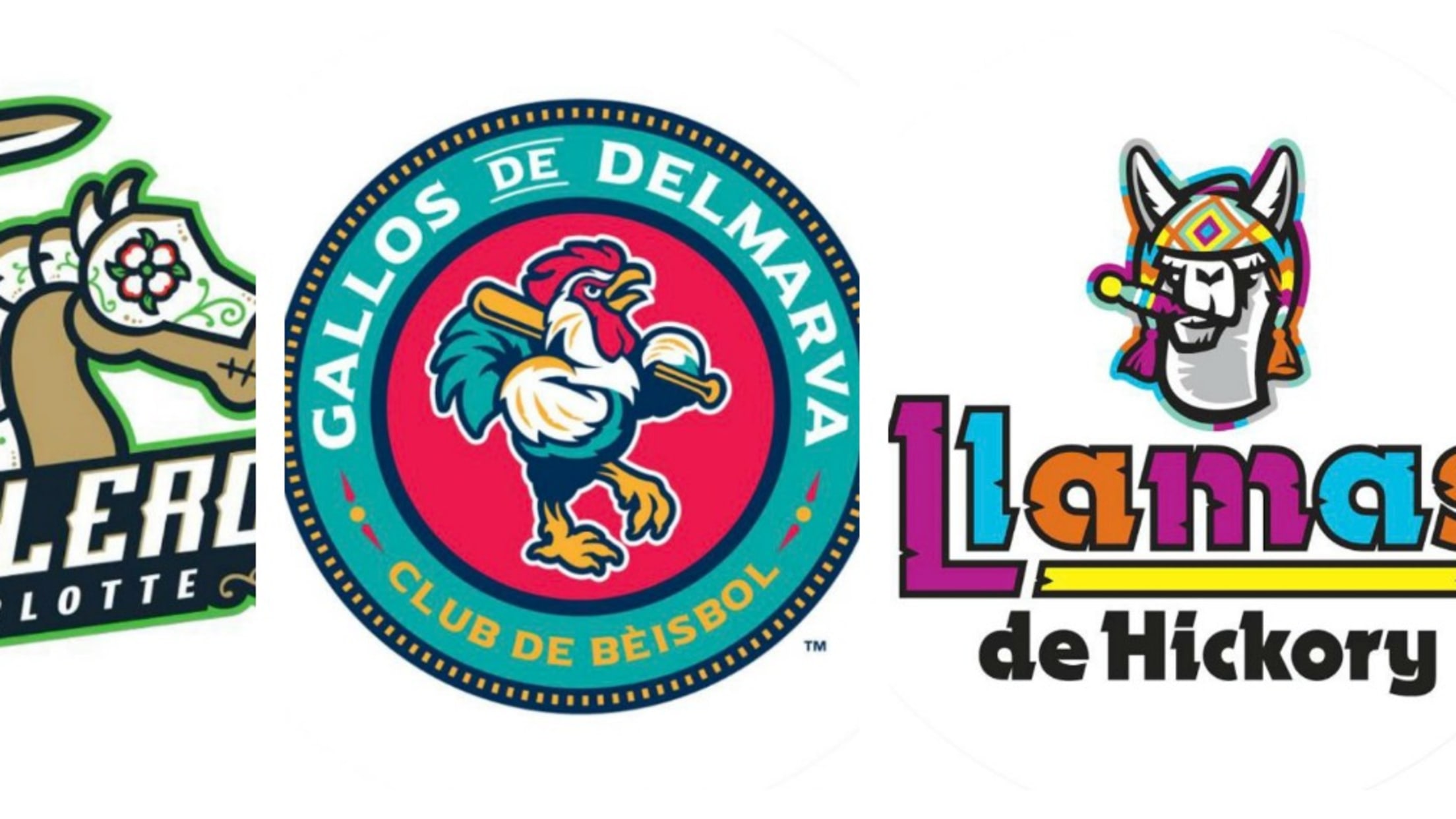 Last year, Minor League Baseball introduced us to the Copa de la Diversión, otherwise known as the Fun Cup: a 160-game, season-long promotion in which MiLB teams across the country embraced and celebrated their respective Latino communities.
When the Copa came to town, everything changed -- the music, the entertainment, the food and, most especially, the logos. The Las Vegas Aviators became the Las Vegas Ghost Crabs. The Bowie Baysox became the Chesapeake Ghost Crabs. The San Antonio Missions became the San Antonio Flying Chanclas, complete with one of the coolest caps of all-time:
Memphis Música
Petroleros de Tulsa
Round Rock Chupacabras
San Antonio Flying Chanclas
Corpus Christi Raspas#MiLBesDivertido pic.twitter.com/4muwYzkkd6

— Minor League Baseball (@MiLB) March 20, 2018
With style like that, obviously the Copa was a hit. Such a hit, in fact, that MiLB brought it back for 2019 -- with more than double the participating teams, 72 in all. Each team introduced its Latino alter egos on Monday, and while we strongly, strongly recommend checking out the full list for yourself, here are some of our favorites.
Mal de Ojo de Durham (Tampa Bay Rays)
The Durham Bulls became the Durham Evil Eye, inspired by either the snorting bull that sits atop the batter's eye at Durham Bulls Athletic Park or the Illuminati.
Mal de Ojo is a curse believed to be cast by a glare having the ability to cause bad luck or misfortune.

Mal de Ojo es una maldición que se transmite por una mirada y causa mala suerte o desgracia. #MiLBesDivertido

Presentando Mal de Ojo de Durham: https://t.co/urvAQsRk9v pic.twitter.com/b4si9GYgHs

— Durham Bulls (@DurhamBulls) March 18, 2019
Caballeros de Charlotte (Chicago White Sox)
This is a direct translation of Charlotte's usual name, the Knights, but what truly sets it apart is the absolutely fantastic sugar skull horse logo:
Las gorras de los Caballeros de Charlotte están disponibles en la tienda en el BB&T Ballpark. #vamoscaballeros #MiLBesDivertido pic.twitter.com/mrVxiE5GiO

— Caballeros de Charlotte (@CaballerosdeCLT) March 18, 2019
Gallos de Delmarva (Baltimore Orioles)
Quite simply, this rooster is ready to mess you up:
We're proud to join the #MiLBesDivertido initiatives for 2019 and become the Los Gallos de Delmarva for three home games this season! 6/9, 7/14, & 8/11! #VolarJuntos pic.twitter.com/wdvtMh5xVK

— Delmarva Shorebirds (@shorebirds) March 18, 2019
Lowriders de Fresno (Washington Nationals)
Lowriding is a way of life in Fresno, and the new logo more than does those iconic paint jobs justice:
The #FresnoLowriders are here 🔥 @FresnoGrizzlies @MiLB @MiLBPromos #LowRidersDeFresno #FresnoGrizzlies #MiLBesDivertido pic.twitter.com/qhRq13VFQS

— Top Hand Media (@officialtophand) March 18, 2019
Coquís de Lehigh Valley (Philadelphia Phillies)
Coquís -- small tree frogs -- hold a special place in Puerto Rico. So, to honor Allentown's significant Puerto Rican population, Lehigh Valley went from the IronPigs to the IronFrogs:
It's official! The IronPigs will play as the Coquis during their 2019 Hispanic Heritage contests. #MiLBesDivertido

¡Es oficial! Los IronPigs jugarán como los Coquis durante sus juegos de Herencia Hispana 2019.https://t.co/GhbRs4isOw pic.twitter.com/IevUicvdiM

— IronPigs (@IronPigs) March 18, 2019
Alebrijes de Modesto (Seattle Mariners)
The Alebrije is, essentially, a spirit guide, tasked with guiding people from this life to the next. (They do not normally have antlers -- that's the Mariners' Class A affiliate's nod to Mariner Moose.)
NEW FOR 2019! @ModestoNuts set to become Alebrijes de Modesto pic.twitter.com/NsS8SND6Oh

— Minor League Promos (@MiLBPromos) March 18, 2019
Vejigantes de Scranton/Wilkes-Barre (New York Yankees)
The Yankees' Triple-A affiliate sees your alebrije and raises you an even more colorful character: the vejigante, a masked trickster that appears during carnivals and other celebrations.
New Year, New Gear | Año Nuevo, Equipo Nuevo

Buy Here | Compre Aquí: https://t.co/UL55pouFNX#MiLBesDivertido pic.twitter.com/w1YMpqKyP4

— SWB RailRiders (@swbrailriders) March 18, 2019
Llamas de Hickory (Texas Rangers)
Of course, what would a celebration of Latino cultures be without a llama wearing a chullo? (As for what's in its mouth, that's a furniture leg -- Hickory, N.C., is known for its furniture manufacturing.)
Here's another look at the uniforms for our Copa games as Las Llamas de Hickory #JoinTheHerd #milbesdivertido pic.twitter.com/pu88pJ5XF8

— Hickory Crawdads (@HickoryCrawdads) March 18, 2019
Clinton Elotes (Miami Marlins)
Miami's Class A affiliate is typically known as the Clinton LumberKings. But, like any good Iowans, they have a deep and abiding appreciation for corn -- so they've transformed into the Clinton Elotes, the grilled street corn that you can't get enough of in the summer.
Introducing the Elotes! We will be known as the Elotes for EVERY Sunday home game and select road games in 2019! Tickets, jerseys, caps, and T-Shirts are on sale online and in store now! Head to https://t.co/8k2UoMaPyn for more info! #MiLBesDivertido pic.twitter.com/Xo7yLZlgou

— Clinton LumberKings (@LumberKings) March 18, 2019
Murciélagos de Louisville (Cincinnati Reds)
The Louisville Bats have remained the Louisville Bats -- the Cuban greater funnel-eared bat, to be precise, which looks like a team from Legends of the Hidden Temple.
Introducing Los Murciélagos de Louisville!

We are thrilled to be joining @MiLB's Copa de la Diversión initiative for the 2019 season! #MiLBesDivertido

Details 👉 https://t.co/6iTj5p94bq pic.twitter.com/UgBvzpv1KK

— Louisville Bats (@LouisvilleBats) March 18, 2019