All the best things you missed from a World Series celebration for the ages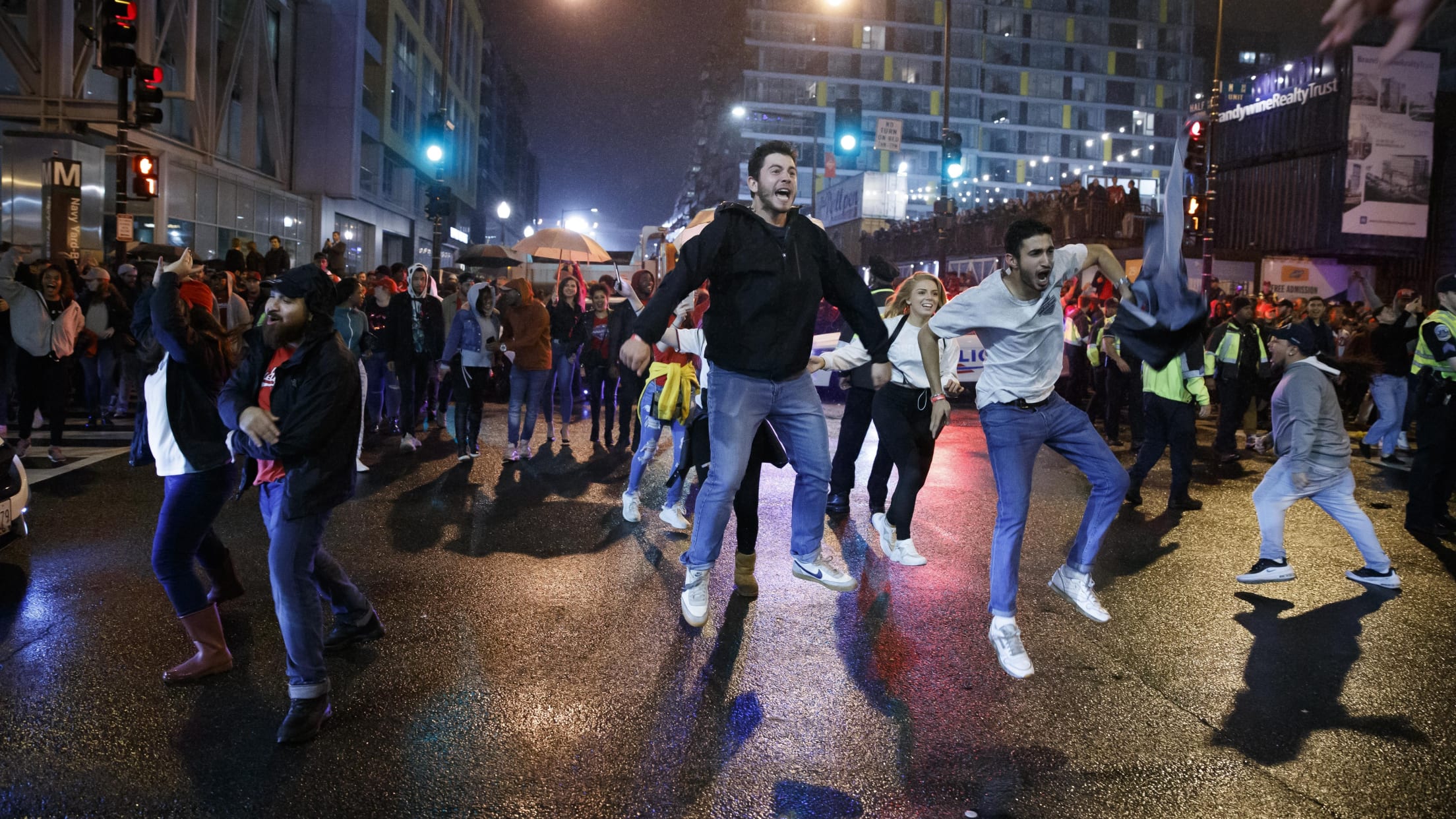 The Washington Nationals did it. On Wednesday night, they won their first World Series in franchise history after winning two straight games on the road. Much more importantly, however, they touched off one of the wildest parties of the 21st century:
The @Nationals got that bubbly.

they got that bubbly.

THEY GOT THAT BUBBLY.

THEY GOT THAT BUBBLY. pic.twitter.com/Nx2H2XtPiV

— Cut4 (@Cut4) October 31, 2019
But we all know who the true beneficiaries are of a World Series victory: the fans. Aside from Ryan Zimmerman, the fans have been through more with this team than anyone. From the lean early years after moving to D.C. in 2005 to the string of recent heartbreaking NLDS losses, they were there every day supporting a team that appeared to be doomed.
After all they've been through, it didn't matter that the team wasn't in town to join in the celebration. The nation's capital was going to throw a party after a long run of futility. In fact, they didn't even need a live baseball game for an excuse to show up at Nationals Park, which sold out their Game 7 watch party.
As always, when you show up at Nationals Park in 2019, you're obligated to get hyped for Baby Shark:
Baby Shark time at Nats Park — Game 7 of the World Series edition pic.twitter.com/RlRhOE83LT

— Kelyn Soong (@KelynSoong) October 31, 2019
Thousands of fans showed up at the ballpark on a rainy night to, essentially, watch the game on TV. There are plenty of places to do that indoors. But, you can't do this in your living room or a crowded bar:
A slip and slide worthy of the World Series pic.twitter.com/d55XYZuEtK

— Kelyn Soong (@KelynSoong) October 31, 2019
One Nats fan has spent years showing up at games holding signs that state things that are self-evidently true. Never before has he been able to hold this particular sign, and fans flocked to get a picture with this very true statement.
Congratulations @NatsCaptObvious! pic.twitter.com/fVnPXWu7rc

— Ian Oland (@ianoland) October 31, 2019
But, you didn't have to be in the park to get in on the joy of the Nationals winning the World Series. As the Nationals recorded the final out in the bottom of the 9th inning, bars across the city erupted in a scene that rivaled that of the team clubhouse.
WORLD SERIES CHAMPIONS !! #WinTheFight #finishedthefight #nats #Game7 @fox5dc @Nationals @waltersbardc pic.twitter.com/6zStVbrIti

— angie goff (@OhMyGOFF) October 31, 2019
Crowd surfing usually isn't permitted in neighborhood bars, but there are exceptions to every rule.
@blaguarddc @barredindc pic.twitter.com/YwagoZpGSr

— Spring Blake (@bsilberb) October 31, 2019
You didn't even have to be in a bar. In fact, you could just be waiting at the corner for a bus and find yourself caught in a celebratory dance:
This Washington D.C. bus driver celebrated with passengers and pedestrians after the Nationals sewed up their first World Series championship. pic.twitter.com/yOgPSdjjMw

— USA TODAY (@USATODAY) October 31, 2019
Dance parties broke out everywhere and even featured some live music:
We have a full on DC street party going on! #WorldSeries2019 Champions! #WinTheFight @fox5dc pic.twitter.com/PvtmPGGo97

— Tom Fitzgerald (@FitzFox5DC) October 31, 2019
They even took place when it meant navigating the wreckage from a long, nervous night of Game 7 baseball:
October 31, 2019
D.C. is a city that prides itself on being politically informed. So, even when fans are climbing on traffic lights, it's important to pick up the newspaper and keep abreast of what's going on in the world.
Still, what was the most exciting for me was to see people proudly holding up tomorrow's front page of the @washingtonpost, their local newspaper. pic.twitter.com/e013MAFdz6

— Meryl Kornfield (@MerylKornfield) October 31, 2019
Finally, a news cycle everyone in D.C. can get excited about!
Teams in this article:
Topics in this article: