There have been 40 World Series Game 7s, and we ranked them all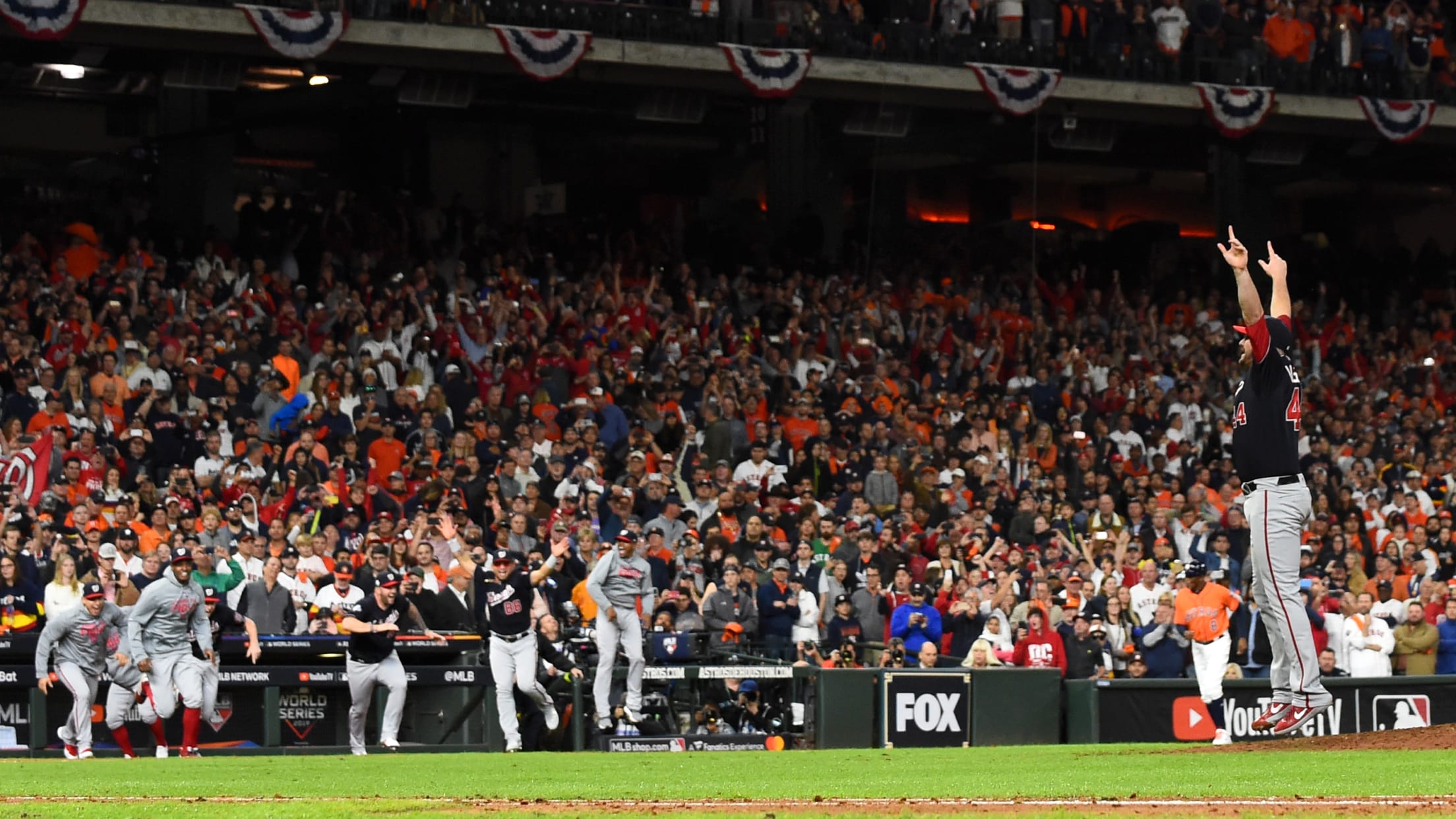 A version of this post ran on Sept. 28, 2018.
In a month full of white-knuckle drama, nothing tops Game 7 of the World Series -- a winner-take-all to end all winner-take-alls, 10 arduous months condensed into a final nine innings. It's given us some of the greatest performances and iconic moments in baseball history.
But just what is the best World Series Game 7 of all-time? There are almost too many iconic moments to choose from, so we're going to have to solve this the old-fashioned way: by ranking all 38 of the others.
Disagree with our list below? Let us know in the comments.
40. 1934: Cardinals 11, Tigers 0
St. Louis put up seven runs off of four Detroit pitchers in the third, and that was more than enough run support for future Hall of Famer Dizzy Dean.
39. 1956: Yankees 9, Dodgers 0
One year after Brooklyn finally broke through against its crosstown rival (more on that later), the Yankees struck back behind two early homers from Yogi Berra.
38. 1945: Tigers 9, Cubs 3
Detroit touched up a tired Hank Borowy for five runs in the top of the first in what would be the Cubs' last World Series game for 71 years.
37. 1909: Pirates 8, Tigers 0**
Pittsburgh rookie Babe Adams tossed a shutout for his third win of the Series, as the Pirates sent Ty Cobb home with his third straight World Series loss. He never made it back to the Fall Classic.
36. 1964: Cardinals 7, Yankees 5
Trailing 6-0 after five innings, New York showed some life in the ninth with two homers off of Bob Gibson, who eventually regrouped and finished off his first World Series championship.
35. 1973: A's 5, Mets 2**
Homers from Bert Campaneris and Reggie Jackson -- Oakland's first two dingers of the entire Series -- staked the A's to a lead, and Rollie Fingers made sure it held up with 3 1/3 innings of scoreless relief.
34. 2017: Astros 5, Dodgers 1
Houston wasted no time, jumping on Yu Darvish for five runs in the first two innings and cruising to their first World Series title in franchise history.
33. 1947: Yankees 5, Dodgers 2
The first of what would be six Yankees-Dodgers showdowns over the next decade, Joe Page tossed five innings of one-hit relief as New York erased an early Brooklyn lead with five unanswered runs.
32. 1985: Royals 11, Cardinals 0
Tensions were already high after Don Dekinger's controversial call in Game 6, and it didn't take long for them to boil over: After the Royals blew things open with a nine-spot in the fifth, St. Louis manager Whitey Herzog and pitcher Joaquin Andujar were both ejected in quick succession.
31. 2011: Cardinals 6, Rangers 2
The night after a comeback for the ages in Game 6, St. Louis made sure it wouldn't go to waste in Game 7 behind six strong innings from Chris Carpenter.
30. 1967: Cardinals 7, Red Sox 2
Not only did Bob Gibson strike out 10 while going the distance to help St. Louis capture its second title in four years, he also went yard for good measure.
29. 2002: Angels 4, Giants 1
The night after the Rally Monkey brought the Angels back to life in Game 6, Garret Anderson's bases-clearing double and dominant relief efforts from Troy Percival and Francisco Rodríguez sealed the deal.
28. 1931: Cardinals 4, A's 2
After falling behind early, the A's scored twice in the ninth and put the tying run on first with two outs. Alas, the comeback fell short.
27. 1957: Braves 5, Yankees 0
After Warren Spahn caught the flu, Braves manager Fred Haney tapped Lew Burdette to start on just two days' rest. The righty spun his second straight shutout in one of the great pitching performances in postseason history.
26. 1982: Cardinals 6, Brewers 3
The Brewers took a 3-1 lead into the sixth, but with Rollie Fingers out with an injury, the bullpen collapsed: St. Louis scored three in the sixth and two more in the eighth to capture its first championship in 15 years.
25. 1971: Pirates 2, Orioles 1
After a heartbreaking extra-innings loss in Game 6, Pittsburgh's Steve Blass threw a four-hit complete game while Roberto Clemente's solo homer proved to be the difference.
24. 1940: Reds 2, Tigers 1
Cincinnati's Paul Derringer surrendered just one unearned run in a complete-game effort, while his teammates put together a two-run rally in the bottom of the seventh that proved to be enough.
23. 1972: A's 3, Reds 2
Oakland's Gene Tenace put an exclamation point on one of the most unlikely postseason performances ever -- the journeyman catcher hit .348 with four homers in the series -- with a go-ahead double in the sixth.
22. 1987: Twins 4, Cardinals 2
After giving up two runs in the top of the second, Minnesota's Frank Viola settled in and pitched the game of his life: Only one St. Louis batter advanced past first base the rest of the night.
21. 1958: Yankees 6, Braves 2
A year after his iconic shutout, Lew Burdette once again found himself staring down the Yankees in Game 7 on two days' rest. This time, though, New York got the last laugh with an eighth-inning three-run home from Bill Skowron.
20. 1925: Pirates 9, Senators 7
In perhaps the worst weather conditions ever for a World Series game, the Pirates rallied for three runs in the bottom of the eighth against Senators legend Walter Johnson.
19. 1979: Pirates 4, Orioles 1
Willie Stargell was a one-man wrecking crew, going 4-for-5 with a go-ahead two-run homer in the top of the sixth:
The O's had one last chance in the eighth, as Eddie Murray strode to the plate with the bases loaded in a 2-1 game, but reliever Kent Tekulve got Murray to fly out to deep right, and the "We Are Family" Pirates won it all.
18. 1926: Cardinals 3, Yankees 2
After pitching the Cardinals to victory in Game 6, legend has it that Hall of Famer Pete Alexander had himself a nice night on the town -- so much so that he spent most of Game 7 sleeping in the bullpen. Up by a run with two outs in the bottom of the seventh, though, Alexander got a rude awakening: The Yankees had loaded the bases, and he needed to get up and get his team out of the jam. Miraculously, he did, and the Cardinals won it all.
17. 1952: Yankees 4, Dodgers 2
Brooklyn loaded the bases with just one out in the bottom of the seventh, looking to finally dethrone the Yankees after World Series losses in 1947 and '49. But Duke Snider and Jackie Robinson popped out to end the threat, and the Dodgers' rallying cry was born: "Wait 'til next year."
16. 1986: Mets 8, Red Sox 5
It's overshadowed by the classic Game 6 that preceded it, but Game 7 was a nailbiter in its own right. The Red Sox jumped out to a 3-0 lead, but the Mets rallied with three of their own in the sixth. Ray Knight greeted reliever Calvin Schiraldi with a go-ahead homer the next inning that sent Shea Stadium into a frenzy.
15. 1912: Red Sox 3, Giants 2
Technically speaking, this was actually Game 8 between Boston and New York -- Game 2 had ended in a 6-6 tie after 11 innings due to darkness. The Red Sox won a coin flip that brought the deciding game to Fenway Park, and it was a doozy -- a pitcher's duel that went to extra innings tied at 1-1.
The Giants scratched across a run in the top of the 10th, only to watch Boston stage a legendary rally against Hall of Famer Christy Mathewson.
14. 1968: Tigers 4, Cardinals 1
St. Louis sent Bob Gibson to the mound, a man who 1) had started and won two previous Game 7s in his career, 2) set a Major League record with a 1.12 ERA in 1968 and 3) had already notched two victories to that point in the series.
Mickey Lolich, however, didn't much care for any of that: On two days' rest, the Tigers starter threw a complete game, outdueling Gibson thanks to a two-run triple in the seventh from Jim Northrup.
13. 1946: Cardinals 4, Red Sox 3
After trailing for much of the day, the Red Sox rallied to tie the game with two runs in the top of the eighth. In the bottom half, Enos Slaughter led off with a single, and he was still at first when Harry Walker came to the plate. Walker lined one into center, shortstop Johnny Pesky either did or didn't hesitate with his relay throw, and Slaughter scored the winning run all the way from first in a play known as Slaughter's Mad Dash.
12. 1965: Dodgers 2, Twins 0
By 1965, Sandy Koufax was already suffering from the arthritis that would prematurely end his career a year later. But with the World Series on the line, manager Walter Alston gave his Hall of Famer the ball on just two days' rest, and Koufax ... well, he did what Sandy Koufax did: nine innings, three hits, 10 strikeouts, 132 pitches.
11. 2014: Giants 3, Royals 2
Even if Madison Bumgarner had never appeared in Game 7, it still would have been one of the most impressive pitching performances in postseason history: Madbum gave up one run in seven innings in World Series Game 1 before throwing another shutout in Game 5.
Of course, he did appear in Game 7:
Bumgarner came out of the bullpen with San Francisco clinging to a 3-2 lead in the fifth, and he took it the rest of the way himself ... on just two days' rest.
10. 1955: Dodgers 2, Yankees 0
As covered above, the Bums had suffered countless heartbreaking losses in the World Series at the hands of the Yankees. In 1955, though, it was finally next year -- thanks to a heroic effort from a little-known left-hander named Johnny Podres.
Just a few days removed from his 23rd birthday, Podres scattered eight hits en route to a shutout at Yankee Stadium. New York threatened in the eighth, putting the tying run on first for Hank Bauer, but Podres struck out Bauer before pitching a clean ninth inning. The cover of the New York Daily News the next day said it all.
9. 1962: Yankees 1, Giants 0
Just two years after letting Game 7 slip away, New York's Ralph Terry entered the bottom of the ninth at Candlestick Park determined to finish off his shutout. It wouldn't come easy, though: Matty Alou led off with a single, and Willie Mays' two-out double put the go-ahead run in scoring position for the fearsome Willie McCovey.
Despite having first base open, New York elected to pitch to the future Hall of Famer -- and just barely got away with it.
8. 2019: Nationals 6, Astros 2
The final score wound up looking fairly innocuous. There were no walk-off heroics. The ninth inning was largely free of suspense. But years from now, I have a hunch that I'll still be telling anyone who will listen about how Washington lost Bryce Harper only to finally exorcise its postseason demons; about how Juan Soto turned the World Series into his own backyard and then took over the world; about how Max Scherzer couldn't even put a shirt over his head two days prior, then ground through five innings against possibly the best offense ever; about how one of the most improbable rallies in postseason history was punctuated by two grown professional athletes pretending to drive sports cars the way you did in your bedroom when you were seven.
Howie Kendrick homer. Wow. pic.twitter.com/NmbzLbwHIh

— ChuckModi (@ChuckModi1) October 31, 2019
The Astros had a baseball juggernaut; the Nationals had Baby Shark and bizarrely colored sunglasses. Watching them pull off the impossible -- and watching D.C. lose its mind in real-time -- was an all-time sports experience.
7. 1975: Reds 4, Red Sox 3
Everyone remembers the Carlton Fisk homer the previous night, but Game 7 had plenty of late-inning drama of its own. The Red Sox jumped out to an early 3-0 lead, but Pete Rose's seventh-inning single sent the game to the ninth tied. Boston put the game on the left arm of Jim Burton, an obscure rookie reliever who would play just three years with the team -- and it went about as well as you'd think.
Joe Morgan drove in the game-winning run with a two-out single to center, and the Big Red Machine finally had its long-awaited World Series title.
6. 1997: Marlins 3, Indians 2
Cleveland was so, so close to their first World Series since 1948, taking a 2-1 lead into the ninth for All-Star closer Jose Mesa. But two singles and a sac fly tied the game, and from there, it was just a matter of time: Tony Fernandez let a ground ball go through his legs in the bottom of the 11th, setting the stage for Edgar Renteria:
5. 1924: Senators 4, Giants 3
Four games in this Series were decided by one run, and Game 7 was the tightest of them all -- still the longest Game 7 in World Series history at 12 innings.
After 17 years in Washington, the only thing missing from Walter Johnson's sterling resume was a World Series title. He'd struggled in his first two starts of the Series, but when the Senators rallied to tie the game with two runs in the bottom of the eighth, the Big Train got another chance -- and he made sure he took advantage of it.
Coming out of the bullpen to start the ninth, Johnson threw four shutout innings, keeping the Giants at bay. Earl McNeely finally ended it with a walk-off double to left.
4. 1991: Twins 1, Braves 0
The 1991 Series had it all: three games went into extra innings, four ended via walk-off and five were decided in a team's final at-bat. So, naturally, Game 7 featured arguably the most heroic pitching performance in World Series history -- 10 shutout innings from Jack Morris:
Morris almost didn't get to finish what he started. As the game went into extras in a scoreless tie, Twins manager Tom Kelly considered pulling his workhorse, who at the time sat at 117 pitches. But Morris assured him that he was good to go, and after thinking for a second, Kelly looked at him and said, "Oh, hell. It's only a game."
Morris pitched a 1-2-3 10th, and Gene Larkin's walk-off double in the bottom half finally sent everyone home.
3. 2001: D-backs 3, Yankees 2
After a series of impossible ups and downs -- Arizona taking the first two games at home, New York storming back with two of the most improbable walk-offs in World Series history -- the Yankees entered the ninth inning with a two-run lead, just three outs away from their fourth championship in a row and fifth in six years. And Mariano Rivera was on the mound.
But the D-backs never flinched. Helped in part by a throwing error by Rivera on a sacrifice bunt, Tony Womack's RBI double into the right-field corner tied the game and brought the series-winning run to third. Wanting to cut off any ground ball for a play at home, Joe Torre brought the infielders in -- only to watch Luis Gonzalez bloop a ball right over their heads.
2. 2016: Cubs 8, Indians 7
Chicago started off the game great, knocking out the previously white-hot Corey Kluber after just four innings while building a 6-3 lead. David Ross even took Andrew Miller deep. Everything was looking up -- but of course, no one ever said snapping a 108-year championship drought would be easy.
Joe Maddon brought Aroldis Chapman in with one on and two outs in the eighth -- just four outs away from a title. Two batters later, that three-run lead was gone:
But the Cubs would regroup, thanks in part to a 17-minute rain delay that allowed Jason Heyward to deliver his most rousing clubhouse speech. When play resumed, Ben Zobrist's RBI double kicked off a two-run rally that finally brought the Commissioner's Trophy to the North Side.
1. 1960: Pirates 10, Yankees 9
With all due respect to Kris Bryant and Co., only one Game 7 has ended in a walk-off homer -- and it came from just about the unlikeliest source imaginable.
Known for his glove at second base more than anything, Bill Mazeroski had hit just 11 homers in 151 games that season. But in a series that saw the underdog, blue-collar Pirates hang with the heavily favored Yankees -- and in a game that saw four lead changes -- of course he was the one to end it: