Three mind-melting innings turned Yankees-Twins into the game of the year
Here's what you have to understand: This was finally, mercifully, at long last, supposed to be their time.
The Twins have made a living punching above their weight in the 21st century. Every year they've had one of the smallest payrolls in the sport, and every year they seem to somehow pull players out of thin air and beat you anyway -- seven postseason appearances and 11 winning records since 2002. They're the archetypal underdogs, waving their Homer Hankies and drowning you in Minnesota nice and recently led by a hometown star who looked like an extra off the set of "Fargo". Even if you wanted to get mad at the Twins, they were impossible to resist.
Of course, five of the last six of those postseason appearances have ended the same way: a resounding loss to the New York Yankees.
It didn't matter who the players were. It didn't matter how good the vibes had been. Eventually, inevitably, the result was the same -- in five ALDS matchups with New York, the Twins have won just two games total. The Yankees are the Yankees, with their money and their stars; how could a scrappy bunch from Minnesota compete with that?
Flash forward to 2019, though, and those same Twins have taken the league by storm, a collection of swaggering, bellowing, dinger-bopping monsters -- the Bomba Squad, as they've come to be known. They entered this week at 60-38, with a stranglehold on the AL Central and arguably the best offense in baseball ... just in time for the Yankees to come to town. Here was the test: It'd been a delirious few months, but was this really the dream season, the moment when David finally slays Goliath? Or was this all just another exercise in futility?
The first 16 innings or so seemed to give us our answer. Despite a late Yankee rally -- the point at which previous Twins teams had crumbled -- Minnesota held firm for a thrilling 8-6 win on Monday. They jumped out to a commanding 8-2 lead the next night, and led, 9-5, heading into the eighth. They'd hit nine homers in less than two games. The home crowd was electric. So what if New York's payroll was some $100 million bigger? We've got your Bronx Bombers right here.
And that's the point at which baseball decided to put our brains in a blender for an hour or so. Two hits and a walk brought New York within three, with mountain man and literal video game boss Aaron Judge striding to the plate as the tying run.
8-2 had become 9-8. Two batters later, reliever Tyler Duffey thought he'd gotten out of the jam with a picture-perfect curveball for strike three. The home-plate umpire disagreed. And in case it somehow wasn't clear already just how much of an exposed nerve ending all of Target Field had become, here's how Duffey reacted to that decision: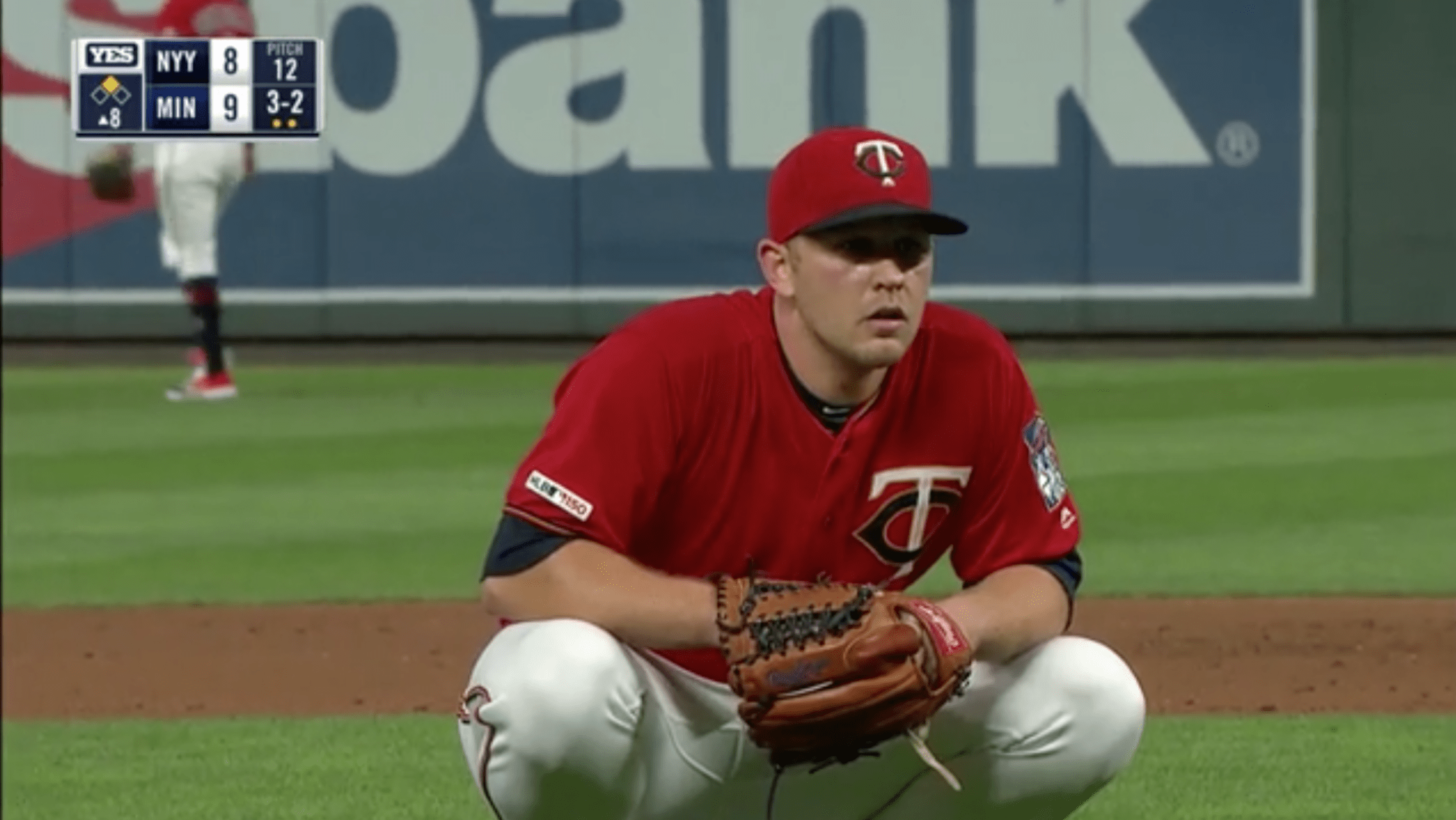 Didi Gregorius smacked a double off the wall, and just like that, the Yankees had a one-run lead.
But wait! These aren't your older brother's Twins -- this is the Bomba Squad, and the Bomba Squad doesn't fret when things are looking bleak. They just launch another 450-foot homer.
Minnesota has its own mountain man: His name is Miguel Sano, and he does stuff like that. 11-10, Twins. Surely, that has to be it. Two straight wins against the hated Yankees, add another game to the division lead, exorcise 20 years worth of demons.
[touches earpiece] Wait, I've gotten some new information. Oh, oh no.
OH COME ON.
We're done now, right? New York will call on flamethrowing closer Aroldis Chapman to slam the door, break the Twins' hearts yet again and prove that nothing ever changes. What's that -- he's going to walk the bases loaded and then allow the tying run, sending the game to extra innings? Oh, great, I always wondered what it was like to mainline cold brew concentrate.
Maybe things will calm down in the 10th.
For those keeping score at home, in less than three innings we've seen: five lead changes, 11 hits, 17 baserunners, 12 runs and approximately one million narratives converging at once. Oh, and we're not done.
The Twins would not go gentle into that good night. They were determined to prove that they were different, that they could stand toe to toe with the big, bad Yankees and deliver a knockout punch. They loaded the bases, and with two outs, Max Kepler lined what looked like the potential game-winning hit into the gap in left-center.
Aaron Hicks came up with the Twins. He was their first-round pick in 2008, and he played his first three Major League seasons in Minnesota. The Yankees acquired him back in 2014, then watched as he blossomed into a mainstay in their lineup. And now he's back in his old stomping grounds, wearing the jersey of his old team's archenemy, helping seal the game of the year. Just when the Twins thought they'd killed Michael Myers for good, he sat back up, unfazed.
By the time it was over, it was nearly 1 a.m. CT, and Twitter had nearly spontaneously combusted. But don't worry: There's a very good chance these two teams will meet in October.
Teams in this article:
Players in this article:
Topics in this article: