A's fans are truly spoiled watching Matt Chapman's defensive wizardry at third base
It's pretty crazy that watching a player do unbelievable things over and over can desensitize you from the difficulty of the plays themselves.
Since making his debut with the A's in 2017, Matt Chapman has made the unbelievable look ordinary at third base. And as he's outdone himself time after time, it's become somewhat routine to expect something ridiculous from him. He'll make some mind-blowing play or throw and it'll almost be taken for granted.
Like this play, which he pulled off in Monday's game against the Rays. When it happened, I thought, "wow, nice play," but I didn't really notice how improbable it really was.
If they gave out Platinum Bare Hands, he'd win that toohttps://t.co/C8V4sf4Dul pic.twitter.com/NwzZns0mCN

— Oakland A's (@Athletics) June 11, 2019
OK, first of all. Charging in from third base on a high chopper off the bat of Tommy Pham, Chapman made snatching the ball out of the air and firing it to first look incredibly easy. That's not easy.
And Pham? Well, he's in the 88th percentile(!) for sprint speed in MLB, per Baseball Savant. He's fast. No offense to backup catchers, but it's not as if Chappy was making this play on a backup catcher. He was making the play on one of the fastest dudes in the game, only having a fraction of a second with which to form his plan as he ran in to grab the chopper.
Look where Chapman was as the pitch headed toward the plate. He's pretty deep in the third-base area.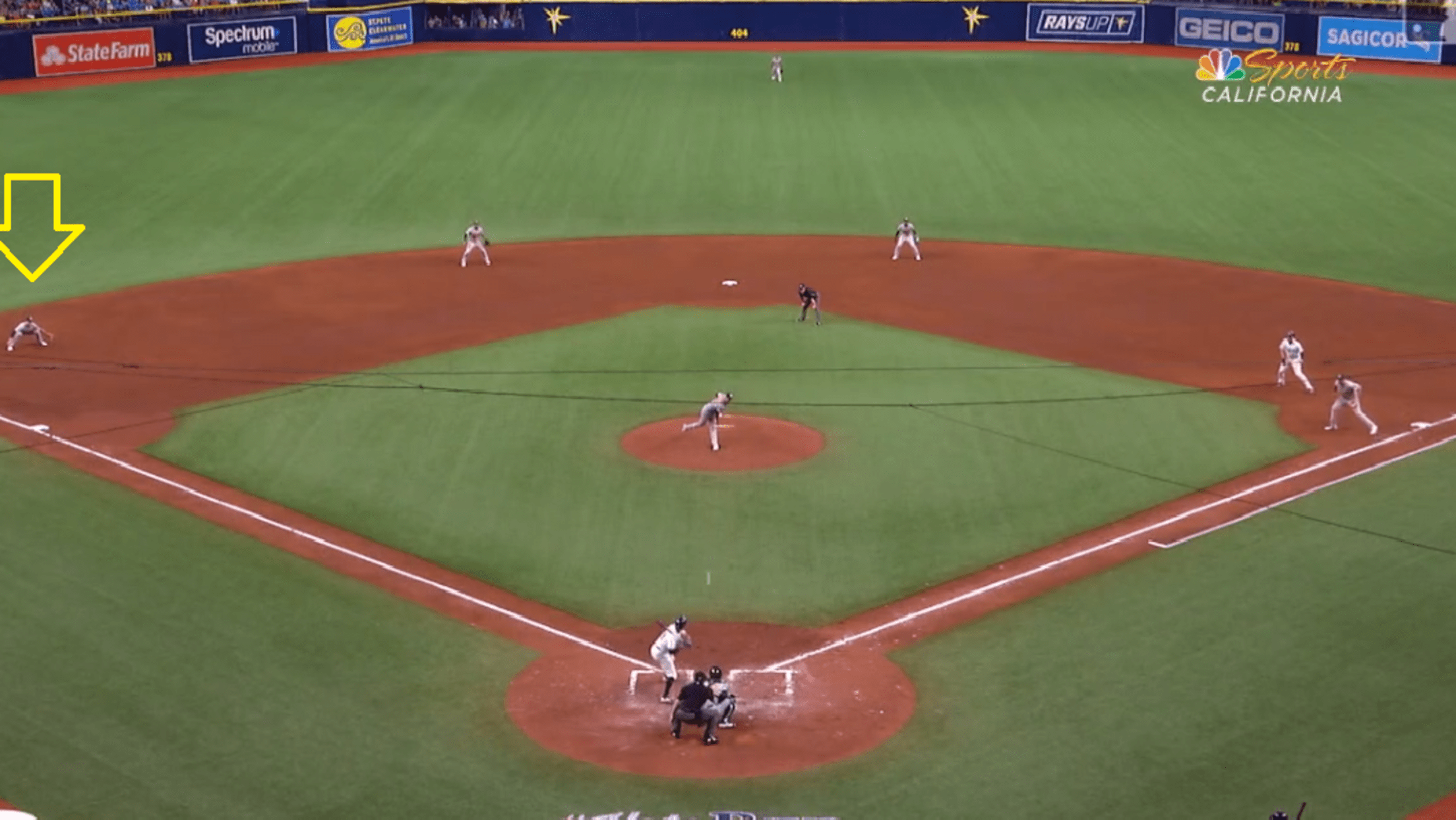 In this shot, notice how far he had to go just to get to the ball in the first place.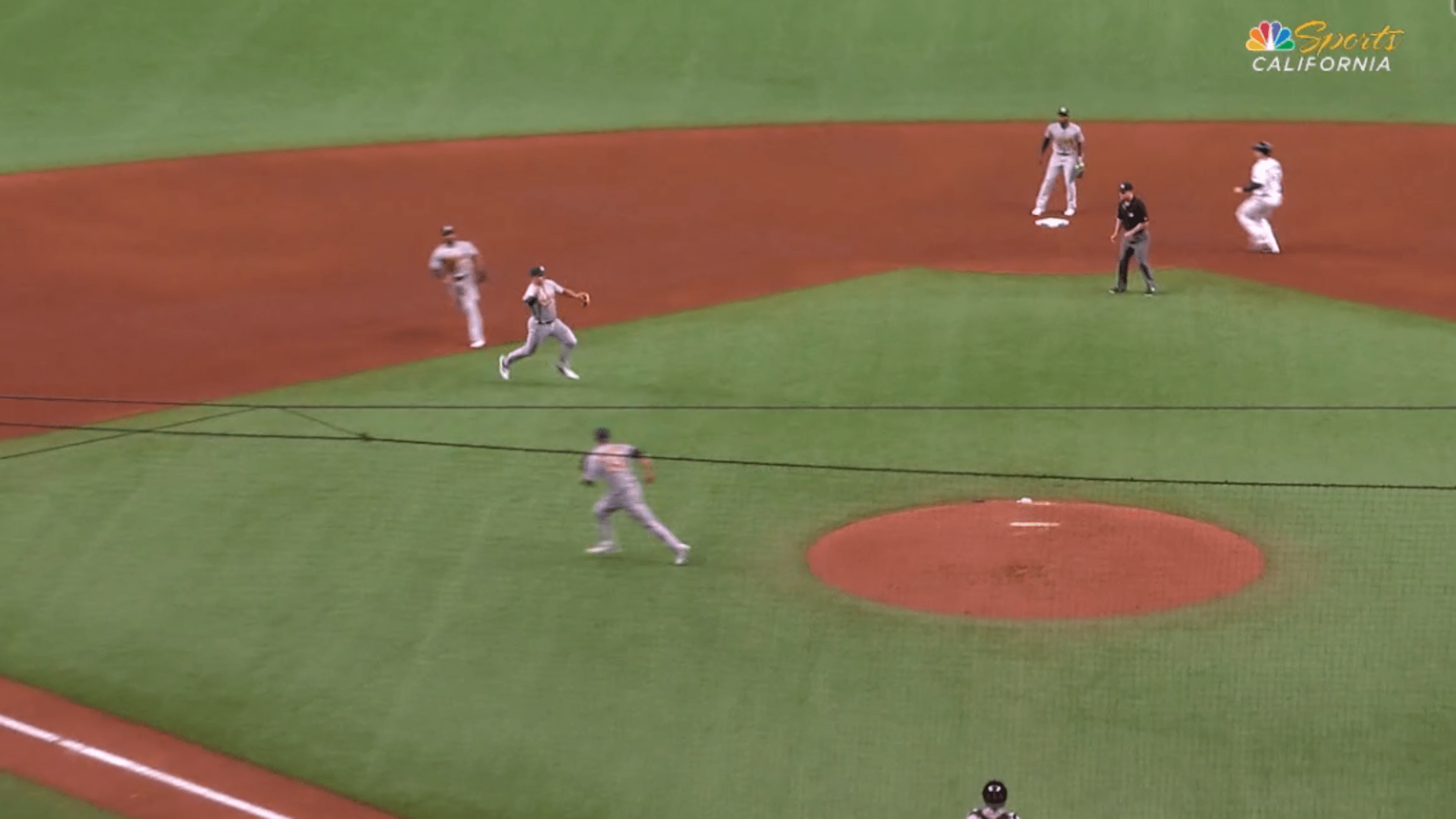 Pham may be in the 88th percentile for sprint speed, but guess what? Chapman's in the 75th percentile himself, and he used every last bit of it on this play.
Playing deep behind the third-base bag is just what Chapman does, and as Ken Rosenthal wrote last year for the Athletic, manager Bob Melvin knows all about it.
"He drives me crazy with how deep he plays," Melvin said. "I hate bunt hits. A guy will drop a bunt, and just when I'm about to get mad, he'll throw him out by a half-step at first base."
All of this speaks to Chapman's confidence at third base, and it's precisely that -- that trust in his abilities and defensive approach -- that makes Chapman so impressive when he does this stuff.
I mean, come on. That's putting the defensive slider to 100 on a video game level right there.
If you're not already watching Chapman play on a near-daily basis, I'd recommend you start doing so, because feeling spoiled by head-spinning defensive excellence is a rare treat indeed.
Just as it's a blessing to watch Cody Bellinger and Mike Trout do their thing for the Dodgers and Angels, seeing Chapman's dazzling defense on display for the A's is a prime reason it's a great time to be a West Coast baseball fan right now.
Teams in this article:
Players in this article:
Topics in this article: