Sending your World Series parade buses to a rival city is the biggest troll job ever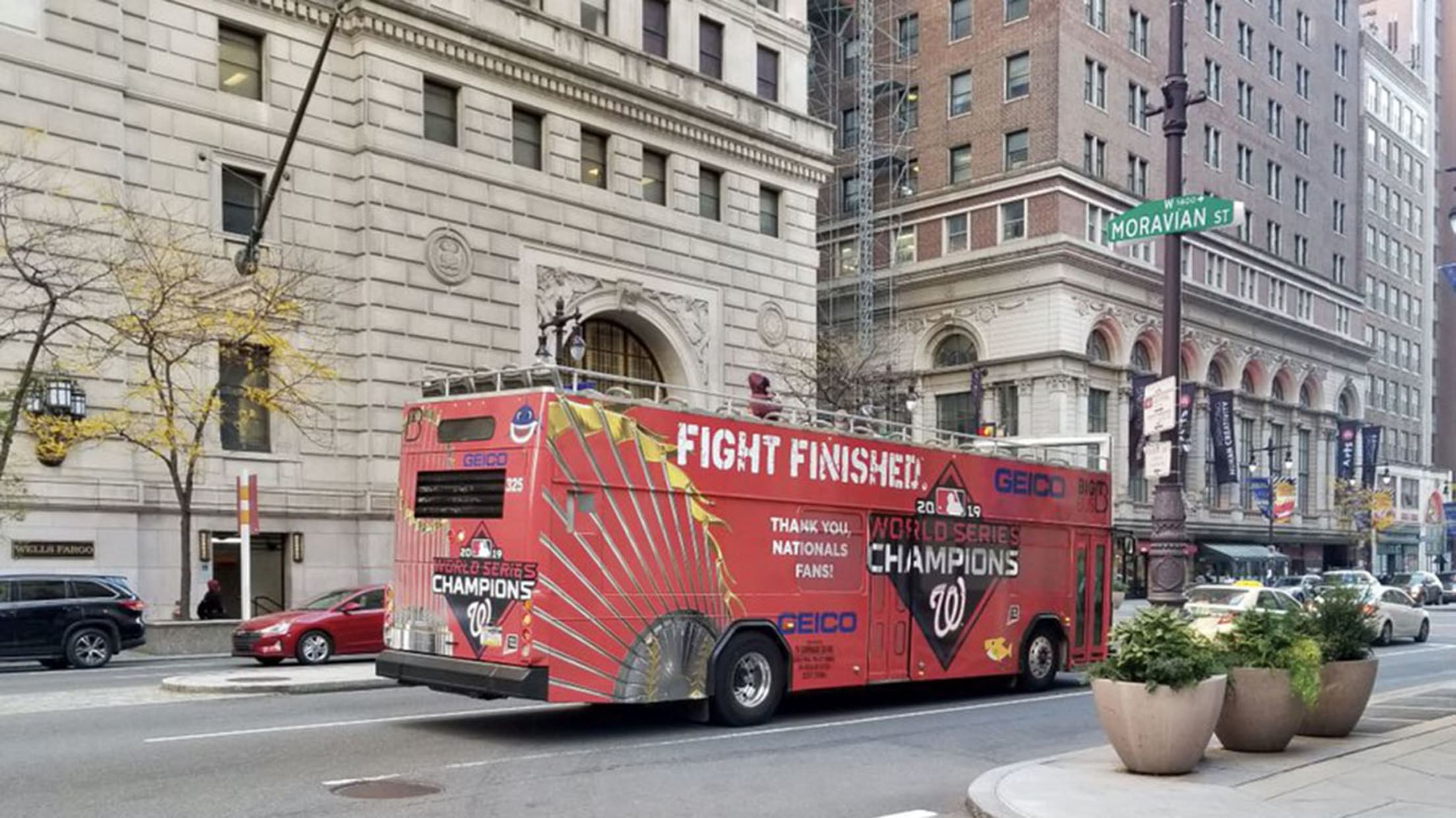 On Saturday, the Nationals celebrated the first World Series in franchise history with a parade through the heart of Washington, D.C., that ended near the Capitol Building. They gave speeches and, most importantly, they danced to Baby Shark. In other words, it was a fun and joyous parade for a team that embodied those very feelings for the entire postseason.
And like every good story, the Nats' season ended as it began: by trolling Bryce Harper and the Phillies. All the way back in April, Nationals fans showed up to Nationals Park to boo Harper and call him a traitor after he signed with their division rival in the offseason.
Phillies fans have long had a reputation for showing up in droves when the team visited the Nationals, earning Nationals Park the joking moniker of Citizens Bank Park South. That changed this year with Nats fans energized by Harper's alleged treachery. Nevertheless, Philly managed to always be present, even showing up for Saturday's parade in an effort to troll fans by rubbing the Eagles' 2018 Super Bowl victory in their faces.
It was the Nate parade, then the Eagles fans came around and now it's our parade pic.twitter.com/C3DQXXPXyE

— adam ferrone (@_rone) November 2, 2019
That wasn't the story of the weekend, though. It's been nearly two years since the Eagles won the Super Bowl. It's been less than a week since the Nationals won the World Series. To drive that point home, the Nationals announced that they definitively won the great Harper war of 2019 by sending their World Series parade buses through the streets of Philadelphia.
Nats World Series bus up in Philly 😂@ScottSAllen @dcsportsbog pic.twitter.com/2gQsouCBAr

— Nick Palastro (@Palastro24) November 3, 2019
Here is one of those buses heading down Broad Street -- the very road on which the Phillies hoped to host a parade of their own -- just to give Philadelphia a taste of what it missed this season.
Now this is just rude pic.twitter.com/uMvdhlBSQp

— Dan McQuade (@dhm) November 3, 2019
Before the season, Harper inadvertently promised to bring a championship back to the nation's capital. Little did he know that the Nationals would return the favor by giving him a taste of that championship on the streets of Philly. It would be a kind gesture to share their championship with their northern neighbors if it wasn't the best troll job of a long season of the team rubbing their success in the Phillies' faces.
Teams in this article:
Topics in this article: