Trash all your choking jokes, the Nationals are the kings of the world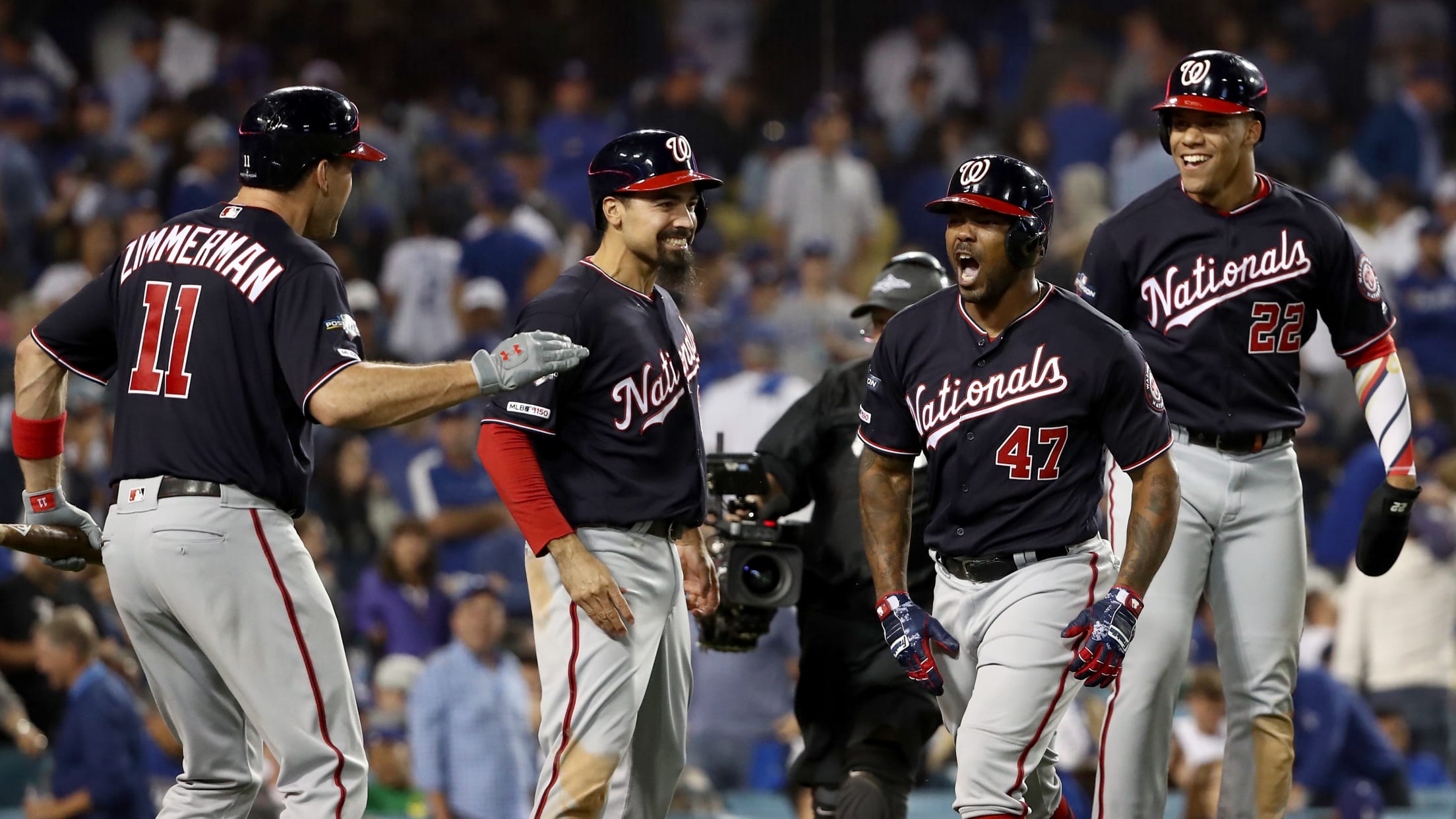 Postseason heartbreak has been a fall tradition for the Nationals and their fans. Four times this decade, they've seen exciting teams throttled in a devastating manner. Ninth-inning blown saves. 18-inning losses. Passed balls and errors on the same play. You name it, the Nationals have done it -- and all in front of their anguished fans at Nationals Park, too.
By 2019, even the diehards had just come to accept that postseason failure was inevitable. Have a starting rotation anchored by three of the NL's best pitchers in Max Scherzer, Stephen Strasburg and Patrick Corbin? Whatever, they're probably going to blow it again. Anthony Rendon and Juan Soto are leading the charge of an exciting lineup? They've seen superstars come up short before.
The Nationals have never advanced past the first round of the playoffs. That could change tonight.

I dug up the covers from 2012, 2014, 2016 and 2017: pic.twitter.com/8jf4Jk2LDA

— Brianna Schroer (@briannaschroer) October 9, 2019
Was it nihilism to assume the Nationals would come up short again in 2019? Sure, but you couldn't blame their fans for feeling down. They're only human.
The Nationals' first-round failures had turned into a punchline.
If u read his lips he's saying the Washington Nationals have never won a playoff series pic.twitter.com/0qROLABaBs

— 🎃CLAYTON SPOOKSHAW👻 (@BoyslnBIue) October 13, 2017
Something was different about the 2019 Nationals though.
For the first time, they had to enter the postseason as a Wild Card and win a do-or-die playoff against the Brewers just to advance. Despite trailing for most of the game, seemingly en route to coming up short at home once again, they rallied.
They did it! They advanced for the first time since moving to D.C.
"Hang on a second," said the detractors. "That wasn't a series. That was a single game. The Nationals have still never won a series. What a bunch of jokers."
Harsh, but technically true. The old Division Series demons still lurked in the background, and having to match up against the team with the most wins in the National League, the Dodgers, wasn't going to help them.
In fact, one of those past postseason series losses came at the Dodgers' hands in 2016, backed by the strength of a clutch Game 5 relief outing from ace Clayton Kershaw.
The Nationals' postseason struggles seemed sure to repeat themselves in 2019. The Dodgers jumped out to a 2-1 series lead and had a chance to close it out in Game 4, once again at Nationals Park.
Scherzer exorcised his own personal postseason woes with an overpowering outing and the Nationals forced a Game 5 with a 6-1 win. If they lost, at least it wouldn't come at home.
But they didn't want to settle for yet another Game 5 loss. Not even when the previously dominant Strasburg allowed them to fall behind early. Not even when Kershaw ended up on the mound in relief yet again to snuff out a seventh-inning rally.
Kershaw returned for the eighth. Rendon and Soto were ready.
It was the Dodger Stadium crowd's turn to suddenly go silent.
Not even the Dodgers' home-field advantage could help them after that, despite a couple scoreless innings from their bullpen. The Nationals kept pace, and in the 10th inning, the bases were loaded and the stage was set for former Dodger Howie Kendrick.
This NLDS had not been kind to Kendrick. He was hitting .211 and had committed three errors in the series, a far cry from his excellent regular season. Kendrick washed away all his bad memories of the past week with one swing off Joe Kelly.
I'm blown away just watching that again. This kind of stuff never happens for the Nationals. They always strand the runners and fall short, right?
At the very least, they surely had another pitching collapse in them, right?
Wrong.
The jokes are over. The city of Washington, D.C. can celebrate a postseason series victory in baseball for the first time since the old Washington Senators won the 1924 World Series behind Hall of Fame pitcher Walter Johnson and a well-placed pebble.
That's nearly a century ago. It was during the Calvin Coolidge administration and before the legendary Lou Gehrig even began his iconic streak. 42-year-old Fernando Rodney was a mere rookie. (We kid, Fernando. We love you.)
But 1924 is ancient history. Modern-day D.C. baseball fans needed this. They needed the jokes about the playoff failures to finally die. They needed their Nats to come through.
Finally, it has happened. Goliath has been slain.
Bring on the Cardinals. The Nats have pennant fever.
A live look at Nationals Park as the @Nationals win a playoff series for the first time in franchise history. pic.twitter.com/6sWGsYLAIQ

— Cut4 (@Cut4) October 10, 2019
Teams in this article:
Topics in this article: