Zimmer slowed in recovery, planning for long run
Lindor to visit doctor Monday; Plutko shut down 7-10 days with forearm strain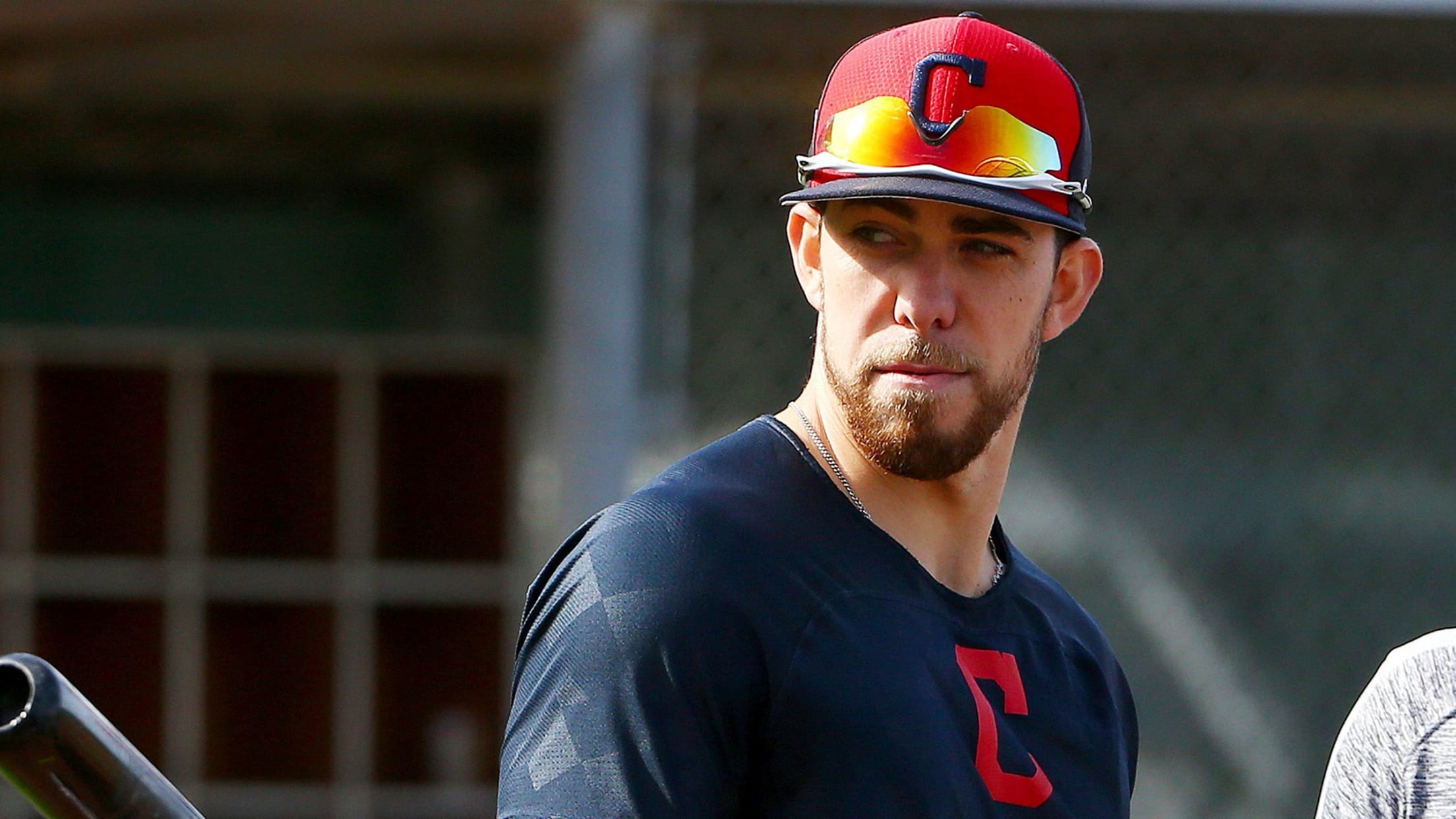 MINNEAPOLIS -- After the long months of rehab that Bradley Zimmer has already gone through since undergoing right shoulder surgery last July, he's now suffered a different minor injury that has slowed down his recovery process. Indians manager Terry Francona said before Saturday's 2-1 win over the Twins that Zimmer
MINNEAPOLIS -- After the long months of rehab that Bradley Zimmer has already gone through since undergoing right shoulder surgery last July, he's now suffered a different minor injury that has slowed down his recovery process.
Indians manager Terry Francona said before Saturday's 2-1 win over the Twins that Zimmer felt some soreness in his side last weekend before the team broke camp. He was scheduled to throw to the bases on March 23 from the outfield as part of his gradual shoulder buildup, but felt some pain when he threw to home plate. The manager said it was not his oblique, but it caused him to have to slow down for about a week.
"I don't think they referred to it as that," Francona said. "I think they just thought he kind of strained up underneath [his arm and ribs] a little bit."
Zimmer has flown through his rehab process, hoping to be able to return on the shorter side of the 8-12 month timeframe he was giving after the surgery. Although he was able to jump back into the cages pretty quickly, Zimmer eased his way into throwing during Spring Training to avoid minor setbacks like the one he just suffered last weekend. Luckily for him and the Indians, there have been no negative reports regarding the shoulder.
Although the Indians are more than welcome to the idea of bringing Zimmer back to add another outfield option into the mix once the 26-year-old is ready to finally return to big league games, he's making sure he doesn't rush back too quickly to avoid running into yet another setback.
"I think the hardest part is not getting anxious because you're watching everybody else play and it's been a while since I've been in there," Zimmer said earlier this month. "It's definitely tough, but I'm thinking more about the long run than getting in there quick and having a setback or whatever it may be."
Lindor to see doctor Monday
Francona said that Francisco Lindor's appointment with Dr. Robert Anderson in Green Bay is scheduled for Monday. He will get evaluated to help determine a plan for his rehab going forward, while balancing his recovering from the right calf strain he suffered on Feb. 6.
"I guess the challenge is, because I guess they have some experience with [former Indian Michael] Brantley, is that it doesn't hurt that much, but if you re-injure it, it can really set you back," Francona said. "So I think they just feel like having the best look at it made sense. And I commend them for it. ... I think that's always a good thing to do."
Plutko strains right forearm
Adam Plutko, who was optioned to Triple-A before the Indians broke camp, sustained a right forearm strain in a Minor League game in Goodyear, Ariz. Plutko is expected to be the Indians' first call if anything were to happen to one of their five starting pitchers. Francona said the right-hander will be shut down from throwing for the next 7-10 days.
Keep the rhythm
After coming off Spring Training, Francona is trying to keep his players in as much of a rhythm as possible. Because of the off-day Friday and some other players sitting, the manager said to expect outfielder Greg Allen and catcher Kevin Plawecki to be in the lineup Sunday.
"You don't want anyone going a week without playing," Francona said. "That doesn't do anybody any good. I think I've made some mistakes in the past like that. I'd prefer not to."
CarGo playing well in Minor League camp
Francona said that he's been receiving positive reports regarding Carlos Gonzalez from Goodyear. In Friday's Minor League spring game against Louisville, the 33-year-old outfielder went 2-for-3 with a double and an RBI. He has until his April 20 opt-out date to get the call up to the Majors.
"Everything has been good," Francona said. "He's been doing everything. At some point, when the season starts, he'll transition to Columbus."