---
The all new Flexible Voucher Plans give you the ultimate flexibility.
Enjoy packages with 20, 40 or 80 ticket vouchers to redeem throughout the season when you know which games fit your schedule. These plans allow you to buy early and lock in discounted prices without having to commit to specific games.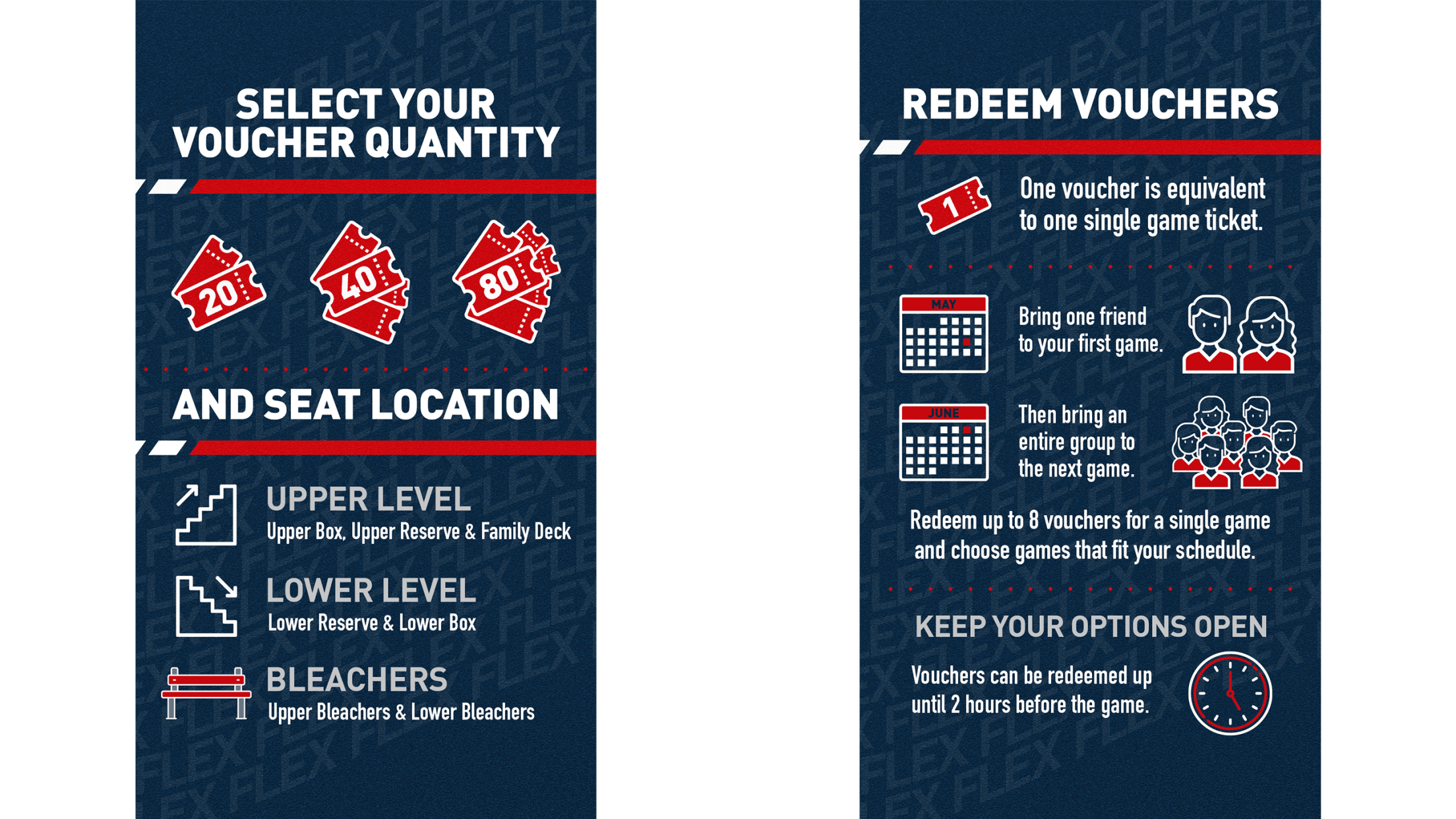 By purchasing a voucher plan before the season, you can achieve savings compared to single game prices.
Flexible Voucher Plans are available in three general seating locations - Bleachers, Upper Level and Lower Level. Select the seating location package that fits your budget, and then test drive different seats within that location during the season and make each game day experience a little different! (For example, if you purchase an Upper Level Flexible Voucher Plan, you can choose seats in the Upper Box, Upper Reserve or Family Deck when you redeem your voucher.)
Flexible Voucher Plans are all about giving you flexibility to choose the amount of tickets and the games you'd like to attend based on your schedule.
The Cleveland Guardians reserve the right to cancel or modify the Flexible Voucher Plans in their discretion. Additional terms and conditions apply. Vouchers cannot be redeemed for Opening Day tickets. Vouchers cannot be exchanged for Postseason tickets. Other blackout dates may apply. Vouchers shall not be resold, and tickets obtained by redeeming vouchers shall not be resold in violation of the Cleveland Guardians' Ticket Transfer Restrictions. Ticket brokers are not eligible for this promotion. The discount off single-game ticket prices will vary by section and number of vouchers purchased. Flexible Voucher Plans do not include Season Ticket Holder benefits such as rewards, ticket exchanges, Postseason or special event pre-sales or priority access, or merchandise discounts.
Frequently Asked Questions
When will my Flex Vouchers be available to start redeeming?
Your 2022 Cleveland Guardians Flex Vouchers will be live and accessible within your Guardians Ticket Account after single game Cleveland Guardians 2022 regular season tickets go on sale in early 2022. Once logged into your Guardians Ticket Account, click on Flex Voucher Plan Ticket Redemption under the Tickets menu.
If I use all my Flex Vouchers, can I buy more?
Yes, you will have the ability to purchase additional Flex Vouchers in increments of five (5) throughout the 2021 Cleveland Guardians regular season. In-season purchase of additional Flex Vouchers will be restricted to fans who purchase the Flex Voucher Plans before the season.
Is there a limit to the number of Flex Vouchers I am allowed to redeem per game?
Yes, you may redeem up to eight (8) Flex Vouchers for each game.
Once I purchase my Flex Voucher Plan, can I upgrade my seats to a different section?
No. Flex Vouchers can only be redeemed for tickets within the sections specified with respect to each respective Flex Voucher Plan.
Are Flex Vouchers refundable?
No. Flex Vouchers are non-refundable (including after they are redeemed for tickets).
Which games are included with my Flex Voucher Plan?
Flex Vouchers can be redeemed for any Cleveland Guardians baseball game throughout the 2022 regular season excluding Opening Day, subject to, at all times, ticket availability for each particular game. Flex Vouchers cannot be redeemed for playoff games.
Is there a cutoff time to redeem a Flex Voucher?
Your Flex Vouchers can be redeemed up until 2 hours before a scheduled game time.
How do I redeem my Flex Vouchers?
Your Flex Vouchers are mobile-only and can be found in your Guardians Ticket Account. Login with the email address and password you used to purchase the Flexible Voucher Plan. Once logged in, you will have options to redeem your Flex Voucher(s) and select your desired game. Once you select a game, your ticket(s) will be provided for use in the Ballpark App or your Guardians Ticket Account to be scanned for admission into Progressive Field for the selected game.
If I redeem Flex Vouchers for friends and family, how do they get their tickets?
After Flex Vouchers have been redeemed, the ticket barcodes will be available on one device inside the MLB Ballpark App. If you have two people in your group, two tickets can be scanned from your mobile device for admission into Progressive Field, or you can forward a ticket through the MLB Ballpark App by email or text.
What seating categories are available with my Flex Vouchers?
Depending on which Flex Voucher Plan you purchased, your Flex Vouchers are eligible for redemptions in Upper Box, Upper Reserve, or Family Deck (Upper Level); Lower Box or Lower Reserve (Lower Level); Upper Bleachers or Lower Bleachers (Bleachers).
When I redeem my voucher for a game, how do I select my seats?
During your redemption process you will be able to select your seats from the map just like the standard purchase flow.
Do I get the gate giveaway with my Flex Voucher ticket?
Your Flex Voucher ticket is eligible for the gate giveaways, while supplies last.
Can I exchange my Flex Voucher ticket if I'm unable to attend the game?
No, Flex Voucher tickets are not eligible for exchanges.
Can I sell my Flex Vouchers?
No, Flex Vouchers are not eligible for resale. Resale of Flex Vouchers is strictly prohibited.
Can I sell my Flex Voucher tickets if I'm unable to attend the game?
Flex Voucher tickets are subject to the Cleveland Guardians Ticket Transfer Restrictions set forth in the Ticket Terms and Conditions.
Flex Voucher Redemptions Steps
Log into MyTicket Account
Select 'Voucher' from the menu in the upper left corner
Scroll to the bottom of the page and select 'Voucher Action (Redeem)'
Click 'Redeem'
Select desired number of vouchers to redeem
Select game date
Select seating location
If you would like to select additional games, click menu in upper right hand corner and select 'My Guardians Ticket Account'