Sizemore joins Tribe as front-office advisor
Former All-Star center fielder played for Indians from 2004-11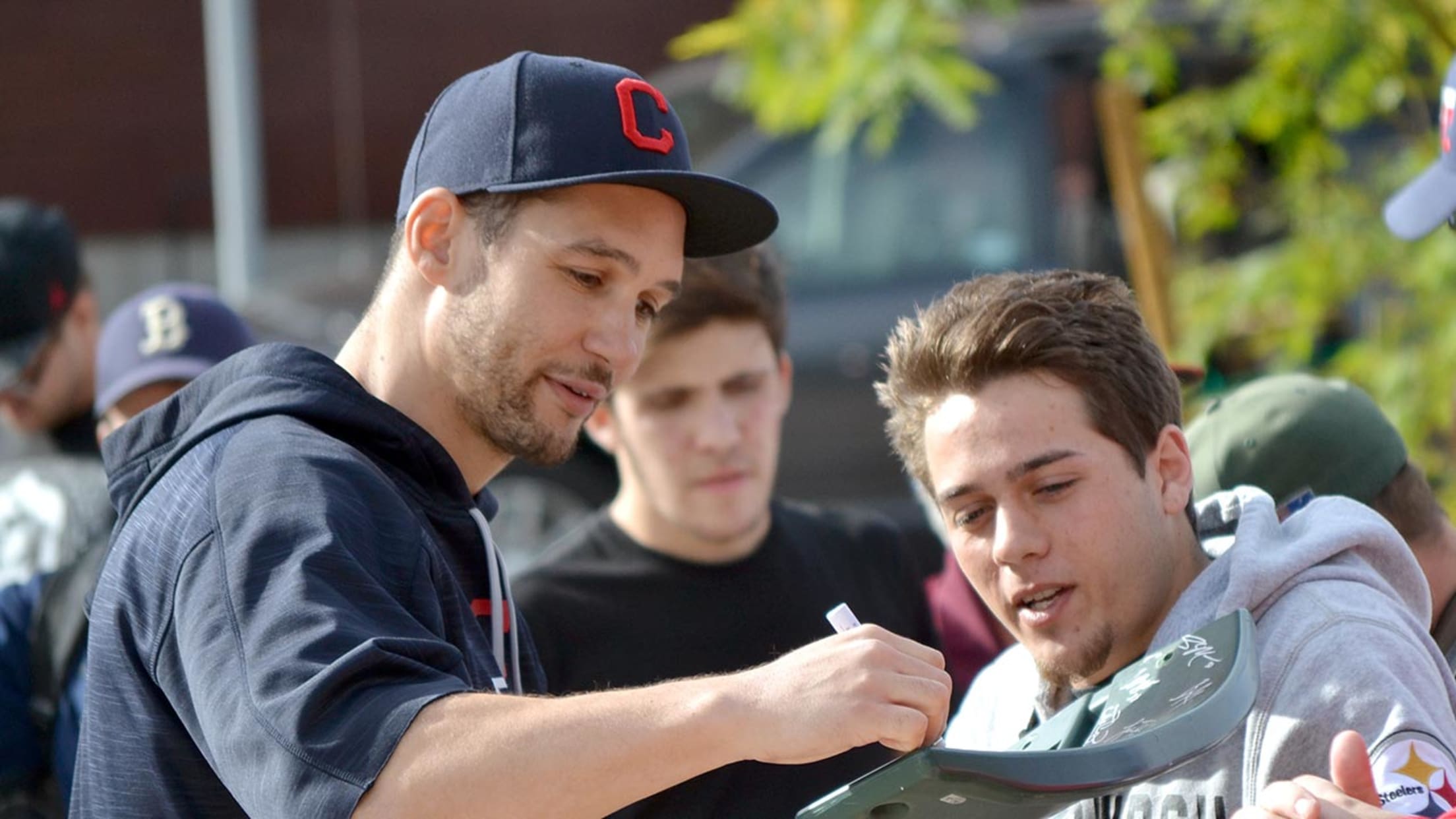 Grady Sizemore signs for Indians fans before Day 1 of Spring Training. (Jordan Bastian) (Jordan Bastian)
GOODYEAR, Ariz. -- Fans lined up along a fence, reaching over the top pole with baseballs, photos and pens clutched in their outstretched hands. A veteran wearing Indians gear approached the group, some stubble on his famous face, and stopped to sign his name a few times before heading to
GOODYEAR, Ariz. -- Fans lined up along a fence, reaching over the top pole with baseballs, photos and pens clutched in their outstretched hands. A veteran wearing Indians gear approached the group, some stubble on his famous face, and stopped to sign his name a few times before heading to Field 1 at Cleveland's complex.
The new addition to camp was Player Page for Grady Sizemore, who has been hired as an advisor to the Tribe's player development department. For Cleveland fans, Sizemore is as known for what might have been as he is for his incredible feats on the field as one of the game's bright young stars so many years ago. The former outfielder is currently weighing what will come next for him, and that journey begins in Goodyear, Ariz., this spring.
"I kind of just want to absorb as much as I can," Sizemore said. "I don't know anything other than playing, so I'm going to learn a whole lot at once here, but it's fun."
Over the offseason, Sizemore reached out to the Indians and asked what opportunities might exist for him within the organization. After focusing on his family for the past year, following an injury-marred playing career that ended with stints between the Phillies and Rays in 2015, Sizemore met with Indians president Chris Antonetti to discuss coming to camp as a guest instructor.
• Spring Training:Info | Tickets | Schedule | Gear
Antonetti responded by giving Sizemore the advisor role, in which he will assist the Major League team for the first couple weeks of Spring Training. Sizemore will join bench coach Brad Mills in workout sessions with Cleveland's outfielders before eventually transitioning over to the Minor League side of camp. During the regular season, Sizemore will be given other opportunities on and off the field within the baseball operations department.
The idea is to allow Sizemore to explore a variety of avenues to find where he feels he can be the best resource.
"He's asking a lot of questions right now," Indians general manager Mike Chernoff said. "So I think we want to just expose him to as much as we can. He'll be another body on the field to help with coaching with some of the numbers that we have, but also hopefully get to view Spring Training through a different lens, as a coach."
Sizemore has also sat in on closed-door meetings with the coaching staff and front-office members.
"We talk about every player in those meetings," Chernoff said. "His reaction was, 'My God, if I had known as a player how much time went into this, I would've respected it a lot more.' It's getting him that exposure, so he can see all that goes on."
Sizemore, 34, was a three-time All-Star, two-time Gold Glove Award winner and one-time Silver Slugger Award recipient in his prime with the Indians. All of those accolades came between the 2006-08 seasons, which were before a variety of injuries limited him to only 419 games over the next seven years. Early on, it was easy for Cleveland fans to dream about where Sizemore's career would take him.
Grady Sizemore has joined us as a player development advisor!

Will assist majors/minors staff this spring & be special asst. during season. pic.twitter.com/84tm2YiJeA

— Cleveland Indians (@Indians) February 14, 2017
From 2005-08, Sizemore averaged 27 homers, 29 steals, 41 doubles, 81 RBIs, 82 walks, 116 runs and 160 games per season. The former center fielder is also one of only 30 players in baseball history to have a season ('08) with at least 30 homers, 30 doubles and 30 stolen bases.
"When you have a guy of that stature, he's welcome to help wherever he can," Indians manager Terry Francona said. "He knows he's welcome to help out when he's here, and we're looking forward to it."
The last time Sizemore suited up for the Tribe was 2011, so there are only a handful of players still on the team who had him as a teammate. Carlos Santana, Michael Brantley, Jason Kipnis and Corey Kluber are among the players who were part of the young emerging core back then.
"There's a few left," Sizemore said with a smile. "Those guys, since they came up, they had a pretty good understanding and pretty good leadership roles, even as young guys. It's fun to see them doing it now and kind of taking that next step."
Sizemore was following last year's team throughout the postseason, when the club captured the American League crown before losing the World Series in seven games. The 2016 Indians were the first to win the AL Central since the '07 club, which included Sizemore. That group lost to Francona's Red Sox in the AL Championship Series.
Now, Sizemore joins Francona's spring staff with the Indians, who have lofty expectations for the season ahead.
"It was a fun postseason run. It was exciting to watch," Sizemore said of Cleveland's trip to the World Series last fall. "This team's been playing well the last couple years and it's been fun to see that progression. I still know a lot of guys here, so it's still close to home and fun to watch and root for. Now, it's fun to be a part of it and help out any way I can."