Predicting the Indians' 2020 Opening Day roster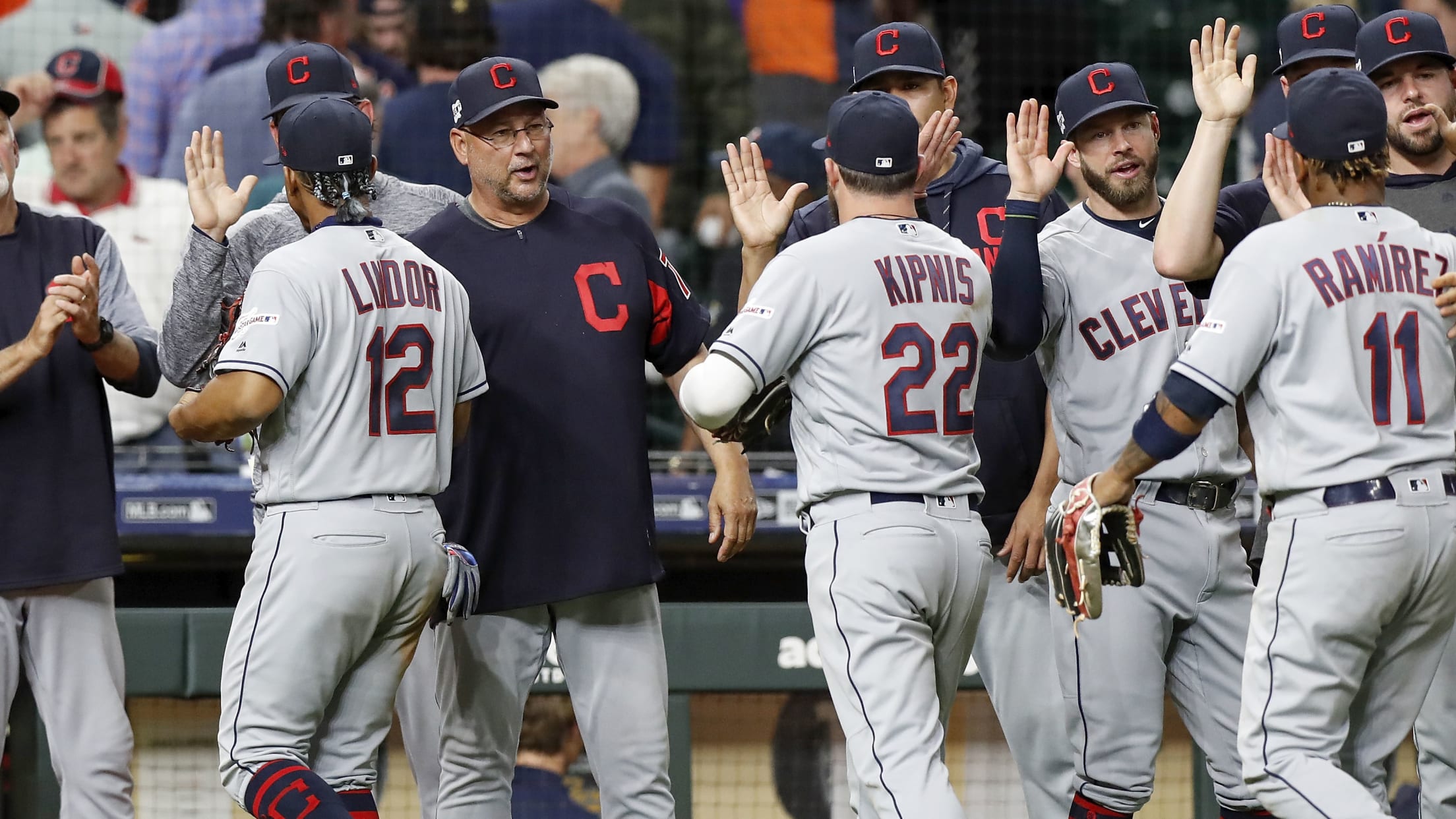 CLEVELAND -- It's time to take a look into our crystal ball. The Indians have the next four and a half months to think about their 2020 roster. Who can they acquire to help address the infield? Who will end up being their 26th man? For the first time, all
CLEVELAND -- It's time to take a look into our crystal ball.
The Indians have the next four and a half months to think about their 2020 roster. Who can they acquire to help address the infield? Who will end up being their 26th man? For the first time, all 30 Major League teams will be working with a 26-man roster next season and will only carry up to 28 players once the calendar flips to September.
So, how could this eventually shake out? Let's take a look at some early possibilities for the Indians' 2020 Opening Day roster.
Catcher
Locks: Roberto Pérez, Kevin Plawecki
Possibilities: Eric Haase
There's no replacing Pérez behind the plate. In his first season as an everyday catcher, he was the only backstop to catch over 100 games without allowing a single passed ball. On top of his stellar defense, he led an inexperienced rotation to success and tripled his previous career high in home runs with 24. There's no doubt, assuming he recovers as expected from postseason ankle surgery (bone spurs), that he's earned the starting job. Although Plawecki's defense may not entirely match Pérez's, the Indians have expressed how highly they think of his ability to handle a pitching staff, which leaves us to believe that he'll return as the backup catcher. Haase got another handful of games under his belt last season and can be used if an injury occurs.
First base
Locks: Carlos Santana
Possibilities: Jake Bauers, Bobby Bradley
After Santana carried the Tribe through its highs and lows in '19, there isn't much left to analyze when it comes to his role next season. The true competition lies in the backup spot between Bauers and Bradley. With Franmil Reyes expected to expand beyond his DH role, the outfield is starting to become too crowded for Bauers to find a regular spot there. Whoever prevails between Bauers and Bradley could end up serving as the DH on days Reyes is in the field.
Bauers will have a lot to prove in Spring Training after an underwhelming first season in Cleveland, hitting .226 with a .683 OPS. His advantage over Bradley is experience. The 23-year-old slugger hit 33 homers in 107 Triple-A contests with a .912 OPS, but he looked outmatched in his brief 15-game stint in the Majors in '19.
Second base
Locks: Mike Freeman
Possibilities: José Ramírez, Andrew Velazquez, Mark Mathias, free agent or trade
By "lock" in this section, we mean he's at least guaranteed to get some reps there next season. Both second and third base are big question marks for the Indians, but they know Ramírez will play one of the two. Which will be dependent on their offseason moves or who they expect to make a quick climb out of their Minor League system. They could check in with guys like Eric Sogard or Brock Holt on the free-agent market, land an infielder through a trade or look into younger talent like Velazquez or Mathias if Ramírez stays at third.
Shortstop
Locks: Francisco Lindor
Possibilities: Mike Freeman, Yu Chang
If the current roster remains the same, Lindor is obviously a lock at shortstop, but will he be back in his blue and red threads on Opening Day? With two years of control remaining, Lindor is an attractive piece for any club to add to its roster, and the Indians could ask for a king's ransom. Would they be willing to part ways with their beloved "Mr. Smile?" Do they want more time to attempt to agree to a contract extension that satisfies both parties? Maybe they just want one more year of him with a young roster that proved to have potential in '19? Rumors already began when MLB.com's Jon Paul Morosi reported the Dodgers are expected to pursue Lindor this offseason. If he ends up getting moved, they could acquire a shortstop in the deal or turn to Freeman or Chang.
Third base
Locks: José Ramírez
Possibilities: Yu Chang, Mike Freeman, free agent or trade
Like previously stated, Ramírez is going to be the assumed third baseman until told otherwise. Right now, it seems like a 50/50 chance that he remains at the hot corner. The Indians will have to see what chips they can play over the winter and then inform Ramírez where he'll be playing next year. Once it's settled, he would just ask that he does not switch to another position after the season begins. If he moves over, they have Chang and Freeman as in-house options, or they could explore the few affordable options on the free-agent market like Asdrúbal Cabrera or Todd Frazier. Eventually, the position is expected to be handed over to their top prospect Nolan Jones, but the 21-year-old will need some time at Triple-A Columbus before he gets called up.
Utility
Locks: Mike Freeman
Possibilities: Yu Chang, Max Moroff
If nothing else, Freeman has solidified the utility role. There was not a single player in the Indians' clubhouse last year that didn't rave about Freeman both as a player and teammate. Manager Terry Francona has been clear that they trust Freeman to excel in that role, and he will certainly earn it again in '20 if he's not used in a more permanent way. If he becomes a starter to fill some holes, Chang or Moroff could be considered as a replacement.
Outfield
Locks: Oscar Mercado, Franmil Reyes, Jordan Luplow
Possibilities: Greg Allen, Jake Bauers, Bradley Zimmer, Daniel Johnson, Ka'ai Tom, free agent or trade
Mercado will definitely break camp with the Indians this time around. Last year, he wowed the Tribe's coaching staff in Spring Training, but still had a little more to prove at Columbus before he finally earned a callup in May. He'll be the center fielder and Reyes will likely vie for the right field job (and at the very least be the everyday DH). Luplow showed more than enough last year to receive regular at-bats in '20 but will have to prove he can hit righties just as well as lefties.
Allen will likely be carried as a backup option or a platoon to Luplow. Bauers can serve that platoon role as well. Zimmer is expected to have more plate appearances at Columbus before coming back up to the big leagues now that he decided not to play over the winter. Eventually, the team has options in Johnson and Tom, both of whom have impressed in the Minor Leagues.
Starting pitchers
Locks: Corey Kluber, Carlos Carrasco, Mike Clevinger, Shane Bieber
Possibilities: Zach Plesac, Aaron Civale, Adam Plutko, Jefry Rodriguez, Logan Allen, Scott Moss
If Kluber doesn't get moved over the winter, the rotation will definitely consist of the four locks listed above, leaving the other six to fight for the fifth spot. Plesac and Civale will likely have an edge over the other four, and the Indians may want to see more out of Allen and Moss at Triple-A before they would move up to the big league club. Rodriguez could be used out of the bullpen if he doesn't crack into the rotation, and the Indians will have to make a decision on Plutko, who is now out of options.
Relievers
Locks: Brad Hand, Nick Wittgren, Adam Cimber, Oliver Pérez, Nick Goody
Possibilities: James Karinchak, Jefry Rodriguez, Hunter Wood, James Hoyt, A.J. Cole, Tyler Olson, Adam Plutko, free agent or trade
Count on Hand, Wittgren, Cimber, Pérez and Goody in the Indians' bullpen on Opening Day. Both Rodriguez and Plutko could shift out of their starting roles, assuming they don't earn spots in the five-man rotation. It wouldn't be surprising if the team saw enough out of Karinchak in his brief five-game stint in the Majors last season to have him break camp in '20. It also wouldn't be surprising if Cleveland decided to bring back free agent Tyler Clippard for another year.