Indians add McKenzie to 40-man roster
Two other prospects protected from upcoming Rule 5 Draft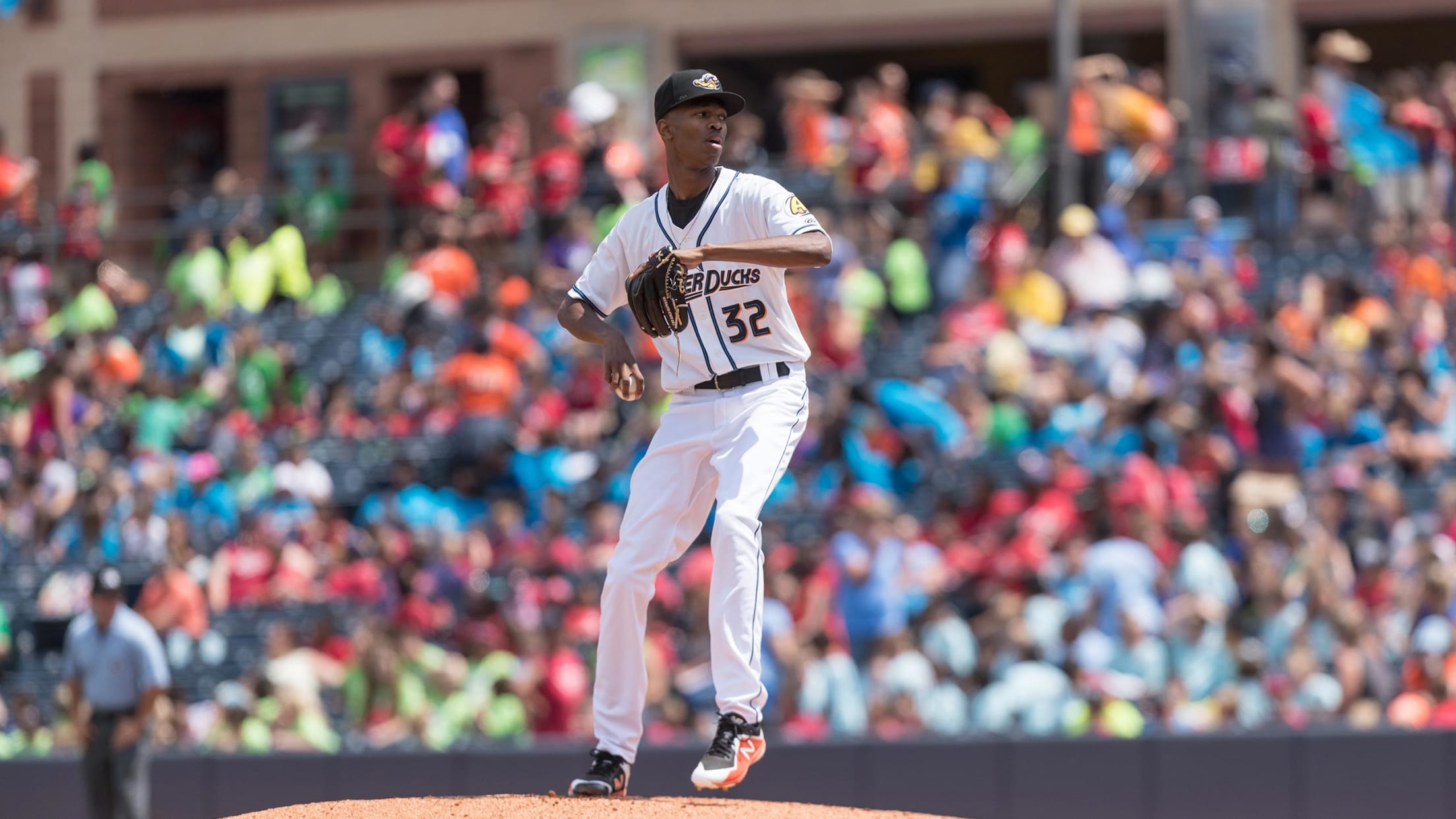 CLEVELAND -- After adding Christian Arroyo, Corey Kluber and Tyler Naquin to the 40-man roster from the injured list at the beginning of the month, the Indians were left with two remaining roster spots to be filled. But Cleveland needed three openings in order to protect its top Minor League
CLEVELAND -- After adding Christian Arroyo, Corey Kluber and Tyler Naquin to the 40-man roster from the injured list at the beginning of the month, the Indians were left with two remaining roster spots to be filled. But Cleveland needed three openings in order to protect its top Minor League talent from the Rule 5 Draft.
As expected, the Tribe announced Wednesday evening that they selected the contracts of their No. 2 overall prospect, Triston McKenzie, and No. 16 prospect Daniel Johnson, as ranked by MLB Pipeline. The club also decided to make room for Scott Moss, who was acquired from the Reds in the Trevor Bauer trade in July and is ranked the club's No. 17 prospect, by designating reliever Nick Goody for assignment. Along with the final 40-man roster decisions, the Indians also announced that they traded infield prospect Mark Mathias to the Brewers in exchange for 18-year-old catcher Andres Melendez.
Let's take a deeper look at the Indians' decisions and the Rule 5 process:
Why McKenzie, Johnson and Moss?
The Tribe has a handful of young prospects who have entered their Rule 5 Draft eligibility years. The three they decided to protect were not surprises. Right-hander McKenzie had a disappointing 2019, spending the entire year in Arizona due to upper back and pectoral strains, but the front office has said it's still optimistic about the 22-year-old's future.
Both McKenzie and Johnson were locks to take the final two roster spots. In 84 games at Triple-A last season after his promotion in May, Johnson hit .306 with an .867 OPS, nine homers and 44 RBIs. The outfielder could likely become an option for the Tribe this season in either of the corner positions.
Now, this isn't to say that adding Moss wasn't a no-brainer. He split his season between Double-A Chattanooga (Cincinnati), Double-A Akron and Triple-A Columbus. In 26 total starts, he pitched to a 2.96 ERA with 159 strikeouts, 70 walks and eight home runs in 130 2/3 innings. It just boiled down to whether the Tribe would be willing to part ways with one of their current players to make space for Moss to join, which brings us to Goody.
Goody was solid for the Indians from the end of June through mid-August, tossing 20 consecutive scoreless innings in 17 appearances. But in the last month of the season, he posted an 11.37 ERA in nine games (6 1/3 innings). The Indians have James Karinchak, who could make a significant impact on the big league club this season, and they could decide to bring back free agent Tyler Clippard.
Who did the Tribe leave exposed?
Four of the Indians' Top 30 prospects were eligible for the Rule 5 Draft entering Wednesday. The team added Johnson, McKenzie and Moss, leaving Luis Oviedo (14) on the market.
Oviedo is a right-handed starter, who spent the 2019 season with Class A Lake County. He made a career-high 19 starts, posting a 5.38 ERA with a 1.38 WHIP and 72 strikeouts in 87 innings. In 2018, the Venezuelan native pitched to a combined 2.05 ERA and 0.98 WHIP in nine starts with Class A Mahoning Valley and two starts with Lake County.
Of the Indians' four Top 30 prospects, Oviedo is the least likely to get picked up by another team because he's only 20 years old, is still in Class A and isn't coming off of his strongest season. Other teams will likely be hesitant to add that type of a player onto their 25-man rosters.
Two other notable names outside of the team's Top 30 prospects who will be available to Draft are outfielders Ka'ai Tom and Oscar Gonzalez.
How does the Rule 5 Draft work?
Any club that has space on its roster will have the opportunity to Draft certain players who have been left off of other organization's 40-man rosters. Not every team will make a selection, but those who do must pay $100,000 to the club that player is coming from. He will then be placed on his new team's 25-man roster. If he doesn't remain on the 25-man roster for the entire year, he must then be offered back to his former team for $50,000.
A Rule 5 Draft pick can be placed on the Major League injured list, but he must be active for a minimum of 90 days to avoid the process of being offered back to his previous club.
Who is eligible to be drafted?
A player's eligibility is determined by his professional service time. If a player was first signed at the age of 18 or younger, he has five years to be added to his club's 40-man roster. After that, he'd become available to other organizations at the Rule 5 Draft. If a player first signed at 19 years or older, he must be protected within four seasons.
When does the Rule 5 Draft take place?
It will be held on Thursday, Dec. 12, at the Winter Meetings in San Diego.