10 best right fielders of the decade (so far)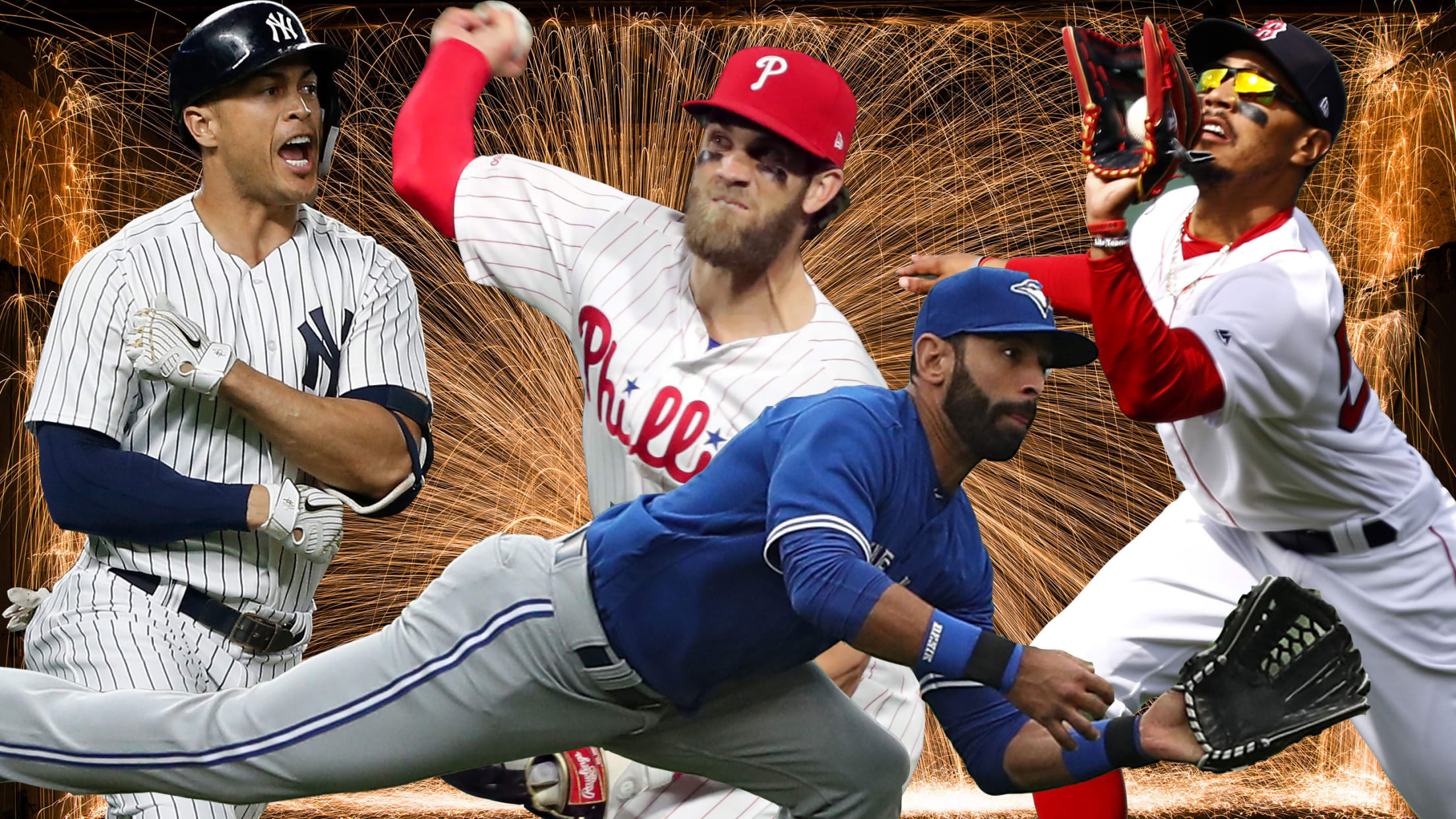 Will Leitch's series on the Data Decade, closing out this remarkable decade in the year of baseball, runs every other Wednesday. Today we look at the 10 best right fielders of the decade. Right field is a position with players who always seem to be holding a bigger bat at
Will Leitch's series on the Data Decade, closing out this remarkable decade in the year of baseball, runs every other Wednesday. Today we look at the 10 best right fielders of the decade.
Right field is a position with players who always seem to be holding a bigger bat at the plate than anyone else in the lineup. It's an important defensive position, but one that values strength and power over speed and finesse. You need to be strong to play right field. You can't really hide poor fielders like you can at other corner positions, because having a cannon out there is half the battle. You throw far, you hit far, you go far.
Today, we look at the 10 best right fielders of this decade. For the sake of clarity, we looked at players who played at least 30 percent of their games in right field over the decade, according to Baseball-Reference's Play Index. But occasionally, with outfield being as fluid as it is, we had to sneak under that number to make sure everyone was appropriately included in all spots.
• Top 10s of the decade: C | 1B | 2B | SS | 3B | LF | CF
Here are the best this decade.
1) Giancarlo Stanton (MIA 2010-17, NYY 2018-19): Despite only playing more than 123 games four times this decade, Stanton is leaps and bounds ahead of every other right fielder in nearly every offensive category. Injuries have always been the issue with him, and that may become even more pronounced in the next decade. (He's still not even 30 yet.) He has only hit 40 or more homers once -- though at Yankee Stadium, one fully healthy season moving forward should do it. His contract assures he'll be given every opportunity.
2) José Bautista (TOR 2010-17, ATL 2018, NYM 2018, PHI 2018): Bautista actually made his Major League debut in 2004, but that decade's Jose Bautista was an entirely different Jose Bautista all together. He became the Jose Bautista we all know and love in 2010, when he hit 54 homers and made the first of six consecutive All-Star teams. He was still a league-average hitter with three different teams as recently as last season. And if there were a category for soul-destroying bat flips, he'd obviously be the all-time leader.
3) Bryce Harper (WAS 2012-18, PHI 2019): After the 2015 season, when Harper had a better year than Mike Trout has ever had, it looked like we had an all-timer on our hands. Since then … we just have an excellent MLB player, pure thunder at the plate but maybe a little bit more inconsistent than you would like your top-shelf superstars to be. These are small complaints, though, with a talent like Harper, who brings not just power to your offense but much-needed swagger to your team. With him on your side, you don't have to convince your fans you're serious about contending. It's obvious.
4) Mookie Betts (BOS 2014-19): The Red Sox knew they had a serious prospect on their hands when Betts was in their farm system, but no one could have known they had this. Betts has become one of the top-five best players in baseball -- and the only guy who can rival Mike Trout these days -- and has won a World Series, an MVP and three Gold Gloves already … and he's only 26. You build whole franchises around guys like Mookie Betts.
5) Jason Heyward (ATL 2010-14, STL 2015, CHC 2016-19): When Heyward hit a home run in his first game as a Brave at the age of 20, people were making Willie Mays comparisons. That, uh, turned out to be a tad optimistic, but just because Heyward hasn't become a Hall of Fame-level player doesn't mean he hasn't been terrific all decade. (Still: His best season might have been his rookie year.) As it turns out, his place in baseball history is secure. It just turns out it'll be mostly for a speech made during an October rain delay in Cleveland.
6) Nick Markakis (BAL 2010-14, ATL 2015-19): Markakis has been around longer than you realize: His rookie year was in 2006. His best seasons were those first years in Baltimore, but he has been remarkably consistent since entering the league. Did you realize Markakis has only missed more than seven games in a season once? Your team is always a little bit better if it has Markakis on it, and that'll be as true in season 15 as it was in season one.
7) Josh Reddick (BOS 2010-11, OAK 2012-16, LAD 2016, HOU 2017-19): Is there a more consistently underrated player in baseball than Josh Reddick? He's an above-average hitter and fielder (and baserunner) every season, and he seems to always play on winning teams; he has reached the postseason on three different teams. (The only one he didn't: Boston!) He hasn't had the power he showed with his 2012 season of 32 homers, but he's always there, and always important. Somehow, he still has never made an All-Star team.
8) Jay Bruce (CIN 2010-16, NYM 2016-18, CLE 2017, SEA 2019, PHI 2019): Bruce was once one of the mostly highly regarded prospects in baseball, which is why his career has always felt (unfairly) disappointing. You expected him to be otherworldly, when it turned out he was just darned good for 12 years now. He had 36 homers just two seasons ago, and now that the Phillies need him with Andrew McCutchen out, he might get a chance to reach the postseason with his fourth different team. Surprisingly, he has never won a postseason series. (He's 0-5).
9) Hunter Pence (HOU 2010-11, PHI 2011-12, SFG 2012-18, TEX 2019): Pence has always been an unconventional player -- his swing looks like someone trying to avoid being stung by a bee -- but he was never better than he was after being traded to the Giants, where he would win two World Series. Injuries hurt him late in his Giants career, but he has enjoyed a resurgence this year with the Rangers, who can keep him around if they make a Wild Card run or flip him to a contender if they fall out of the race. Baseball's more fun with Hunter Pence around.
10) Yasiel Puig (LAD 2013-18, CIN 2019): While we were all spending so much time arguing about him, Puig just kept going out there and putting up numbers. For most of his career, he has been inconsistent at times, but ultimately ends up being a boon to his team. This year has been rough in Cincinnati, but there's plenty of baseball left. At 28, he should be in his prime. If he had reached everything you wanted him to, he'd be higher on this list. But Puig always has surprises in store, for us and for him.
Honorable Mention: Carlos Beltran, Andre Ethier, Shin-Soo Choo, Adam Eaton, Aaron Judge
In two weeks: Best Relief Pitchers of the Decade