10 biggest trades in Mariners history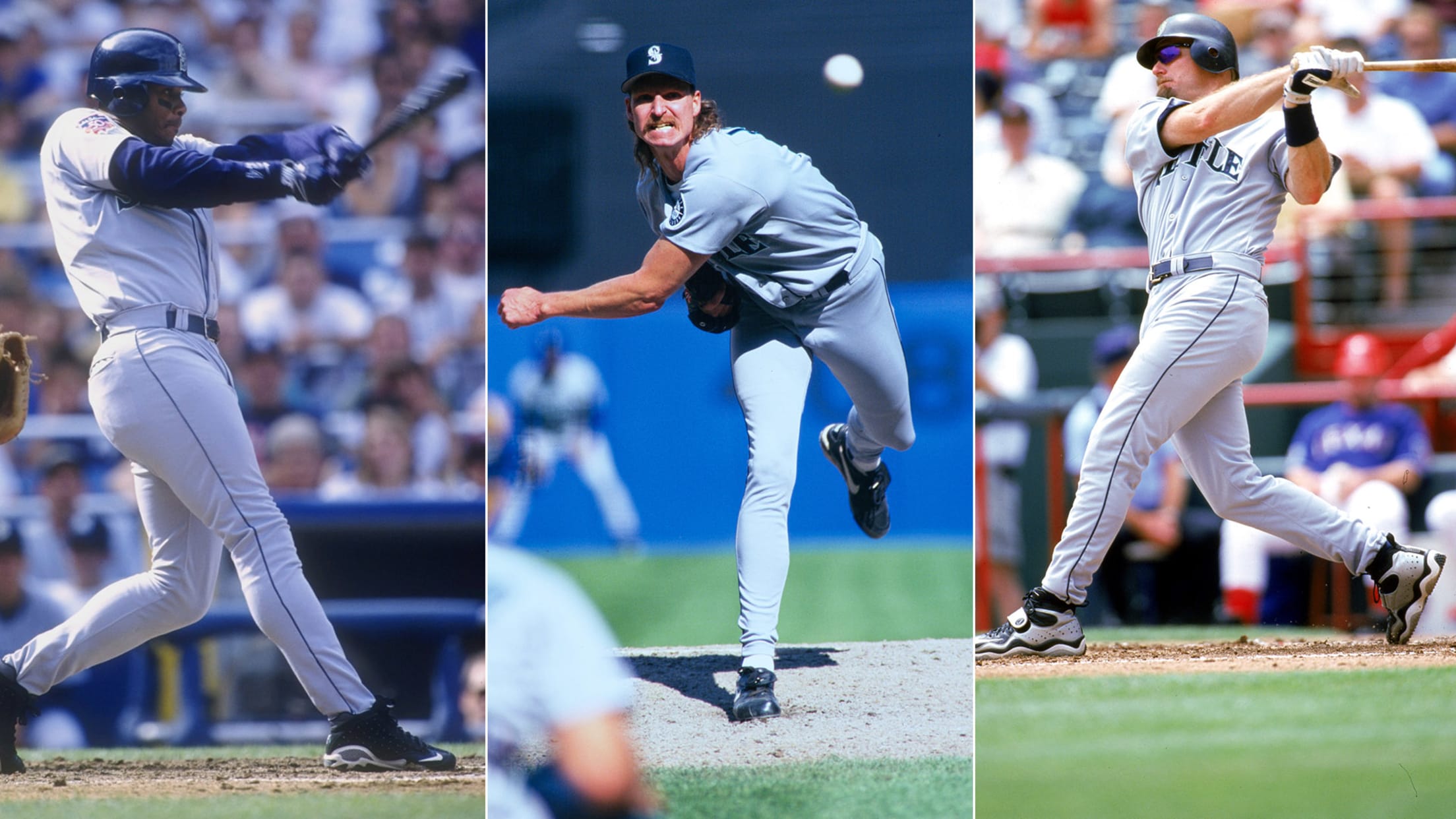 SEATTLE -- Trades, trades, trades. Jerry Dipoto loves to make 'em. Fans love to suggest 'em. We'll try to rank 'em. Here are the 10 biggest trades in Mariners history: 1. Bringing in the Big Unit Mariners got from Expos: LHP Randy Johnson, RHP Gene Harris, RHP Brian Holman Mariners
SEATTLE -- Trades, trades, trades. Jerry Dipoto loves to make 'em. Fans love to suggest 'em. We'll try to rank 'em.
Here are the 10 biggest trades in Mariners history:
1. Bringing in the Big Unit
Mariners got from Expos: LHP Randy Johnson, RHP Gene Harris, RHP Brian Holman
Mariners gave up: LHP Mark Langston, RHP Mike Campbell
Date: May 25, 1989
The Mariners didn't know quite what they were getting when general manager Woody Woodward dealt All-Star southpaw and staff ace Langston and a player to be named (Campbell) to Montreal for a trio of pitchers, but it turned out to be a heist as a lanky 25-year-old with 11 Major League games and a 4.69 ERA on his resume turned into one of the greatest pitchers in Mariners -- and MLB -- history. The Hall of Fame lefty wound up going 130-74 with a 3.42 ERA, earning five All-Star berths and a Cy Young Award in 10 seasons in Seattle. Holman was a solid three-year starter for the Mariners and Harris pitched four seasons out of the bullpen, but the Big Unit clearly turned into the prize in a deal where the Mariners gave up just four months of Langston, who went 12-9 with a 2.39 ERA in 24 starts for the Expos before becoming a free agent.
2. Sending away the Kid
Mariners got from Reds: CF Mike Cameron, RHP Brett Tomko, INF Antonio Perez, RHP Jake Meyer
Mariners gave up: CF Ken Griffey Jr.
Date: Feb. 10, 2000
In a deal that rocked Mariners fans, new GM Pat Gillick got what he could from the Reds after Griffey made it clear he wanted out after 11 seasons in Seattle. And considering Griffey controlled where he could be shipped, thanks to his 10-5 rights, Gillick wound up getting a pretty good return for the best player in franchise history. Cameron wound up being a popular replacement in center, winning a pair of Gold Gloves and an All-Star berth in four seasons in Seattle and playing a key role on the 116-win club in 2001. Tomko pitched two seasons for the Mariners, while the other two never made the big league club. Griffey, of course, eventually wound up returning to Seattle for two final seasons before retiring.
3. Big Apple blockbuster
Mariners got from Mets: OF Jay Bruce, RHP Anthony Swarzak, RHP Gerson Bautista, OF Jarred Kelenic, RHP Justin Dunn
Mariners gave up: 2B Robinson Cano, RHP Edwin Diaz
Date: Dec. 3, 2018
Tough to top this one in terms of star power, given Dipoto dealt one of the game's premier players in Cano and a closer in Diaz who was coming off a near-MLB record 57-save season in an effort to gain youth and financial flexibility going forward. Cano still had five years and $120 million remaining on his original 10-year contract, but the eight-time All-Star was 36 years old and didn't fit in Dipoto's rebuilding plans. Bruce was a three-time All-Star himself, but the real prizes for the Mariners were highly regarded prospects Kelenic and Dunn, both first-round Draft picks in 2016 and '18, respectively.
4. Age didn't matter
Mariners got from Red Sox: LHP Jamie Moyer
Mariners gave up: OF Darren Bragg
Date: July 30, 1996
Another gem for Woodward, whose midseason pickup of a much-traveled 33-year-old Moyer turned into 11 years of misery for opposing teams as the soft-tossing lefty went 145-87 with a 3.97 ERA in 324 games. Moyer had a pair of 20-plus-win seasons for Seattle and held the club record for wins until eventually being surpassed by Felix Hernandez more than a decade later. Bragg was a solid outfielder for 2 1/2 seasons for Boston, but Moyer became a Mariners Hall of Famer.
5. Big haul for the Big Unit
Mariners got from Astros: RHP Freddy Garcia, SS Carlos Guillen, LHP John Halama
Mariners gave up: LHP Randy Johnson
Date: July 31, 1998
Johnson not only was a coup for Woodward when he was acquired, he wound up paying off again on his way out as the Mariners acquired three young players who became key components in their playoff teams in 2000 and 2001 in exchange for two months of Johnson before he hit free agency. Garcia was a two-time All-Star and went 76-50 in six seasons for Seattle, while Halama went 41-31 in four seasons and Guillen spent the first six years of a solid 14-year MLB career with the Mariners.
6. Good to the Bone
Mariners got from Yankees: OF Jay Buhner, RHP Rick Balabon
Mariners gave up: DH Ken Phelps, RHP Troy Evers
Date: July 21, 1988
Buhner was a well-regarded 23-year-old prospect with the Yankees who'd hit 31 homers the previous season in Triple-A, but they gave him up for the more-established bat of Phelps. Bad move for George Steinbrenner, who eventually wound up getting roasted in a Seinfeld episode for the lopsided deal as Buhner became a Mariners Hall of Famer with an outstanding 13-plus-year career in Seattle, while Phelps played just two mediocre seasons in the Bronx before being traded to the A's for Minor Leaguer Scott Holcomb.
7. Quite a catch
Mariners got from Reds: C Dan Wilson, RHP Bobby Ayala
Mariners gave up: 2B Bret Boone, RHP Erik Hanson
Date: Nov. 2, 1993
Woodward gave up a young Boone -- who later returned to Seattle for his prime years -- and a quality pitcher in Hanson in his final year before free agency, and landed a franchise institution in Wilson in return. Wilson wound up catching 12 seasons in Seattle and was a key member of all four of their playoff clubs in that run, eventually becoming a Mariners Hall of Famer and an integral part of the community. Ayala wound up as an oft-criticized closer, but he did save 56 games for Seattle and pitched in 292 games over five seasons.
8. All-Star return for Dipoto
Mariners got from D-backs: OF Mitch Haniger, SS Jean Segura, LHP Zac Curtis
Mariners gave up: RHP Taijuan Walker, SS Ketel Marte
Date: Nov. 23, 2016
Dipoto quickly showed his willingness to wheel and deal, but his most significant trade in his initial seasons in Seattle came when he acquired Haniger and Segura, who both became American League All-Stars in their second years with the Mariners.
9. Quantity counts for something
Mariners got from Mets: LHP Jason Vargas, RHP Aaron Heilman, OF Endy Chavez, 1B Mike Carp, OF Ezequiel Carrera, RHP Maikel Cleto
Mariners got from Indians: CF Franklin Gutierrez
Mariners gave up to the Mets: RHP J.J. Putz, RHP Sean Green, OF Jeremy Reed
Mariners gave up to the Indians: INF Luis Valbuena
Date: Dec. 11, 2008
GM Jack Zduriencik wasted no time making a blockbuster at his first Winter Meetings, pulling off a three-team, 12-player deal that landed some pretty key players for Seattle. Gutierrez wound up playing seven seasons in the outfield for the Mariners, Vargas was a solid piece in the rotation for four years and Chavez and Carp saw some playing time as well. While Putz had been an All-Star closer for the Mariners, he struggled in one season for the Mets before becoming a free agent.
10. A short-term coup
Mariners got from Phillies: LHP Cliff Lee
Mariners gave up: RHP Phillippe Aumont, RHP J.C. Ramirez, CF Tyson Gillies
Date: Dec. 16, 2009
Zduriencik made an outstanding deal to land Lee -- one of the game's top lefties -- for three Minor Leaguers who never made a dent with the Phillies. Lee was available because he was entering his final season before free agency, and he went 8-3 with a 2.34 ERA in 13 starts before the Mariners flipped him to the Rangers along with reliever Mark Lowe in July for first baseman Justin Smoak, right-handers Blake Beavan and Josh Lueke and infielder Matt Lawson. That haul didn't turn out as well as hoped, but Lee was a rental player and the Mariners really didn't give up much to get him in the first place.