10 biggest trades in Yankees history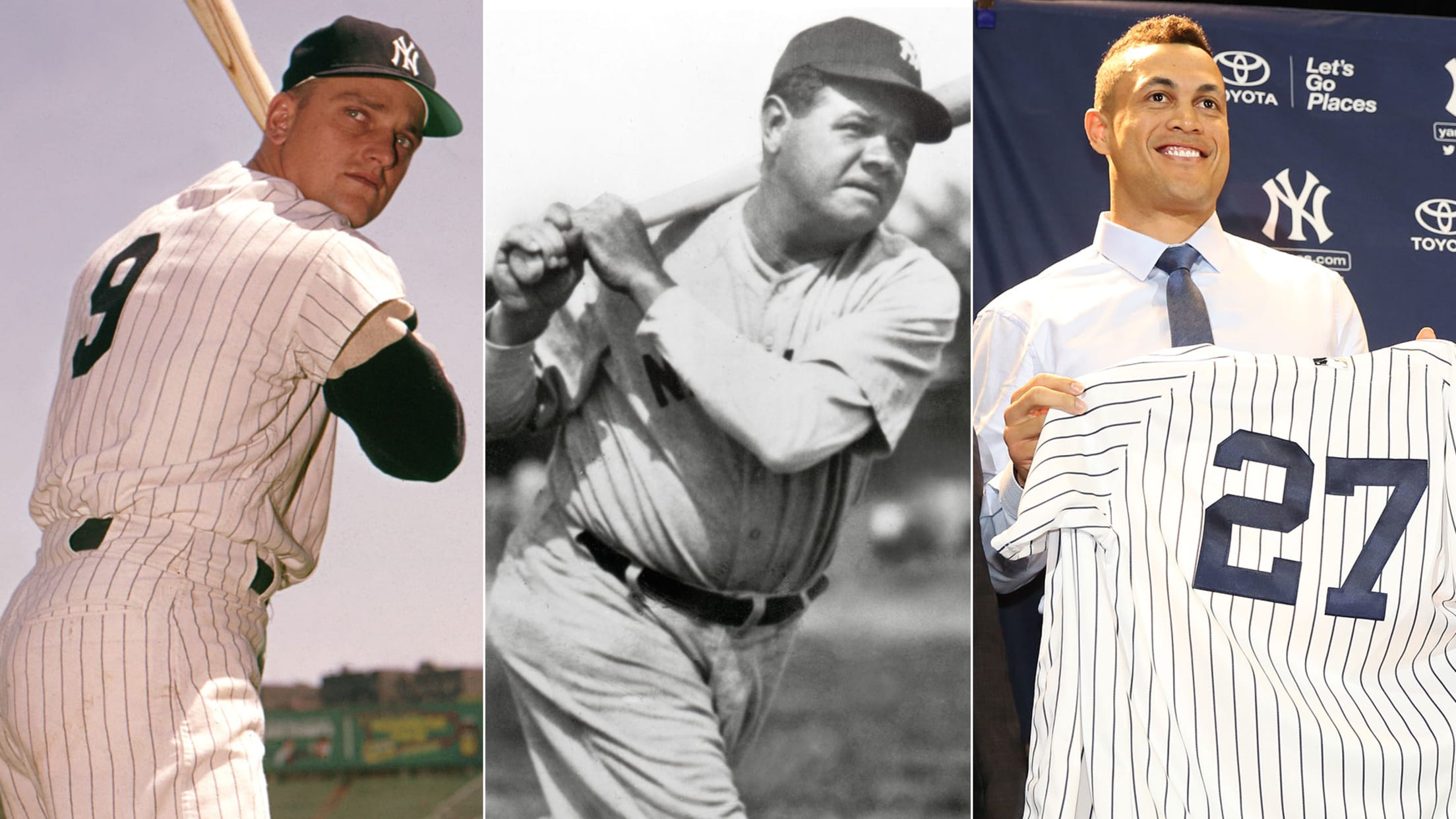 Dating to the birth of their first dynasty nearly a century ago, the Yankees have enjoyed a storied history of improving their club via trades. In the years since the team traded for the greatest player in history, superstars have called the Bronx home while developing into legends, and previously
Dating to the birth of their first dynasty nearly a century ago, the Yankees have enjoyed a storied history of improving their club via trades.
In the years since the team traded for the greatest player in history, superstars have called the Bronx home while developing into legends, and previously little-known performers made indelible marks while contributing to championships.
As general manager Brian Cashman continues to evaluate the available markets to improve the current Yankees roster, here is a look back at the most substantial trades in franchise history:
1. "The Curse of the Bambino"
Yankees got from Red Sox: RF Babe Ruth
Yankees gave up: $125,000, plus a $300,000 loan
Date: Jan. 3, 1920
Ruth played six seasons with the Red Sox, leading them to three championships on the mound and at the plate. Taking over a sixth-place club, owner Harry Frazee sold Ruth, using some of the cash to finance his Broadway interests. Ruth led the Yankees to seven pennants and four championships, including hitting a remarkable 60 home runs in 1927. He ended his 22-year career with 714 home runs, a mark that stood until 1974. The Red Sox didn't win another title until 2004.
2. Trade of the decade: Yankees land A-Rod
Yankees got from Rangers: SS Alex Rodriguez
Yankees gave up: IF Alfonso Soriano, IF Joaquin Arias
Date: Feb. 16, 2004
Rodriguez was coming off an MVP campaign when the Yankees grabbed the game's highest-paid player, swooping in after an agreed-upon trade with the Red Sox was nixed. Rodriguez waived his no-trade clause and agreed to move to third base, winning the American League MVP in 2005 and '07, then the '09 World Series. His career marked a series of dizzying highs and lows. Rodriguez was suspended for all of 2014 for performance-enhancing drug use and retired with 696 homers, fourth all-time.
3. Big G, Big Apple
Yankees got from Marlins: RF Giancarlo Stanton
Yankees gave up: 2B Starlin Castro, SS Jose Devers, RHP Jorge Guzman
Date: Dec. 11, 2017
A power-hitting right fielder was not on the shopping list as they entered the offseason of 2017-18, not with Aaron Judge already on the roster, but Stanton proved too appealing to pass on. The reigning National League MVP, Stanton said he would waive his no-trade clause only for the Dodgers or Yankees. In his first season with New York, Stanton led the team with 38 homers and 100 RBIs.
4. Making the M&M Boys
Yankees got from Athletics: RF Roger Maris, SS Joe DeMaestri, 1B Kent Hadley
Yankees gave up: RF Hank Bauer, RHP Don Larsen, 1B/OF Norm Siebern, 1B Marv Throneberry
Date: Dec. 11, 1959
Teamed with Mickey Mantle, Maris pursued Ruth's single-season record of 60 home runs during the 1961 campaign, connecting for his 61st homer on the season's final day to establishing a mark that would stand until 1998. A Yankee through 1966, Maris was the AL MVP in each of his first two seasons in New York, hitting 100 homers and driving in 253 runs over that span. He won a Gold Glove in 1960 and was selected to both AL All-Star teams in '60, '61 and '62.
5. Landing the Rocket
Yankees got from Blue Jays: RHP Roger Clemens
Yankees gave up: IF Homer Bush, LHP Graeme Lloyd, LHP David Wells
Date: Feb. 18, 1999
Coming off a franchise-record 114 wins, the Yankees seemed to be locks to repeat when they added Clemens to their formidable rotation. Clemens had gone 20-6 with a 2.65 ERA the previous year, winning his second consecutive AL Cy Young Award and fifth overall. Over five seasons with New York from 1999-2003, Clemens went 77-36 with a 3.99 ERA in 157 starts, then returned for a cameo in '07. Wells was nine months removed from pitching a perfect game in pinstripes and, after a pair of strong years in Toronto, returned to the Yankees from 2002-03.
6. Arrival of 'The Warrior'
Yankees got from Reds: RF Paul O'Neill and 1B/OF Joe De Berry
Yankees gave up: CF Roberto Kelly
Date: Nov. 3, 1992
The acquisition of the intense, left-handed-hitting O'Neill is remembered as a crucial move for the late 1990s dynasty, with general manager Gene Michael credited for targeting O'Neill due to his excellent plate discipline. Though parting with Kelly had not been popular at the time, O'Neill flourished, posting a terrific .359/.460/.603 slash line during the strike-shortened 1994 season and hitting .303/.377/.492 over his entire Yankees career from 1994-2001. Kelly lasted less than 1 1/2 seasons in Cincinnati, playing for eight teams in a 14-year career.
7. Man of Steal
Yankees got from Athletics: CF Rickey Henderson, RHP Bert Bradley
Yankees gave up: LHP Tim Birtsas, RHP Jay Howell, OF Stan Javier, RHP Eric Plunk, RHP Jose Rijo
Date: Dec. 5, 1984
One of the most electrifying stars of the 1980s, Henderson largely played up to expectations during his 4 1/2 seasons in pinstripes, though the future Hall of Famer's contributions are frequently overlooked because the team failed to make the playoffs. An All-Star in each of his four full seasons with New York, Henderson batted over .300 twice, led the AL in runs twice and in stolen bases three times. He amassed 326 stolen bases, establishing a franchise record that stood until Derek Jeter broke it in 2011, and hit 78 homers.
8. A 'perfect' move
Yankees got from Blue Jays: RHP David Cone
Yankees gave up: RHP Mike Gordon, RHP Jason Jarvis, RHP Marty Janzen
Date: July 28, 1995
Cone had seen plenty of action when he arrived midseason, then proved that there was a lot left in the tank. The 1994 AL Cy Young Award winner, the wily Cone went 9-2 with a 3.82 ERA in 13 starts at the end of '95, then stuck around for the budding dynasty. Cone was 64-40 with a 3.91 ERA over six years with the Yanks, including a 20-win season in 1998 and a 1999 perfect game over the Expos.
9. The Bam-Tino
Yankees got from Mariners: 1B Tino Martinez, RHP Jim Mecir, RHP Jeff Nelson
Yankees gave up: 3B Russ Davis, LHP Sterling Hitchcock
Date: Dec. 7, 1995
Taking over at first base following Don Mattingly's retirement, Martinez became a fixture in the heart of the Bombers' order, slugging 175 homers with 690 RBIs from 1996-2001. He finished second in the 1997 AL MVP race and earned a reputation for delivering in games that counted most, cracking a grand slam in Game 1 of the 1998 World Series and a dramatic game-tying homer in Game 4 of the 2001 Fall Classic. A bonus to the trade was Nelson, whose nasty slider helped set up Mariano Rivera during the dynasty years.
10. Beam me up, Scotty
Yankees got from Athletics: 3B Scott Brosius
Yankees gave up: LHP Kenny Rogers
Date: Nov. 18, 1997
The Yankees were looking to unload the disappointing Rogers, who'd logged a 5.65 ERA in 1997, when they found a match with Oakland. At best, Brosius could be the starting third baseman, but they also were prepared for the possibility that he'd be a utility infielder. Brosius produced an All-Star season in 1998, hitting .300 with 19 homers and 98 RBIs, then batted .471 in a World Series sweep of the Padres to secure MVP honors. Brosius played his final four seasons in pinstripes, winning three titles and four pennants.