These 10 qualifying-offer choices won't be easy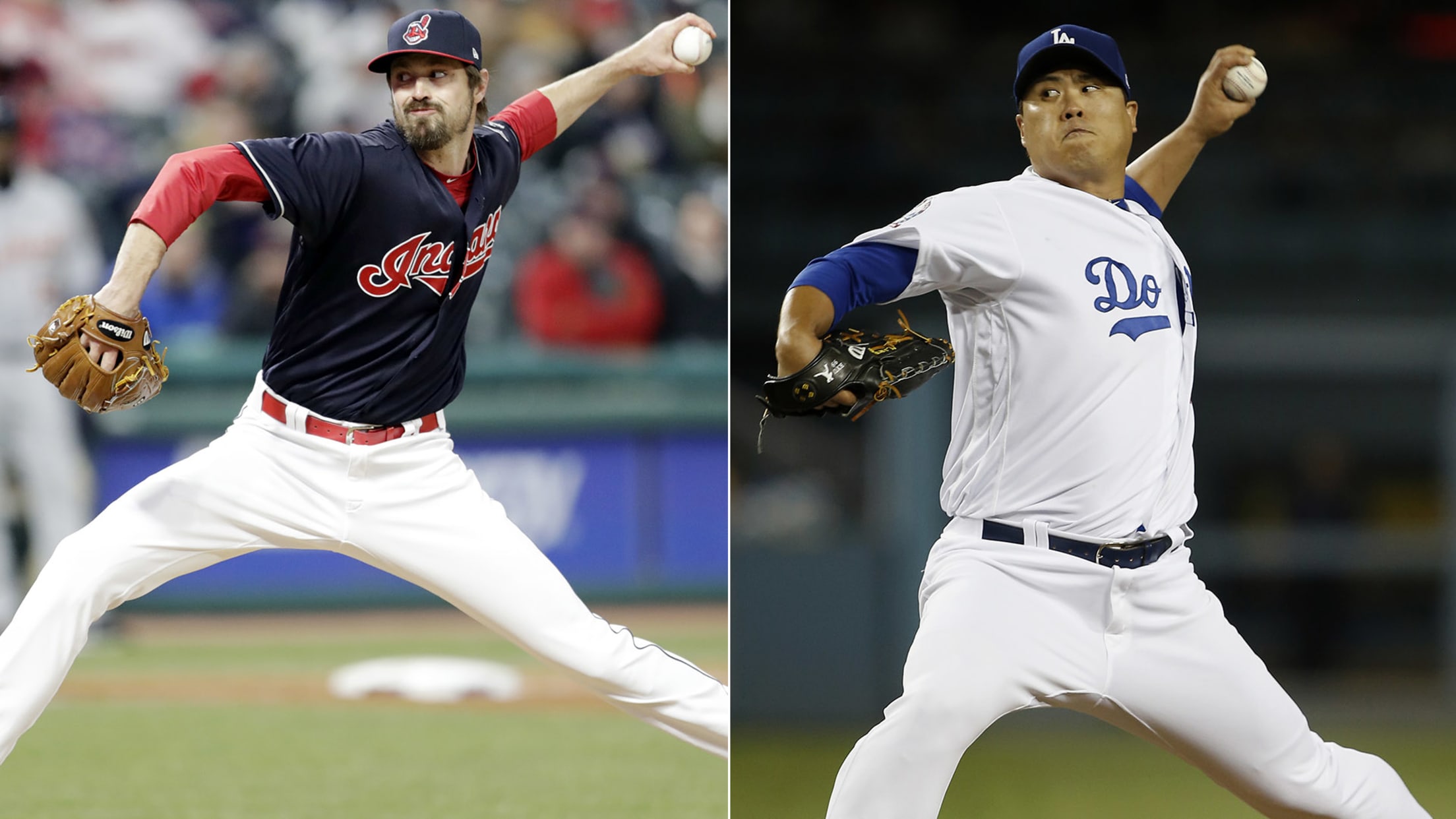 Since its 2012 inception, baseball's qualifying offer system has provided a fascinating little cat-and-mouse game between teams and their potentially departing players.For those who need a refresher in this process, teams have until five full days after the conclusion of the World Series to make a one-year qualifying offer to
Since its 2012 inception, baseball's qualifying offer system has provided a fascinating little cat-and-mouse game between teams and their potentially departing players.
For those who need a refresher in this process, teams have until five full days after the conclusion of the World Series to make a one-year qualifying offer to their free agents, and the players have 10 days to accept or reject the offer. This year's qualifying offers will reportedly be valued at $17.9 million. Those who reject the offer are tied to Draft pick compensation, meaning their former teams can recoup a pick when the player signs elsewhere (the many ins and outs with regard to the placement of those picks are reviewable here).
Sometimes, qualifying offers are no-brainers for both parties. That will, in all likelihood, be the case with Bryce Harper, Dallas Keuchel, Patrick Corbin and Craig Kimbrel in this offseason's market. Their teams will make the offer, and they will turn the offer down to explore greener pastures. Actually, 95 percent of all qualifying offers made since 2012 have been turned down, so this process is generally used as a means for teams to pick up picks, not to actually extend relationships.
But free agency has changed in a big way the past couple years, and the ever-rising value of the qualifying offer -- as well as the value teams place on the picks they're giving up to sign players tied to compensation, thereby affecting open-market offers -- makes many of these decisions more nuanced for both sides.
Here are 10 examples in this offseason's free-agent class in which there are good arguments for and against a club extending the offer, along with guesses as to what will go down.
A.J. Pollock, CF, D-backs
Pollock can be an electric player when healthy, but he's not healthy enough. He's played just 237 games over the past three years, and the lost time has dragged down his overall offensive contributions. And with the D-backs trying to pare down their franchise-record payroll, a $17.9 million investment would be a risky expenditure.
Verdict: There are very valid arguments for passing on Pollock, but at the same time, there is doubt that he'd accept a one-year deal at age 30 without exploring what this market light on center fielders has to offer him. So this feels like a worthwhile gamble for a club that needs to stockpile depth in the system.
Andrew Miller, LHP, Indians
Elite relievers still fared pretty well for themselves in last year's otherwise depressed free-agent market, but it's an open question whether Miller still qualifies as elite after a 2018 season in which shoulder, knee and hamstring issues limited him to 34 innings. His once-unhittable slider simply wasn't the same in the Indians' brief postseason appearance. But few relievers in the open market possess the kind of pedigree that Miller has.
Verdict: With nearly $100 million committed to 11 players and Francisco Lindor and Trevor Bauer due for big raises in arbitration, the Indians' budget might be stretched too thin to offer Miller what would amount to a one-year pillow contract worth slightly more than Wade Davis' standard-bearing average annual value.
Michael Brantley, LF, Indians
Obviously, the Tribe's financial picture is no different here, so there would be risk in making the offer to a player who logged just 101 games played in 2016-17. But Brantley's healthy and productive '18 (.309/.364/.468) make him ripe to test the market in advance of his age-32 season.
Verdict: Brantley's increasingly rare bat-to-ball skillset (he had the highest contact rate in MLB this year) offsets many of the concerns about his age and injury history. He has ample incentive to turn down the qualifying offer, which means the Indians have ample incentive to make the offer.
Yasmani Grandal, C, Dodgers
Grandal's 2018 (.241/.349/.466 slash) may have been his finest season yet, and he's well-regarded for his pitch-framing. But he has lost playing time in the past two postseasons to Austin Barnes, including after some high-profile passed balls in this National League Championship Series. And only two catchers -- Yadier Molina and Buster Posey -- will enter 2019 with an average annual value higher than the value of this qualifying offer.
Verdict: Recent defensive issues aside, Grandal was probably baseball's second-best catcher this year behind J.T. Realmuto, and he'll only be 30 next season. The offer seems worth the risk for a team with deep pockets.
Hyun-Jin Ryu, LHP, Dodgers
Ryu has made just 40 starts since 2014, having endured a litany of injury issues, including shoulder surgery. So on the surface, there's little reason to extend him the offer. That said, with a 1.97 ERA and 198 ERA+ in 15 regular-season starts in 2018 and some high-profile success on this postseason stage, maybe the decision is not quite as clear-cut as we would have thought going into 2018.
Verdict: This free-agent market has depth in the starting realm, so $17.9 million for one year of Ryu, with his inherent health risks, would probably not rate as good value.
DJ LeMahieu, 2B, Rockies
LeMahieu had a brief and unsustainable offensive surge in 2016, when he won a batting title and enjoyed a huge power surge. Since then, he's actually rated as a below-average offensive contributor. But LeMahieu is still a solid all-around player with strong defensive value up the middle.
Verdict: With the free-agent market pretty well stocked at second base (Daniel Murphy, Ian Kinsler, James Dozier, etc.) and some good infield talent in their system, the Rox should pass on making this offer.
Jed Lowrie, 2B, A's
At 34, Lowrie enjoyed a homer surge in 2018, but his numbers overall fell right in line with his strong 2017 output (120 OPS+ marks both years). He's enjoyed a two-year run of good health after many issues in that department in the past.
Verdict: Hard to imagine the necessarily frugal A's risking a $17.9 million investment in a single player, especially a 35-year-old player. More likely, the two sides will try to work out a multi-year extension of what has been a fruitful relationship.
Marwin Gonzalez, UTL, Astros
Gonzalez could not approximate his 2017 offensive impact (.907 OPS, 23 homers, 34 doubles) this year, as his numbers tumbled back in line with his career norm. But he'll be 30 next season, can play all over the diamond and has had some huge hits in this postseason to remind us what an important player he is to the Astros.
Verdict: The overall offensive regression this season is real, but so is the value of versatility in today's game. Gonzalez can probably land an attractive multiyear guarantee (albeit not at $17.9 million in average annual value), so the offer appears worthwhile.
Charlie Morton, RHP, Astros
Morton has hinted at retirement to spend more time with his growing family, but the prevailing sentiment is that he'll likely come back for at least one more year. He had a brief disabled list stint with a shoulder issue late in 2018, but, ultimately, finished with his second-highest innings total (167) and a career-best ERA (3.13).
Verdict: This is the rare situation in which the qualifying offer might make a lot of sense for both sides. The Astros would lock Morton in for one year at a rate commensurate with his impact, and Morton would have the flexibility to walk away a year from now after earning a nice premium for an extension of his services.
Nick Markakis, RF, Braves
Markakis' All-Star bid and offensive resurgence (.297/.366/.440) was one of the great stories of the season and a big reason why the Braves won the NL East ahead of schedule. His durability (at least 155 games played in 11 of the past 12 seasons) is an added asset, though he is entering his age-35 season.
Verdict: As good as Markakis was on measure in 2018, his numbers did tumble in the second half, and his age likely means Atlanta could work out a more team-friendly deal with him than the $17.9 million qualifying offer, if the club is so inclined.