10 trade throw-ins who turned into stars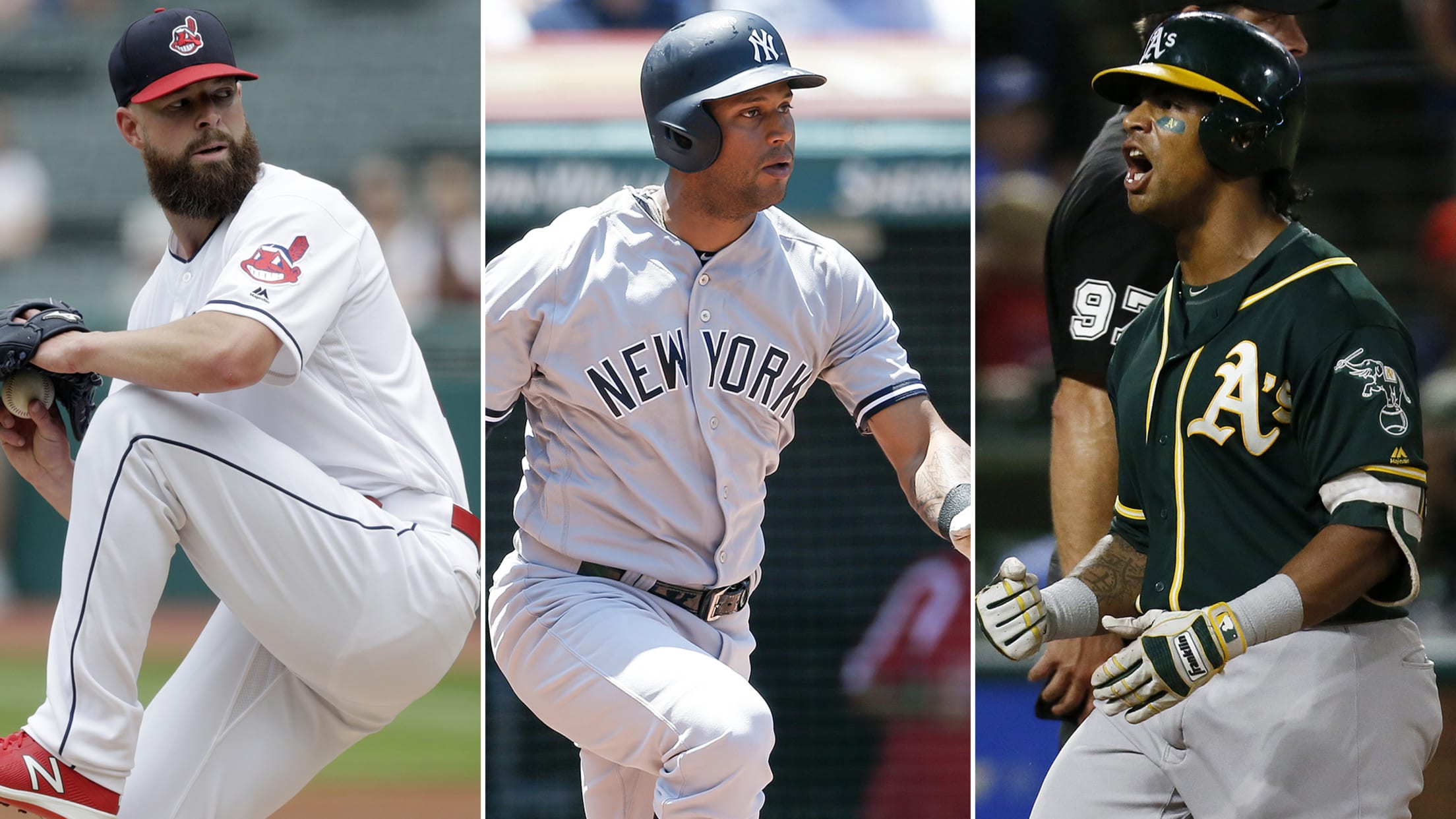 A version of this story was originally published on July 31, 2018. On Wednesday in St. Petersburg, the Rockies sent starter German Marquez out to oppose Charlie Morton, and Marquez is an arm you should know by now. For all the admittedly deserved hype over Kyle Freeland in 2018, it
A version of this story was originally published on July 31, 2018.
On Wednesday in St. Petersburg, the Rockies sent starter German Marquez out to oppose Charlie Morton, and Marquez is an arm you should know by now. For all the admittedly deserved hype over Kyle Freeland in 2018, it was actually Marquez who was the second-best starter in the Majors in the second half last year. For some, he was a sneaky 2019 NL Cy Young pick. In his first start of 2019, he allowed one run in six innings in Colorado's 6-1 victory over the Marlins.
But you probably didn't know Marquez a year ago, and you definitely didn't three years ago, when the Rockies acquired him in the first place. You're trying to think about what organization he began with, what trade brought him to Colorado. You're understandably having a fairly difficult time coming up with the answer, and that's because Marquez wasn't the headliner in his own trade.
Back in 2016, the Rockies and Rays made a somewhat notable deal. Outfielder Corey Dickerson went to Tampa Bay, and reliever Jake McGee went back to Colorado. As the headline on the video that led the MLB.com article at the time read: "Rockies trade Corey Dickerson to the Rays for Jake McGee in deal that includes prospects."
Marquez was one of those prospects, and now the Rays have to deal with him throwing flames at them in the home park that might have been his. This all made us think: What other interesting or productive players were acquired as pieces of deals you barely noticed at the time? If you thought about the Dickerson / McGee deal, it wasn't because of Marquez. Here's some more of our favorites.
It's a fun list.
Nov. 20, 2017: Ramon Laureano from Astros to A's for Brandon Bailey
It's OK if this deal didn't register, because Laureano was coming off a .227/.299/.369 season in Double-A, and this was largely about roster management ahead of the Rule 5 deadline. Then he arrived in Oakland last summer and was something of a breakout name, hitting well (.288/.358/.474), making that throw, and winning the A's center field job for 2019. He hasn't hit much in the early going, but he's already showing off that 80-grade arm, as Xander Bogaerts found out.
Jan. 19, 2017: Luis Castillo from Marlins to Reds for Dan Straily
Castillo probably could have been on this list twice, because he was originally traded from the Giants to the Marlins in 2014's Casey McGehee deal. Or three times, because the Marlins tried to trade him to the Padres in 2016's injury-strewn and somewhat-reversed Colin Rea-Andrew Cashner deal. He wasn't a nobody when he was dealt as part of a package for Dan Straily two years ago -- he was Miami's No. 5 prospect at the time -- but you don't get traded this often if you're that highly valued.
Straily had a 4.20 ERA in two years for Miami before being released last month. Castillo, who just turned 26, had a strong 2017 debut (eighth in the NL Rookie of the Year ballot), and even though he took a small step back in 2018, he still struck out three times as many as he walked, and was Cincinnati's Opening Day starter this year.
July 30, 2016: Felipe Vazquez from Nationals to Pirates for Mark Melancon
Pirates fans hated this deal at the time, as their longtime closer was sent to a NL rival. We assume they feel differently now, because the All-Star Vazquez has quickly become one of the most dominant relievers in the game, compiling a 2.32 ERA and more than 10 strikeouts per nine since his arrival in Pittsburgh. "We've strengthened '17 and '18, and we've dealt from an area of strength," said GM Neal Huntington, and that's been proven and then some.
Bonus: the Pirates also got prospect Taylor Hearn in this trade, and he was flipped to Texas to add Keone Kela, who has been effective in parts of two seasons.
June 30, 2016: Chris Paddack from Marlins to Padres for Fernando Rodney
The Marlins might have had an interesting young rotation if they'd kept Castillo, Paddack, and Anthony DeSclafani, dealt to the Reds in 2014's Mat Latos deal. Back in 2016, just four games out of first at the July 31 deadline, they gave up Paddack for the 39-year-old Rodney. It didn't work; no team in the NL had a worse winning percentage than their .393 after the trade. Paddack, meanwhile, had been dominating at Class A -- he'd had 48 strikeouts against two walks in six games for Greensboro -- though he'd get into just three games in the San Diego minors before requiring Tommy John surgery. He made his debut last week, holding the Giants to one run in five innings; at 23, he's expected to be a huge part of the Padres future.
June 19, 2016: Chris Taylor from Mariners to Dodgers for Zach Lee
In 2016, Lee was a failed Dodgers prospect, and Taylor was a failing Mariners prospect. You know this story by now; Taylor famously changed his swing and became a breakout star for the Dodgers, hitting 38 homers in 2017 and 18 while making starts all over the field. Lee never pitched for the Mariners, and after throwing eight innings (with eight walks) for the 2017 Padres, hasn't appeared in the big leagues since.
June 4, 2016: Fernando Tatis Jr. (and Erik Johnson) from White Sox to Padres for James Shields
Speaking of summer '16 trades that built the San Diego future, this one might go down in the all-time annals of heists, at least if it plays out like the Padres hope. A few weeks before the Paddack deal, the Padres traded the veteran Shields to the White Sox, and as the article at the time makes clear, the return in order of prominence was A) being rid of Shields, B) pitcher Johnson, and C) Tatis.
Johnson pitched four games for the Padres and is out of baseball. Shields had a 5.31 ERA in 77 games for the White Sox and is out of baseball. The 20-year-old Tatis, meanwhile, became the youngest Opening Day starter in decades and is already looking every bit the star he's expected to be.
Feb. 12, 2016: Khris Davis from Brewers to A's for Jacob Nottingham and Bubba Derby
We're fudging a little bit here, because Davis wasn't a prospect; he was a young veteran with parts of three seasons under his belt with the Brewers. But at the time of the trade, the Brewers wanted catching depth and to clear an outfield spot for the recently-acquired Domingo Santana. There's still hope for Nottingham to turn this one around, because he's only 24 and made his debut last year, but despite moving to a tougher hitter's park, Davis has made this look like a steal for the A's, especially with the five homers he's already hit to begin 2019.
No one -- not J.D. Martinez, Giancarlo Stanton, Mike Trout, not anyone -- has hit more home runs since this trade than Davis' 138.
Jan. 28, 2016: Marquez (and McGee) from Rays to Rockies for Dickerson
This trade seemed fine at the time, really. The Rockies were aiming to add talent to their bullpen in McGee, Dunn, and Greg Holland, which worked out a little (2017) and then not at all (2018). The Rays were looking to add a bat, and Dickerson hit 27 homers and made an All-Star team. No one thought about Marquez as any major part of this trade, and it took him a while to get there, as he put up a 4.48 ERA in 2016-'17.
Of course, then the Rays traded Dickerson to Pittsburgh for Daniel Hudson, who never pitched for Tampa Bay. Then Marquez blossomed into an absolute star for the Rockies. They may not have known what they were getting at the time, but it's been a franchise-changer.
Dec. 9, 2015: Chad Green (and Luis Cessa) from Tigers to Yankees for Justin Wilson
Wilson was a solid reliever who was productive with the Tigers and was eventually traded for Jeimer Candelario so this isn't exactly a loss for Detroit. But before that, he was a Yankee headed to Detroit for "a pair of pitching prospects," as it was termed, who turned into much more than that. Cessa has been fine as a fill-in over the past three years, tossing 154 innings, but Green has become a star. Since 2017, Green has a 2.21 ERA and 12.2 strikeouts per nine innings for baseball's best bullpen, often throwing multiple frames.
Dec. 9, 2015: Freddy Peralta from Mariners to Brewers for Adam Lind
No, you didn't notice the 2015 Winter Meetings deal that sent Lind to the Mariners for three teenaged minor league pitchers. Peralta was in Rookie ball for Seattle at the time and barely warranted a mention in the article. Lind had an unimpressive 2016 for the Mariners and after one more season in the bigs, he was done. Peralta turned heads by striking out 13 in his Major League debut, thanks in part to spin and deception. While his first start in 2019 was a rough one, he showed signs of added velocity, and he's not even 23 until June.
Bonus: You don't need us to tell you how great Josh Hader has been for Peralta's Brewers. He'd been traded from the Orioles to Houston in 2013 for Bud Norris, then from the Astros to the Brewers in 2015 as a part of the larger Carlos Gomez / Mike Fiers / Brett Phillips / Domingo Santana deal.
Nov. 11, 2015: Aaron Hicks from Twins to Yankees for John Ryan Murphy
Yankees general manager Brian Cashman called this one "an independent, straight up, good old-fashioned baseball trade -- a lot of talent for a lot of talent," while Twins assistant GM Rob Antony said that "it was tough to part with [Hicks], because he started to turn the corner last year." At the time, the Twins thought they could part with Hicks because they were deep in outfielders with Byron Buxton, Eddie Rosario, Max Kepler and Miguel Sano, while the Yankees had catchers Gary Sanchez and Austin Romine so they could part with Murphy.
Murphy hit .146/.193/.220 in 26 games for the Twins before being traded to Arizona. Hicks, meanwhile, has overcome injury concerns and a poor 2016 debut to become the everyday center fielder for the Yankees. Since the start of '17, Hicks has hit .255/.368/.470 with 42 homers and good defense, leading to a seven-year contract extension this offseason.
Oct. 24, 2015: Trevor Williams from Marlins to Pirates for ... well, it's complicated
Williams has been a solid starter for the Pirates, posting a 3.01 ERA in 32 starts since the start of 2018, but he started out as a Miami Minor Leaguer, joining the Pittsburgh organization in an October 2015 trade for Richard Mitchell, a non-prospect who never pitched in a game at any level for the Marlins. That's not the entire story, however. The trade was actually compensation for Miami hiring executive Jim Benedict away from the Pirates. Benedict stayed with the Marlins for two seasons before joining the Cubs. The Marlins could have had quite the young rotation.
July 28, 2015: Nick Pivetta from Nationals to Phillies for Jonathan Papelbon
While some teams are hesitant to trade within its division, this one is a fantastic example of the counterpoint to that approach: If you're going to extract a prospect from someone, why not take them away from a direct competitor? That's what the Phillies did when they sent high-profile closer Papelbon to the Nats, paying part of his contract to do so. Papelbon was OK in parts of two seasons before the Nationals cut him about a year after the trade.
At the time, Pivetta was the Nationals' No. 12 prospect, and he only had a 5.33 ERA in his first two seasons with the Phillies, but thanks in part to a strong curveball and excellent strikeout numbers, he's become one of 2019's most popular breakout picks.
Dec. 11, 2014: Eugenio Suarez from Tigers to Reds for Alfredo Simon
Detroit made two big trades on the first day of the 2014 Winter Meetings, picking up Yoenis Cespedes for Rick Porcello and veteran starter Simon from the Reds. This was a problem on two fronts, because the pair of deals weakened the Tigers' rotation -- Simon had a 5.05 ERA in his lone year with Detroit -- and cost them Suarez, at the time considered a light-hitting shortstop. (Cespedes was at least dealt for Michael Fulmer several months later.)
That's because Suarez hit .242/.316/.336 as a Detroit rookie in 2014, and he had a .417 career slugging percentage in the Minors. Of course, that's no longer the case. Suarez has blossomed into a slugger -- since '16, he's out-slugged Anthony Rizzo and Edwin Encarnacion -- and after signing a seven-year deal last spring, he's become a building block of the Reds' future.
Aug. 7, 2014: Mike Clevinger from Angels to Indians for Vinnie Pestano
Pestano was a solid reliever for a few years with Cleveland, but by 2014, he was in Triple-A trying to make it back from arm injuries when he was traded to his hometown Angels in an August deal. He made 31 appearances for the Angels from 2014-15, and is currently out of baseball. At the time, Clevinger was a lottery ticket, one carrying a 5.37 ERA in Class A Advanced in his first year back from Tommy John surgery.
He'd get to the big leagues in 2016, and he's been a regular member of an elite Cleveland rotation over the past two years, putting up a 2.98 ERA in 60 games since 2017.
July 31, 2012: Kyle Hendricks (and Christian Villanueva) from Rangers to Cubs for Ryan Dempster
Seven years ago, the Rangers needed a starter, thanks to injuries to Colby Lewis and Neftali Feliz and ineffectiveness from Roy Oswalt. So they turned to the rebuilding Cubs for the 35-year-old Dempster, who had a nice 2.25 ERA that was completely unsupported by advanced metrics. Dempster didn't contribute nearly as much to Texas, as he had a 5.09 ERA in 12 starts for the Rangers and a decent 2013 for Boston before retiring.
It was actually Villanueva who was the bigger name for the Cubs, though he eventually got stuck behind Kris Bryant before surfacing with the Padres. But the soft-tossing Hendricks, at the time pitching for Class A Advanced Myrtle Beach, has become a huge part of some of the best Cubs teams in history, contributing a 3.07 ERA over 793 1/3 innings.
July 31, 2010: Corey Kluber from Padres to Indians in three-team deal including Cardinals
This, along with the Jake Arrieta trade, is perhaps the pinnacle of the genre, because Kluber didn't just work out well, he's a two-time Cy Young Award winner who's regularly in the "best pitcher in baseball" conversation. At the time, the National League West-leading Padres badly wanted a bat, namely St. Louis outfielder Ryan Ludwick. But in order to match up, they had to include Cleveland, who had Jake Westbrook, a starter the Cardinals coveted.
In order to make all the pieces fit, the Padres had to send a 24-year-old prospect who wasn't on any lists and was having a good-not-great year at Double-A. Three years later, Kluber established himself as a regular big league starter. He's been building a sneaky Cooperstown case ever since, with two Cy Young wins and two more top-three finishes.
Mike Petriello is an analyst for MLB.com and the host of the Statcast podcast.