10 trade throw-ins who turned into stars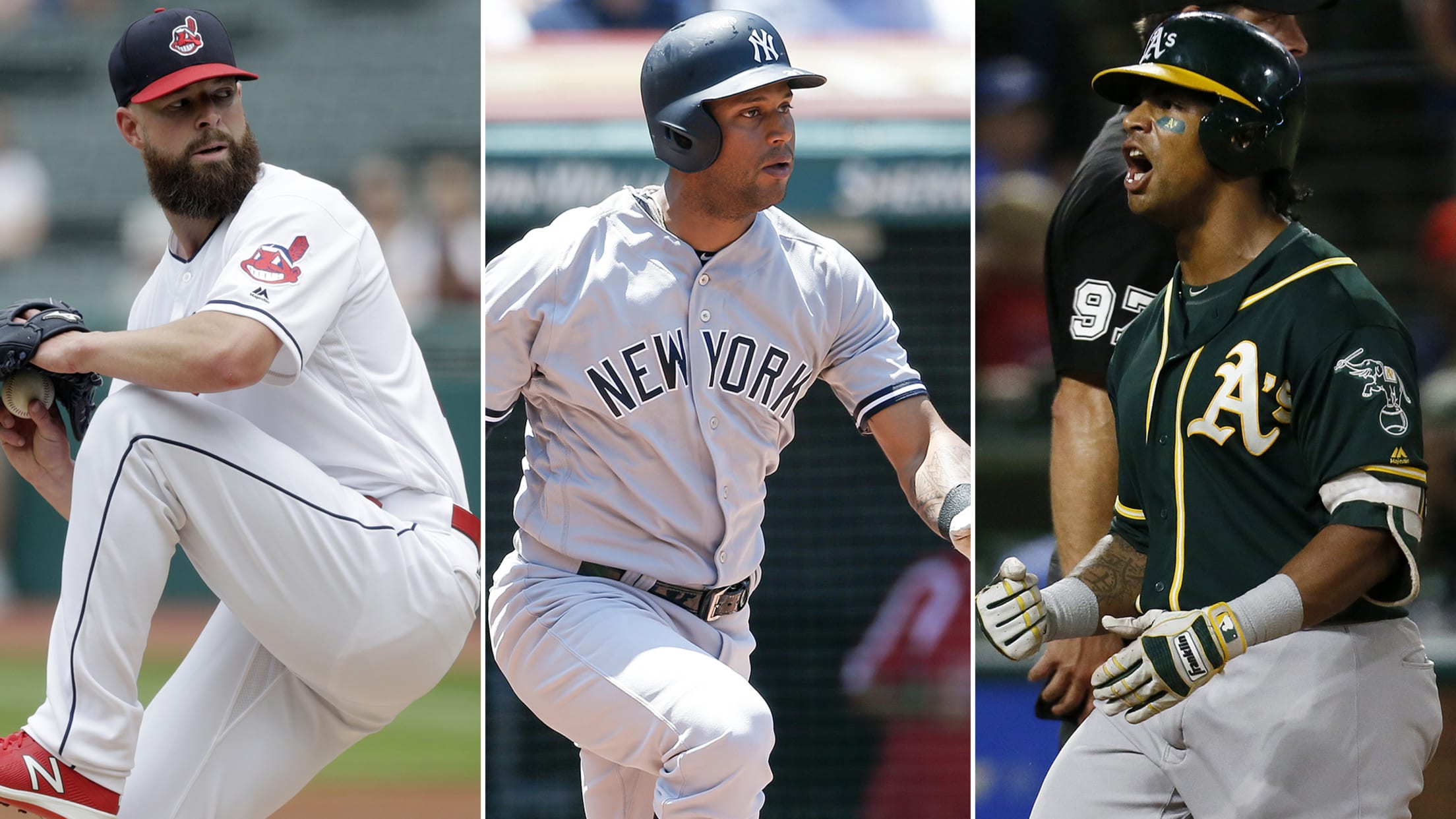 Let's look at some names. Here are some names: Taylor Hearn. Williams Jerez. Genesis Cabrera. Christopher Austin. Luis Rijo. Hector Perez. Chase De Jong. Giovanny Gallegos. Jorge Lopez. Franklyn Kilome. Jhoan Duran. Rollie Lacy. Kodi Medeiros. Billy McKinney. Michael Perez. Cody Carroll. Chad Spanberger. Bobby Wahl. Dean Kremer. Zach Pop.Who
Let's look at some names. Here are some names: Taylor Hearn. Williams Jerez. Genesis Cabrera. Christopher Austin. Luis Rijo. Hector Perez. Chase De Jong. Giovanny Gallegos. Jorge Lopez. Franklyn Kilome. Jhoan Duran. Rollie Lacy. Kodi Medeiros. Billy McKinney. Michael Perez. Cody Carroll. Chad Spanberger. Bobby Wahl. Dean Kremer. Zach Pop.
Who in the world are these guys? They're all baseball players, we promise. None of them are currently Top 100 prospects per MLB Pipeline. Some of them aren't prospects at all, and many of them will never see a day in the Major Leagues. What this group represents is but a small sample of the Minor Leaguers and up-and-down types who have been included in trades over the past two weeks.
Most of those names won't pan out, because that's how this works. But some will, even if only as role players, and some, even if it takes years from now, will be major contributors. In 2022, you might be wondering how in the world any team could be so short-sighted as to let go of Gallegos, Kilome or Carroll. It doesn't feel that way now, but you might think differently about these names in the future.
So, let's look back at 10 of our favorite trades of that type from over the past decade, the kinds of under-the-radar deals that didn't include a player regarded (at the time) as a top prospect, that might not have even garnered notice at the time and now looks like a major steal based on the progression we've seen from some of the players involved.
2010: Corey Kluber from Padres to Indians in three-team deal including Cardinals
This, along with the Jacob Arrieta trade, is perhaps the pinnacle of the genre, because Kluber didn't just work out well, he's a two-time Cy Young Award winner who's regularly in the "best pitcher in baseball" conversation. At the time, the National League West-leading Padres badly wanted a bat, namely St. Louis outfielder Ryan Ludwick. But in order to match up, they had to include Cleveland, who had Jake Westbrook, a starter the Cardinals coveted.
In order to make all the pieces fit, the Padres had to send a 24-year-old prospect who wasn't on any lists and was having a good-not-great year at Double-A. Three years later, Kluber established himself as a regular big league starter. He's been building a sneaky Cooperstown case ever since.
2012: Kyle Hendricks (and Christian Villanueva) from Rangers to Cubs for Ryan Dempster
Six years ago, the Rangers needed a starter, thanks to injuries to Colby Lewis and Neftali Feliz and ineffectiveness from Roy Oswalt. So they turned to the rebuilding Cubs for the 35-year-old Dempster, who had a nice 2.25 ERA that was completely unsupported by advanced metrics. Dempster didn't contribute nearly as much to Texas, as he had a 5.09 ERA in 12 starts for the Rangers and a decent 2013 for Boston before retiring.
It was actually Villanueva who was the bigger name for the Cubs, though he eventually got stuck behind Kristopher Bryant before surfacing with the Padres. But the soft-tossing Hendricks, at the time pitching for Class A Advanced Myrtle Beach, has become a huge part of some of the best Cubs teams in history, contributing a 3.13 ERA over 717 innings.
2014: Eugenio Suarez from Tigers to Reds for Alfredo Simon
Detroit made two big trades on the first day of the 2014 Winter Meetings, picking up Yoenis Cespedes for Rick Porcello and veteran starter Simon from the Reds. This was a problem on two fronts, because the pair of deals weakened the Tigers' rotation -- Simon had a 5.05 ERA in his lone year with Detroit -- and cost them Suarez, at the time considered a light-hitting shortstop. (Cespedes was at least dealt for Michael Fulmer several months later.)
That's because Suarez hit .242/.316/.336 as a Detroit rookie in 2014, and he has a .417 career slugging percentage in the Minors. Of course, that's no longer the case. Suarez has blossomed into a slugger -- since '16, he's out-slugged Kyle Seager and Evan Longoria -- and after signing a seven-year deal this spring, he's become a building block of the Reds' future.
2014: Mike Clevinger from Angels to Indians forVinnie Pestano
Pestano was a solid reliever for a few years with Cleveland, but by 2014, he was in Triple-A trying to make it back from arm injuries when he was traded to his hometown Angels in an August deal. He made 31 appearances for the Angels from 2014-15, and is currently out of baseball. At the time, Clevinger was a lottery ticket, one carrying a 5.37 ERA in Class A Advanced in his first year back from Tommy John surgery. He'd get to the big leagues in 2016, and he's been a regular member of an elite Cleveland rotation over the past two years, putting up a 3.28 ERA in 48 games (42 starts).
2015: Trevor Williams from Marlins to Pirates for ... well, it's complicated
Williams is a solid starter for the Pirates, posting a 3.89 ERA in 21 starts this year, but he started out as a Miami Minor Leaguer, joining the Pittsburgh organization in an October 2015 trade for Richard Mitchell, a non-prospect who never pitched in a game at any level for the Marlins. That's not the entire story, however. The trade was actually compensation for Miami hiring executive Jim Benedict away from the Pirates. Benedict stayed with the Marlins for two seasons before joining the Cubs.
2015: Aaron Hicks from Twins to Yankees forJohn Ryan Murphy
Yankees general manager Brian Cashman called this one "an independent, straight up, good old-fashioned baseball trade -- a lot of talent for a lot of talent," while Twins assistant GM Rob Antony said that "it was tough to part with [Hicks], because he started to turn the corner last year." At the time, the Twins thought they could part with Hicks because they were deep in outfielders with Byron Buxton, Eddie Rosario, Max Kepler and Miguel Sano, while the Yankees had catchers Gary Sanchez and Austin Romine, so they could part with Murphy.
Murphy hit .146/.193/.220 in 26 games for the Twins before being traded to Arizona. Hicks, meanwhile, has overcome injury concerns and a poor 2016 debut to become the everyday center fielder for the Yankees. Since the start of '17, Hicks' .261/.366/.483 line to go with excellent defense has made him as valuable as Bryce Harper, Marcell Ozuna, or Michael Conforto.
2015: Chad Green (and Luis Cessa) from Tigers to Yankees forJustin Wilson
Wilson was a solid reliever who was productive with the Tigers and was eventually traded for Jeimer Candelario, so this isn't exactly a loss for Detroit. But before that, he was a Yankee headed to Detroit for "a pair of pitching prospects," as it was termed, who turned into much more than that. Cessa has been fine as a fill-in over the past three years, tossing 126 2/3 innings, but Green has become a star. Over the last two years, Green has a 2.21 ERA and 12.3 strikeouts per nine innings for baseball's best bullpen, often throwing multiple frames.
2015: Nick Pivetta from Nationals to Phillies forJonathan Papelbon
While some teams are hesitant to trade within its division, this one is a fantastic example of the counterpoint to that approach: If you're going to extract a prospect from someone, why not take them away from a direct competitor? That's what the Phillies did when they sent high-profile closer Papelbon to the Nats, paying part of his contract to do so. Papelbon was OK in parts of two seasons before the Nationals cut him about a year after the trade.
At the time, Pivetta was the Nationals' No. 12 prospect. Though his 4.85 ERA might not show it, he's had a breakout season for the NL East-leading Phillies, striking out 134 in 107 2/3 innings.
2016: Felipe Vazquez from Nationals to Pirates for Mark Melancon
Pirates fans hated this deal at the time, as their longtime closer was sent to a NL rival. We assume they feel differently now, because the All-Star Vazquez has quickly become one of the most dominant relievers in the game, compiling a 2.38 ERA and nearly a dozen strikeouts per nine since his arrival in Pittsburgh. "We've strengthened '17 and '18, and we've dealt from an area of strength," said GM Neal Huntington, and that's been proven and then some.
Bonus: the Pirates also got prospect Taylor Hearn in this trade, and he was just flipped to Texas to add Keone Kela, who is under control for two more seasons after 2018.
2016: Khris Davis from Brewers to A's for Jacob Nottingham andBubba Derby
We're fudging a little bit here, because Davis wasn't a prospect; he was a young veteran with parts of three seasons under his belt with the Brewers. But at the time of the trade, the Brewers wanted catching depth and to clear an outfield spot for the recently-acquired Domingo Santana. There's still hope for Nottingham to turn this one around, because he's only 23 and made his debut this year, but despite moving to a tougher hitter's park, Davis has made this look like a steal for the surging A's. No one -- not J.D. Martinez, Giancarlo Stanton, Michael Trout, no one -- has hit more home runs since this trade than Davis' 113.
Mike Petriello is an analyst for MLB.com and the host of the Statcast podcast.