17 homegrown Padres have played in 2018
Notes on walk-off wins, Galvis, Renfroe, Lauer, Pirela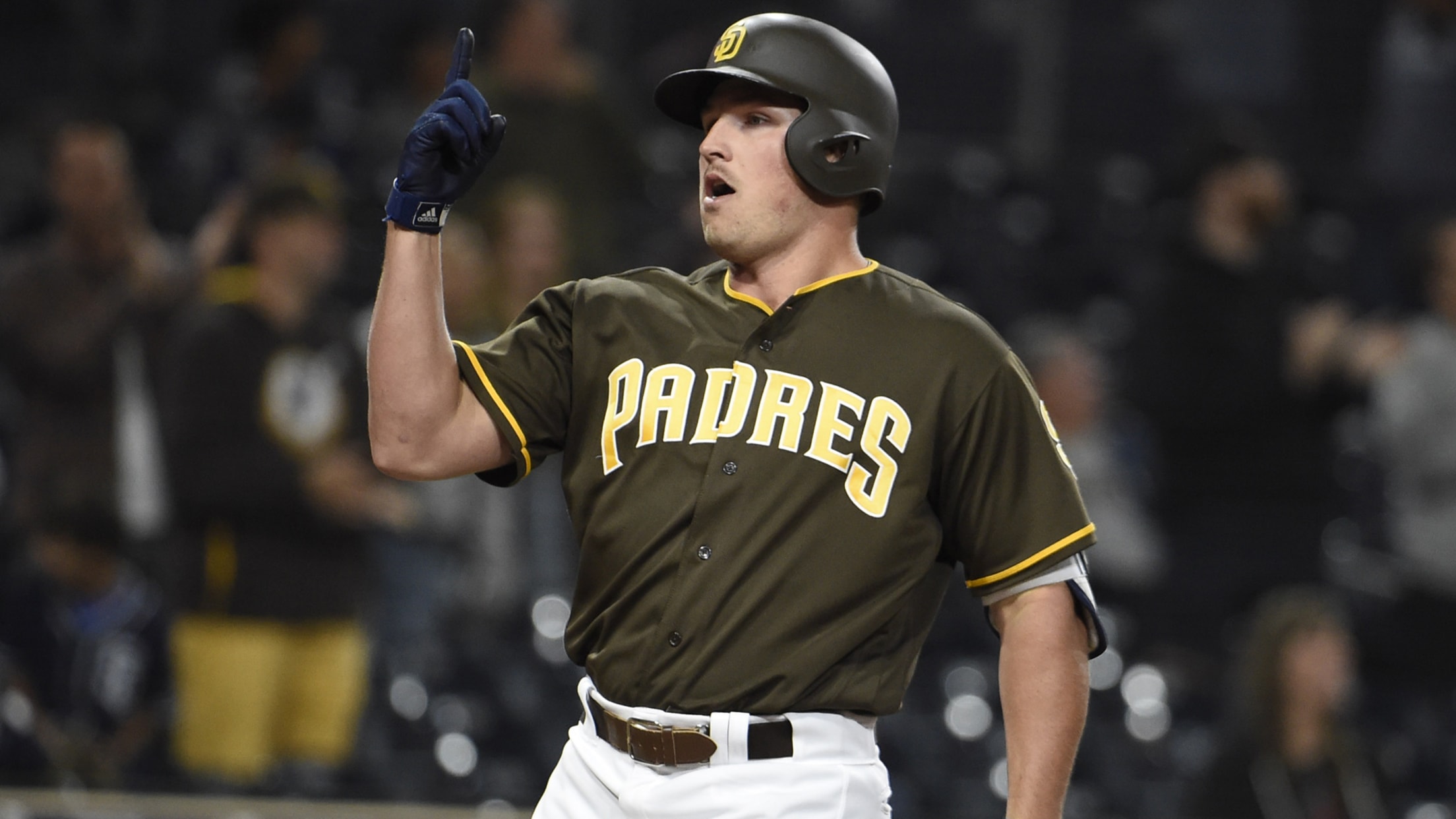 Bill Center, longtime sportswriter for U-T San Diego, is an employee of the Padres.For many years, a common complaint among Padres fans was that the roster was short on homegrown players from the Draft and international signings.And the Padres couldn't argue because the claim was largely true. For example, Hall
Bill Center, longtime sportswriter for U-T San Diego, is an employee of the Padres.
For many years, a common complaint among Padres fans was that the roster was short on homegrown players from the Draft and international signings.
And the Padres couldn't argue because the claim was largely true.
For example, Hall of Famer Tony Gwynn was the only homegrown Padre in the regular lineup of the 1998 National League Championship team.
Following the retirement of Gwynn, the Opening Day lineup in 2002 was without a homegrown player.
Over the next 17 seasons, the most notable homegrown players in the Padres lineup were Jake Peavy, Khalil Green, Chase Headley, Nick Hundley, Will Venable, Jedd Gyorko, Xavier Nady, Sean Burroughs, Brian Lawrence, Josh Barfield and Kyle Blanks.
That is changing. Seventeen homegrown players played for the Padres in 2017 - 18 if you want to include Headley.
Eleven homegrown players will finish the 2018 season with the Padres while three more - right-handed starter Dinelson Lamet, second baseman Luis Urías and outfielder Franchy Cordero - will finish the season on the disabled list.
Five regulars - outfielders Hunter Renfroe, Franmil Reyes and Travis Jankowski; catcher Austin Hedges and infielder Cory Spangenberg - are homegrown. So are three members of the starting rotation - Eric Lauer, Joey Lucchesi and Jacob Nix - and two members of the bullpen.
Three former first-round Draft picks are on the current Padres - Spangenberg, Renfroe and Lauer.
By acquisition date, a look at the homegrown players who played with the Padres in 2018:
2011 - Spangenberg (10th overall pick in the Draft), Hedges (second-round draft pick) and international signees Cordero and Reyes from the Dominican Republic.
2012 - Jankowski (44th overall pick in the Draft) and Walker Lockett (fourth-round draft pick).
2013 - Renfroe (13th overall pick in the Draft), Adam Cimber (ninth round) and Urías (international signing from Mexico).
2014 - Kyle McGrath (36th-round Draft pick), Lamet (international signing from the Dominican Republic).
2015 - Nix (third-round Draft pick), Brett Kennedy (11th-round Draft pick), Trey Wingenter (17th-round Draft pick) and Phil Maton (20th-round Draft pick).
2016 - Lauer (25th overall pick in the Draft) and Lucchesi (fourth-round Draft pick).
More are on the way.
NOTEBOOK:
• LHP Eric Lauer allowed one unearned run on seven hits and a walk with six strikeouts over 6 1/3 innings Friday night. But since returning from the disabled list he had a 1.08 earned run average while limiting opposing hitters to a .174 batting average. Bigger picture: Lauer allowed three earned runs or fewer in nine of his 10 outings against National League West opponents, posting a 4-1 record and a 2.62 ERA.
• Freddy Galvis gave the Padres their sixth walk-off win of the season Friday night when his 15th-inning double drove home Javy Guerra from first. It was Galvis' first walk-off hit as a Padre. The Padres are 4-11 in extra-inning games this season.
• Galvis is 22-for-50 (.440) and has hit safely in 11 of 12 games since Sept. 15 with seven doubles, a triple, two home runs, seven RBIs and 11 runs scored.
• Hunter Renfroe's game-tying home run with two out in the bottom of the 12th Friday night was his third pinch-hit homer of the season and his 26th overall, tying his career-high total set in 2017.
• Jose Pirela is batting .349 (15-for-43) with five RBIs and two home runs in his last 11 starts since Aug. 9.