19 facts about the wonderful career of Gwynn
To honor the Hall of Famer's birthday, we look back at some of his amazing numbers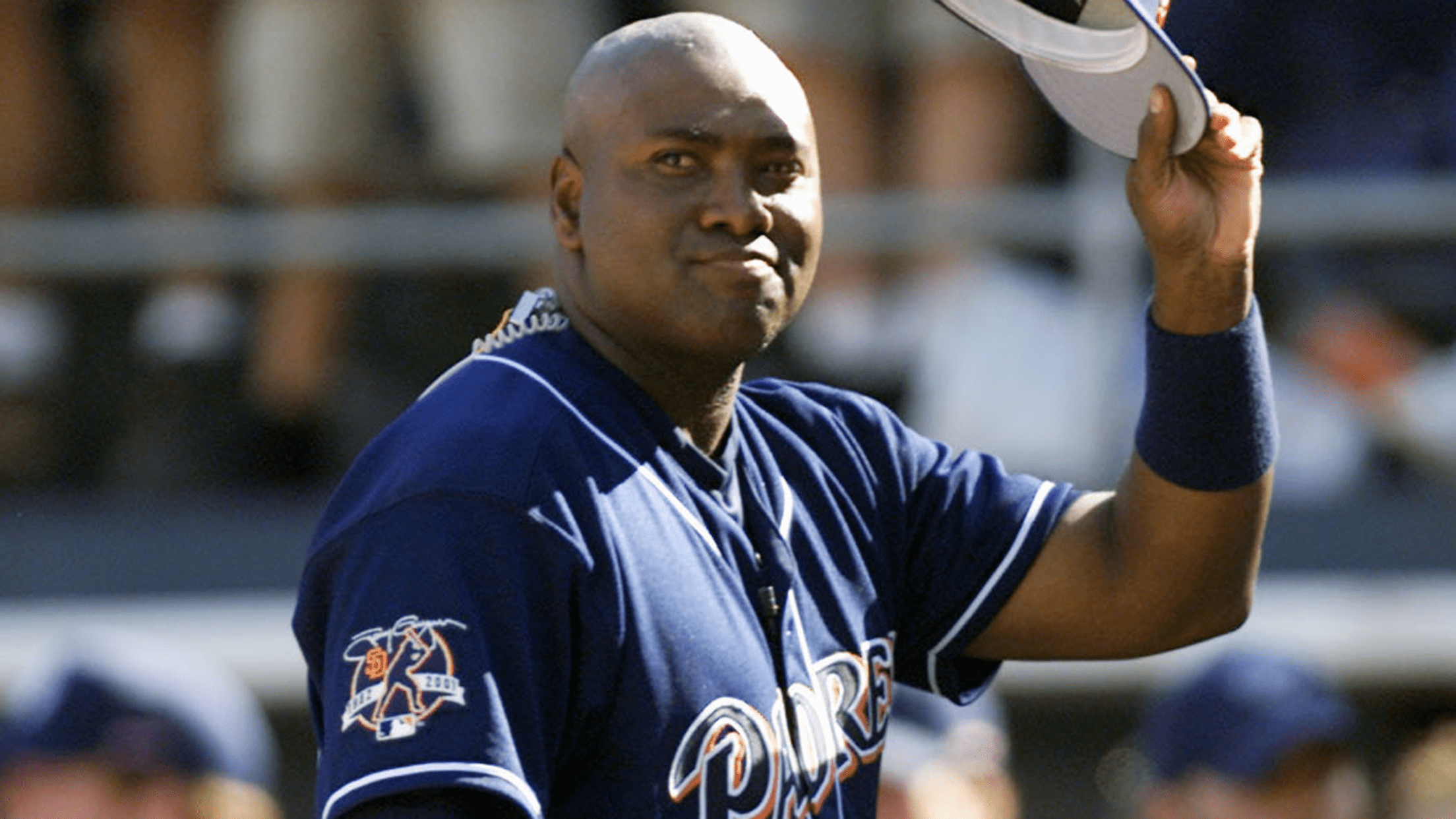 A new memorial was unveiled in April for the late Tony Gwynn in Poway, Calif. (Getty Images) (Getty Images)
SAN DIEGO -- There's never a bad time to rehash the insane numbers Tony Gwynn put up during his 20 Hall-of-Fame seasons in San Diego.But today would have been Gwynn's 56th birthday, and to commemorate the occasion, we've compiled a list of 19 facts about No. 19.Happy birthday, Mr. Padre.•
SAN DIEGO -- There's never a bad time to rehash the insane numbers Tony Gwynn put up during his 20 Hall-of-Fame seasons in San Diego.
But today would have been Gwynn's 56th birthday, and to commemorate the occasion, we've compiled a list of 19 facts about No. 19.
Happy birthday, Mr. Padre.
• The historic 1994 season in which Gwynn batted .394 -- the closest anyone has come to hitting .400 since Ted Williams did so -- was cut short by the strike. Could Gwynn have reached .400? It's pure speculation at this point, but he was batting .423/.472/.613 in the second half that year. Gwynn's .334 career second-half batting average is the third best in the last 50 years.
• Rather famously, Gwynn only struck out three times in a game once -- against Bob Welch and the Los Angeles Dodgers in 1986. But Gwynn played a pivotal role in that game, nonetheless, singling in the eighth, and scoring the tying run in the 10th after reaching on an error. In fact, he added 37.9 percent to the Padres' win probability that day.
• At 23 years old, Bryce Harper, arguably the game's best left-handed hitter right now, already has 23 games with at least three K's. In 2015 alone, 22 players recorded at least 10 three-strikeout games.
• In his entire 20-year career, Gwynn struck out 434 times -- an average of 21.7 K's per season. Entering play Sunday, 76 different players had already whiffed 22 times in 2016 alone.
• Since Gwynn debuted in 1982, only 46 different hitters have posted a season with a batting average above .350. Gwynn has seven of those seasons, the most of any player in that span.
• Gwynn batted .300 in every season but his rookie year, giving him a record 19 straight seasons above .300. Miguel Cabrera is the current leader with seven straight .300-plus seasons. No other player has an active streak of more than three.
• Beginning in 1988, when STATS Inc. began tracking numbers in certain counts, Gwynn batted .302 with two strikes. That's easily the best mark for any player in that span, with Wade Boggs coming in second at .260. In fact, in 1994, Gwynn batted an absurd .397 in two-strike counts.
• Six times in Padres history has a player recorded 200 hits in a season. Five of those seasons belong to Gwynn (1984, '86, '87, '89, '97). Mark Loretta had 208 hits in 2004.
• On 45 separate occasions, Gwynn recorded four hits in a game -- 11 more times than he recorded a multi-strikeout game.
• Gwynn faced Greg Maddux 107 times in his career -- more than any other pitcher. He batted .415/.476/.521 against the four-time Cy Young Award winner and Hall of Famer. That's easily the highest average against Maddux for any player with at least 70 plate appearances.
• Of course, it's not like Gwynn's numbers against Maddux were an anomaly. He torched just about every pitcher he faced. Among the 38 pitchers that he faced at least 50 times, his lowest average was a .243 mark against Dwight Gooden. He batted at least .300 against 32 of those 38 pitchers, including Tom Glavine, Nolan Ryan, John Smoltz and Orel Hershiser.
• Padres fans have called the second game of the season, "Tony Gwynn Opening Day" for years, because of Gwynn's affection for the fans who showed up for Game 2. Nobody owned "Tony Gwynn Opening Day" quite like, well, Tony Gwynn. He batted .403/.439/.500 in Game 2 of 162.
• Gwynn played both baseball and basketball at San Diego State, and he still owns several records in basketball for the Aztecs. His 590 career assists are the most in school history and his 221 assists in the 1979-80 season are also a record. In fact, Gwynn owns the top three single-game assist tallies in Aztecs history -- with his 18 dimes against UNLV on Feb. 5, 1980, as the most.
• In the past 100 years, nobody has more batting titles than Gwynn's eight. Only Ty Cobb, who won 12, all before 1920, had more.
• Gwynn's .338 career batting average is the highest in the expansion era -- and it's not even that close, as Gwynn sits 10 points ahead of Boggs, in second. The last player to finish his career with a higher average was Ted Williams' .344 mark.
• Since World War II, Gwynn is the only player to bat above .350 in five consecutive seasons (from 1993-97). Ty Cobb, Rogers Hornsby and Al Simmons did so before him.
• In 2007, Gwynn was inducted into the Hall of Fame after receiving 532 of 545 votes -- the eighth highest total in MLB history.
• Gwynn owns all-time Padres records in: batting average, runs, hits, total bases, doubles, triples, RBIs, walks, stolen bases and games played.
• Gwynn's 68.8 career WAR, according to baseball-reference, is more than twice that of any other player in Padres history. Dave Winfield, at 31.9, is second.