Crew scout Whalen thrilled as 2 sons drafted
SS Brady selected by Cardinals; CF Caleb joining dad with Brewers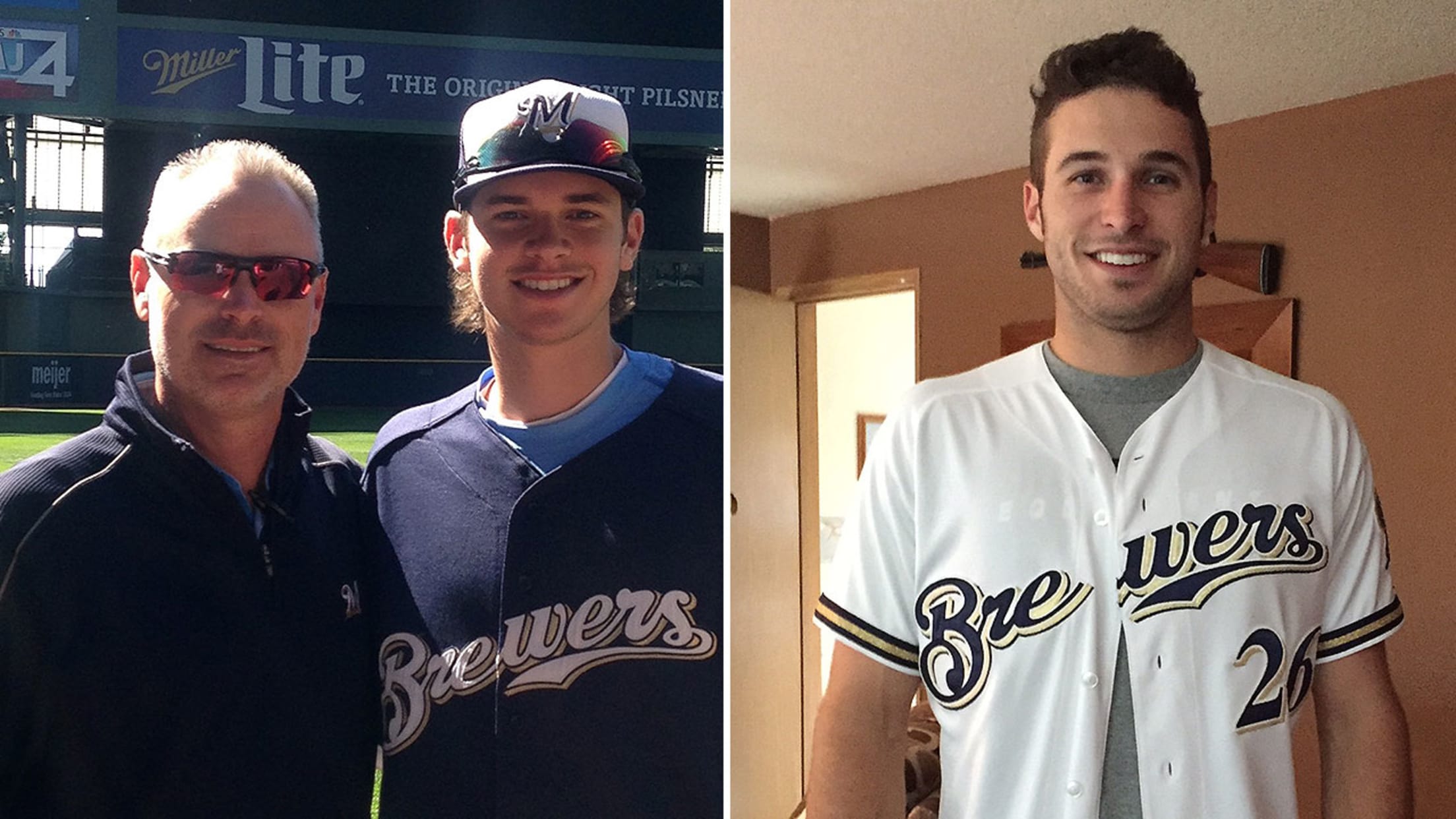 Shawn Whalen attended the Brewers' pre-Draft workout with Brady (left), and Milwaukee picked Caleb on Saturday (right). (Whalen family)
MILWAUKEE -- The Whalens of Vancouver, Wash., will host a graduation party Sunday, and suddenly they have a lot more to celebrate.Brewers area scout Shawn Whalen choked back tears while waiting to board a flight home Saturday after two of his sons were selected in the MLB Draft. Brady, a
MILWAUKEE -- The Whalens of Vancouver, Wash., will host a graduation party Sunday, and suddenly they have a lot more to celebrate.
Brewers area scout Shawn Whalen choked back tears while waiting to board a flight home Saturday after two of his sons were selected in the MLB Draft. Brady, a shortstop out of Vancouver's Union High School, went to the Cardinals in the 12th round. Caleb, a center fielder from the University of Portland, went to Dad's Brewers in the 38th round.
"Surreal," Shawn Whalen said. "I can't put it into words without getting emotional. A lot of hard work, a lot of determination and a lot of support from the people around these guys, because you can't do it by yourself."
:: Complete 2016 Draft coverage ::
Shawn Whalen knows those lessons firsthand, both from his own playing days -- he was a 15th-round pick of the Padres in 1989 and logged four pro seasons -- and from more recent events. Whalen has battled cancer the past two years, undergoing surgery in March 2015 to remove his thyroid and in March '16 to remove lymph nodes.
"Not very optimal for a scout," he said. "I've had a great support system, and I was able to bounce back real quick because the best therapy I was able to find was down on the field doing my job."
"A little bump in the road," he called his cancer battle. " As my mom would say, it's a new normal. You learn to appreciate life, I can tell you that much."
Life was good on Saturday.
• Crew makes Roegner's hometown dreams come true
Brady Whalen drew interest from a number of clubs, including the Brewers, who hosted him at Miller Park two weeks ago for the team's pre-Draft workout. He went to the Cardinals at No. 376 overall, and he will weigh whether to sign or honor a college commitment to Oregon.
"Brady is a 'tomorrow guy,'" Shawn Whalen said. "The Cardinals are betting that as he gets bigger and stronger, he is going to really fill out. … It wouldn't surprise me at all if he is a 15-20 home run guy someday."
When it was Caleb Whalen's turn in the 38th round, Brewers scouting director Ray Montgomery asked Shawn to make the announcement on MLB's conference call.
"Boy, that was really emotional," Shawn Whalen said. "But a real thrill for a dad and a scout to be able to do such a thing for one of their kids."
• College arms just happen to be Crew's picks
"A real live-body guy," he said of Caleb. "He's a toolsy guy, that you know his best baseball is ahead of him. He just had a couple battles with freak injuries, one being an oblique injury last year, and then he came back from the oblique and had an appendicitis attack. That set him back for one year, so he was a redshirt kid.
"The good news is he got one year of his master's done. He wants to be a Division I coach or a manager someday, so he's getting his master's in education."
There's another son, Seaver, a middle infielder who just finished his junior year at Loyola Marymount. He has promise, as well.
"He's a late bloomer," Shawn Whalen said. "They're all late bloomers, like their dad was."
Sunday's gathering was supposed to be for Brady, who graduated high school on Friday while Dad was busy in the Brewers' Draft room.
"So now it's going to be for his brother, too," Shawn Whalen said. "It's going to be quite a day."