Complete 2018 All-Star Game rosters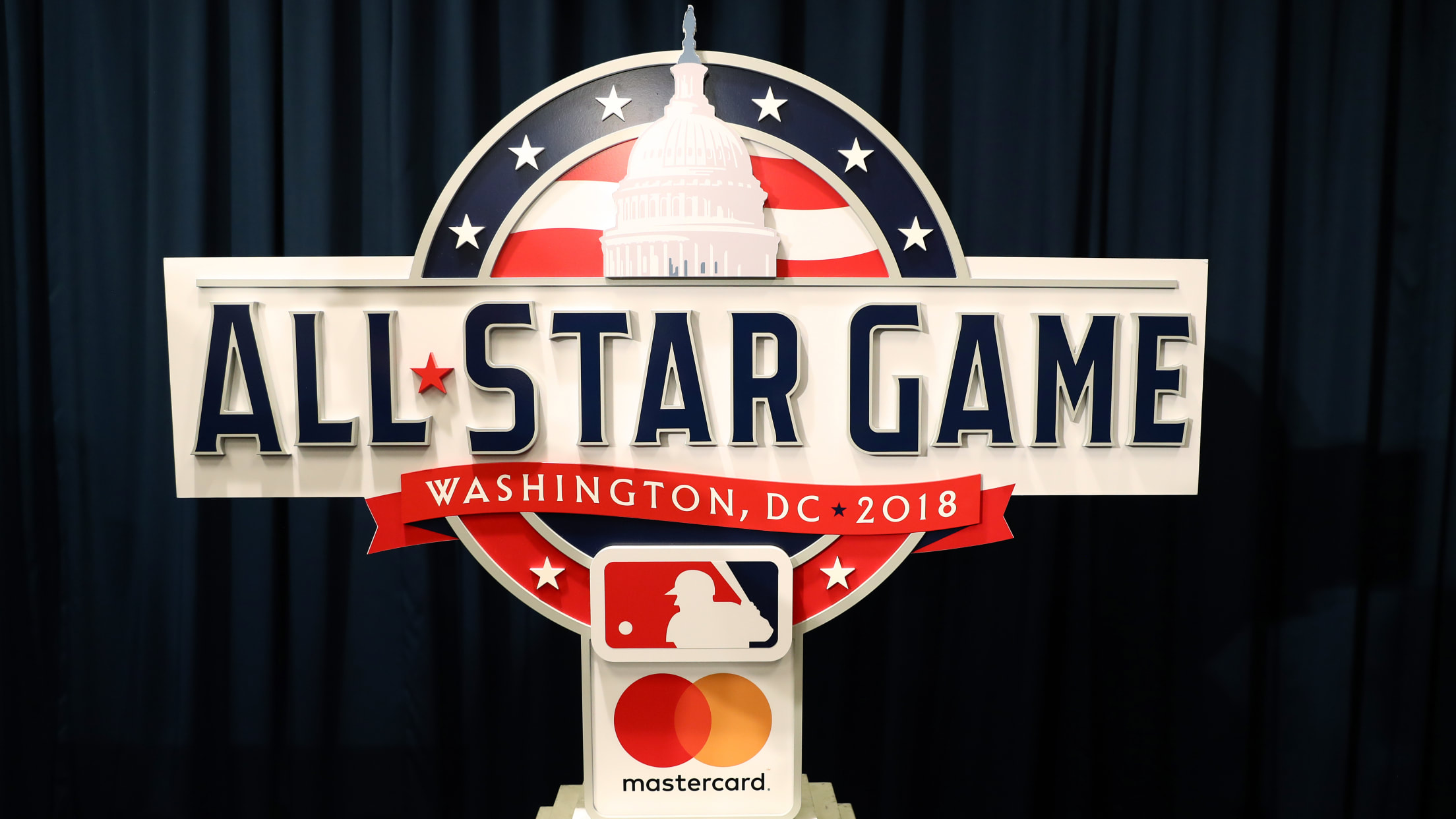 WASHINGTON, DC - JULY 26: The All-Star Game logo is seen after the unveiling of the 2018 All-Star Game logo at Nationals Park on Wednesday, July 26, 2017 in Washington, D.C. (Photo by Alex Trautwig/MLB Photos via Getty Images) *** Local Caption *** (Alex Trautwig/Getty Images)
MLB's top talents took the spotlight in the nation's capital in one of baseball's most iconic events: the 89th MLB All-Star Game presented by Mastercard.:: Complete All-Star Game coverage ::ALL-STAR GAME Below are the rosters for the All-Star Game. Starters were voted in by fans via the Camping World All-Star
MLB's top talents took the spotlight in the nation's capital in one of baseball's most iconic events: the 89th MLB All-Star Game presented by Mastercard.
:: Complete All-Star Game coverage ::
ALL-STAR GAME
Below are the rosters for the All-Star Game. Starters were voted in by fans via the Camping World All-Star Ballot, with the pitchers and reserves selected by the player ballot and MLB. Two additional players were chosen via the Camping World MLB Final Vote.
American League
Starters
C:Salvador Perez, Royals ^ &
1B:Jose Abreu, White Sox
2B:Jose Altuve, Astros
3B:Jose Ramirez, Indians
SS:Manny Machado, Orioles
OF:Mookie Betts, Red Sox
OF:Michael Trout, Angels
OF:Aaron Judge, Yankees
DH:J.D. Martinez, Red Sox
Reserves
C:Yan Gomes, Indians +
C:Wilson Ramos, Rays =
1B:Mitch Moreland, Red Sox ^
2B:Gleyber Torres, Yankees ^ %
2B: Jed Lowrie, Athletics +
3B Alex Bregman, Astros ^
SS:Francisco Lindor, Indians ^
OF:Michael Brantley, Indians ^
OF:Shin-Soo Choo, Rangers ^
OF:Mitch Haniger, Mariners ^
OF:George Springer, Astros ^
OF:Nelson Cruz, Mariners ^
Pitchers
RHP: Trevor Bauer, Indians *
RHP: Jose Berrios, Twins *
LHP: Albertin Chapman, Yankees ^ @
RHP: Gerrit Cole, Astros ^
RHP: Edwin Diaz, Mariners ^
LHP: J.A. Happ, Blue Jays *
RHP: Joe Jimenez, Tigers *
RHP: Craig Kimbrel, Red Sox ^
RHP: Corey Kluber, Indians ^ @
RHP: Charlie Morton, Astros +
LHP: Chris Sale, Red Sox ^
RHP: Luis Severino, Yankees ^
LHP: Blake Snell, Rays +
RHP: Blake Treinen, Athletics *
RHP: Justin Verlander, Astros @
Final Vote winner
SS: Jean Segura, Mariners
• Breakdown of each team's All-Star contingent
National League
Starters
C:Willson Contreras, Cubs
1B:Freddie Freeman, Braves
2B:Javier Baez, Cubs
3B:Nolan Arenado, Rockies
SS:Brandon Crawford, Giants
OF:Nick Markakis, Braves
OF:Matt Kemp, Dodgers
OF:Bryce Harper, Nationals
Reserves
C:Yadier Molina, Cardinals +
C:Buster Posey, Giants ^ %
C:J.T. Realmuto, Marlins *
1B:Paul Goldschmidt, D-backs *
1B:Joey Votto, Reds ^
2B:Ozzie Albies, Braves ^
2B:Scooter Gennett, Reds *
3B:Eugenio Suarez, Reds ^
SS:Trevor Story, Rockies ^
OF:Charlie Blackmon, Rockies ^
OF:Lorenzo Cain, Brewers ^
OF:Christian Yelich, Brewers ^
Pitchers
LHP: Patrick Corbin, D-backs *
RHP: Jacob deGrom, Mets ^
LHP: Sean Doolittle, Nationals ^ %
RHP: Mike Foltynewicz, Braves ^
RHP:Zack Greinke, D-backs +
LHP: Josh Hader, Brewers ^
LHP: Brad Hand, Padres ^
RHP: Kenley Jansen, Dodgers *
RHP: Jeremy Jeffress, Brewers +
LHP: Jonathan Lester, Cubs ^ @
RHP: Miles Mikolas, Cardinals @
RHP: Aaron Nola, Phillies ^
RHP: Max Scherzer, Nationals ^
RHP:Thomas Stripling, Dodgers ^
LHP: Felipe Vazquez, Pirates *
Final Vote winner
1B: Jesus Aguilar, Brewers
^ Player Ballot-elected

Choice of MLB
@ Inactive
% Injured
= Elected as starter, missing game due to injury
& Selected as reserve, will start as injury replacement

Replacement
:: Complete Home Run Derby coverage ::
HOME RUN DERBY
Bracket (left side)

Jesus Aguilar, Brewers vs. 8. Rhys Hoskins, Phillies

Alex Bregman, Astros vs. 5. Kyle Schwarber, Cubs
Bracket (right side)

Bryce Harper, Nationals vs. 7. Freddie Freeman, Braves

Player Page for Max Muncy, Dodgers vs. 6. Javier Baez, Cubs
Results
Harper was the overall winner after beating Schwarber in the finals (19-18). He won his bracket by beating Freeman (13-12) and Muncy (13-12). Schwarber beat Bregman (16-15) and Hoskins (21-20).
Hoskins beat Aguilar (17-12) and Muncy beat Baez (17-16) in Round 1.