Here are every team's free agents this winter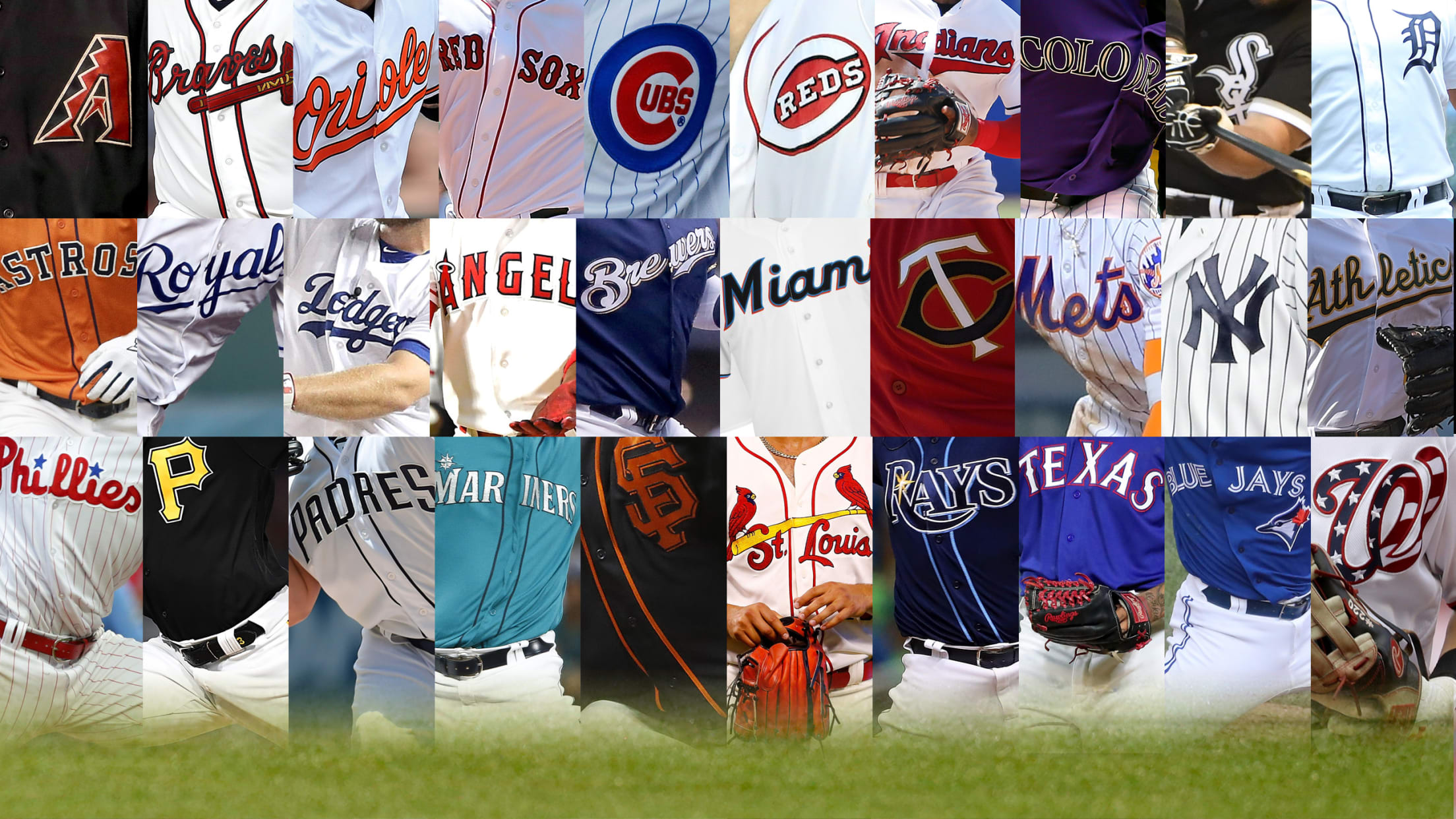 Here is a division-by-division breakdown of the free agents for all 30 Major League clubs.
Here is a division-by-division breakdown of the free agents for all 30 Major League clubs.
AL EAST
Blue Jays
RHP Clay Buchholz, 1B Justin Smoak
Toronto's youth movement was in full swing this past season. The club will likely move on from the 32-year-old Smoak, who hit just .208 with a 101 OPS+ in 2019. Buchholz's one-year, $3 million deal didn't pan out, as the veteran right-hander got hurt and finished with a 6.56 ERA over 12 starts.
Orioles
1B/OF Mark Trumbo
Trumbo missed most of 2019 while recovering from knee surgery, playing just 12 games in the final season of a three-year, $37.5 million deal. The rebuilding Orioles figure to let the 33-year-old walk after he recorded a 91 OPS+ with -1.4 fWAR during the life of the contract.
Rays
C Travis d'Arnaud, OF Avisaíl García, INF Eric Sogard
Acquired from the Dodgers for cash considerations, d'Arnaud solidified the catching position for Tampa Bay as Mike Zunino struggled (44 OPS+). As a result, the Rays could look to re-sign the 30-year-old backstop. García, 28, could be back as well at the right price after a solid season, but it wouldn't be surprising to see Sogard depart, as Tampa Bay has a surplus of infielders capable of playing second and third base.
Red Sox
RHP Andrew Cashner, RHP Jhoulys Chacín, UTL Brock Holt, 1B Mitch Moreland, UTL Chris Owings, 1B Steve Pearce, RHP Rick Porcello
J.D. Martinez's decision not to opt out of his contract could play a big role in what the Red Sox do this offseason. With owner John Henry looking for the team to get below the $208 million Competitive Balance Tax Threshold in 2020, team president/CEO Sam Kennedy has admitted it will be difficult to keep both Martinez and Mookie Betts, who can become a free agent after the '20 campaign. Depending on the price, Boston could try to bring back Porcello after a down year, though the club already has significant money tied up in starters Chris Sale, David Price and Nathan Eovaldi.
Yankees
RHP Dellin Betances, OF Brett Gardner, RHP Cory Gearrin, 1B Edwin Encarnacion, SS Didi Gregorius, LHP Tyler Lyons, OF Cameron Maybin, C Austin Romine
The Yankees were able to retain Aroldis Chapman by reworking his two-year, $30 million deal, adding a third year at $18 million to avoid an opt-out, a source told MLB.com's Mark Feinsand. The team's decision to bring back Gardner on a one-year, $7.5 million deal last offseason was a success, with the 36-year-old posting career highs in homers (28) and OPS (.829). Given Gardner's production and leadership, New York could try to re-sign him, as well as Maybin and Romine, who proved to be valuable role players. Betances and Gregorius both have diminished stocks, perhaps making them more affordable and increasing their chances of returning to the Bronx. Encarnación extended his streak of 30-homer seasons to eight in '19, but his $20 million option was declined, with the Yankees paying a $5 million buyout instead.
AL CENTRAL
Indians
RHP Tyler Clippard, INF Ryan Flaherty, 2B Jason Kipnis, C Dioner Navarro, RHP Dan Otero, OF Yasiel Puig, INF Adam Rosales
The Indians officially picked up Corey Kluber's $17.5 million option Friday while declining the options on both Kipnis ($16.5 million club option, $2.5 million buyout) and Otero ($1.5 million club option, $100,000 buyout). The biggest remaining question mark becomes whether Cleveland will make a push to bring back Puig. Acquired at the Trade Deadline, Puig hit just two homers in 49 games with the Indians, but played a key role in keeping the team in the postseason race late into the season. That said, the Indians seem set on giving Franmil Reyes a chance to win the everyday job in right field, making it unlikely that they extend a significant offer to Puig.
Royals
OF Alex Gordon
Gordon will make a decision this offseason on whether to retire after a 13-year Major League career. The 35-year-old is a three-time All-Star and a six-time Gold Glove Award winner. He helped Kansas City reach the World Series in 2014, and win it in '15. If Gordon wants to keep playing, the Royals could try to re-sign him on a lesser deal after declining his $23 million mutual option ($4 million buyout).
Tigers
INF Gordon Beckham, RHP Edwin Jackson, SS Jordy Mercer, LHP Matt Moore, RHP Tyson Ross
The Tigers could look to bring back Beckham and Mercer to provide some veteran help in the infield. It's also possible the team will extend a Minor League deal to Jackson in the hopes that he can put together a bounceback season, while mentoring Detroit's young pitching staff. Moore (right knee surgery) and Ross (right elbow ulnar neuritis) both missed the bulk of 2019 with injuries.
Twins
C Jason Castro, RHP Sam Dyson, RHP Kyle Gibson, RHP Jake Odorizzi (received QO), LHP Martin Pérez, RHP Michael Pineda, RHP Sergio Romo, INF Jonathan Schoop
The Twins picked up Nelson Cruz's $12 million club option for 2020 but declined Pérez's $7 million option, leaving José Berríos as the only returning starter currently under contract. Minnesota could try to re-sign Odorizzi if the righty rejects the team's qualifying offer.
White Sox
1B José Abreu (received QO), LHP Ross Detwiler, OF Brandon Guyer, OF Jon Jay, RHP Ivan Nova, LHP Héctor Santiago
If Abreu rejects the qualifying offer, the White Sox could try to work out a multiyear deal with the first baseman, who has been an important component of the team both on and off the field. It's unclear if the club plans to pursue new deals with any of its other free agents, though Nova did chew up 187 innings over a career-high 34 starts in the White Sox rotation in 2019. Either way, the White Sox figure to be busy in free agency this offseason, as they look to potentially add a right fielder, designated hitter, a couple of starters and another reliver.
AL WEST
Angels
RHP Trevor Cahill, OF Kole Calhoun
Calhoun has been a mainstay with the Angels since 2012, and he clubbed a career-high 33 homers in '19, but top prospect Jo Adell is believed to be on the verge of breaking through to the Majors. As a result, the team declined Calhoun's $14 million option.
Astros
C Robinson Chirinos, RHP Gerrit Cole (received QO), RHP Will Harris, C Martín Maldonado, RHP Collin McHugh, LHP Wade Miley, RHP Héctor Rondón, RHP Joe Smith
Cole is obviously the key here, as the ace is the marquee free-agent pitcher of the offseason. As for a potential return to the Astros, Houston is already on the books for more than $150 million for eight players next season -- and that doesn't even include impending arbitration raises for George Springer, Carlos Correa and Roberto Osuna. Thus, it seems unlikely from a financial standpoint that the Astros will be able to re-sign Cole, but they could get creative if they decide to make the right-hander their top priority.
Athletics
LHP Brett Anderson, RHP Homer Bailey, LHP Jake Diekman, RHP Tanner Roark
Though the A's have three starters set to hit free agency, they likely won't feel much pressure to bring any of them back. After all, Oakland is set to enter the 2020 season with a starting rotation that features Sean Manaea, Mike Fiers, Frankie Montas and the club's top two prospects in left-handers Jesus Luzardo and A.J. Puk. There was a $5.75 million mutual option on Diekman, who was acquired in a midseason trade with the Royals, but Oakland chose to decline that and buy the lefty out for $500,000 instead.
Mariners
OF Keon Broxton, 1B Ryon Healy, RHP Félix Hernández, LHP Wade LeBlanc, LHP Tommy Milone, RHP Arodys Vizcaíno
Hernández has made it clear he intends to keep pitching in 2020, but it remains to be seen whether that will be in Seattle or elsewhere. The right-hander has spent his entire 15-year career with the Mariners, but he enters free agency after going 1-8 with a 6.40 ERA over 15 starts in an injury-plagued campaign. That comes after posting a 5.55 ERA across 29 outings in '18. Still a beloved fan favorite in Seattle, Hernández exited to a standing ovation in his final start this season. The Mariners also chose to buy out the lefty LeBlanc for $450,000 (instead of exercising his $5 million club option for 2020).
Rangers
C Welington Castillo, INF Logan Forsythe, RHP Nate Jones, RHP Shawn Kelley, OF Hunter Pence, RHP Edinson Vólquez
For starters, the Rangers don't expect Elvis Andrus to opt out and walk away from his remaining $43.75 million over the next three years. Vólquez, meanwhile, is expected to retire. That leaves Pence and Forsythe as the two big question marks, and while the Rangers won't rule out re-signing either player, neither is a certainty to return. The club could fill Forsythe's role will either Isiah Kiner-Falefa or Nick Solak, while the Rangers might not have enough guaranteed playing time to appease Pence, who is coming off a bounceback All-Star campaign.
NL EAST
Braves
LHP Jerry Blevins, C Francisco Cervelli, 3B Josh Donaldson (received QO), OF Billy Hamilton, SS Adeiny Hechavarria, OF Matt Joyce, LHP Dallas Keuchel, RHP Chris Martin, RHP Anthony Swarzak, RHP Julio Teheran, RHP Josh Tomlin
Donaldson's one-year, $23 million contract was a major coup for the Braves, but the veteran third baseman put himself in line for a lucrative multiyear deal with his bounceback season. Keuchel, too, will likely seek a longer pact after providing a solid 3.75 ERA over 19 starts while earning $13 million on the one-year deal he signed in June. The catching position needs to be addressed, with Brian McCann retiring and Cervelli headed for free agency, though Tyler Flowers will be back after agreeing to a new one-year contract. Outfielder Nick Markakis and right-handed reliever Darren O'Day are also returning on one-year deals.
Marlins
2B Starlin Castro, OF Curtis Granderson, 3B Martín Prado, INF Neil Walker
While Castro hit a career-high 22 homers in 2019, he had just a 94 OPS+ with 1.3 fWAR, making it unsurprising when Miami declined his $16 million option and paid him a $1 million buyout instead. The Marlins could move on from Granderson, Prado and Walker as well after the veteran trio combined for -2.2 fWAR last season.
Mets
LHP Luis Avilán, RHP Brad Brach, OF Rajai Davis, 3B Todd Frazier, OF Juan Lagares, C Rene Rivera, RHP Ervin Santana, RHP Zack Wheeler (received QO)
Wheeler is the biggest name, by far, on the list of Mets free agents. The 29-year-old received a qualifying offer, but he could depart after the club acquired Marcus Stroman in July. The Mets have a number of potential replacements at third base and will likely seek an everyday option in center field, which means Frazier and Lagares might be moving on as well.
Nationals
1B Matt Adams, INF Asdrúbal Cabrera, 2B Brian Dozier, C Yan Gomes, RHP Jeremy Hellickson, RHP Greg Holland, RHP Daniel Hudson, UTL Howie Kendrick, OF Gerardo Parra, 3B Anthony Rendon (received QO), RHP Fernando Rodney, RHP Stephen Strasburg (received QO), LHP Jonny Venters, 1B Ryan Zimmerman
After winning the World Series in 2019, the veteran-laden Nationals could see a great deal of turnover going into next year. Rendon and Strasburg (after opting out of his deal) will be highly coveted, and Hudson and Kendrick will likely receive some outside interest after strong seasons. Washington declined Zimmerman's $18 million option, potentially ending his 15-year run with the team, as well as Gomes' $9 million option. Sean Doolittle and Adam Eaton will be back after the Nats exercised their options for $6.5 million and $9.5 million, respectively.
Phillies
OF Corey Dickerson, RHP Jared Hughes, RHP Tommy Hunter, INF Brad Miller, 1B Logan Morrison, RHP Pat Neshek, RHP Juan Nicasio, UTL Sean Rodríguez, LHP Drew Smyly, LHP Jason Vargas, RHP Nick Vincent
Jake Arrieta did not opt out of his contract after undergoing season-ending right elbow surgery in August, which means he'll be back for $20 million in 2020. The Phillies' bullpen could have a different look next season, with Hughes, Hunter, Neshek, Nicasio and Vincent headed for free agency. Philadelphia will also need to address the back of its rotation, with Smyly and Vargas possibly gone. Philadelphia will likely let Dickerson walk as well, with Andrew McCutchen due back from a torn ACL.
NL CENTRAL
Brewers
RHP Matt Albers, 1B/OF Tyler Austin, LHP Gio Gonzalez, C Yasmani Grandal, RHP Jay Jackson, RHP Jordan Lyles, INF Mike Moustakas, INF Hernán Pérez, LHP Drew Pomeranz, INF Cory Spangenberg, 1B Eric Thames
Grandal had a great season and opted to test the free-agent market again, rejecting his half of a $16 million mutual option and taking a $2.25 million buyout instead. To help cover their catching depth, the Brewers picked up Manny Piña's club option. Like Grandal, Moustakas rejected a mutual option ($11 million) to test the market again, though his last two free-agent experiences netted him a pair of one-year deals. On the pitching side, Pomeranz may have raised his value on the market with a strong showing out of the bullpen, making Lyles the one in that group who might be back with Milwaukee. Thames is officially a free agent after the Brewers declined his $7.5 million option.
Cardinals
LHP Tony Cingrani, OF Marcell Ozuna (received QO), RHP Michael Wacha, RHP Adam Wainwright, C Matt Wieters
Ozuna got a qualifying offer from the Cardinals, but they may let him walk if he rejects it. Wacha has had injury issues, so he may not return. And Wieters didn't hit particularly well as a backup to Yadier Molina, so he may not be back, either. Wainwright, 37, will be making a decision as to whether he will retire or not.
Cubs
RHP Tony Barnette, OF Nicholas Castellanos, LHP Xavier Cedeño, RHP Steve Cishek, RHP Kendall Graveman, LHP Cole Hamels, LHP Derek Holland, RHP Brandon Kintzler, C Jonathan Lucroy, RHP Brandon Morrow, RHP David Phelps, RHP Pedro Strop, INF/OF Ben Zobrist
First, the easy decisions for the Cubs. José Quintana's option was picked up for $11.5 million. So was Anthony Rizzo's $16.5 million option. Yu Darvish didn't opt out of the remaining four years and $81 million on his contract. What happens with Castellanos will be interesting -- his price tag will be high, but he was sensational after the trade to Chicago and the Cubs need consistent offense. Veterans like Hamels and Zobrist will likely depart given the Cubs are probably looking to get younger with the pitching staff and Zobrist's big connection to the club, Joe Maddon, is now with the Angels. Strop has had injuries, which makes him questionable to be re-signed, as are the other free agents remaining.
Pirates
OF Melky Cabrera, OF Lonnie Chisenhall, RHP Tom Koehler, LHP Francisco Liriano, RHP Brandon Maurer
The Pirates picked up their 2020 options on Starling Marte and Chris Archer. Among the players on Pittsburgh's free-agent list, Liriano is the most likely to be re-signed. The left-hander was an effective reliever for the team in 2019, posting a 3.47 ERA in 70 innings on a one-year, $1.8 million deal.
Reds
RHP Justin Grimm, SS José Iglesias, LHP Alex Wood
The Reds picked up Freddy Galvis' $5 million option, so that takes one potential free agent off the table. Wood only made seven starts for the club due to back issues, so it's unclear whether Cincinnati will want to take a chance on him by re-signing him. Iglesias was a 1.5 WAR (Baseball Reference) player last season, and may be an economical re-sign. Grimm hasn't yet pitched in a Major League game for the Reds, so he'll likely be on the market.
NL WEST
Diamondbacks
C Alex Avila, OF Jarrod Dyson, INF Wilmer Flores, RHP Yoshihisa Hirano, OF Adam Jones
Flores had a productive year at the plate, hitting a career-high .317 with an .848 OPS over 89 games in his debut season with the D-backs. That said, Arizona ultimately decided against picking up his option for $6 million -- buying Flores out for $500,000 instead -- simply because it has a number of other candidates to fill out its infield. Jones has also indicated that he plans to continue his career, so the D-backs could consider re-signing the 34-year-old outfielder for his consistency and veteran leadership in the clubhouse.
Dodgers
3B Jedd Gyorko, LHP Rich Hill, C Russell Martin, LHP Hyun-Jin Ryu
Ryu has often indicated that he enjoys pitching for the Dodgers and playing in Los Angeles, where he's spent his entire big league career since joining the Majors in 2013. At the same time, he's likely to receive more lucrative offers from other clubs after leading the Majors with a 2.32 ERA this season. In the bullpen, meanwhile, Kenley Jansen did not opt out of the final two years of his deal.
Giants
LHP Fernando Abad, LHP Madison Bumgarner (received QO), 3B Pablo Sandoval, LHP Will Smith (received QO), C Stephen Vogt
The Giants extended qualifying offers to Bumgarner and Smith, though both players will likely test the market. The Giants will certainly explore the option of bringing back Bumgarner, who has helped the club win three World Series titles while spending his entire 11-year career in San Francisco.
Padres
LHP Robbie Erlin, LHP Aaron Loup, RHP Craig Stammen, RHP Adam Warren
Though the Padres won't have much of a shakeup via free agency, the club is expected to be very active in the trade market this winter. With Loup and Warren both missing a bulk of the season due to arm injuries, the duo joined Stammen in free agency after the club declined the options for both relievers. San Diego, meanwhile, will look to upgrade its rotation and outfield via both free agency and trades.
Rockies
1B Yonder Alonso, RHP Chad Bettis, C Drew Butera
There's not a lot to be decided in Colorado, but it remains to be seen whether the Rockies will indeed have a quiet offseason. It's simply a matter of how busy the team will be in trade talks following a disappointing 71-91 season on the heels of back-to-back postseason experiences.