Ranking the top Arizona Fall League prospects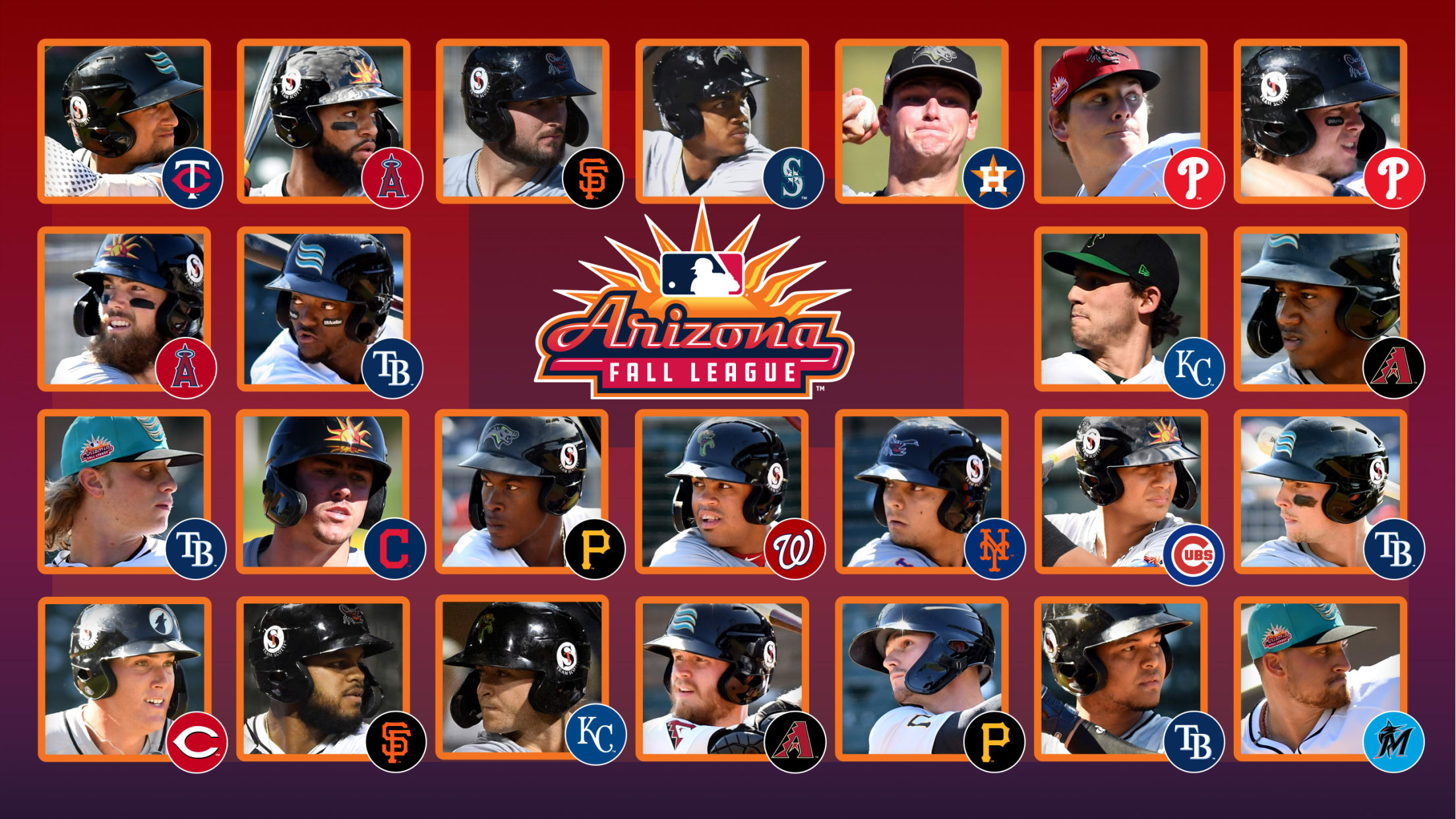 While the Arizona Fall League didn't feature a generational talent like Ronald Acuña Jr. or Vladimir Guerrero Jr. this year, talent ran deeper than usual. Twenty of our Top 100 Prospects appeared on AFL Opening Day rosters and 17 made our annual ranking of the developmental circuit's prospects, both totals
While the Arizona Fall League didn't feature a generational talent like Ronald Acuña Jr. or Vladimir Guerrero Jr. this year, talent ran deeper than usual. Twenty of our Top 100 Prospects appeared on AFL Opening Day rosters and 17 made our annual ranking of the developmental circuit's prospects, both totals the highest in recent memory.
The last three Fall League MVPs -- Gleyber Torres, Acuña and Keston Hiura -- quickly became big league stars, and this year's honoree is poised to follow the same path. The Twins' Royce Lewis led the league in runs (21) and hits (30) while playing four different positions with aplomb, not only winning the MVP award but also a championship with the Salt River Rafters. The Rafters placed a league-high eight prospects on our Top 25.
Teams are hesitant to send quality pitchers to Arizona unless they missed significant regular-season time without sustaining a serious injury, so hitters claimed 20 of the 25 spots below. We got feedback from several scouts while compiling our rankings, which are based on a combination of long-term potential and AFL performance.
1. Royce Lewis, 3B/OF/2B, Salt River (Twins No. 1/MLB No. 9)
Lewis finished in the top five in almost every offensive category, batting .353/.411/.565 and showing the tools that made him the No. 1 overall pick in the 2017 Draft. He has a huge leg kick and his right-handed swing can get busy, which led to struggles during the regular season, but he did a better job of finding his rhythm at the plate in Arizona. If it all comes together, he could be a .300 hitter with 20-plus homers per season, and he has the well above-average speed and solid arm strength to play almost anywhere on the diamond.
2. Jo Adell, OF, Mesa (Angels No. 1/MLB No. 5)
Though Adell had the best all-around tools in the Fall League, he ranks behind Lewis because the latter has a better chance to hit and could stick in the infield. Adell's combination of power and speed was reminiscent of what Luis Robert displayed in the AFL a year ago, and he's capable of playing center field but figures to shift to right (where his plus arm will play) with Mike Trout in Anaheim.
3. Joey Bart, C, Scottsdale (Giants No. 1/MLB No. 19)
Bart was the league's best player in the first half of the season, then left early after he was hit by a pitch and fractured his right thumb. With his combination of power, patience, receiving skills and arm strength, he'll push Buster Posey to a new position in the near future.
4. Julio Rodriguez, OF, Peoria (Mariners No. 2/MLB No. 25)
The Fall League's youngest player at age 18, Rodriguez fit right in with his bat-to-ball skills, prodigious raw power and advanced approach. One scout believed Rodriguez was the best prospect in the league, and another thought he had the best raw tools and the best batting practice at the Fall Stars Game. The Mariners would have placed two outfielders in the top five on this list if Jarred Kelenic hadn't been limited to three games by wisdom tooth surgery and a sore back.
5. Forrest Whitley, RHP, Peoria (Astros No. 1/MLB No. 16)
No. 2 on this list a year ago, Whitley returned after a regular season in which he logged a 7.99 ERA and missed nearly two months with shoulder inflammation. He topped the AFL in strikeouts (32 in 25 innings) for the second straight year, demonstrating improved command and more consistent mechanics. The stuff is still there, too: a four-seam fastball that ranges from 93-98 mph, a cutter and a changeup that seem allergic to bats, and a curveball and a slider that can be plus pitches when they're on.
6. Spencer Howard, RHP, Scottsdale (Phillies No. 2/MLB No. 88)
Howard featured the best consistent stuff in the league, repeatedly topping out at 99 mph with his fastball, pairing it with arguably the AFL's top changeup and flashing a plus slider. His control and track record aren't as reliable as Whitley's, so that's why he ranks behind him here.
7. Alec Bohm, 3B/1B, Scottsdale (Phillies No. 1/MLB No. 34)
Bohm finished second in that batting race at .361/.397/.528, living up to his reputation as the best all-around college hitter in the 2018 Draft -- where he was the No. 3 overall choice. He doesn't try to do much at the plate and lets his power come naturally, though he's rough defensively at third base and likely will wind up at first.
8. Brandon Marsh, OF, Mesa (Angels No. 2)
He's not as famous as his organization-mate Adell, but Marsh also has five-tool upside and posted better AFL numbers at .328/.387/.572. His raw power, speed and arm are all plus tools, and his bat could be as well.
9. Vidal Brujan, SS/2B, Salt River (Rays No. 3/MLB No. 39)
Brujan fits the leadoff profile with pure hitting ability, a patient approach and well above-average speed, a combination that helped him top the Fall League in triples (four) and walks (15). One of the best second-base prospects in the game, he saw more time at shortstop with Salt River but his average-ish arm figures to land him at second for Tampa Bay.
10. Daniel Lynch, LHP, Surprise (Royals No. 3/MLB No. 69)
Easily the best lefty in Arizona, Lynch hit 99 mph during the Fall Stars Game and 98 mph during the championship contest. He should have three solid or better pitches in a fastball that sits at 93-96, a mid-80s slider and a deceptive changeup, though his command still needs work.
11. Geraldo Perdomo, SS/2B, Salt River (D-backs No. 7)
D-backs shortstops have provided two of the biggest AFL breakouts the last two years -- the since-traded Jazz Chisholm in 2018 and Perdomo this fall. While he's not as explosive as Chisholm, Perdomo is more consistent offensively and defensively and could have solid or better tools across the board.
12. Shane Baz, RHP, Salt River (Rays No. 6/MLB No. 94)
Normally a starter, Baz worked in relief for Salt River and his stuff played up, with his high-spin fastball operating in the upper 90s and his power slider parking in the upper 80s. His 8.18 ERA and eight walks in 11 AFL innings testify to his need for polish, but he's just 20 and could pitch at the front of a rotation if he harnesses his arsenal.
13. Nolan Jones, 3B, Mesa (Indians No. 1/MLB No. 37)
Jones has a lot going on with his left-handed swing and struck out in 46 percent of his AFL plate appearances, but he still showcased some of the best raw power in the league. He also draws walks, possesses a strong arm and has worked hard to make himself into an acceptable defender at the hot corner.
14. Oneil Cruz, SS, Peoria (Pirates No. 3/MLB No. 57)
Scouts looked past his bad performance (.190/.306/.214, 43 percent strikeout rate) and saw a guy with huge raw power and arm strength. Listed at 6-foot-7 and perhaps taller, he won't stay at shortstop but moves surprisingly well there and inspires dreams of a Darryl Strawberry-esque right fielder.
15. Luis Garcia, SS, Surprise (Nationals No. 2/MLB No. 91)
Garcia scuffled in Double-A this season as a 19-year-old but looked better in the Fall League. Though he has yet to tap into his solid raw power, the rest of his tools all could be at least above average once he's fully developed.
16. Andres Gimenez, SS, Scottsdale (Mets No. 3/MLB No. 92)
One of the AFL's worst players in 2018 (.125/.250/.292) was one of its best in 2019 (.371/.413/.586), winning the batting title and leading the league in OPS (.999). Gimenez also flashed some surprising plus-plus run times while providing his usual quality defense.
17. Miguel Amaya, C, Mesa (Cubs No. 2/MLB No. 90)
He's still a work in progress offensively and defensively, yet he's also just 20 and could be a standout on both sides of the ball. He rivaled Bart as the best defensive catcher in the Fall League.
18. Josh Lowe, OF, Salt River (Rays No. 11)
Lowe may have helped his cause as much as any non-Top 100 Prospect in the AFL, as the 13th overall selection in the 2016 Draft batted .327/.379/.558 and showed three plus tools (speed, defense, arm).
19. Tyler Stephenson, C, Glendale (Reds No. 7)
Another first-rounder (2015, 11th overall) who has developed slowly, Stephenson had some of the best raw power and arm strength in the Fall League and continued to improve as a receiver. He also won the Dernell Stenson Award, given annually to the AFL player who best exemplifies leadership, selflessness and work ethic.
20. Heliot Ramos, OF, Scottsdale (Giants No. 2/MLB No. 50)
Despite batting .185/.250/.262, Ramos still offered one of the best power/speed combinations in the league and has a plus arm that easily will fit in right field if he can't remain in center.
21. Kyle Isbel, OF, Surprise (Royals No. 8)
Coming off a regular season marred by a hamate injury, Isbel topped the Fall League in on-base percentage (.429) and impressed with his hitting ability, deceptive power and speed -- prompting one scout to compare him to Brett Gardner.
22. Seth Beer, 1B, Salt River (D-backs No. 4/MLB No. 96)
He's still a divisive prospect among scouts and may be destined to become a DH, but Beer hits for average and power while drawing a healthy number of walks.
23. Jared Oliva, OF, Peoria (Pirates No. 11)
Oliva paced the Fall League in doubles (11), extra-base hits (13) and steals (11), earning acclaim as one of its better hitters and faster runners.
24. Ronaldo Hernandez, C, Salt River (Rays No. 7)
An offensive-minded catcher, Hernandez batted .359/.381/.513 in a part-time role, showing hitting ability and raw power as well as a strong arm behind the plate.
25. Nick Neidert, RHP, Salt River (Marlins No. 11)
Neidert bounced back from meniscus surgery on his right knee that derailed his regular season, regaining his ability to locate his low-90s fastball and his trademark changeup while also refining his breaking pitches.