Breaking down key Day 3 picks in Draft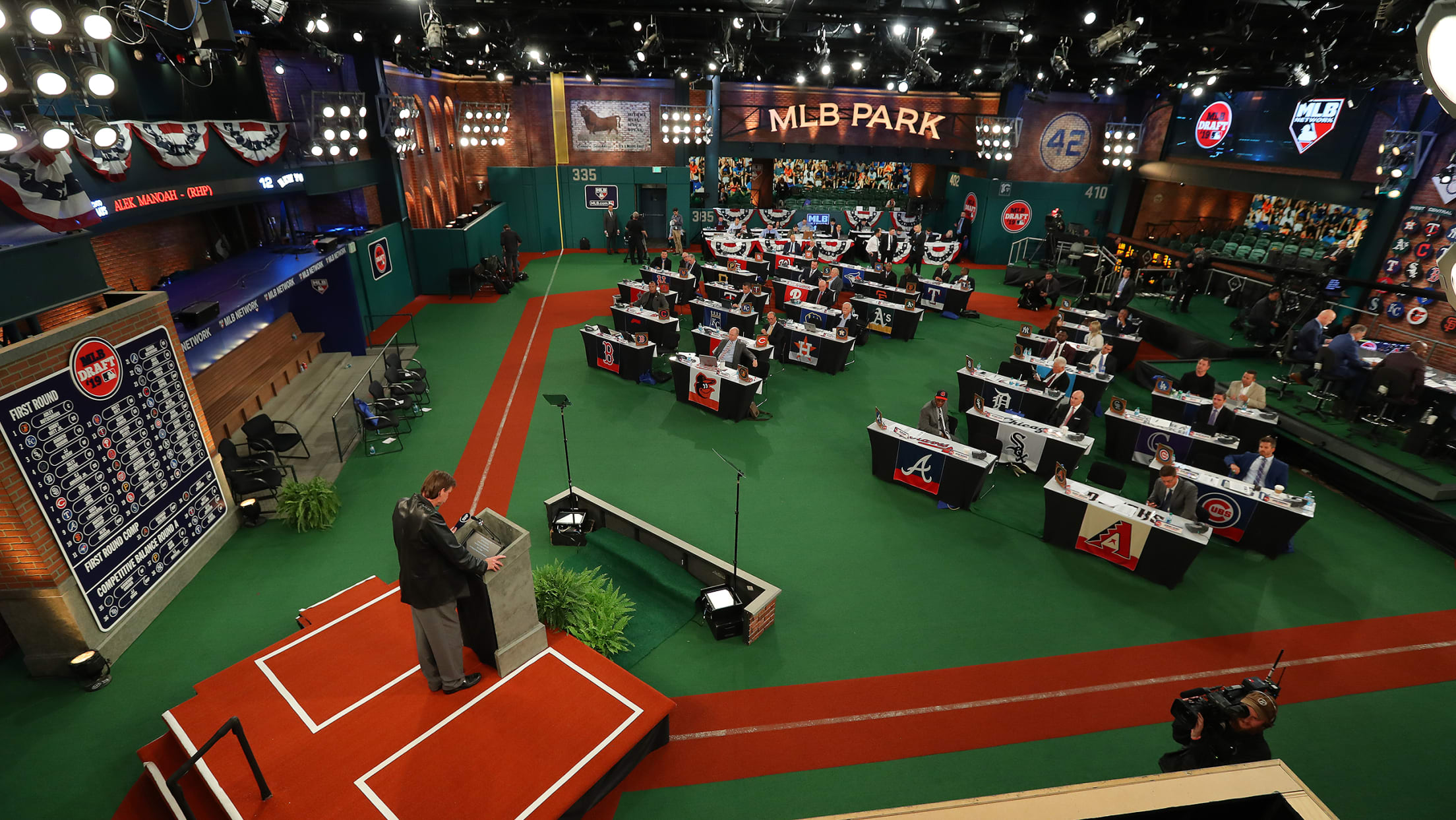 The 2019 Draft is in the books. Our Draft Tracker has every pick, including player information, scouting video, sortable data and more. As we did Tuesday with our analysis of Day 2, MLB Pipeline breaks down key picks from Day 3.
The 2019 Draft is in the books. Our Draft Tracker has every pick, including player information, scouting video, sortable data and more.
As we did Tuesday with our analysis of Day 2, MLB Pipeline breaks down key picks from Day 3.
Rounds 11-15
• Padres (11th round): Mason Feole, LHP, UConn -- Feole, ranked No. 163 on MLB Pipeline's Top 200 list, doesn't have overpowering stuff, but he knows how to miss bats and recorded the second-most strikeouts in UConn history as a sophomore in 2018.
• Giants (11th): Trevor McDonald, RHP, George County HS (Miss.) -- McDonald (ranked No. 183), whose fastball has reached 94 mph, is committed to South Alabama.
• Mariners (11th): Carter Bins, C, Fresno State -- Bins was the highest-ranked undrafted college player (No. 134) from the Top 200 going into the day. The 6-foot, 200-pounder has a chance to become a plus receiver with arm strength to match and moves well behind the plate, though his bat will determine whether he can become a starting catcher at the big league level.
• Red Sox (11th): Sebastian Keane, RHP, North Andover HS (Mass.) -- To close out the 11th round, the Red Sox popped the 140th-ranked prospect on MLB Pipeline's Top 200 list. A 6-foot-3 right-hander who's committed to Northeastern, he was Massachusetts' 2019 Gatorade Player of the Year after he went 6-0 with 0.88 ERA and 62/7 K/BB in 32 innings.
• Reds (12th): Yan Contreras, SS, Puerto Rico Baseball Academy (P.R.) -- The San Jacinto JC (Texas) commit has more present strength and raw power than some of his fellow Puerto Rican infielders in the class, with defensive tools that could allow him to stick up the middle. Contreras was No. 170 on MLB Pipeline's Top 200.
• Rangers (12th): Gavin Collyer, RHP, Mountain View HS (Ga.) -- Ranked No. 125, Collyer is a highly projectable 6-foot-1, 150-pound hurler who's committed to Clemson.
• D-backs (12th): Avery Short, LHP, Southport HS (Ind.) -- With their potential to spend extra in the later rounds given their massive bonus pool, the D-backs selected MLB Pipeline's 159th-ranked prospect from the Indiana prep ranks. With good feel for his four-pitch mix, the 6-foot-1 left-hander was viewed as one of the more advanced high school arms and a potential top-three-round pick. He's committed to Louisville.
• Rangers (13th): Ben Anderson, RHP, SUNY-Binghamton -- Anderson is the twin brother of Braves No. 3 prospect Ian Anderson, a 2016 first-rounder. Now a 6-foot-4, 200-pound right-hander, he was Ian's batterymate in high school.
• Nationals (13th): Jake Randa, LF, Northwest Florida State -- Randa is the son of former 12-year MLB infielder and 1991 11th-rounder Joe Randa.
• Giants (14th): Nick Morreale, RHP, Georgetown -- No. 193 on MLB Pipeline's Top 200, Morreale is a 6-foot-5 right-hander who's capable of showing plus arm strength in spurts, with a fastball that's been up to 95 mph. He also throws a cutter and slider, both average offerings.
• Reds (15th): Matt Lloyd, RHP, Indiana -- A fifth-year senior, Lloyd is a two-way player who played first base and pitched for the Hoosiers. The right-hander is capable of reaching 94 mph on the mound, pairing his fastball with a cutter, and he batted .291/.398/.592 with 16 homers in 54 games this spring.
Rounds 16-20
• Pirates (16th): Eli Wilson, C, Minnesota -- The son of 14-year big league backstop Dan Wilson, Eli showed better hands, and he improved as a receiver as a junior this spring while hitting .290/.381/.440 with four homers for the Golden Gophers.
• Red Sox (16th): Oraj Anu, OF, George Wallace CC (Ala.) -- Anu's mother, Oralee Fowler, was an Olympic sprinter for the Bahamas, and his father played college football, too. Oraj, a Kentucky commit, is also an impressive athlete for his size (6-foot-3, 210 pounds) as well as a switch-hitter who hit .394 with 19 home runs this season.
• Twins (18th): Edouard Julien, 2B, Auburn -- A member of Canada's junior national team as a prep, Julien, No. 177 on the Draft Top 200 list, hit 17 homers and broke the school's freshman RBI record held by Frank Thomas with 69 last spring. He offers more power than most left-handed college hitters in this year's class, but he may be difficult to sign as a 20-year-old Draft-eligible sophomore.
• Angels (20th): Jared Southard, RHP, Rouse HS (Texas) -- The first player ever drafted from Rouse High, Southard (No. 154) tops out at 96 mph with his four-seamer and has impressive feel for spin, throwing both a curveball and a slider, albeit with a delivery that can hinder his control. He'll pitch for the Longhorns next season if he doesn't sign.
• Yankees (20th): Jack Leiter, RHP, Delbarton School (N.J.) -- No. 33 on the Top 200, Leiter, the son of MLB Network analyst and longtime big leaguer Al Leiter, is much more advanced than most high schoolers in terms of his feel for pitching and command. The 6-foot-1, 195-pounder utilizes an average fastball, but he can get to 94-95 mph when he needs it and complements it with a true knee-buckling curveball that's an out-pitch for him. He's separated himself from most prep hurlers this year, though signability questions remain given his commitment to Vanderbilt.
Rounds 21-25
• Mets (21st): Branden Fryman, SS, Samford -- Fryman's father, Travis, was the 30th overall pick by the Tigers in the 1987 Draft and went on to become a five-time All-Star in his 13-year big league career as a third baseman and shortstop. Branden batted .323 with four homers and 29 RBIs in 54 games as a junior, going 20-for-20 in stolen base attempts.
• Padres (22nd): Joshua Rivera, 3B, IMG Academy (Fla.) -- A teammate of right-hander Brennan Malone (No. 33 overall pick by D-backs), third baseman Rece Hinds (No. 49, Reds) and righty Kendall Williams (No. 52, Blue Jays) at IMG, Rivera (No. 197) has the chance to be a very good hitter at the next level as well as a solid defender at the hot corner, with the requisite arm strength needed to stay there long-term. He's committed to Florida.
• Marlins (23rd): Nic Ready, 3B, Air Force -- He's the son of former big leaguer Randy Ready, who played for five teams during his 13-year career.
• Padres (23rd): Maurice Hampton, CF, Memphis University School (Tenn.) -- No. 29 on the Top 200, Hampton is one of only four players named an Under Armour All-American in baseball and football. Not only one of the Draft's top outfielders, he's also a four-star cornerback ticketed to play two sports at LSU if he doesn't sign with San Diego. While he'll need time to develop on the diamond, his upside could make it well worth the wait.
• Brewers (23rd): Carter Rustad, RHP, Staley HS (Mo.) -- Few prep hurlers in the 2019 class can match the No. 121-ranked prospect's combination of peak velocity and projectability. Rustad, a San Diego commit, could sit in the mid-90s with his fastball once he grows into his 6-foot-5 frame. He already spins a good breaking ball, showing the potential to develop into a mid-rotation starter.
• Mets (24th): Hunter Barco, LHP, The Bolles School (Fla.) -- Barco's (ranked No. 34) Draft stock took a hit when the 6-foot-4 left-hander suffered a mild shoulder sprain this spring, and he was shut down for a period of time ahead of the Draft. When he's at his best, however, the Gators recruit can run his heater up to 94 mph and execute both a slider and a changeup while working from a deceptive arm slot.
• D-backs (24th): Dylan Eskew, RHP, Sickles HS (Fla.) -- A prototypical projection prep righty, Eskew (ranked No. 130) features a low-90s fastball that should tick up as he fills outs physically. He has feel for spinning a pair of breaking balls and has a changeup at his disposal, albeit rarely used, and is regarded as a solid strike-thrower. He's committed to Miami.
• Cubs (24th): Grayson Byrd, INF, Clemson -- He's the son of former 14-year MLB pitcher Paul Byrd.
• Blue Jays (25th): Nate LaRue, RHP, McGill-Toolen HS (Ala.) -- An excellent athlete who impressed behind the plate and on the mound as a prep, LaRue (ranked No. 149) was announced by Toronto as a pitcher. The Auburn recruit shows a low-90s fastball and closed out the clinching game as McGill-Toolen Catholic won its first state 7-A title in May.
• Mets (25th): Joseph Charles, RHP, TNXL Academy (Fla.) -- A North Carolina commit, Charles (ranked No. 181) is up to 96-97 mph consistently with his fastball, and there could be more in the tank with some tweaks to his somewhat violent delivery. His power stuff, delivery and lack of command lead some to peg the right-hander as a future reliever.
• Cardinals (25th): Alexander McFarlane, RHP, Habersham Central School (Ga.) -- The son of a 1988 Olympics taekwondo participant (Tami Noel) and a former sprinter (Roy McFarlane), McFarlane (ranked No. 115), a Miami commit, has a chance to stick as a starter with two potentially plus pitches (fastball, slider), a promising changeup and a clean, repeatable delivery.
Rounds 26-30
• Mets (27th): Dalton Fowler, LHP, Northwest Mississippi CC -- Fowler (ranked No. 150) backed out of a commitment to Mississippi, and he will return to Northwest Mississippi CC for his sophomore season if he doesn't turn pro. While his velocity tends to fluctuate, the southpaw is still growing into his lanky 6-foot-5 frame and could sit in the mid-90s with a solid three-pitch mix once he's fully developed.
• Dodgers (28th): Brennan Milone, SS, Woodstock HS (Ga.) -- Milone (ranked No. 94) impressed scouts with his improved hitting ability this spring, showing more bat speed, advanced barrel control and average power potential. A shortstop in high school, Milone projects best defensively at third base, though some think second base or left field could be options for him as well. The 6-foot-1, 180-pounder is committed to South Carolina.
• Indians (30th): Jonathan French, C, Parkview HS (Ga.) -- French (ranked No. 124) has the potential to contribute on both sides of the ball. The Clemson recruit drives the ball to all fields from the right side of the plate, showing plus raw power and is a solid defender behind it, with average receiving skills and good arm strength.
Rounds 31-35
• Angels (31st): Spencer Jones, OF/LHP, La Costa Canyon HS (Calif.) -- One of the top two-way players in the 2019 class, Jones (ranked No. 71) was announced as such by the Angels. Though he didn't take the mound this spring after surgery to fix a small fracture in his left elbow, the 6-foot-7 southpaw has been up to 93 mph with his fastball and pairs it with a curveball that has plus potential. As a position player, the Vanderbilt commit is a plus runner and has played both the outfield and first base. His swing is raw, but it's easy to dream on his upside with the bat.
• D-backs (31st): Jerrion Ealy, OF, Jackson Prep School (Miss.) -- The top two-sport athlete in the 2019 Draft, Ealy (ranked No. 66) is a five-star running back recruit who led Jackson Prep to four straight Mississippi 4-A state football championships and is committed to play both sports at Mississippi. Ealy's right-handed swing needs some work and he didn't perform well this spring, but the bat speed and power potential are both impressive, and his near top-of-the-scale wheels give him impact potential on the basepaths and in the outfield.
• Red Sox (31st): Feleipe Franks, RHP, Florida -- Franks is the Gators' quarterback and was selected by Boston as a pitcher with the final pick in the 31st round. The 6-foot-6, 245-pound junior is listed as a switch-hitter.
• Blue Jays (32nd): Braden Halladay, RHP, Calvary Christian HS (Fla.) -- The Blue Jays selected Braden, a 6-foot-3, 150-pound right-hander from the Florida prep ranks, in the 32nd round in honor of his father, Roy Halladay, who was posthumously elected to the Hall of Fame in January.
• Rockies (32nd): Tyler Nesbitt, RHP, Labelle HS (Fla.) -- Nesbit (ranked No. 168) is a projectable 6-foot-2 right-hander who repeats his delivery well and has a promising three-pitch mix, though it's widely agreed that he will need time to develop his craft, either with the Florida Gators or in the Minor Leagues.
• Royals (34th): Justin Fall, LHP, Brookdale CC (N.J.) -- One of the top junior college prospects in this year's class, Fall (ranked No. 167) has a strong, physical 6-foot-6 frame, with clean arm action and left-handed delivery that enables him to generate a fastball that can reach 94 mph. He's committed to Arizona State.
• Twins (34th): Antoine Harris, RHP, Chalmette HS (La.) -- A graduate of the New Orleans MLB Youth Academy, Harris is a projectable 6-foot-4 right-hander who operates with a 88-92 mph heater, a quality curveball and a changeup with fade.
• Giants (35th): Brooks Lee, SS, San Luis Obispo Senior HS (Calif.) -- The switch-hitter's combination of bat speed and hand-eye coordination fuel his natural hitting ability, and he could grow into some power, too. As a shortstop, Lee has good hands and a strong arm, with instincts that give him solid range and help him to compensate for his below-average speed. The No. 37-ranked prospect is committed to Cal Poly, where his father is the head coach.
• Blue Jays (35th): Connor Phillips, RHP, Magnolia West HS (Texas) -- Phillips (ranked No. 188) has a pair of potential plus pitches in a 90-94 mph fastball that reaches 96, and an upper-70s curveball that he throws with power and depth. The 6-foot-2, 190-pounder is an LSU commit.
• Phillies (35th): Michael Prosecky, LHP, Nazareth Academy (Ill.) -- A 6-foot-3 southpaw who employs a high-three-quarters arm slot, Prosecky (ranked No. 151) has plenty of room to add strength and could start reaching the mid-90s, with his present 89-93 mph regularly once he matures physically. The Louisville commit has advanced feel for throwing a changeup and has shown a decent slider in the past, with a knack for pounding the zone with all three pitches.
• Nationals (35th): Bryce Osmond, RHP, Jenks HS (Okla.) -- One of the best two-way players in the 2019 Draft, Osmond (ranked No. 53) is a legitimate shortstop prospect with some raw offensive potential, smooth defensive actions and plus speed and arm strength. On the mound, the fast-armed righty projects to have a mid-90s heater once he's grown into his 6-foot-3 frame, and his low-80s slider has the makings of becoming a second plus pitch. He's committed to Oklahoma State.
Rounds 36-40
• Royals (36th): Andy Martin, OF, Hialeah Senior HS (Fla.) -- He is the younger brother of Indians outfielder Leonys Martin.
• D-backs (37th): Mason Greer, 2B, Colleyville Heritage HS (Texas) -- The son of former big league outfielder Rusty Greer, Mason and shortstop Bobby Witt Jr., whom the Royals drafted with the No. 2 overall pick, comprised Heritage's middle infield.
• Cardinals (37th): Chris Newell, OF, Malvern Prep School (Pa.) -- Newell (ranked No. 96), at 6-foot-3, 190 pounds, is an athletic outfielder who flashes loud tools, albeit a bit inconsistently. The Virginia recruit stands out most for his power-speed combo, a pairing that will only enhance his profile if he can stick in center field.
• Rockies (37th): Hayden Dunhurst, C, Pearl River HS (Miss.) -- One of the top high school catchers in the 2019 class, Dunhurst (ranked No. 123) has the potential to make an impact both offensively and defensively. The Mississippi State commit has cleaned up his work behind the plate, where he offsets the running game with his strong arm, and he generates plus raw power with a combination of bat speed and strength from the left side of the plate.
• Giants (38th): Will Rigney, RHP, Midway HS (Texas) -- The 6-foot-5, 200-pounder suffered a flexor strain in his forearm and made just two regular-season appearances, though he was able to throw some bullpen sessions for teams ahead of the Draft. Rigney's (ranked No. 80) low-80s slider was viewed by scouts as one of the best in the Draft, and it's easy to predict future velocity from the Baylor commit as he tacks on strength and refines his mechanics.
• Tigers (39th): Cade Doughty, SS, Denham Spring HS (La.) -- Hailing from the same program that produced 1989 No. 1 overall pick Ben McDonald, Doughty (ranked No. 109) is an above-average runner with similar hitting ability and a strong arm that's a clean fit at shortstop. Power is the LSU recruit's lone below-average tool right now, though he does have a projectable 6-foot-1 frame that leaves plenty of room for adding strength.